Oklahoma City Thunder Odds, Betting Guide & 2019-20 Picks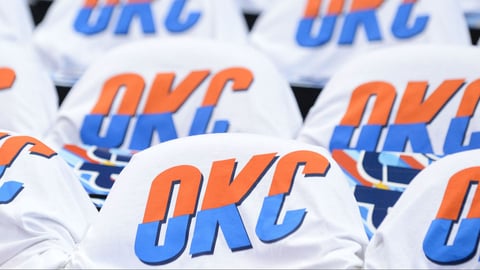 Caesars

Up to $5,000 Risk-Free Bet Plus a FREE NFL Jersey - Promo Code: BOOKIESRF

Bet Now
The championship window that appeared open just a year ago slammed shut when the Oklahoma City Thunder traded Russell Westbrook and Paul George this offseason. Though Chris Paul, Danilo Gallinari and Shai Gilgeous-Alexander give this group a solid core, they're an easy candidate for a team that could sell off parts as they enter a rebuild with a handful of future first-round picks.
Here's the key odds available and how you should bet them:
Thunder Win-Total Betting
The Line: 33.5 with SugarHouse
On paper, the current Thunder team should fly by this win total. There's still talent. But Paul and Gallinari are obvious trade candidates, and the Thunder will want to get their young core serious minutes. Expect that to happen sooner than later, meaning they fall just shy of this win total.
The Bet: Back the under. Growing pains are real for any young team, especially in the gauntlet of the Western Conference.
Thunder Northwest Division Odds
The Line: +10000 with DraftKings
The Nuggets, Jazz and Blazers all will flirt with 50 wins. Even if the Thunder keep their veterans and make a playoff push, they won't come near competing with those three heavyweights.
The Bet: These odds should be avoided.
Thunder Western Conference Odds
The Line: +10000 with FanDuel
The Thunder weren't able to get out of the first round with Russell Westbrook and Paul George. They certainly won't do it with the pieces they received in trades for both. The window for contention has been closed shut for now.
The Bet: Not a chance.
Thunder NBA Title Odds
The Line: +21000 with 888sport
The Thunder should rebuild quickly given their bevy of future picks and young talent. But there won't be any Thunder basketball played in May or June this season.
The Bet: Avoid these odds, too.
Best Thunder Player Prop Bets
The Line: Shai Gilgeous-Alexander Most Improved +2000 with PointsBet
Gilgeous-Alexander quietly put together an excellent rookie season for the Clippers. Assuming Paul isn't on the team all season, the Thunder will give the keys to the offense to their point guard of the future. He could really flourish in a high-usage role.
The Bet: His odds are worth a look at that price. And a darkhorse pick could be Paul to lead the league in assists (+600). He accomplished that in two of the last three seasons before joining the Rockets and playing alongside usage king James Harden.
---
RELATED: NBA Most Improved Player Odds & Tips for Betting
About the Author
Mark is a veteran sports journalist who has covered the Bulls and the NBA since 2012. His work has appeared on ESPN.com, FoxSports.com, The Chicago Tribune and Yahoo Sports.