College Football Playoff Betting Rankings 2019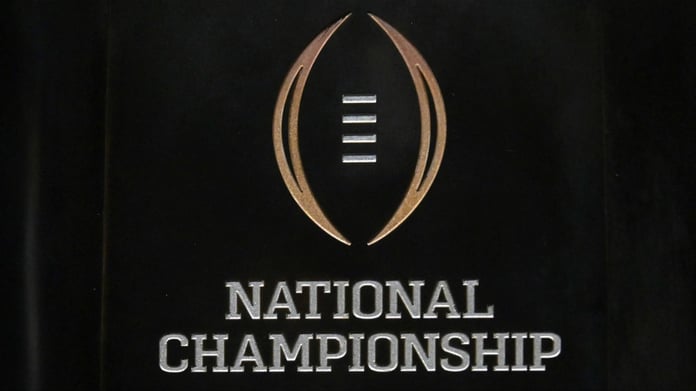 It's the level all elite programs vie to reach, but only four can get to. The College Football Playoff does more than just decide the national champion — it elevates teams, rewards coaches and gives bettors a slice of electrifying action on the three most important games of the year.
Alabama and Clemson, who have met in the playoffs in each of the last four years, remain the two heavy favorites to return to the CFP again in 2020. The big question for fans of college football betting: Who'll join them? Entering the season, Georgia and Ohio State are the odds favorites to claim the final two spots.
The official College Football Playoff rankings don't begin until October, but sportsbooks can give some insight into who they expect with be the top teams.
---
RELATED: Check out our New Year's Six projections based on betting odds
---
College Football Playoff Rankings Based on Title Odds
| Team | Odds |
| --- | --- |
| 1. Clemson | +240 |
| 2. Alabama | +250 |
| 3. Georgia | +800 |
| 4. Ohio State | +1400 |
| T5. Michigan | +1500 |
| T5. Oklahoma | +1500 |
| 7. Texas | +2500 |
| 8. LSU | +4000 |
| 9. Oregon | +4500 |
| 10. Notre Dame | +5000 |
| T11. Washington | +5500 |
| T11. Auburn | +5500 |
| T13. Nebraska | +6000 |
| T13. Utah | +6000 |
| 15. Miami (Fla.) | +8000 |
All odds via PointsBet are current as of publication but subject to change.
New Year's Six Games
CFP Semifinals: The semifinals are split between the Fiesta Bowl and Peach Bowl this year.
Sugar Bowl: The Sugar Bowl gets the best SEC and Big 12 teams not in the playoff.
Rose Bowl: Like the Sugar Bowl, conference tie-ins rule this game, which will pit the best Big Ten and Pac-12 teams not in the playoff.
Orange Bowl: The ACC will be represented, and then the bowl picks from SEC, Big Ten or Notre Dame.
Cotton Bowl: No conference tie-ins, so two at-large teams, likely including the best of the Group of Five.
---
RELATED: Heisman Watch Betting Odds & How the Next Games Could Impact Them
---
CFP Championship History
Inaugurated in 2014 to replace the Bowl Championship Series, the CFP uses a 13-member committee to determine the four teams that will play in two national semifinals, which feed into the championship game. The semifinals are rotated among six top bowls, with the other four games receiving marquee matchups when not part of the CFP.
For the 2019-20 season, the semifinals are the Peach and Fiesta Bowls, with the national championship slated for New Orleans on Jan. 13. Getting there is a season-long chase, not just for teams, but also for bettors, who watch odds fluctuate from week to week and try to judge which four teams will hear their names called by the committee on selection day.
Recent CFP Champions
| Season | Winner | Loser | Line |
| --- | --- | --- | --- |
| 2018 | Clemson | Alabama | +170 |