College Football Top-25 Picks, Odds and Tips for Week 3
Welcome to the weekend of the road warriors, when nine members of the AP Top 25 (including six of the top 10) venture away from home. On paper, those teams don't appear to face the stiffest of challenges, but a supportive home crowd often emboldens an underdog to stick around – for a little while, at least.
There are no matchups pitting ranked teams, with many squads just beginning to dip a toe into the rigors of conference play. Here are our picks for the games involving Top 25 teams, as well as our five best bets fans of college football betting should consider on Week 3.
5 Best College Football Bets This Week
All odds current as of publication but subject to change.
PICK 1: No. 19 Iowa (-2) at Iowa State
Iowa State was one of the more consistent covers in the country last season, and Brock Purdy is a dual-threat quarterback who can roll up yardage. But the loss of tailback David Montgomery to the NFL has proven tough to overcome, and we saw a limited Cyclones attack in their near-disaster overtime win over Northern Iowa two weeks ago.
Iowa has shown few weaknesses in clobbering two bad teams and has most of its key players back from last season's nine-win squad. If Hawkeyes quarterback Nate Stanley can shake his habitual troubles on the road – he's a senior, so it's now or never – Iowa can cover the modest spread in Ames.
PICK 2 No. 9 Florida (-8.5) at Kentucky
What to make of either one of these teams? Florida hardly looked mistake-prone in escaping Miami, and Kentucky is a shell of the unit that won 10 games last season. The Wildcats haven't exactly been convincing in a pair of lackluster victories over lower-tier opponents, and now turn to Troy transfer Sawyer Smith at quarterback after the season-ending knee injury to starter Terry Wilson.
The difference in Lexington should be a Florida defense that's racked up 15 sacks in two games and has better athletes than anything Smith saw in the Dollar General Bowl a year ago.
PICK 3: No. 24 USC (-4.5) at BYU
Clay Helton is 2-0! That means all of the pressure is off the USC coach, right? Maybe not, given that a new school president just axed AD Lynn Swann and seems intent on bringing in all her own people. Last week's big win over injury-riddled Stanford has the Trojans back in the rankings, but are they for real?
Freshman QB Kedon Slovis won't be an unknown to BYU, which showed plenty of tenacity in its comeback victory at Tennessee. But for all the heroics in Knoxville, it's hard to forget how the Cougars were manhandled by Utah a week earlier at home. USC has issues, but its skill position players remain dangerous, and BYU will have its hands full in coverage.
PICK 4: No. 21 Maryland (-7) at Temple
Wait, is Maryland for real after putting up 142 points over its first two games? New coach Mike Locksley has brought a version of Alabama's offense to College Park, and Virginia Tech transfer quarterback Josh Jackson is running it like a Mini-Tua. To watch the Terps hang 63 on Syracuse was eye-popping.
Temple returns most of what was an underrated defense last year and will present a front seven better than anything Maryland has faced this season. The worry is in the Owls secondary, which is effectively being rebuilt. Maryland shouldn't score 63 again this week, but that humming offense should still cover the touchdown spread in Philly.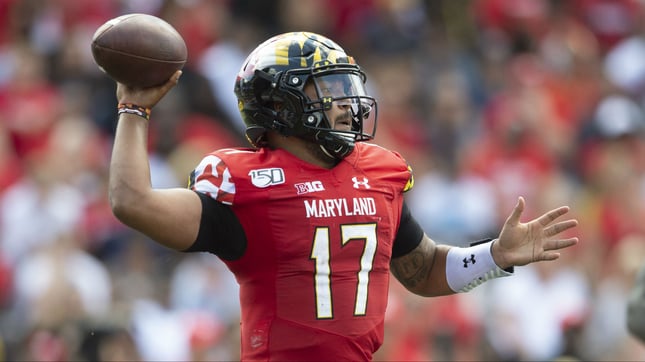 PICK 5: Hawaii (+21) at No. 23 Washington
The Warriors own pair of victories over Pac-12 opponents, although both of those games were at home. Given the tremendous distance involved anytime Hawaii plays on the road, it might be asking too much for the Warriors to actually win in Seattle.
---
RELATED: Biggest College Football Point Spreads This Week and How to Bet Them
---
But Washington's loss last weekend to Cal was an eye-opener for several reasons, and not just because it ended at 4:30 a.m. ET. The Huskies' offense under transfer quarterback Jacob Eason was stymied, prompting questions of how effective this unit can be on a week-to-week basis.
Hawaii is hardly a defensive juggernaut, but the Warriors can score points, and 21 is a lot for Washington to give up against a capable foe.
---
Top-25 College Football Games & Picks
Top-25
Game
ATS
Pick
Moneyline
Pick
O/U
Pick
1. Clemson @
Syracuse
CLEM (-27.5)
N/A
Over (60.5)
2. Alabama @
South Carolina
ALA (-26)
ALA (-5000)
Under (60)
3. Georgia vs
Arkansas State
GA (-33.5)
N/A
Over (57.5)
4. LSU vs
Northwestern State
LSU (-51)
N/A
N/A
5. Oklahoma @
UCLA
OK (-23.5)
OK (-1849)
Over (60.5)
6. Ohio State @
Indiana
OSU (-15)
OSU (-625)
Over (60.5)
7. Notre Dame vs.
New Mexico
ND (-34.5)
N/A
Over (62)
8. Auburn vs.
Kent State
AUB (-35)
N/A
Under (52)
9. Florida @
Kentucky
FLA (-8.5)
FLA (-310)
Over (50)
11. Utah vs.
Idaho State
UTAH (-36.5)
N/A
Over (64)
12. Texas vs.
Rice
TEX (-32)
N/A
Over (56.5)
13. Penn State vs.
Pitt
PSU (-17)
PSU (-910)
Under (54.5)
15. Oregon vs.
Montana
ORE (-36.5)
N/A
Over (64.5)
16. Texas A&M vs
Lamar
A&M (-43.5)
N/A
Over (56.5)
17. UCF vs.
Stanford
UCF (-7.5)
UCF (-295)
Under (59.5)
18. Michigan St. vs.
Arizona State
MSU (-13.5)
MSU (-770)
Over (42)
19. Iowa @
Iowa State
IOWA (-2)
IOWA (-118)
Over (44.5)
20. Wash. State vs.
Houston
WSU (-8)
WSU (-286)
Over (75.5)
21. Maryland @
Temple
MD (-7)
MD (-286)
Over (64)
22. Boise State vs.
Portland State
BSU (-31.5)
N/A
Over (54)
23. Washington vs.
Hawaii
HAW (+21)
WASH (-1430)
Under (59)
24. USC @
BYU
USC (-4.5)
USC (-190)
Under (55.5)
25. Virginia vs.
Florida State
VA (-7.5)
VA (-275)
Over (57)
All odds current as of publication. Check out the latest odds here.
• • •