NHL Stanley Cup Betting 2019: 3 Best Bets to Win It All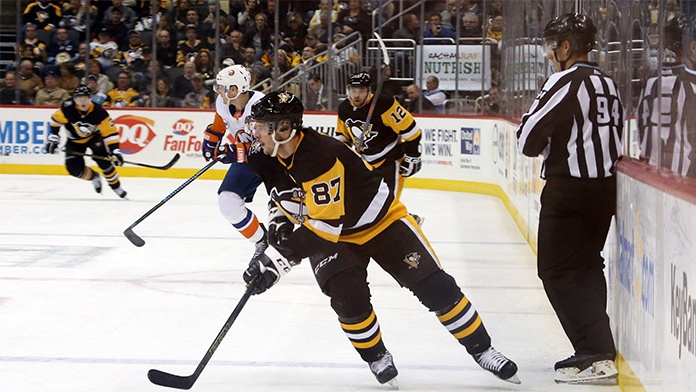 For nearly 20 years, there was always one easy preseason prediction in the NHL: Whoever won the Stanley Cup would not repeat. From 1998 until 2017, no team repeated as Cup champ, until Pittsburgh did it.
The Penguins looked a solid choice to three-peat last spring, when they were up three games to two in the Eastern Conference semifinals against Washington, only to let it slip away and see the Capitals go on to win their first championship.
In prognosticating the 2019 Stanley Cup winner, I'm going back to Pittsburgh. Let's get into reasons why, and give realistic alternatives should the Penguins fall short.
Pittsburgh Penguins

Sidney Crosby already has three Stanley Cups in his great career, but he's the type who is never satisfied.

He's like the Tom Brady of hockey. He is all about winning, all about trying to stay ahead of Father Time, and the abrupt end to what would have been his team's three-peat - not accomplished since the great New York Islanders teams of the early 1980s - no doubt is still a sore subject with him.

Crosby is still just 31. He's got plenty left in the tank, and he's got plenty of other talent around him to get that next Cup, starting with fellow center Evgeni Malkin. Pittsburgh still has a good-enough defense, and Matt Murray is one of the most under-appreciated goalies in the league for a guy with two Cups to his credit.

At +1150 with 888Sport, I think the Penguins are a great bet to win it all again.

Pittsburgh Penguins center Sidney Crosby (87) skates the puck into the offensive zone against the New York Islanders during the second period at PPG PAINTS Arena.

Nashville Predators

Speaking of ticked-off teams that view 2018 as a waste, we bring you the Nashville Predators, who won the Presidents' Trophy as best regular-season team, only to fold in the second round.

The Predators don't wow you with superstar talent, though they have a premier two-way defenseman in P.K. Subban and a dynamic scorer in Filip Forsberg. They just beat you with four rolling lines, a deep defense and goaltending that is almost always solid.

Does veteran Pekka Rinne have the right stuff to win it all, though? He faltered in last spring's playoffs, so it's a fair question and he's not getting any younger, at age 35 (he'll be 36 on Nov. 3).

The Predators made it to the Cup Finals in 2017, only to lose to Pittsburgh. Last season was supposed to be their "learning how to win from failure" year, but it didn't happen. Maybe it was just a year delayed. Very possible.

At +900 at SugarHouse, Nashville is a top favorite again at the betting window.

Nashville Predators goaltender Juuse Saros (74) catches the puck to the side of his net during the second period against the Vegas Golden Knights at Bridgestone Arena.

Winnipeg Jets

If I had to name one really solid, semi-darkhorse pick to win it all, it is the Winnipeg Jets. It's hard to name a weak spot anywhere in the Jets' lineup. They've got a deep forward group, led by Patrik Laine, Mark Scheifele and Blake Wheeler, a deep, mobile defense and really good young goalie in Connor Hellebuyck.

The Jets also have a coach who has taken two previous teams to the Cup finals in Paul Maurice, who won one with Carolina.

Winnipeg advanced to the Western Conference finals, eventually losing to Vegas. They're still very young, and they're learning how to win. They play in front of a sold-out building full of rabid crazies every game.

Be very wary of this team next spring. If they manage to win it all, they would become the first Canadian team to do so since the 1993 Montreal Canadiens. Canada wants the Cup to return to native soil very badly, and this is its best bet to do it.

The Jets are +1150 to win at 888Sport.

Winnipeg Jets center Jack Roslovic (28) skates after the puck in the first period against the Toronto Maple Leafs at Scotiabank Arena.

• • •