Caesars Colorado Sportsbook Review & Promo Code
If you've tuned into any major sporting event lately, you've likely seen ads for the flashy Caesars Sportsbook. One of the biggest names in the industry is now carving out a space in the online sports betting market.
Our review of the Caesars Sportsbook in Colorado will look at what we like about it, what we would like to see in the future, and how its bettors can take full advantage of everything it has to offer to maximize their experience, and ultimately, their winnings.
Pros and Cons
Pros
Up to $1,250 first bet on Caesars
The desktop and mobile app are easy to navigate
Great ongoing contests and giveaways
Better rewards than most competitors
Cons
No sportsbook tournaments or contests (only straight bets)
Rewards program is difficult to understand and the website doesn't make it any easier
Caesars CO Sportsbook Offers
Caesars Colorado Sportsbook once offered a $1,500 first bet insurance for new users. It's since gone away from that, but we actually like this offer better than the old promo. In short, you get a first bet on the house up to $1,250 (if it loses), plus 1,000 Tier Credits and 1,000 Reward Credits. You don't have to lose your first wager in order to get the Tier Credits and Reward Credits, which give bettors a headstart toward taking advantage of the amazing Caesars Rewards program. You'll need to enter the Caesars Colorado Sportsbook promo code BOOKIESFULL to get it.
Where to find the best Caesars Promo Codes for CO?
It can be difficult to navigate the internet and find the best promo code. With so much to sift through, we're taking it out of your hands and making it our responsibility. Bookies.com will always find the latest and best promo code for you to use to make sure you're maximizing your betting experience.
Additional Promotions by Caesars Sportsbook in Colorado
Caesars Sportsbook Colorado offers promotions throughout the calendar year including odds boosts, profit boosts, and other types of boosts that will give you bet credits, bonuses, and other perks based on how much you're spending. Offers are constantly changing throughout the year, but you can always check the most recent ones under the "promotions" section of the website.
Available Sports to Bet on at Caesars Colorado
You won't run out of betting options with Caesars Sportsbook in Colorado. They've got the most popular markets like baseball, football, and basketball, as well as some less traditional options like cricket, cycling, and darts. Here's a list of them all:
Auto racing
Basketball
Cricket
Cycling
Darts
Golf
Rugby Union
Snooker
Tennis
Whether you're ready to ride with the Broncos, Nuggets, or Rockies, or you're trying to switch it up on some MMA, tennis, or golf, Caesars Sportsbook Colorado has you covered for whatever you're looking for.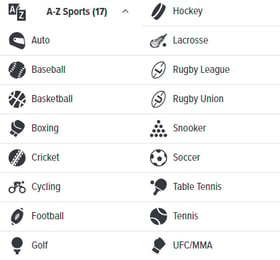 Popular Bets to Make at Caesars CO
Caesars Sportsbook Colorado gives its players thousands of different betting options. Here are the most common ones that you'll likely be using:
Straight Bets: Every game has a point spread, created by operators with the goal of getting an equal amount of "action" on each side (the favorite and the underdog). The favorite has points subtracted from its final total, while the underdog has points added to its final total. An example would be the Broncos as +6.5 underdogs against the Chiefs, or the Nuggets as -2.5 favorites against the Jazz.
Total Lines: Oddsmakers set a points total for each game, and bettors can wager on whether the combined points of both teams will be higher (betting the over) or lower (betting the under) than the set total. This is called an over/under bet by most sports bettors.
Moneyline: Moneyline bets are only concerned with the winner and loser of a game. The point spread is not taken into account. Each team has a favorite (minus odds) and an underdog (plus odds). Plus odds indicate how much you would win on a $100 bet; minus odds show the amount you must wager to win $100. For example, -125 odds means you need to bet $125 to win $100.
Parlay Bets: A parlay bet is a combination of individual bets that create improved odds for bettors. The caveat, however, is that all individual bets must be successful for the parlay to pay out.
Futures Bets: Future bets are wagers on something occurring by season's end. There are individual futures bets such as league MVP, scoring champion, and Heisman Trophy winner, and there are team futures such as league champion, win totals, or division champions. The most common amongst NFL futures is who will eventually win the Super Bowl.
Prop Bets: Prop bets are wagers on whether something will or won't happen during a game. There are player props such as a player to score a touchdown or a player to make more than 2.5 3-pointers, and there are team props such as a team to record less than 3.5 sacks or a team to record over 11.5 strikeouts.
Whether you're interested in betting on Nikola Jokic to win another MVP, the Denver Broncos to win the AFC West, or the Rockies to win the National League, Caesars Sportsbook Colorado will have you covered with odds.
Caesars Colorado Sportsbook Features
Given how many options bettors have to choose from, online sportsbooks are always trying to roll out the best experience for their players. Here's what Caesars Colorado Sportsbook has to offer:
Elite User Experience
Simply put, bettors want to be here. The Caesars Sportsbook promo code is great, the odds boosts and bonuses are nice, and the easy banking is solid. But none of that really matters unless you're enjoying yourself. And that's what you get. We love the green and white color scheme, the simple layout, and the continuity between the desktop and mobile app. It'll be easy to get lost here in the best way possible.
Fast and Easy Banking
There's a banking method for everyone at Caesars CO Sportsbook, which gives its users myriad options to choose from, both to deposit and withdraw funds. Bettors may take it for granted, but seamless transactions can make your experience, while having to wait for funds to process in your account can break that same experience just as quickly.
Strong Desktop Site and Mobile App
What you see is what you get. That's the name of the game with Caesars CO Sportsbook in Colorado, which gives its players a spaced out website and mobile app that's easy to use and navigate, an FAQ page to answer any questions that might arise, and a promotions tab so players are always maximizing the odds and bonuses available to them. In. our opinion, it doesn't get much better than the user experience at Caesars Sportsbook.
Caesars Rewards
Bettors want to win money, but they also want to rack up some kind of bonus points for all the bets they make. They're in luck at Caesars Colorado Sportsbook, where players can earn loyalty points based on the amount of money they've wagered. There are four different tiers of rewards that bettors can use, not only with the Caesars Sportsbook, but also at physical locations across the country. These tiers unlock access and benefits including, dining (member pricing), shopping (discounts at casino gift shops), entertainment (pre-sale access for select shows), and much more (free valet parking at Caesars destinations, for example), with more unlocked benefits as you progress. There are more perks than we can mention here. Trust us, you'll love the rewards program.
Top-Notch Sign-up Bonus
Caesars Colorado Sportsbook has upped the ante and given new bettors a first bet on them up to $1,250. If your first wager loses, Caesars CO Sportsbook is matching it in the form of a bet credit. It's one of the best sign-up bonuses available in Colorado.
Create a Caesars Betting Account in CO
Bettors come to top online sportsbooks because they're ready to gamble. They're not interested in long, drawn-out processes that take too long and ruin the user experience. Well the good news with Caesars Colorado Sportsbook is that you'll be up and running with a new account in no time. Simply follow these steps and you'll be ready to place your first bet within minutes:
Log onto Caesars Sportsbook in Colorado and provide your name, date of birth, email, and phone number
Choose a password and two security questions (with answers), and then verify you are at least 21 years old by providing the last four digits of your Social Security number
Provide your address and then enter the promo code BOOKIESFULL to receive your first bet up to $1,250 on Caesars. Also add your Caesars rewards number here if you have one.
Log in and place your first bet! Caesars CO Sportsbook will match the amount wagered in the form of a bet credit if you lose.
Banking with Caesars Colorado
The reason that Bookies.com stresses using legitimate online sportsbooks is that it makes it easier on the players. That's certainly the case when it comes to banking, and Caesars Sportsbook Colorado is no exception. Here are the options that bettors will have when they sign up:
Making a Deposit
You can't play Caesars CO Sportsbook without depositing money, of course. But the good news is that it's simple to add money to your Caesars Colorado Sportsbook account. Players can use PayPal, credit or debit card, eCheck, online bank transfers, Play+ Prepaid Cards, Skrill, PayNearMe, or cash at one of the two Colorado casinos to add funds. It's a long list that all players can choose from to find one that fits them best.
Cashing Out Your Winnings
If you've won money at Caesars CO Sportsbook, you're in luck. Not only do you have some money coming your way, but you also will be able to withdraw it easily. The same methods used to make a deposit are also available for withdrawal, which will give all players easy access to their funds. Caesars Colorado Sportsbook says that it could take as long as 72 hours to receive funds, but in our experience that window is much shorter.
The Colorado Authority for Consumer Protection makes sure that all odds and markets are legitimate and fair to all players.
Colorado Ongoing Contests and Tournaments
We love just about everything that Caesars CO Sportsbook has to offer. That being said, we're still waiting to see more contests and tournaments that are free to play for bettors going forward. It's non-existent right now. And while there's more than enough to bet on, these free-to-play contests and tournaments can be a nice change of pace for players who aren't always wanting to put money down or simply want something new with their betting experience. We'll keep an eye on these in the future, but don't expect much for now.
Caesars CO Sportsbook Rewards/ Loyalty Program
Caesars Sportsbook in Colorado gives its players a rewards program that places them into one of four tiers based on how much they're betting. What's unique about loyalty with Caesars CO Sportsbook is that these accumulated points can be used, not only to earn perks with the online sportsbook, but also at physical Caesars locations.
User Experience
The definition of a good sportsbook, in our opinion, is one that you want to keep going back to. You enjoy your experience on the site, it's easy to navigate, and you feel comfortable using it. In that sense, Caesars Sportsbook is as good as it gets. Simply put, you only have what you need. There's nothing overly fancy, there are no bells and whistles to try and lure you in, and there aren't any fancy animations to catch your eye. There are betting markets, a list of odds, and tabs at the top to navigate you to promotions, your account, and customer service. Despite some pretty in-your-face advertising, the website and mobile app are refreshingly plain. And that's a very good thing.
Caesars CO Mobile Betting App
The Caesars CO Sportsbook app provides bettors with nearly the exact same experience they'll receive on the desktop sportsbook. That's a sure sign of a great app, and Caesars Sportsbook passes with flying colors. All available betting markets are sprawled across the top of the mobile app's home page, live and upcoming events are front and center in the middle of the app, and bet slips populate toward the bottom so bettors can still see all the betting markets and odds they have to choose from.
Everything is neatly organized so players know how to look for and where to look for whatever they're interested in betting on.
Caesars Colorado Legislation & History
Online sports betting in Colorado launched in May 2020. The Centennial State was the 19th in the United States to legalize online sports betting, and they've been hard at work adding new licenses since. FanDuel, DraftKings, BetMGM, and BetRivers were the first online sportsbooks to launch, but Caesars CO Sportsbook followed closely behind, and others have followed suit since.
Caesars CO Betting Site
There's plenty to like about the Caesars Sportsbook desktop site. By far, our favorite feature is that it's spread out and neatly organized. There's no sense of being overwhelmed or confusion about where to look. Whatever you're searching for, you'll be able to navigate the website with ease and find it. The color scheme, font, and overall style is among the best of any sportsbook we've reviewed.
The layout of the website is standard: A list of sports and betting markets is located on the left rail of the home page, bet slips populate on the right side of the screen, and odds for your chosen market populate in the middle of the screen. This layout, combined with the aforementioned color scheme and additional features, makes for a great experience.
Security and Safety Offered By Caesars CO
At Bookies, we cannot recommend using legitimate and legal sportsbooks enough. On top of banking options being easier and a more expansive list of betting options, the safety and security you will feel behind a licensed sportsbook is second to none. Caesars CO Sportsbook is no exception. The website and app use strong encryption and authentication methods to keep your personal information safe and secure. Entering information like the last four of your Social Security number, your email, mailing address, and other information won't be an issue here.
Caesars CO Customer Support
Caesars Entertainment is a strong brand backed by significant resources. We can't imagine that bettors will have any real issues using the Caesars Sportsbook app or desktop website, but if any issues arise they'll be in luck. Caesars has a comprehensive list of customer support options to assist you. Our favorite is a live chat function that's available to all bettors 24/7. Responses are quick, accurate, and easy to understand. Other options include email, telephone, or a Help section on the website with a list of FAQ. It's a major plus for Caesars CO Sportsbook to provide four different options for its players.
Caesars Denver Broncos NFL Betting
Colorado bettors love their Denver Broncos, and they'll have plenty of chances to place wagers on their squad during the course of the NFL season. Caesars Sportsbook offers weekly bets on point spreads, totals, and moneylines, in addition to season-long win props, players futures, and team futures. Think Jerry Jeudy will lead the league in receptions? Want to bet on Patrick Surtain II winning Defensive Player of the Year? It's available for you to bet on at Caesars CO Sportsbook.
Caesars Live Streaming Colorado
In December of 2022, Caesars Sportsbook became the first ever US operator to offer live streaming of all NFL games. This means that using Watch & Bet feature within Caesars Sportsbook App you can now place your in-game wagers and watch your favorite team on your tablet and mobile devices.
Caesars Casino CO
There is no Caesars online casino presence in Colorado. That may change in the future, but for now bettors will only have access to the online sportsbook. That being said, bettors interested in casino games can travel to the land-based casinos attached to the Caesars Colorado Sportsbook: Isle Casino Hotel Black Hawk and Lady Luck Casino Black Hawk.
Caesars Rewards CO
Caesars rewards are unique in the online sports betting space. Because Caesars Entertainment is a global brand that spans much further than just an online sportsbook, bettors who earn points through online sports betting can redeem those points not only at Caesars Sportsbook CO but also at physical properties across the country, including Las Vegas. There are four tiers of loyalty status, including Gold, Platinum, Diamond, and Seven Stars.
Our Expert Opinion on Caesars Sportsbook Colorado
Simply put, sports bettors in Colorado need to have Caesars Colorado Sportsbook in their online sports betting rotation. The Centennial State has plenty of sportsbooks to offer its players, but it's our opinion that Caesars Sportsbook CO is arguably the best in the state. Though the $5,000 bet credit was originally an incredible promotion for new bettors, the bet match takes the risk out of the equation. Bet credits are easier to come by, and you'll receive the match whether or not your original bet is a winner or loser.
Caesars Entertainment is a massive brand, so it's no surprise that they've perfected the user experience on both the Caesars Sportsbook app and desktop. Promotions like the sign-up bonus, odds boosts, parlay boosts, and bet credits are among the best we've found, withdrawals and deposits are easy to come by, and customer support is second to none. Use the Caesars Colorado Sportsbook promo code BOOKIESFULL to get your bet up to $1,250 on Caesars and start taking advantage of everything that Caesars Sportsbook has to offer in the state of Colorado.
Caesars Sportsbook States
Caesars Sportsbook Colorado FAQ
Is Caesars legal in CO?
Yes, Caesars Entertainment launched its online sportsbook in August 2021. The original promo code offered gave bettors a $1,100 first bet insurance, but they have since changed their current sign-up offer to include a first bet on Caesars up to $1,250 (you get bet credits back in the amount of your original wager if it loses). You also get 1,000 Tier Credits and 1,000 Reward Credits with this offer, regardless of the outcome of your bet. This offer is eligible to all legal bettors in the state.
Does Caesars CO have an app?
Yes, Caesars Sportsbook launched a mobile app in addition to its online sportsbook. The Caesars Colorado Sportsbook app is one of the best we've reviewed with a clean layout, bet slips that populate quickly, and a fast response time for
live betting
. The Colorado Caesars Sportsbook app is available to both Apple and Android users.
How old do I have to be to bet on Caesars Sportsbook in CO?
Bettors must be at least 21 years old to legally wager at the Caesars Sportsbook app and website in Colorado. Part of the registration process includes verifying your age by providing the last four digits of your Social Security number. Once you've completed your Caesars Sportsbook account, you won't need to verify your age again.
Is there a Caesars Colorado promo code?
Bettors who use Caesars Sportsbook in Colorado should use the promo code BOOKIESFULL to take advantage of the operator's first bet up to $1,250 (you get bet credits back in the amount of your wager if it loses). Caesars is also offering 1,000 Tier Credits and 1,000 Reward Credits, regardless of your bet's outcome. Caesars CO updates its promotions and offers frequently, and Bookies.com will always have the most up-to-date information on how to best utilize each Colorado Caesars promo code to maximize your betting experience.
How can I contact Caesars CO if I have questions?
Bettors at Caesars Sportsbook in Colorado will have no problem reaching out if they have questions. Our favorite option that the Caesars Colorado app and website offer is a 24/7 live chat function that has quick response times. If a matter isn't urgent, bettors can also send questions and concerns to a Bet Caesars CO email address or call them to speak with customer support in-person.
Does Caesars Colorado offer live betting?
Yes, Caesars Sportsbook in Colorado offers
live betting
on a number of different markets. These markets will have hundreds of different team and player props to choose from, giving bettors endless options once games begin.
About the Author
Mark is a veteran sports betting journalist who has covered the Bulls and the NBA since 2012. His work has appeared on ESPN.com, FoxSports.com, The Chicago Tribune and Yahoo Sports. He regularly provides NBA betting picks, as well as in-depth sportsbook reviews and the latest promo codes for all the major sports gambling operators, including Caesars Sportsbook, BetMGM, DraftKings, FanDuel and more.