NBA Finals Betting Top Value Bets to Compete for 2019 Title
Caesars

Up to $5,000 Risk-Free Bet Plus a FREE NFL Jersey - Promo Code: BOOKIESRF

Bet Now
The Golden State Warriors, should they remain healthy, have an excellent shot at advancing to the NBA Finals for a fifth consecutive season. Now that we've gotten that hard-hitting analysis out of the way, consider: The Warriors, as historically good as they are, are not infallible.
Injuries happen. Upsets happen. While they're overwhelming favorites (-286 on both 888Sport and SugarHouse) that also means there's considerable value spread out among the other 14 teams in the West.
And in the East, we all know LeBron James is now gone. There will be a non-LeBron team representing the East for the first time since 2010, the year the iPad was introduced. There's plenty of value to be had in the East, too.
With that, here are our five best value plays to win their respective conferences that NBA betting fans should consider backing in their NBA Finals betting plans.
Yes, the 65-win Rockets can be slept on
When is a 65-win team that brings back the MVP and another future Hall of Famer considered a sleeper? When Steph, KD and the Warriors are still in their way. But James Harden and Chris Paul know they have the ability to get it done after they took a 3-2 series lead in the Western Conference Finals a year ago. A hamstring injury to Chris Paul thwarted any real chance they had of closing out that series, but Paul returns healthy to a team that added, for better or worse, Carmelo Anthony. Don't rule out them trading for a wing at some point to help replace Trevor Ariza or Luc Richard Mbah a Moute.
This Rockets team is by far the best equipped to battle out a seven-game series with the Warriors. Remember, their offense is otherworldly but the Rockets also finished sixth in defensive efficiency last season. They aren't a sleeper, per se, but getting a 65-win juggernaut at +500 on SugarHouse or 888Sport to win the West is excellent value.
Giannis takes over King duties in the East
Who's the new LeBron in the East? Someone has to carry the torch, and it would surprise no one if Giannis Antetokounmpo became that player. Untapped potential is thrown around too often in NBA circles, but it's true with the Greek Freak. He's a surefire MVP candidate, defends with the best of them, and (look away, Eastern Conference head coaches) looked comfortable shooting 3-pointers this preseason. He joins his rock solid supporting cast in Khris Middleton and Eric Bledsoe, both of whom are in contract years, and a bench that now has ever-valuable playoff experience.
The Bucks appear to be firmly entrenched behind the three teams in the Atlantic – Boston, Philadelphia, Toronto – but perhaps playing in the Central Division will allow them to fly under the radar. And once the playoffs roll around, having the best player on the floor each game (sorry, Joel Embiid) can tip the scales. If Antetokounmpo makes another jump in his game the Bucks are immediate contenders. They're fantastic value at +1600 on 888Sport and SugarHouse.
Jimmy Butler could tip the scales in South Beach
The Miami Heat currently have the seventh best odds to win the Eastern Conference. And with their current roster, that's a fair assessment. But no other team has had as many talks with Tom Thibodeau and the Minnesota Timberwolves than Miami, and at this point they have to be considered the favorites to eventually sign the four-time All-Star. While we'd really need to know who goes back to Minnesota in that deal, adding a motivated Butler to a team that last year won 44 games and has a need for a scoring wing is a smart bet. The Heat finished 21st in offensive efficiency a year ago, the worst of any playoff team in either conference, but adding Butler would vault them into the top half of the league. Past that, they're balanced, deep and have a star coach in Erik Spoelstra. Jumping on their +3500 odds on 888Sport or SugarHouse makes sense.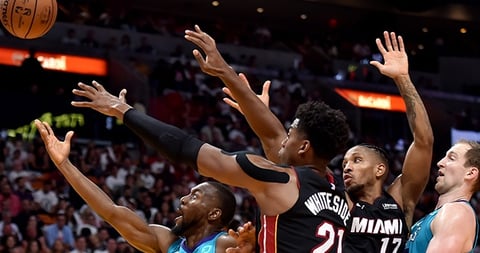 If your team employs LeBron James, your team has a shot
LeBron James hasn't missed the NBA Finals since 2010. That year, his newest teammate Lonzo Ball was 12 years old. So it should go without saying that betting against LeBron James in the postseason hasn't yielded any results the last eight seasons. So even though the Los Angeles Lakers face the steepest of odds, James will have his young core and comedic veterans ready to roll by April.
The success of the season will hinge on the progression of Brandon Ingram, Kyle Kuzma and Ball. They're still young, and James is signed in L.A. for four years, but James also has a way of getting the most out of his teammates. They're going to be thrown into the fire early and often, and it could have them playoff-ready by April. Then, once the postseason begins, it's James' time to shine. We all know what happens then. The +700 odds on SugarHouse and 888Sport seem steep, but let's not forget what James is capable of in the second season.
Want to get crazy? Let's go to Denver
The Nuggets are good. Really, really good. They didn't make the postseason in 2018 but bring everyone back and their three leading scorers are 22, 23 and 20 years old. Maybe that's too young to compete late into May and June, or maybe it's the beginning of the NBA's next big thing. The West's version of the Sixers, if you will. Nikola Jokic is an All-Star, Gary Harris and Jamal Murray are the next Lillard-McCollum, and the bench is stockpiled with scoring. Mike Malone has something brewing. They're likely still a few years away from competing for a title, but with +4000 odds on 888Sport and SugarHouse, they're a worthy and fun bet.
About the Author
Mark is a veteran sports journalist who has covered the Bulls and the NBA since 2012. His work has appeared on ESPN.com, FoxSports.com, The Chicago Tribune and Yahoo Sports.