WynnBET Sportsbook Ohio Review & Promo Code
WynnBET Sportsbook Ohio looks certain to be among the many operators that obtain a license to offer services to sports bettors when the Ohio online sports betting market goes live on January 1, 2023. WynnBET, which has an existing partnership with the Cincinnati Reds, announced in January 2021 that it would enter the Ohio market when it launched.
While there is a sense that the WynnBET sportsbook is a work in progress, there is much to like about this online offering. It offers some excellent bonuses - like Bet $100 Get $100 free bets bonus, great support to WynnBET customers, and plenty of ways to bet on the sports it covers.
In this Ohio WynnBET sportsbook review, we'll give you more detail on our favorite things about the Ohio WynnBET app and website, the Ohio WynnBET promo codes and the type of features you can expect to find when you have the chance to open an Ohio WynnBET account.
Ohio WynnBET At A Glance
WynnBET OH Bonus Codes
Ohio online sports betting is not yet live, and we wait to see which sportsbooks will be granted a license to operate in the Buckeye State. As a result, it is not possible to say with certainty what the Ohio WynnBET promo code will be, and what type of welcome bonus or deposit bonus will be available to new customers.
When the WynnBET Ohio promo code offers are finalized, we will of course let you know. It is likely the Ohio WynnBET sportsbook promo code offers a 'Bet $100, Get $100' (in free bets) deal, which is the offer in other states. There is a minimum deposit of $50 attached to this offer and the bet must be made at -120 odds or greater.
WynnBET Ohio New User Bonus
The WynnBET online sportsbook is now live in several states, which means we have a clear view of the type of Ohio WynnBET bonus code that might be made available when it goes live in Ohio. The current WynnBET welcome bonus delivers up to $100 in free bets (on a bet with -120 or greater odds) in return for a minimum bet of $100. Whether your first bet wins or loses, you receive the free bet bonus.
This is a simple, easily understood offer with no playthrough requirements (a huge bonus) - though it is less of an eye-catcher than the $1,000 risk-free bet on offer at many top US sportsbooks that are also likely to enter the Ohio online sports betting arena.
One of the positives of the experience being enjoyed by customers of WynnBET Tennessee, WynnBET Virginia and other states such as New Jersey is the variety of bonuses on offer. Sports bettors who also enjoy casino games will appreciate the quality of the Ohio WynnBET online casino.
Players there can trigger a substantial deposit match bonus, for instance. You should be able to find all the current WynnBET Ohio sportsbook promotions on a dedicated tab on the website home page and the WynnBET app. One thing to be very clear about is there is no specific code needed to bet the WynnBET Ohio promo code offer. Just click the "Bet Now" link on this page and sign up when Ohio sports betting launches.
WynnBET Pros & Cons
WynnBET Sportsbook Ohio Great For: Promotions
What are the main reasons why you should open an Ohio WynnBET online sportsbook account? Where this brand stands out is with the quality and frequency of its offers and promotions - you are never very far away from a WynnBET bonus. Aside from the welcome bonus, there is a Build Your Own Bet Bonus in which you get a free $20 bet if you make three $25 3+ leg parlays from Thursday - Saturday (win, lose or push). A similar offer for making two separate $50 live bets in that span, plus one-hour "reduced juice" from 5-6 pm. on Thursdays. When comparing WynnBET Ohio to sportsbooks like Caesars Sportsbook Ohio and BetMGM Ohio, WynnBET stands out as a smaller brand that is able to offer exceptional promotions and bonuses.
WynnBET Sportsbook Evolution
The name Wynn has been synonymous with luxury casino experiences since the Wynn Las Vegas opened in 2001. Wynn Resorts was founded the following year, and in the decades since it has overseen a growing empire of high-quality gambling locations.
Like many other major casino names, Wynn Resorts was attracted by the possibilities generated by the US Supreme Court's 2018 decision to rule the Professional and Amateur Sports Protection Act unconstitutional. That move made it possible for states to license sports betting if they so wished - and more than 30 have now done so.
WynnBET was a relative latecomer to this particular party. It came into being once Wynn Resorts bought European operator BetBull in late 2020. However, the new brand has moved with exceptional speed since then to develop the WynnBET sportsbook, which is now licensed in more than half a dozen states.
As well as places such as New Jersey, Michigan and New York, the company has partnered with the San Carlos Apache Tribe to launch in Arizona, and did a similar deal with Full House Resorts to access the Indiana market.
One of its most notable points of difference is that in all but two of those states, the sportsbook has long been accessible only through the WynnBET app rather than a desktop website.
OH Sports to Wager On With WynnBET
Although the WynnBET Ohio online sportsbook may cover fewer sports than some of its likely rivals in Ohio, there are still plenty of ways in which you can wager and use your free bet promo on your favorite leagues and events. The types of bets available include:
Moneyline
Singles
Parlays
Totals
Point spreads
Props
Futures
Residents of Ohio are spoiled for choice when it comes to having top-level sports to bet on and use their sportsbook promo code. The state is home to teams in all the big four professional sports leagues.
The Cleveland Browns and Cincinnati Bengals stage top-level football in the NFL, while the Cincinnati Reds and Cleveland Guardians fly the Major League Baseball flag in the state. NBA fans can enjoy top hoops action by following the Cleveland Cavaliers, and the Columbus Blue Jackets ensure NHL followers have a local team to cheer.
Two Major League Soccer teams, Columbus Crew and FC Cincinnati, also have their home bases in Ohio, while the state also has a host of outstanding college sports programs, including the beloved Ohio State Buckeyes. This is a state, in short, that loves its sport and will surely relish the opportunity to wager on its favorite local teams.
WynnBET Ohio Sports Betting Lines
There are no sports in which you will suddenly gain extra value simply by opening an Ohio WynnBET online sportsbook account. At the same time, the operator is known for having reasonably competitive odds across its various markets.
BetBull, the company acquired by Wynn to launch the WynnBET Ohio sportsbook, still supplies the odds - and is known for being extremely competitive in this field in its home markets in Europe, particularly on top-level soccer.
Across the Ohio WynnBET sportsbook, you should find standard -110 lines on totals and point spreads, while the moneyline and futures prices can sometimes be better than average.
Types Of Sports Bet By Popularity
If there is a particular sport you like to wager on, and the WynnBET Ohio app offers odds on it, it is likely you will find betting markets that include your favorite type of wagers. WynnBET OH may not carry the same breadth of choice in terms of less popular sports with American bettors, but most of the sports betting options you would hope to find at any U.S. sportsbook are here to enjoy. They include the following:
Spread Bets
Spread betting is probably the most common form of betting. You've probably seen lines scroll across the screen that say Browns -7. That means the Browns must win by more than 7 points for your bet to cash. This type of bet is also what is known as a 'straight bet'. You are betting on just one outcome. For instance, if you believe the Cincinnati Reds will win their next game, you place a straight bet on that result. It is as simple as that.
Total Lines
Within each game, there are certain occurrences that lend themselves to totals betting, or over/under betting. The most obvious is the number of points, goals, or runs scored by both teams combined. A sportsbook might suggest there will be 200 points in the Cleveland Cavaliers' next NBA match; if you think there will be fewer than that, you can wager on that outcome.
Moneylines
The moneyline is the simplest way of showing which team is favored to win. Let's say the Columbus Crew are facing FC Cincinnati in the MLS, and the Crew are favored to win. Their moneyline odds might be -160, meaning you need to stake $160 to win $100. Meanwhile, FC Cincinnati could have a price of +140, which shows you will win $140 for every $100 you wager.
Parlay Bets
A parlay is a multiple bet covered by a single stake. You can include several outcomes - let's say you believe the Cincinnati Bengals, Cleveland Browns and Columbus Blue Jackets will all win on the same day. As each of your picks succeeds, the odds multiply. However, they all need to be correct for you to see a return. Parlays of three teams usually pay out at around 6-1 odds, which is much better than the 10/11 odds of a typical straight bet with -110 juice. Same game parlays are very popular and allow you to combine Joe Burrow's passing yards total with a moneyline bet on the Bengals, for instance.
Futures Bets
Your wagering at any sportsbook is not restricted to events that are imminent. You can look further ahead and back your fancy. Let's say you believe that the Cincinnati Bengals will win the Super Bowl next year; your sportsbook should enable you to place money on that outcome months in advance and the odds you get will be much more appealing than if you were to make that same wager after the Bengals start the season 12-1.
Prop Bets
Check out any list of prop bets on a game and you will be surprised by the number of options available. There are so many ways of wagering on propositions; you may want to bet on an individual player's performance or believe your team will have a fast start and be ahead after the first period. Prop bets give you that opportunity. Football is a sport that generates enormous wagering numbers throughout the NFL season, so it is inevitable that there will be huge prop betting interest in Ohio in games involving the Cincinnati Bengals and the Cleveland Browns.
Great Betting Features On The WynnBET Sportsbook in Ohio
Once legal sports betting goes live in Ohio, and assuming WynnBET Ohio is one of the first sports betting platforms to launch there, it will be fascinating to see which features appeal most to bettors in the Buckeye State. One of the areas in which this operator scores most highly with players in other states is in the variety of promotions Ohio WynnBET offers to new and existing customers.
All the leading operators that obtain an Ohio license will come up with ways to make their sports betting markets attractive in such a potentially lucrative state. The competition will be fierce, and it will be interesting to see if the experience Ohio WynnBET offers is compelling enough to carve out a significant slice of the action in the Buckeye State. Among the most notable Ohio WynnBET offers and features are the following:
WynnBET Odds Boosts
Most online sportsbooks enhance odds on a regular basis. Some do it so regularly that they have a dedicated section on the home page of their sportsbook. WynnBET Ohio is no exception in this regard. It delivers odds boosts throughout the week on major sports events, giving you the chance to pick up a bigger return on your selection. You may even be tempted to place further sports bets that represent great value thanks to the boosted odds.
WynnBET Free Bet Wednesday
A free bet is always a tempting prospect for any sports bettor. The Ohio WynnBET sportsbook offers you the opportunity to qualify for free bets on a weekly basis. If you wager $100 or more between Monday and Sunday, you receive a $20 free bet to be used the following Wednesday. As is usual with free bets, you will not receive the free bet amount staked as part of any winnings that result.
WynnBET Reduced Juice Hour
Bettors are always looking for extra value. Many people open accounts with more than one sportsbook in an effort to ensure they are getting the best possible odds on a particular event. One Ohio WynnBET feature that improves your pricing and betting options is the 60-minute spell each Thursday during which the operator reduces the juice - i.e. the margin - on selected bets, usually on major sports.
WynnBET Parlay Booster
Parlays are extremely popular with sports bettors, who relish the chance to set up a big payout in return for a relatively small stake. WynnBET Ohio offers a parlay boost on big match days - you can check out the list available in the Ohio WynnBET app. You should be able to track down all the best features at the Ohio WynnBET promotions page on the website - where the desktop version is available - or on the mobile app.
WynnBET Live Betting
The ability to wager on events that have already started is one of the biggest innovations in the sports betting world in recent decades. Ohio WynnBET offers regular opportunities to wager on games as the action unfolds. However, while it is great to see live betting available, the lack of any live streaming capability - a feature that is offered by most online sportsbooks - is a possible improvement that the operator will surely address in time.
Bet Limits at WynnBET Ohio
It is not yet clear whether there will be a minimum or maximum bet limit applied to anybody who opens an Ohio WynnBET account in Ohio. The operator's own house rules state only that its management will stipulate any limits on how much or how little can be staked on any event. However, it is likely the minimum deposit will be $10, in line with other operators. There have been suggestions, though, that withdrawals of $10,000 or more might be delayed.
WynnBET Sportsbook Payment Options
All online casinos and sportsbooks understand the need to make depositing money into your new account as quick and simple as possible. However, there can be a wide variation in the number of online banking methods available at different operators. The key consideration for any player is to make sure that your preferred method of dealing with your money online is among the options at your disposal.
Deposit Methods Accepted
There are several ways to deposit funds into your Ohio WynnBET account so that you can begin wagering. The fact that the Ohio WynnBET casino has been in operation for many years suggests this should be a well-practiced system.
The options include major credit and debit cards, PayPal, Play+ card, VIP Preferred, or bank transfer (WynnBET does not support payouts through the casino cage, only through its app). It should be noted that WynnBET Ohio will not accept Discover and American Express.
Redeeming Cash
It is arguably even more important than the online banking methods available at an Ohio online sportsbook including your preferred withdrawal option than the one for your deposit. What could be more frustrating than backing a winner and being unable to access your funds? The range of withdrawal options here mirrors those for depositing.
WynnBET Ohio only supports withdrawals via its app (not through the casino cage). The options are: Play+ or PayPal, which takes about 48 hours, and VIP Preferred can take up to five working days.
Sports Betting Contests
While Ohio WynnBET has shown itself willing to deliver bonuses such as free bets and other promotions, it has been less enthusiastic about running sports betting contests. However, there have been examples of such events at top Ohio sportsbooks.
In return for wagering a certain amount, you may gain enter to a draw with a spectacular prize. Winners have enjoyed access to luxury boxes in stadiums, and floor seats at NBA games - the latter followed the brand's sponsorship of the Memphis Grizzlies. It will not be surprising if similar events are launched in the wake of the sportsbook's entry into the ultra-competitive Ohio sports betting market.
Will WynnBET OH Offer Wynn Rewards Program?
Wynn Rewards is a program that has been operated for some time by Wynn Resorts. The brand's roots show clearly when you consult the Wynn Rewards page on the company's site; this feels geared to Ohio WynnBET's online casino activity and a large number of the benefits available appear in the shape of a casino bonus.
Nevertheless, it appears that Wynn Rewards is now open to "all WynnBET patrons", suggesting that it is not merely fans of casino promotions, or patrons of the online casino app, who should be interested. Sportsbook customers who open an Ohio WynnBET account will be able to accumulate benefits and qualify for top rewards too.
There are three tiers in the program - red, platinum, and black. One of the ways you can earn points that move you up through the levels is by placing sports bets. The list of potential rewards is spectacular, including complimentary trips to Las Vegas and other sportsbook and casino benefits.
Sportsbook User Experience
WynnBET has taken an unusual route in the rollout of its sportsbook across various states. In the vast majority, it has been possible to wager with this brand only through the WynnBET sports betting app. Michigan and Tennessee are among the few states where a desktop website version of the betting interface has been made available to bettors.
It will be interesting to see if the version of the Ohio WynnBET platform is available to mobile customers only, or if there will be a desktop option. As things stand, WynnBET is a more user-friendly option for mobile players than for those using a computer desktop version.
WynnBET Mobile App 
It appears clear that, during Ohio WynnBET's short life in the sportsbook world so far, it has focused most of its efforts and innovation on its mobile proposition. When it launches, the Ohio WynnBET app will be available from both the Apple Store and Google Play Store for iPhone and Android devices, respectively.
Users report that the mobile app is quick, responsive and easy to use, although the lack of certain features - such as live streaming and a wider choice of sports - gives the whole experience a rather basic feel.
The main purpose of a sports betting app, however, is to allow users to access their desired bet quickly and place it easily through the bet slip, and on this metric the Ohio WynnBET app scores well. As with the website (see below), it will be interesting to see whether further improvements are in place by the time the sportsbook goes live in Ohio.
Website Design
The experience for website players in other states can best be described as a work in progress. The layout of the home page is basic, and navigation is not always easy. Although it is good to see a prominent bet slip on the right-hand side of the screen, finding the event you are looking for requires scrolling rather than a simple drop-down navigation option from a left-hand column.
Moving from sport to sport could be more instant, although it must be said that once you access a particular event the speed picks up pleasingly. It must be remembered that Ohio WynnBET is still a relatively young brand and one with considerable commercial heft behind it. It will be no surprise at all to see the user experience upgraded rapidly as the brand is launched in further states - including Ohio.
Software Security
The security of players' personal data, and all the transactions they undertake with a sportsbook, should be a leading priority for any operator. The damage that could be caused by a security failure could be incredibly costly.
Ohio WynnBET, like most licensed and reputable online sports betting operators, uses state-of-the-art security systems to protect its clients' information. It uses PCI DSS technology, as well as SSL encryption, to keep such data safe from hackers. It's worth noting that the brand also conducts regular third-party audits to ensure the casino games it operates are running fairly.
While there is an onus on sportsbooks to ensure top-level security, players should do their bit as well. One step you can take is to choose a strong password that you don't use anywhere else. Avoid using the word "password" or a simple series of numbers like "98765".
Responsible Sports Betting Methods
All leading online wagering brands are now aware of the necessity to encourage responsible gambling at all times. Because while, for the vast majority of us, sports betting is a pleasant leisure activity, for a small number it can lead to the development of a gambling problem and serious personal issues.
Ohio WynnBET plays its part by offering a detailed page of information about available resources for people concerned about their gambling, including links to expert agencies in each state. Ohio itself is already fully on board with the need to encourage responsible betting, with organizations such as Ohio For Responsible Gambling delivering masses of detail about how to help someone with a gambling problem.
Customer Support Methods
Ideally, you never want to contact a sportsbook's customer support team. However, if the occasion arises - maybe you have an issue over a payout, or want to query your latest free bets - you want the team to be as accessible and expert as possible.
WynnBET Ohio is highly regarded on both counts. WynnBet Ohio offers customers the option to get in touch via live chat - which is available 24/7 - through a dedicated phone line in each state, or through email. Players in other states report receiving excellent service from the WynnBET Ohio team.
WynnBET Taxes
It's unclear how sports betting taxes will be handled in Ohio, however, we can tell you that Ohio law says if you win more than $5,000 at an Ohio casino the federal government will withhold 24% of your winnings. An example of sports betting tax rules in other states is this: if you win more than $600 in sports betting and the amount is 300 times more than you wagered, you'll need to pay taxes on it.
WynnBET Sportsbook Ohio Review
There is much to like about the WynnBET Ohio sportsbook offering as it appears in the many states where it has already gone live. It is particularly impressive in terms of the bonuses and promotions it offers, the depth of markets in the sports it covers, and the quality of its customer support team.
It has to be remembered that, even in the context of an industry as new as this, WynnBET is a particularly young brand that is playing catch-up against rivals that have been honing their websites and apps for much longer.
This gives rise to hope, expectation even, that by the time the Ohio WynnBET sportsbook launches in Ohio there will be even more reasons to like it. The addition of a broader choice of sports would be a big plus, as would the introduction of live streaming. The creation of a livelier and more visually appealing design for both the app and the website would also assist its prospects of pulling in serious numbers of customers in the Buckeye State.
In short, there is nothing much wrong with Ohio WynnBET. But this is a brand with the experience and the commercial power to make many things even more right for sports bettors looking for a great experience in Ohio.
WynnBet Sportsbook Ohio FAQ
Is WynnBET legal in Ohio?
Yes, though Ohio sports betting hasn't gone live yet. The licensed Ohio online sports betting market is due to go live on January 1 2023, so it will not be long before players have the opportunity to place bets with WynnBET Ohio.
What is the WynnBET sportsbook OH bonus code?
We don't know what the WynnBET sportsbook OH bonus code will be yet because WynnBET Ohio hasn't launched in the state. The WynnBET Ohio promo code offer is likely to be a 'Bet $100, Get $100 in Free Bets. You will need to make a min. $50 deposit and a wager at odds of -120 or greater.
Is there a WynnBET risk-free bet for Ohio bettors?
At this stage, we do not know what form any welcome offer might take. However, if it is similar to that presented to new customers at WynnBET Virginia and other states such as New Jersey, bettors can expect to receive $200 in free bets if they deposit at least $50 and make a qualifying bet. While the offer may not be characterized as a risk-free bet, the fact that new customers could be receiving plenty of extra cash in a free bet form makes this a compelling bonus.
How old do I have to be to bet on WynnBET in OH?
Per the Ohio Casino Control Commission, you will need to be aged at least 21 to place a sports bet in Ohio.
Does WynnBET have a OH online casino?
Yes, WynnBET offers an online casino, however, iGaming isn't part of the Ohio sports betting legislation. Therefore, there will not be a WynnBET online casino available.
Can I use the WynnBET sportsbook outside of Ohio?
Yes - provided you are in a territory where WynnBET is licensed to offer online sports betting services. WynnBET has opened its virtual doors in numerous states now and, if you are a registered customer, you should be able to wager there.
Does WynnBET Ohio have a sports betting app?
Most likely, yes, there will be a WynnBET Ohio sports betting app. WynnBET has established itself as a mobile-first brand during its early days in sports betting. While there are states where its sportsbook is not available in desktop format, there is always an app that is available to iPhone and Android owners.
Does WynnBET OH allow live betting?
Yes, WynnBET Ohio will allow live betting when it launches in Ohio. The WynnBET sportsbook in other states offers regular opportunities for bettors to wager in play. It is inevitable that the same facility will be extended to customers in Ohio.
About the Author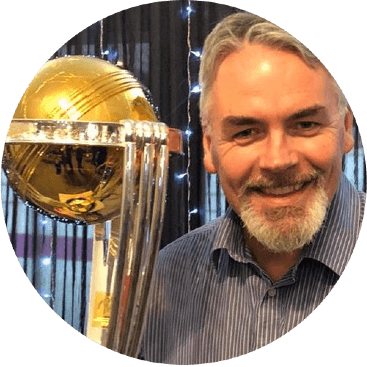 Award-winning contributor covering sports betting and casino gaming around the world for decades, Martin Booth is one of the most trusted voices in online gambling. From legislative updates in New York to breaking down the top betting apps in Ontario, Martin covers a gambit of topics for Bookies.com.