Caesars Tennessee Sportsbook Review & Promo Code
Caesars Entertainment is one of the legendary names in the gambling world and they are a major and continually growing presence in the U.S. sports betting industry. The Caesars Tennessee sportsbook app is a stellar addition to the company's empire. Caesars maintains a presence in 11 states and Washington, D.C.
The company formally acquired William Hill last spring, giving it an even bigger footprint across the U.S. landscape. Those who bet Caesars Tennessee will be dealing with one of the finest sports betting companies in the industry.
Pros and Cons
Pros
Lucrative signup bonus offer
Rich selection of sports betting markets
Early cash out option available
Cons
Parlay selections are slim
Live betting not as prevalent as competitors
Caesars TN Sportsbook Offers
Register for a new Caesars Sportsbook mobile/online account using the Caesars Sportsbook promo code "BOOKIESFULL" and they will award you up to $1,250 plus 1,000 Tier Credits and 1,000 Reward Credits. You only need to place an initial wager of $10 or more an if your bet loses, you'll get that amount back up to $1,250. The bet credit will be awarded two days after your bet is graded a loss, while the Tier and Reward Credits will show up seven days after your wager is deemed a loss. You will have seven days to use the bet credit. The bonus funds come with just a 1x rollover requirement attached, meaning you need to wager the bonus amount 1x before you can withdraw it.
Where to find the best Caesars Promo Codes for TN?
At Bookies.com, we're constantly searching and updating to verify promo codes on both a monthly and weekly basis to ensure that bettors are getting access to all of the up-to-date information. The Caesars TN bonus code to access the $1,250 first bet offer is easy to find. The link to the Caesars bonus code is on the front page of the TN Caesars Sportsbook app.
Additional Promotions by Caesars Sportsbook in Tennessee
With the Caesars sign up bonus, bettors are merely scratching the surface of the types of Tennessee Caesars promotions offered. The Tennessee Caesars app offers same-game parlays, bet credits and parlay boosts. There are, almost daily, boosted odds on selected events, which can be used to bet Caesars TN.
Also, by utilizing the special Caesars Tennessee bonus code provided to each player, bettors can get a bonus for inviting a friend to sign up for Caesars sports betting. For each referred player who registers for the Caesars Tennessee app and deposits at least $50, the player who referred them will receive a $100 bet credit.
Check in regularly at the promotions tab on the Caesars web page to find special daily offers. There you will be able to determine whether Caesars TN deposit promo code is necessary to access and benefit from these promotional offers.
Available Sports to Bet on at Caesars Tennessee
Tennessee bettors will find that once they create a Caesars account through the Caesars Sportsbook app, they can bet on a plethora of sports options. All of the major sports are here, with numerous betting lines available. Of course, the NFL is a dominant force, but there's also plenty of betting markets for the NBA, MLB, NHL and NCAA basketball and football available for use with Tennessee Caesars promo code
If it's a so-called niche sport that you fancy, not to worry. It will be difficult to locate a sport upon which Caesars doesn't offer odds. And don't forget to enter the Caesars Sportsbook promo code "BOOKIES15" when creating a Caesars Sportsbook account to access the first bet credit offer.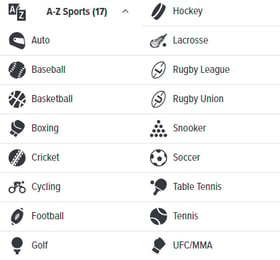 Caesars TN Sports Betting Options
The NFL is king in most states and that's certainly the case in Tennessee. Ever since the Houston Oilers relocated to become the Tennessee Titans, the sport has grown in popularity to where it is without a doubt the No. 1 betting sport in the state.
The Memphis Grizzlies, in the NBA, and the NHL's Nashville Predators will also generate significant following and help to make the Caesars app TN even more popular. Nashville FC is a popular and competitive MLS franchise.
College sports is also a massive for betting revenue in Tennessee. The Tennessee Volunteers, Memphis Tigers and Vanderbilt Tigers all generate a significant following.
Popular Bets to Make at Caesars TN
Whether pursuing it as a casual player or a serious investment, Tennessee sports bettors will find that there are an ever-growing number of ways to be wagering on sports through the Caesars Sportsbook app. Traditional options are straight bets such as moneylines, point spreads and totals. The patient player can opt for future bets, which provide a chance at a lucrative stipend on a wager that usually isn't decided until the end of the season.
For those who are more into the risk/reward relationship, parlays offer the chance at a handsome return for a relatively small stake. If it's instant gratification you seek, live wagering will fill that need. Fun at heart, prop wagers are a method to bet on games and win even if you're not an expert.
Let's look at home some of the more popular bets work.
Straight Bets - Suppose the Tennessee Titans are playing the Indianapolis Colts. Caesars' Titans line has them as 4.5-point favorites on the point spread. That means if you bet the Titans at Caesars Sportsbook, the Titans will need to be victorious by at least five points in order for your bet to cash.
Totals - The Caesars Sportsbook app might have that same Titans-Colts game with a total of 44.5. That is the number of points oddsmakers at Caesars Sportsbook have set for the game. In a total wager, you bet that they will either go over or under that established number.
Moneylines -A moneyline wager is based on a $100 wager. If the Memphis Grizzlies are +172 against the Los Angeles Lakers, they are the underdogs. If you were to wager $100 on the Grizzlies and they won the game, the profit realized on the wager would be $172. However, if the Grizzlies are playing the Atlanta Hawks and Memphis is listed as -156 in the moneyline, the Grizzlies are the favorite. In this case, the negative number indicates how much a bettor must wager to realize a $100 profit from their bet.
Parlay Bets - Parlays combine multiple wagers into one bet. For example, you could play a three-leg parlay of the Titans to cover that -4.5 spread against the Colts, the Grizzlies to win that moneyline wager against the Lakers and the Nashville Predators and Philadelphia Flyers to go over a 5.5 total in their NHL game. All three wagers must succeed in order for this to be a winning bet. Parlay bets are a great option to include in your bet credits wager because of the potentially huge reward and small risk.
Futures Bets -If you're inclined to believe that the Titans will win the Super Bowl, you can place a Super Bowl future book bet on them to do just that. If they win, then you win. You could also opt to make a play on a player future, such as a wager that Titans running back Derrick Henry will lead the NFL in rushing.
Prop Bets -Props can be on game outcomes. It could be an over-under play on Henry's total rushing yards in that game against the Colts. It might be on which of the two teams will score first. Or it can be on an event with nothing to do with game action, such as which team will win the coin toss.
Live Bets - The advent of mobile wagering via the Caesars Sportsbook app is making live betting the fastest-growing way to wager on a game. You're betting on the next outcome in a game. Will the Titans next play be a run or a pass? Which team will turn the ball over next? There are countless opportunities during the course of a game to make these live wagers.
Whether you're a fan of the NFL Titans, the NHL Predators, or the NBA Grizzlies, or you like to get a little action on some Tennessee Volunteers football, the Caesars Sportsbook will offer all of these wagering opportunities and more.
Caesars Tennessee Sportsbook Features
To be considered one of the best online sportsbooks by Bookies.com, a site must offer certain features and meet definitive requirements. The Caesars Tennessee sportsbook hits the mark for these required elements.
Tennessee is a unique state in that its operators provide their product entirely online. There are no casinos in the state, and thus, no retail sports betting sites. The Volunteer State is also among the states that approve of in-state wagering on college sports (prop betting on college sports is illegal, however). Tennessee even provides e-sports betting, although wagering on entertainment and politics is prohibited.
Elite User Experience
The Caesars Sportsbook offers Tennessee players the type of top-shelf experience that would be expected from a veteran gaming establishment such as Caesars Entertainment. Their odds are posted quickly and are competitive with all the top sportsbooks. It starts right from the signup process. When you go to create account, Caesars will guide you through the process quickly and pain free.
Fast and Easy Banking
Whether depositing or withdrawing funds, the Caesars Sportsbook account offers a robust menu of options. There are traditional credit cards such as MasterCard and Visa. Prominent e-wallet sites like PayPal and ACH e-check are also available. Caesars Sportsbook Tennessee also accepts online banking and bank wire transfers.
Strong Desktop Site and Mobile App
Simple and straightforward - that's an apt description of the Caesars Sportsbook site. Tennessee sports bettors might find more bells and whistles with other operators but that isn't how Caesars Entertainment rolls. They offer an easy-to-follow menu so players can quickly locate what they want to bet at the Caesars Sportsbook. It's the same policy with the Caesars Sportsbook app. It's easy to use and draws a five-star rating from both Android and iOS users.
Caesars Rewards
With its chain of casinos and resorts throughout North America, the Caesars Rewards points can be earned at more than 50 locations. This is including online in Tennessee with the Caesars Sportsbook and Caesars Sportsbook app. The more you play, the more you earn. Perks include everything from bet credits, free hotel stays, free room upgrades, even free and discounted stuff from Caesars Rewards retail partners.
Top-Notch Sign-up Bonus
With its $1,250 first bet insurance, the Caesars Sportsbook is offering Tennessee players one of the more lucrative sign up offers in the industry. Basically, it's a bet credit, knowing that if it doesn't come in, you'll get all the money back to try again. By entering the Caesars bonus code, Tennessee players can access this prominent offer.
Create a Caesars Betting Account in TN
The Caesars Tennessee create account option is about as easy a form as you'll ever be asked to complete. By following the simple step by step process, opening a Caesars Sportsbook account is a pain free procedure.
Start by clicking on the "join now" link on the Caesars Sportsbook website or Caesars Sportsbook app
Next, be ready to provide such personal information as first and last name, address, birthdate, Social Security Number, phone number and e-mail address
Don't forget to enter the Caesars Sportsbook promo code "BOOKIES15" at the required time in order to access the Caesars first bet credit offer
Newcomers will also need to provide copies of government-issued ID in order to be able to make deposits and verify your account
Once that's done, you'll be ready to use your bet credits and make that first wager with Caesars Sportsbook.
If you run across any issues, there's 24/7 access to the Caesars customer support team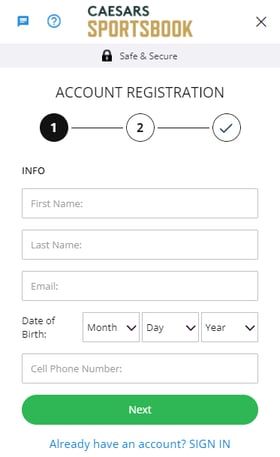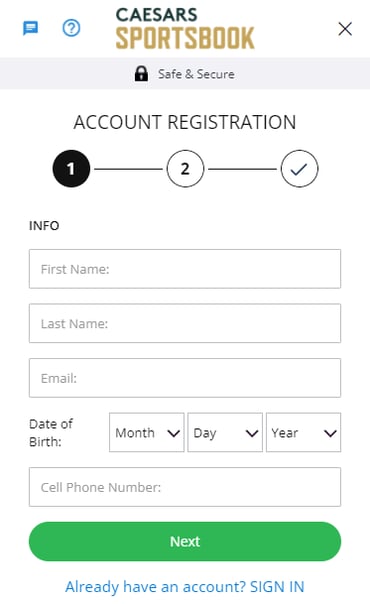 Banking with Caesars TN
Banking options at Caesars Sportsbook include VISA and MasterCard debit and credit cards, Discover Card, PayPal, ACH/e-check, online banking, wire transfer, PayNearMe, and the Caesars pre-paid Play+ card.
Making a Deposit
Once you've opened a Caesars Sportsbook account, the next step is to make a deposit to your new account. All of the above banking methods are available as a funding option. It's a quick and easy process once the banking method is chosen. The minimum deposit to be able to place a wager through the Caesars Sportsbook or Caesars Sportsbook app is $10.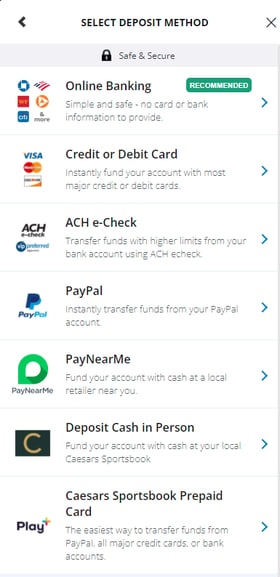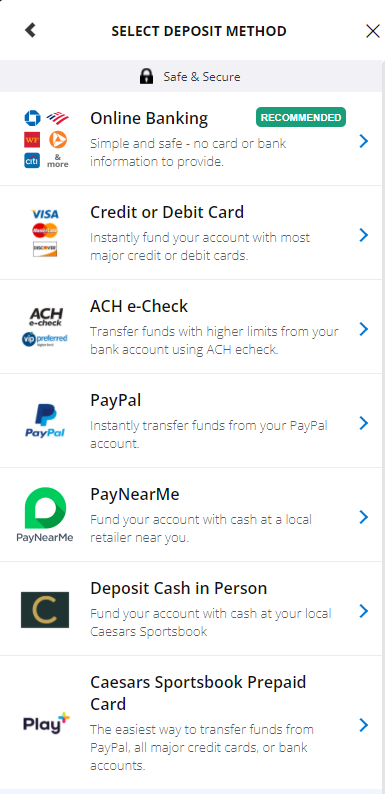 Cashing Out Your Winnings
There's much less variety available to Tennessee bettors when it comes time to make a withdrawal from a Caesars Sportsbook account. Available methods include cash, PayPal, ACH/e-check and the Caesars pre-paid Play+ card. Cash and the Caesars pre-paid Play+ card offer instant access to any withdrawal. It's a three-day wait with PayPal and a five-day wait for ACH/e-check. The minimum withdrawal is $10, except for PayPal, which doesn't apply limits. However, to be able to withdraw via PayPal a player must also deposit through PayPal.
TN Authority For Consumer Protection
The Tennessee Sports Wagering Advisory Council recently replaced The Tennessee Education Lottery Corporation as the organization responsible for the licensing and regulating of online sports wagering in Tennessee. The Tennessee Education Lottery Board of Directors originally approved on April 15, 2020 the rules and processes to establish and support a responsible and competitive sports wagering program in Tennessee.
Tennessee Ongoing Contests and Tournaments
There are a couple of major contests ongoing at the Caesars Sportsbook in Tennessee and both involved the NFL. A great contest was the Caesars Sportsbook Super Bowl VLI Royal Giveaway. For every NFL bet of $10+ at minimum odds of -200, bettors were automatically entered into the Grand Prize Drawing and the next Monthly Drawing. Linking a Caesars Rewards account earned one entry into all drawings automatically. The grand prize was two tickets to the Super Bowl, a two-night stay at a Caesars Rewards Las Vegas Resort, a private jet to-from Los Angeles for the Super Bowl as well as travel to-from Las Vegas.
Caesars TN Sportsbook Rewards/ Loyalty Program
Tennessee sports bettors can access the industry-leading Caesars Rewards Program by signing up with Caesars Sportsbook or via the Caesars Sportsbook app. With each wager, players accrue loyalty points and climb tiers in the program that will entitle them to everything from room and service upgrades to free nights at Caesars resorts or other Caesars Entertainment facilities.
User Experience
When it comes to operating the Caesars Sportsbook, Tennessee bettors will discover that minimalism is the order of the day. Their site is clean in appearance and straightforward in appearance. This is a good thing. Bettors don't was fancy, they want easy. All of the available sports are listed on the left side of the drop-down menu. Live events are highlighted. There are options to chase to the odds format preferred by the customer and a search function to instantly find the sport they're seeking to bet. Current active promotions scroll across the top of the page. Caesars might not have as rich a selection in sports offerings as some other sites but what markets they do offer are covered extensively.
Caesars TN Mobile Betting App
The Caesars Sportsbook mobile app is offered for both Android and iOS users. For iOS users, they can download it directly from the App Store. Android users must follow a link from the Caesars Sportsbook web page. Users of either system will find that the site is responsive to touch, quick to react, easy to navigate and very forgiving if an error is made while processing a wager. The Caesars Sportsbook app provides the same options and services as the Caesars Sportsbook website.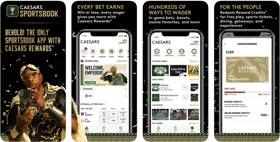 Caesars Tennessee Legislation & History
Legal and regulated sports betting was launched in the state of Tennessee in November of 2020. Unlike the majority of states, Tennessee legal sports betting only operates online. The Caesars Sportsbook originally launched in March of 2021 as William Hill U.S. It was rebranded as the Caesars Sportsbook app in August of 2021 after Caesars acquired the London-based William Hill. Caesars is one of eight online sportsbook operators active in the state of Tennessee.
Caesars TN Betting Site
If you prefer to kick it old school, you'll probably find that that Caesars Sportsbook web page is more to your liking. Utilizing the larger screen of a desktop or laptop computer makes the user experience much more comfortable and easier to read and simpler to navigate. This is especially true for people who aren't smartphone savvy. While the Caesars Sportsbook app provides easier mobile access to players on the go, it's just as possible to take the Caesars Sportsbook with you where you go via a laptop.
Security and Safety Offered By Caesars TN
Caesars has been in the betting business for decades, so Tennessee bettors can rest assured that they are working with an expert in the field when they sign up with Caesars Sportsbook. Caesars was among the first betting companies to be recognized with secured environment accreditation. That means they are an operator that takes every safety measure available is considers security to be of vital importance. There's also the added security of requirements put in place for all sportsbook operators by the Tennessee State Lottery Board. Players can add to their level of security by ensuring that their Caesars Sportsbook password is of a high level of difficulty. In other words, "12345" is a bad idea for a password. A random combination of numbers, letters and symbols is the best bet.
Caesars Customer Support
Caesars is offering a variety of customer support options to Tennessee players. Their support team is accessible via live chat, e-mail, or by telephone. Best of all, they're available to be contacted 24/7 every day. There's also an extensive selection of FAQs on their web page, and even a one-click option to reach responsible gambling resources.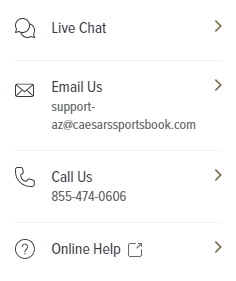 Caesars Tennessee Titans NFL Betting
When the Houston Oilers relocated to Tennessee in 1997 and the Titans were ultimately born, they instantly became the biggest game in town. The NFL rules over the USA landscape and the Titans dominate Tennessee sports betting. At Caesars Sportsbook, they offer all of the standard wagers on Titans games, as well as alternate lines, quarter and halftime wagering, outcome of first drive and same game parlay offerings. player prop selections are massive. Titans' bettors can wager on QB Ryan Tannehill's passing yardage totals, Derrick Henry's rushing numbers and whether A.J. Brown will score a touchdown.
Caesars Live Streaming Tennessee
Caesars Sportsbook does offer live streaming to Tennessee sports bettors. However, to access a stream, a player will need to have placed a bet with Caesars within the previous 24 hours. The stream quality is excellent. One of the most important features is newly introduced NFL live stream where you will be able to live stream Titans and many more NFL teams.
Caesars Casino TN
Tennessee prohibits all forms of casino gambling, including online casinos (hence online-only sports betting), so there isn't a Caesars Tennessee online casino and there doesn't figure to be one anytime soon.
Caesars Rewards TN
Few Tennessee sportsbooks can rival the rewards program offered by the Caesars Sportsbook. It's not only the fact that every player can gain rewards, or that every play offers rewards points. It's the fact that the Caesars Resorts that cover the continent are all available to access through perks earned from the Caesars Sportsbook rewards program.
Our Expert Opinion on Caesars Sportsbook Tennessee
One powerhouse betting company combined with another when Caesars entertainment acquired London-based sports betting giant William Hill (it sold its non-U.S. William Hill assets in September). The Caesars Sportsbook site might not look as fancy as some of its competitors but it offers a robust selection of betting markets and betting lines, as well as competitive odds, and ultimately, isn't that what a bettor wants most from a Tennessee sports betting site?
Caesars Sportsbook States
Caesars Sportsbook Tennessee FAQ
Is Caesars legal in TN?
Yes. Caesars gained legal status in Tennessee in August of 2021 when the company acquired William Hill's legal Tennessee sports betting site.
Does Caesars TN have an app?
It certainly does. The Tennessee Caesars Sportsbook app is available for both Android and iOS devices.
How old do I have to be to bet on Caesars Sportsbook in TN?
The legal betting age in the state of Tennessee is 21 years old.
Is there a Caesars Tennessee promo code?
Yes, there is a Caesars promo code. Bettors can access the up to date Tennessee Caesars bonus code for the $1,500 bet credit on the Caesars Sportsbook website.
How can I contact Caesars TN if I have questions?
Caesars customer support is accessible via telephone, e-mail and live chat. Best of all, it's available 24/7.
Does Caesars Tennessee offer live betting?
Yes, Caesars Sportsbook offers a robust selection of live betting options on every sport for which it provides betting markets.
About the Author

A veteran journalist based in Windsor, Ontario, Bob Duff has covered the gambling and sports betting industry since 2016. He has written more than two dozen books.