Caesars Virginia Sportsbook Review & Promo Code
Since online sports betting launched in Virginia in early 2021, Caesars Sportsbook VA has been among the top operators competing for market share within the state. Caesars Sportsbook Virginia offers top-notch odds boosts, an extensive rewards program and a state-of-the-art platform for desktop and Caesars Virginia app users.
There's also a welcome offer that we believe is one of the best available in the country that you can unlock with the Caesars VA bonus code "BOOKIESFULL." We'll detail those elements and more in this Caesars Virginia Sportsbook review and promo code primer. Then you can bank an incredible offer with our Virginia Caesars bonus code!
Pros and Cons
Pros
Expansive loyalty program connected to Caesars Rewards
Sleek mobile and desktop platforms
Helpful and thorough customer support options
Impressive welcome offer
Cons
Fewer sports leagues to wager on than some competitors
$20 minimum deposit, which is higher than many competitors
Caesars VA Sportsbook Offers
You'll want in on Caesars' new offer for Virginia because it means receiving up to $1,250 on Caesars, plus 1,000 tier credits, and 1,000 rewards credits. It's simple, and it's guaranteed for new customers with Caesars Virginia. Create account, bet and earn. As long as your initial cash wager is for $10 or more you can qualify for this offer. All credits wiil be added to you user account within 7 days.
This new-customer Caesars bet offer with tier credits and rewards, is replacing the $1,500 bet credits that Caesars Sportsbook Virginia was offering before. The Caesars bonus code Virginia needed for this promotion is "BOOKIEsfull."
Where to find the best Caesars Promo Codes for VA?
Bookies.com has you covered for every applicable Caesars Virginia bonus code or promo code. Currently, there is no Caesars VA deposit bonus code offered for the site, but be sure to use "BOOKIESFULL" as your Virginia Caesars promo code when signing up for the first bet.
Additional Promotions by Caesars Sportsbook in Virginia
Virginia Caesars promotions are extremely popular, and new ones pop up all the time depending on what's happening in the world of sports. Check out the "Promotions" tab near the top of the screen to see what's active. In the final two weeks of November, Caesars Sportsbook Virginia is giving a MasterCard gift card worth $100 to new users who bet at least $100 in real money by the end of the month (wagers must have odds of -200 or longer to be eligible).
Many primetime sporting events, such as Thursday Night Football or a blockbuster college basketball game, inspire odds boosts and/or promotions of their own. Stay locked onto the Virginia Caesars Sportsbook app or desktop site so you don't miss out.
Available Sports to Bet on at Caesars Virginia
Each customer with a Virginia Caesars Sportsbook account will have access to a lengthy list of sports and leagues to place bets on. The full list of Caesars VA sports betting options are included here, with the most popular offerings included at the top:
Football
Basketball
Golf
Hockey
Baseball
Soccer
UFC/MMA
Auto Racing
Tennis
Boxing
Rugby League
Rugby Union
Cycling
Cricket
Darts
Handball
Snooker
Table Tennis
Nothing trumps the NFL when it comes to betting options, especially with a multitude of player and team props created anew each week. Playoffs and key games typically create more options too, particularly for mainstream leagues such as the NBA, NHL and MLB.
Betting on nearby fan favorites such as the Washington Football Team, the Washington Capitals and the Washington Wizards is easy with the Caesars Virginia Sportsbook app, and it can add a fun element to the fan experience. Although you can wager on college football and basketball, you can't bet on Virginia-based college teams.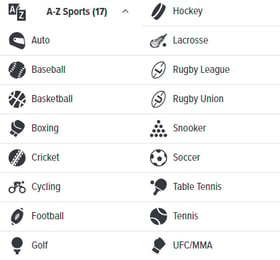 Popular Bets to Make at Caesars VA
Using either the Virginia Caesars app or desktop site, bettors will notice myriad ways to bet on their favorite sports and teams. Here's a quick explanation of each popular bet Caesars VA carries:
Straight Bets: Make a prediction on the outcome of a single game, based on the spread, point total or moneyline. We explain moneylines and point totals below, so let's focus on the point spread here. The spread is the amount of points a favored team must exceed in order to win. For example, if the Washington Football team is a 4.5-point favorite against the New York Giants, Washington must win the game by five or more points to cover the spread. In the same situation, the underdog Giants could cover the spread by winning outright or losing by four or fewer points.
Total Lines: Make a prediction for the point total in a given game. Caesars Sportsbook Virginia will provide a projected total, and bettors must predict whether the actual total will be over or under that amount. For example, the total line for a Wizards vs. Raptors NBA matchup might be 209.5 points. Once that's established, bettors just have to decide whether they think the teams will exceed that total or fall under it.
Moneylines: Make a prediction for the winner of a single game. Favorite or underdog, it doesn't matter; you just want to select the team that'll have the higher score at the final buzzer. For example, perhaps the Washington Nationals have -175 moneyline odds against the Baltimore Orioles. That would mean the Nationals are favored, and an outright win is required for a bet to be successful.
Parlay Bets: Make a prediction on a string of straight bets grouped together. Multiple straight bets (or "legs") have longer odds when combined because the bettor is reliant on each of the individual wagers being successful. Longer odds means greater risk, of course, but also a juicier potential payout. A parlay can be created with straight bets from one game (called a same-game parlay), from multiple games in the same league or from games across multiple leagues. Parlay bets are a way to return a lot of money, though the risk is immense.
Futures Bets: Make a prediction on an event taking place down the road, such as a league winner or an award recipient. Some futures bets can be made several months in advance. In Caesars Sportsbook Virginia's NFL futures markets, for example, the Washington Football Team midway through the season had -1200 odds to miss the 2021-22 NFL playoffs
Prop Bets: Make a prediction on an event within a game that doesn't necessarily apply to the outcome of that game. One prop bet example is Antonio Gibson to rush for over/under 78.5 yards in a game. Another example: Will Juan Soto will hit a home run in a game?
Props, futures and parlays typically carry higher risk and reward than straight bets. If you're a new Caesars VA sports betting participant, it might be best to start with the simpler stuff. When you're ready, give one of the riskier betting types a try.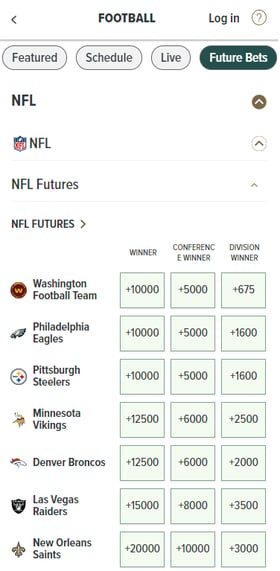 Caesars Virginia Sportsbook Features
At Bookies.com, we're looking for operators to fulfill certain features that we know are important to bettors. Caesars Sportsbook Virginia is an example of a site that checks the necessary boxes, as both the Caesars Virginia app and desktop site meet consumers' needs in the following areas.
Elite User Experience
The speed and style of the Virginia Caesars Sportsbook app and webpage are noticeable immediately upon signing in. The site loads quickly, and with an easy-to-read layout of navy text on a white backdrop. A bet slip feature on the right side of the screen automatically calculates a bettor's potential payout based on their wager amount (it also calculates parlay odds). Above the betslip on the right side is the Support tab, located prominently as an indication that Caesars Sportsbook Virginia values its customer support.
Fast and Easy Banking
It's easy to move cash in and out of your Virginia Caesars Sportsbook account. Deposits are instant, and withdrawals aren't far off that pace. Technically withdrawals may take up to 72 hours to be approved and processed, but it often takes much less time than that. The deposit and withdrawal methods will be outlined later in this Caesars Virginia sportsbook review.
Strong Desktop Site and Mobile App
Nothing is more central to the user experience than the Virginia Caesars Sportsbook app and desktop site themselves. We mentioned the responsiveness of the platform already (i.e., no lagging), but another feature worth mentioning is the live betting function. Just above the list of sports to bet on, Caesars Sportsbook Virginia groups all live action in one place. That helps bettors see up-to-the-minute scores and odds, preventing them from missing out on anything.
Caesars Rewards
Creating a Virginia Caesars Sportsbook account automatically enrolls you in the robust Caesars Rewards program, which allows for many ways to redeem credits. For each $5 of potential profit on wagers placed on Caesars Virginia Sportsbook app or desktop site, bettors will receive one online reward credit. So, in addition to rewards gained using the Virginia Caesars Sportsbook promo code, there are even more ways to win. The Caesars Sportsbook is set to be a market-leader in the Virginia sports betting space.
Pile up your reward credits by placing more bets, and eventually you can redeem those credits at one of Caesars' nearly 50 hotels and resorts on items such as accommodations, dining, shopping and more.
Top-Notch Sign-up Bonus
The Caesars VA free bet offer is no longer a $5,000 bet credit, but the newer Caesars bonus VA is arguably even better. Using "BOOKIESCZR" the Virginia Caesars Sportsbook promo code, new customers can earn a first bet insurance worth up to $1,100 after placing their first wager.
As long as that first wager has odds of -200 or longer, the bettor will receive a bet credit of equal value (up to $1,100). Oh, and customers will receive that bet credit only if the first wager loses. Don't forget about our Virginia Caesars Sportsbook promo code when you sign up.
Create a Caesars Betting Account in VA
It takes just a handful of steps to create account Caesars VA, which we've detailed in step-by-step fashion here:
Use the exclusive Bookies.com link to be sent to Caesars Sportsbook Virginia. Select Virginia as your state, then click " Sign Up" in top-right corner of the screen.
Enter your name, email address, birthdate and mobile number.
Choose a password and security questions/answers. This step is especially important for if you ever need to reach customer support; they may ask you your security questions to verify the account.
Provide the final four digits of your SSN and your residential address.
Add in your Caesars promo code Virginia, "BOOKIESFULL". Click to agree to the terms of use, then click " Submit."
Lastly, verify your Virginia Caesars Sportsbook account by providing proof of residence. You may fulfill this requirement using scans of state-issued ID and proof of address documentation (such as you VA driver's license and a water bill). After that, log into the Caesars app VA and get the winning started!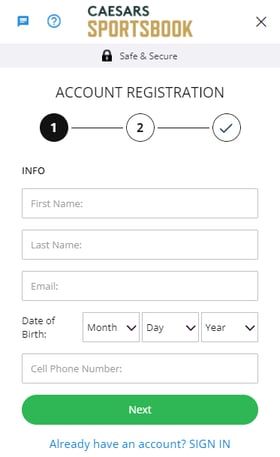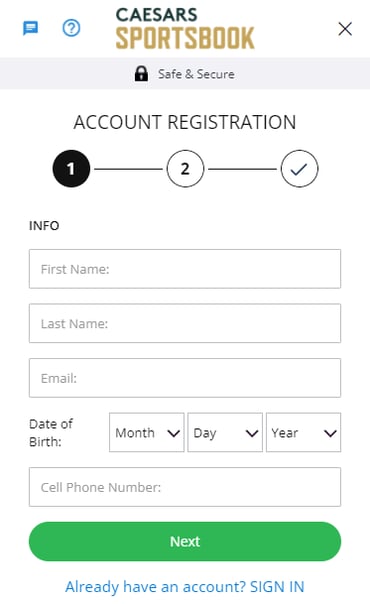 Banking with Caesars VA
Caesars Sportsbook Virginia makes banking is a worry-free process, particularly because of how many options exist for making deposits and withdrawals. Some of Virginians' most popular banks to work with include BB&T, PNC Bank and First Community Bank, but a large volume of national and regional banks are compatible.
Making a Deposit
Use any of the follow methods to make a deposit to your Virginia Caesars Sportsbook account:
All online deposits must be a minimum of $20, which is higher than some of Caesars Sportsbook Virginia's competitors.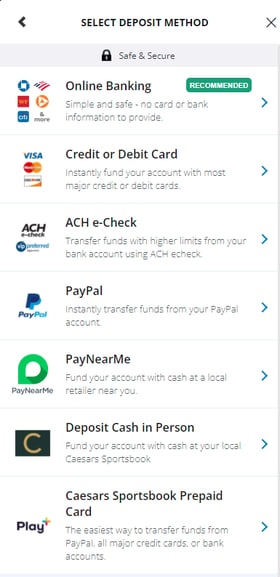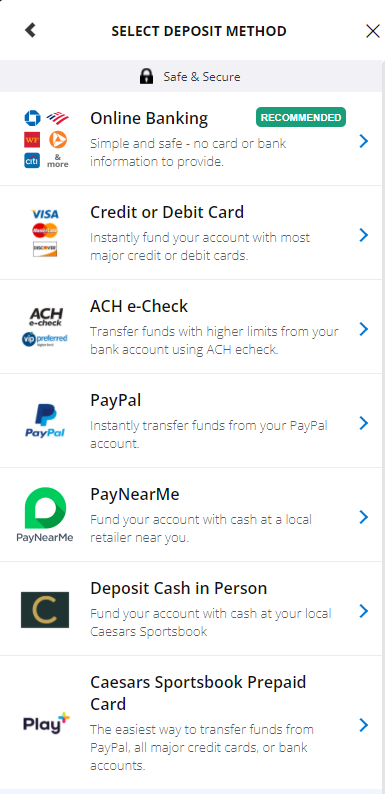 Cashing Out Your Winnings
Getting paid should be just as easy as making a payment, and with Caesars Sportsbook Virignia, it is. Here are the available cash-out options:
Online Banking (through PayWithMyBank)
A transfer to your Caesars Sportsbook Prepaid Play+ Card
Cash withdrawal at Chase Field's Caesars Sportsbook
Each withdrawal must be for at least $20, and the maximum limit per day is $5,000 (except with PayPal, which has a per-transaction limit of $10,000).
Digital withdrawals are subject to a review. If you're having an issue that Caesars Sportsbook Virginia cannot solve directly, check out the Virginia Attorney General's website to file a complaint and/or reach their consumer protection hotline.
Virginia Ongoing Contests and Tournaments
Caesars sportsbook VA bettors can go beyond straight bets, parlays and props by joining in on contests and tournaments. During the 2021 NFL season, the ongoing contest to try was the Super Bowl LVI Royal Giveaway, where users could have won drawings for NFL tickets, hotel rooms and travel accommodations.
The top prize, valued at $13,000, was a package with a pair of Super Bowl LVI tickets, a two-night stay at a Caesars Rewards Las Vegas Resort, private jet travel back and forth to Los Angeles and round-trip travel to Las Vegas. There were also monthly packages that included NFL tickets and travel, and together all the packages was worth an estimated $40,100.
Everyone with a Virginia Caesars Sportsbook account received an entry into each monthly drawing and the grand prize draw. Additional raffle entries were earned with every wager of $10 or more (with odds of -200 or longer) on NFL markets.
Caesars VA Sportsbook Rewards/ Loyalty Program
Making wagers with Caesars Sportsbook Virginia helps users accrue credits, which can be redeemed through Caesars Rewards. The wide-ranging network of resorts and hotels owned and operated by Caesars Entertainment allows for such redeemable items as hotel rooms, tickets to shows and spa treatments.
User Experience
The user experience at Caesars Sportsbook Virginia includes a clutter-free web design that uses limited colors, saving its eye-popping designs for its promotions and odds boosts. Assuming you know which sport(s) you want to bet on, you won't get lost along the way.
One way the desktop site and Caesars app VA could improve is by allowing users to customize their home page based on favorite teams (e.g., allowing the Nationals, Capitals, Wizards and Football Team all to appear at the top when a user logs onto their account).
Caesars VA Mobile Betting App
On the App Store, the Virginia Caesars Sportsbook app has collected over 9,000 ratings, and it owns a rating of 4.6 out of 5 stars. On Google Play (for Android users), the rating is 4.5 stars out of 5, based on 3,000-plus entries. The app is free to download, and it's fairly new, given that Caesars just rolled it out in 2021.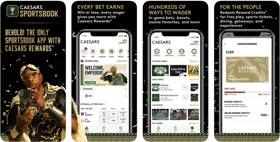 Caesars Virginia Legislation & History
Caesars Entertainment made its big move in online sports betting when it acquired William Hill in the spring of 2021 for roughly $4 billion. William Hill's non-U.S. assets were sold, but Caesars built upon the foundation the operator had already established stateside. That includes the web platform – Caesars uses a William Hill domain name – and many land-based sportsbooks.
Legal sports betting in Virginia launched on Jan. 21, 2021, and Caesars Sportsbook Virginia followed suit on Feb. 3. Though it was initially branded under the William Hill name, the company rebranded to Caesars Sportsbook Virginia soon after.
Caesars VA Betting Site
The only real difference between the Caesars Sportsbook Virginia app and desktop site is found in the preference of individual users. Using the mobile platform makes for greater on-the-go convenience, while the desktop platform is likely to display more betting options at once (due to the larger screen).
Security and Safety Offered By Caesars VA
Caesars Sportsbook Virginia makes a real investment in the security of its customers' personal information, evidenced by the use of SSL technology to encrypt that information during transmission.
Personal info may only be shared when necessitated by law enforcement, which Caesars Sportsbook Virginia outlines in its privacy policy. From the consumer side, use strong passwords (with numbers and special characters) to combat data breaches. It is never advisable to share your password.
Caesars VA Customer Support
Through email, live chat, or a national phone line, Caesars Sportsbook Virginia customers have a few easy ways to contact customer support. To speak to a live agent, be sure to contact the support team between 8 a.m. to 4 a.m. ET. Beware that long wait time do occur in some circumstances with over-the-phone support.
With that said, a huge portion of the most common customer issues are addressed in Caesars Sportsbook Virginia's archive of FAQs, which cover topics related to payments, promotional offers and more. English is currently the only language supported for the site.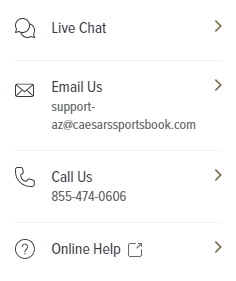 Caesars Washington Football Team NFL Betting
As you might guess, the Washington Football Team is one of the most popular teams to bet on at Caesars Sportsbook Virginia. Of course, the basics are available: moneyline, point spread and over/under bets. But bettors can go further with parlay bets and player props.
On any given week, you can bet on Antonio Gibson to be an anytime touchdown scorer or for Terry McLaurin to go over/under a certain volume of receiving yards. Caesars Sportsbook Virginia often has odds boosts for primetime NFL games, so be mindful of the Washington Football Team's schedule.
Caesars Live Streaming Virginia
Caesars Sportsbook Virginia offers live stream on all NFL games through Watch & Bet feature within Caesars Sportsbook Virginia App. All you have to do is to fund your account and have at least one settled wager within the last 10 months. You'll be able to bet in-game and watch your favorite team on your mobile phone or tablet devices.
Caesars Casino VA
Online casino gaming is not offered in Virginia, but a land-based Caesars Virginia casino resort is expected to open in Danville in 2023.
Caesars Rewards VA
As you place bets and earn credits, you can move up within the tiers of Caesars Rewards: starting at Gold, the other tiers include Platinum, Diamond, Diamond Plus, Diamond Elite and Seven Stars. Higher tiers provide monthly bet credits of increasing value, hotel perks, gift shop discounts and much more.
Our Expert Opinion on Caesars Sportsbook Virginia
Caesars Sportsbook Virginia is still relatively new, but as the state's betting revenues grow, so too should this operator's reach. The eventual opening of Caesars Virginia casino resort in Danville will help, but until then Caesars Sportsbook Virginia still has plenty to offer with its online product.
Lower minimums for both deposits and withdrawals (the current minimum is $20) would be nice, as would 24/7 customer service. Still, Caesars Sportsbook Virginia offers a great product backed by an industry-leading welcome offer, a lucrative rewards program and a well-designed desktop site and app.
Caesars Sportsbook States
Caesars Sportsbook Virginia FAQ
Is Caesars legal in VA?
Yes, Caesars Sportsbook is legal for customers aged 21 and older located within the state of Virginia.
Does Caesars VA have an app?
Yes, the Caesars Virginia app can be downloaded for free through the App Store and Google Play.
How old do I have to be to bet on Caesars Sportsbook in VA?
You must be 21 or older to place bets at Caesars Sportsbook in Virginia.
Is there a Caesars Virginia promo code?
The Virginia Caesars Sportsbook promo code "BOOKIES15" is available at Bookies.com though an exclusive link, which qualifies eligible customers for a risk-free bet worth up to $1,500.
How can I contact Caesars VA if I have questions?
Go to the "Support" tab at the top of the Caesars Sportsbook Virginia site. You'll see options to send an email, make a phone call or start a live chat.
Does Caesars Virginia offer live betting?
Live betting is offered, and the live bet section is located at the very top of Caesars Sportsbook Virginia's main menu.
About the Author
Jordan Horrobin has created sports betting content since 2019, covering everything from the NFL to KBO. Based in Toronto, he has written for MLB.com, The Athletic and Sportsnet.