Caesars Sportsbook Arizona Review & Promo Code
The Arizona sports betting market has only been live for a short time, but Caesars Sportsbook Arizona already has risen to become a top online sportsbook. Caesars Arizona offers an exceptional loyalty program, some of the best promotional offers and a highly-rated platform for both desktop and mobile users.
We'll look closer into these aspects and others in our Arizona Caesars Sportsbook review, and we'll also provide the Caesars promo code Arizona that new users need to get started and claim one of the best welcome offers in the industry.
Pros and Cons
Pros
Robust rewards program connected to Caesars Sportsbook Arizona Rewards
Easy-to-use mobile Caesars Sportsbook app Arizona platform
Effective customer support services
Great Caesars Sportsbook Arizona welcome bonus
Cons
Fewer sports leagues to bet on compared to some competitors
Minimum deposit of $20 is higher than many competitors
Caesars AZ Sportsbook Offers
The new Caesars Arizona offer means you can get a free bet up to $1,250 if your first bet loses. Here's how it works at Caesars Arizona: Create account, bet at least $10. If your first wager loses new customers with Caesars Sportsbook Arizona will receive a free bet in the amount of your initial wager (up to $1,250). You will also receive 1,000 Tier Credits and 1,000 Reward Credits. This welcome offer has just a 1x playthrough as well, making it easier to cash out.
The addition of Tier Credits and Reward Credits is a nice touch and one that can really pay off for regular bettors. You already start with 1,000 Tier Credits (higher tiers offers better rewards), so you're well on your way to Platinum (5,000+). The Platinum Tier offers such perks as one free night in Las Vegas, Atlantic City, Lake Tahoe or Reno (for every 5,000 Tier credits earned, up to seven nights), a monthly $10 free bet, as well as a $10 free bet on your birthday month and complimentary valet parking.
The Rewards Credits get you $1 in free play for every 200 credits. You also get 1 Reward Credit for every $5 of potential profit on a bet (up to 10 times the original stake). You can find all the Caesars Rewards details here.
Prior to November 2021, the Caesars Arizona Sportsbook offered a $5,000 risk free bet as its welcome bonus, which only granted a free bet to users if their initial wager lost. The dollar figure on the new offer is smaller, but in reality, it's a better deal because you get a bonus no matter what the result of your first bet. When registering for a Caesars Sportsbook Arizona account, add "BOOKIESFULL" as your Arizona Caesars Sportsbook promo code to secure the offer.
Where to find the best Caesars Sportsbook Promo Codes for AZ?
You'll always find the best Caesars Sportsbook Arizona promo code here at Bookies.com because we're reviewing and verifying codes on a regular basis. There isn't a Caesars AZ deposit bonus code offer right now, but the aforementioned "BOOKIESFULL" code is what you'll want to use when creating your account to get up to $1,250 on Caesars.
Additional Promotions by Caesars Sportsbook in Arizona
Arizona Caesars promotions change as the sports calendar changes, which means you'll want to check in frequently to see if there are any new offerings. For instance, in the final two weeks of November, Caesars Sportsbook Arizona is gifting a $100 digital MasterCard gift card to new users who bet at least $100 in real money by the end of the month (on bets with -200 odds or longer).
A lot of primetime sporting events, such as Sunday Night Football or a major college basketball game, are used as the foundation for a special offer such as an odds boost or a Caesars AZ free bet offer. Make sure you're locked in on the Promotions tab, which is where current offers are found.
Available Sports to Bet on at Caesars Arizona
Using the Caesars Arizona app or website, customers will find a comprehensive list of sports and leagues to bet on. Some competitors of Caesars Sportsbook offer a wider variety of leagues, especially in soccer, but all the main markets (and several obscure ones) are covered with this operator. Below you'll find the full list, beginning with the most popular sports before the others are listed A-Z:
Baseball
Hockey
Auto Racing
Boxing
Cricket
Cycling
Handball
Hockey
Rugby League
Rugby Union
Snooker
Table Tennis
Football, particularly the NFL, offers the most extensive list of betting choices, with several player and team props that change each week. Even more boosts and betting options appear during the playoffs for major sports leagues, such as the NFL, NBA, MLB and NHL.
Whether you want to bet on the Arizona Cardinals, the Phoenix Suns, the Arizona Diamondbacks or one of the major college teams (Arizona State Sun Devils and Arizona Wildcats in particular), Caesars Sportsbook Arizona has what you'll need.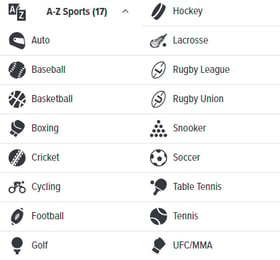 Popular Bets to Make at Caesars Sportsbook AZ
When you make your way to the Caesars Arizona Sportsbook app or desktop home page, you'll be met with a ton of options – not just for sports to bet on, but also types of bets to place. Understanding the most typical ways to bet Caesars Arizona will make everything a whole lot easier. Here's a primer on the operator's most popular types of bets:
Straight Bets: Predict one outcome in a single game, based either on the point spread, total or the moneyline. We'll discuss moneyline and totals in a moment; for the spread, understand that a favored team must win by a certain number of points in order to "cover" the spread. Conversely, an underdog team may lose within a certain number of points and still cover. For example, if the Arizona Cardinals are 6.5-point favorites against the Las Vegas Raiders, the Cardinals would need to win by a seven points or more in order to cover the spread. Odds are typically -110.
Total Lines: Predict the total points scored in a game as being either over or under the line provided. For example, the total for Arizona vs. Arizona State in college basketball odds might be 139.5 points. That's the line, and your task is to predict where you think the teams will combine to go over that total or fall under it.
Moneylines: Predict the winner. It's that simple. Both teams receive odds to win the game outright (the favorite on the spread will have shorter moneyline odds than the underdog, obviously), and you just want to identify the one that'll have the higher score at the end. For example, the Arizona Coyotes could be +220 moneyline underdogs against the Toronto Maple Leafs, which merely means the Coyotes would have to win for the bet to cash. At +220 odds, a successful bet of $50 on the Coyotes would net $110.00 in profits.
Parlay Bets: Predict a series of straight bets, but in a grouping. This is a combination wager, which means all events (or "legs") of the parlay must be successful for the bet to cash. Sometimes bettors craft a parlay using events within the same game (known as a same-game parlay), and other times parlays consist of events from different games in the same league or across multiple leagues. Parlay payouts are generally juicier, but only because they carry more risk. At Caesars Sportsbook Arizona, you could combine the Cardinals, Arizona/Arizona State and Coyotes bets in a three-leg parlay.
Futures Bets: Predict an event that'll take place sometime in the future, such as a league championship or an award winner. These bets might take weeks, if not months, to be resolved. In the NFL futures market, for example, the Cardinals might be -220 chalk to win the NFC West if you bet Caesars AZ odds.
Prop Bets: Predict a particular event within a game, which doesn't necessarily relate to the outcome of that game. Examples include predicting which player will score the first touchdown in a football game, or an over/under line for how many 3-pointers a particular basketball player will make.
If you're new to all of this, it might be wise to stick with straight bets at first. But experimenting with bets such as props and parlays can be fun – and rewarding.
Caesars Arizona Sportsbook Features
A sportsbook worth its salt must check at least a few boxes in regard to the features a user is looking for, and Caesars Sportsbook Arizona certainly does that. In this closer look at the features of the Caesars Arizona app and website, you'll see how the operator meets the needs of its customers, and in many cases exceeds them.
Elite User Experience
Logging into your Arizona Caesars Sportsbook app or webpage, you'll find a simple-yet-stylish online platform from which to wager. The site's backdrop is white, and most of the text is navy blue, which creates desirable contrast and limited clutter. Sports and leagues appear on the left side, while a user's betslip appears on the right. The betslip feature will automatically calculate a bettor's parlay odds, as well as the potential payout based on the value of the bet being placed. Note that the Support tab is prominently featured on the home page, high and centered, which makes it easy for users to access when they have an issue.
Fast and Easy Banking
Submitting a deposit to your Caesars Sportsbook account is done simply and instantly. For withdrawals, you may have to wait up to 72 hours for a request to be processed and approved. That's the amount of time Caesars Sportsbook budgets for, but the process is typically much quicker. You may use several methods to make a deposit or withdrawal, all of which will be detailed later in this review.
Strong Desktop Site and Mobile App
Having a strong Arizona Caesars app and desktop site falls in line with the elite user experience we previously mentioned. Not only are the page designs sleek, but they're also responsive. Nobody wants a site to lag in the closing seconds before a bet has to be placed. We like that the live betting options are located at the very top, ensuring bettors don't miss out on any current action.
Caesars Rewards
When you create Caesars Sportsbook Arizona account, it'll automatically be connected to the Caesars Rewards program, which opens several doors for ways in which you can redeem credits. One online reward credit is earned for every $5 of potential profit on bets placed through the Caesars Sportsbook app or website. These rewards are above and beyond the Caesars bonus code Arizona offer you claimed at sign-up.
The more you bet, the more credits you'll accrue, and those credits enable customers to redeem rewards at Caesars' nearly 50 hotels and resorts – Harrah's Ak-Chin in Maricopa – on items such as dining, shopping, hotel stays and more.
Top-Notch Sign-Up Bonus
Although Caesars Sportsbook Arizona no longer offers a $5,000 risk free bet as its sign-up promotion, the new offer is still the largest in the state – and it has even greater value. Using "BOOKIESFULL" the Caesars bonus code Arizona, users can bet up to $1,250 on Caesars. To get started, just use our Caesars Arizona promo code when you create an account.
The value of the free bet matched the value of the customer's initial wager (up to $1,250) if the bet loses.
Create an Online Caesars Betting Account in AZ
To create account Caesars AZ, follow our step-by-step instructions listed here:
Click on Bookies.com's exclusive link to be redirected to Caesars Sportsbook, where you can claim your promotional offer. Choose Arizona as your state and click "Sign Up" in the righthand corner at the top of the screen.
Submit your name, email, birthdate and cellphone number.
Create a password, as well as security questions and answers. If you need to contact customer support at any point, they may use your security questions to help verify your account.
Enter the final four digits of your Social Security number and add your home address.
Type in your Caesars Arizona promo code BOOKIESFULL. Review the terms of use, check the box to agree and click "Submit."
Lastly, provide proof of residence to verify your Caesars Sportsbook account. This can be done by uploading scans of a government-issued ID and proof of address (e.g., a driver's license and a utility bill). Once you've finished with that, your Arizona sports betting journey can begin.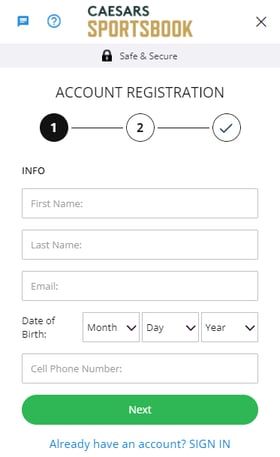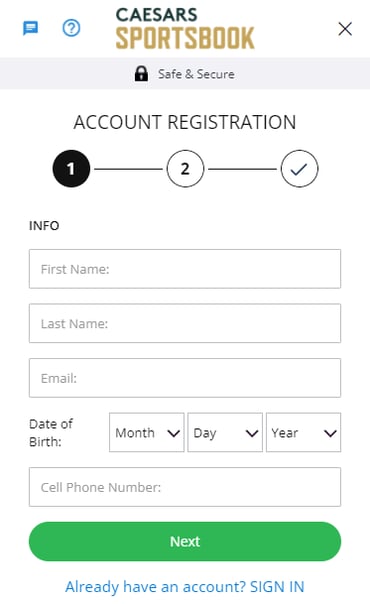 Banking with Caesars Sportsbook Arizona
Banking with Caesars Sportsbook is a worry-free process. Using a multitude of compatible banks, such as Chase, Wells Fargo and the National Bank of Arizona, customers can easily make deposits and withdrawals to and from their Caesars Sportsbook Arizona account.
Making a Deposit
With Caesars Sportsbook Arizona, there are several ways to make a deposit:
Note that digital deposits must be $20 or more, which is higher than some of the other sportsbooks. Cash deposits require valid ID and the use of a mobile phone, so Caesars Sportsbook can send a verification code to complete the transaction.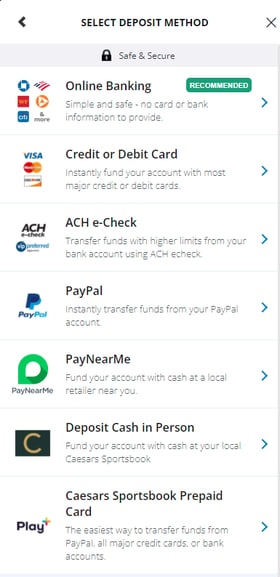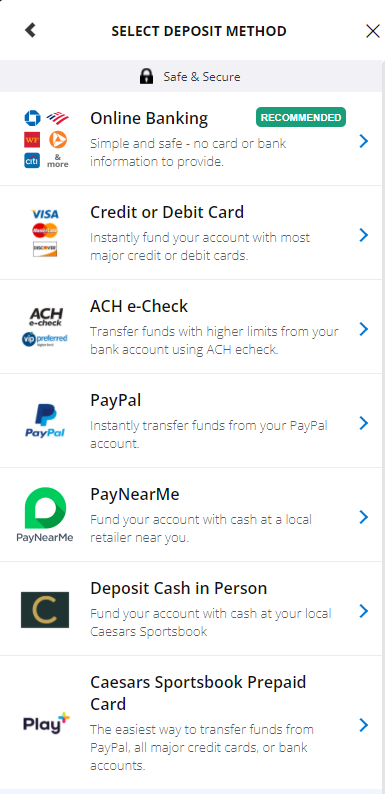 Cashing Out Your Winnings
With Caesars Sportsbook, it's just as easy to get paid as it is to pay. Here are your options to cash-out:
E-check via VIP Preferred
Online Banking (through PayWithMyBank)
PayPal withdrawal
A transfer to your Caesars Sportsbook Prepaid Play+ Card
Cash withdrawal at Chase Field's Caesars Sportsbook
Withdrawals must be for at least $20, for all options, and the maximum daily limit is $5,000 (except for PayPal, where the limit per transaction is $10,000).
All digital withdrawals are subject to a review. Visit the Arizona Attorney General's website if you have any questions or concerns regarding consumer protection.
Arizona Ongoing Contests and Tournaments
Caesars AZ sports betting doesn't stop with straight bets, prop bets and parlays. The operator offers contests and tournaments, too, which are dependent on what's happening in the sports worlds. For the previous NFL season, the contest was the Super Bowl LVI Royal Giveaway, which was a collection of prize package raffles for NFL tickets, hotel stays and travel.
The top prize included a pair of Super Bowl LVI tickets, a two-night stay at a Caesars Rewards Las Vegas Resort, private jet travel to and from Los Angeles and travel to and from Las Vegas. The package was valued at $13,000, and all the packages combined are worth an estimated $40,100.
Having an active Caesars Sportsbook Arizona account will provide you with an entry into each monthly drawing, as well as the top prize draw. Each cash wager of $10 or more (with odds of -200 or longer) on NFL markets provided the user with an additional drawing entry.
Caesars AZ Sportsbook Rewards/Loyalty Program
Every time you make a wager with Caesars Sportsbook, you're working toward gaining credits that can later be redeemed via Caesars Rewards. Caesars' robust network of resorts and hotels has redeemable items such as meals, hotel rooms, tickets to shows, spa treatments and more.
User Experience
The user experience at Caesars Sportsbook Arizona includes a web design that's fairly basic – but we mean that in a good way. Too many colors and graphics create a sense of clutter, which doesn't help users navigate the page in a satisfactory way. Caesars Sportsbook AZ saves its eye-popping designs for its promotions and odds boosts, which help them stand out and ensure that users will see all the best offers available to them.
One feature we wish Caesars Arizona Sportsbook offered is a way to identify a user's favorite teams, and then to have bets involving those teams featured at the top (e.g., it might be nice for Arizona bettors to have Cardinals, Suns and Coyotes odds readily accessible).
Caesars AZ Mobile Betting App
Access the Caesars app AZ at either the App Store (for Apple users) or Google Play (for Android users). On the App Store, the Caesars Sportsbook app has over 9,000 ratings, which collectively grade it 4.6 out of 5 stars. Not only is the app free to download, but it's also easy to navigate and it features all of the same design elements we like about the desktop site. It's also pretty new, given that Caesars Sportsbook just rolled it out in the summer of 2021.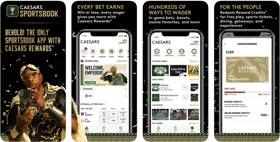 Caesars Arizona Legislation & History
One of the major moves in recent online sports betting history was Caesars Entertainment's acquisition of the William Hill Sportsbook in the spring of 2021 for roughly $4 billion. Caesars sold off William Hill's non-U.S. assets but retained the footholds that William Hill Sportsbook already had stateside. That included its web platform – Caesars still uses a William Hill domain name – which has given way to one of the highest rated legal sports betting apps on the market.
When Arizona sports betting launched on Sept. 9, 2021, Caesars Sportsbook was one of the Day 1 operators. But the journey to legalized sports betting in the Grand Canyon State did not come without pitfalls: Bills were introduced in 2019 and 2020, but both failed.
In 2021, Gov. Doug Ducey voiced his support and negotiated with Native American tribes in the state to expand their casino gambling reach and grant them 10 of the 20 allotted sports betting licenses. Finally, a bill passed with a 23-6 vote, and Ducey signed it into law three days later.
Caesars AZ Betting Site
There isn't much of a difference between the Caesars Sportsbook app and desktop site, given how aligned the designs are for both. Still, each individual user will have his/her preference based on their technological preferences. The app offers a greater level of on-the-go convenience, while the desktop platform will almost certainly offer a larger screen that allows for more betting options to be displayed at once.
Security and Safety Offered By Caesars Sportsbook AZ
With its direct ties to Caesars Entertainment, Caesars Sportsbook customers should feel confident in knowing that the security of personal information is taken very seriously. Caesars Sportsbook uses SSL technology to encrypt the personal date of its users during transmission.
The only circumstance in which your data would be shared elsewhere is when necessitated by law enforcement, which is outlined in the Caesars Sportsbook privacy policy. From the customer side, take action against stolen information by using strong passwords – ones with numbers, special characters and a mix of upper/lowercase letters. Sharing your password with others is not advised.
Caesars Sportsbook Arizona Customer Support
Caesars Sportsbook users may contact customer support through email, live chat, or a national phone line. Agents are available for live chats and phone calls from 8 a.m. to 4 a.m. ET (5 a.m. to 1 a.m. PT), and in some circumstances there are long wait times for over-the-phone support.
On the bright side, most common issues can be resolved by accessing Caesar Arizona Sportsbook's multitude of FAQs, which cover topics such as deposits/withdrawals, promotions and more. English is the only language currently supported for the site.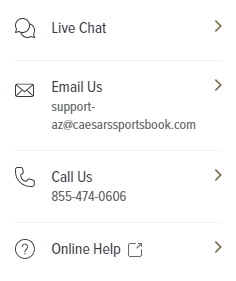 Caesars Sportsbook Arizona Cardinals NFL Betting
Want to back the Arizona Cardinals with bets on the moneyline, point spread or point total? Caesars AZ Sportsbook has you covered with all that and more. Using the same-game parlay feature, bettors can combine several events within a Cardinals game for mega payout potential.
For example, you could bet on DeAndre Hopkins as the first touchdown scorer, plus Kyler Murray to throw for over 265.5 yards and the Cardinals to win on the moneyline. Caesars Sportsbook Arizona often has odds boosts for the NFL's Thursday night, Sunday night and Monday night games, so keep an eye out for when the Cardinals play in prime time.
Caesars Sportsbook Arizona NCAA Betting
College football fans and college basketball fans will enjoy a regular rotation of free bet promotions and odds boosts offered through Caesars Sportsbook AZ. These offers change frequently, but right now customers can receive a 50% profit boost on qualifying college basketball wagers, as well as a 33% parlay boost with college football wagers.
These sorts of promotions are fair game for Arizona Wildcats and Arizona State Sun Devils bets, and the same goes for futures bets (you could get +650 odds for Arizona to win the Pac-12 men's basketball title this season).
Caesars Live Streaming Arizona
Caesars Sportsbook became the first ever US Sportsbook to offer live streaming of all NFL games in December of 2022. You can simply download Caesars App on your mobile or tablet device, register an account and log in. You will also need to have an active balance and at least one wager settled, but for the first time you will be able to watch NFL games through Caesars Sportsbook App.
The feature is called Watch & Bet and it brings unique live wagering experience as for the first time ever you will be able to bet in-game and watch your favorite NFL team in action.
Caesars Casino AZ
For now, Arizona does not offer online casino gaming, and therefore there is no Caesars online casino in the state. If legislation changes in that regard, however, Caesars would be considered a strong candidate to be a frontrunner for online casino gaming in the state.
Caesars Sportsbook Rewards AZ
Bets placed through Caesars Sportsbook allow customers to gain credits, which they can later use within the Caesars Rewards program. Similarly, to how you'd earn credits by gaming at a Caesars casino, you can also earn them through sports wagers. Credits can be redeemed at Caesars-affiliated hotels, dining venues, spas and more.
Our Expert Opinion on Caesars Sportsbook Arizona
Arizona sports betting is still such a new enterprise, but Caesars Sportsbook Arizona has done an excellent job positioning itself at the forefront of the state's gaming market. The Arizona Caesars bonus code provides a pathway to an excellent welcome offer, and the customer support options are at least acceptable when compared to competitors.
We'd prefer lower minimums for both deposits and withdrawals (the current minimum is $20), and live 24/7 customer service would be helpful. Still, Caesars Sportsbook excels because of its extensive menu of offers and promotions, as well as the sleek design of its desktop site and app.
Caesars Sportsbook States
Caesars Sportsbook Arizona FAQ
Is Caesars legal in AZ?
Yes, Caesars Sportsbook is legal for patrons who are 21 and older within the state of
Arizona
.
Does Caesars AZ have an app?
Yes, the Caesars Arizona app is available for free through the App Store and Google Play.
How old do I have to be to bet on Caesars Sportsbook in AZ?
You must be at least 21 years old to place bets at Caesars Sportsbook in Arizona.
Is there a Caesars Arizona promo code?
The Caesars AZ bonus code is available at Bookies.com through our exclusive link, and using it qualifies eligible customers for up to $1,250 first bet on Caesars (if it loses). You'll also get 1,000 Caesars Tier Credits and 1,000 Rewards Credits, regardless of your bet's outcome.
How can I contact Caesars AZ if I have questions?
Locate the "Support" tab at the top of the Caesars Sportsbook webpage. That's where you'll see options to send an email, start a live chat or make a phone call.
Does Caesars Arizona offer live betting?
Yes, and the live bet section is located on the top-left of Caesars Sportsbook's main menu. Depending on the score of a game, and the time remaining, users may be able to place a live bet on the moneyline, spread and/or point total.
About the Author
Jordan Horrobin has created sports betting content since 2019, covering everything from the NFL to KBO. Based in Toronto, he has written for MLB.com, The Athletic and Sportsnet.