BetMGM Sportsbook IL Review and Bonus Code
BetMGM Illinois is live in the state of Illinois as of March 5, 2022. BetMGM is the online division of the legendary MGM brand that has held a prominent place in the gaming world for decades. With the law requiring in-person registration for online accounts lifted, BetMGM Illinois is now available online and should become one of the top sportsbooks in the state.
It's that combination of a well-known and popular brand reputation, coupled with an online sports betting site that offers a rich and robust share of betting lines and markets that will make BetMGM Illinois a destination for Illinois sports betting. Factor in the lucrative BetMGM Illinois signup bonus, which provides a bonus bet of $1,000 to new players and best of all, doesn't require the entry of a BetMGM Illinois bonus code in order to access the offer, and BetMGM has plenty to offer to Illinois bettors.
BetMGM IL Sportsbook Best Features
| | |
| --- | --- |
| 🥇 BetMGM IL Best known for | Bonuses |
| 🖊️ Welcome Offer | Bonus Bet up to $1,000 |
| 🎁 BetMGM IL Bonus Code | BOOKIES |
| 💳 Minimum Deposit | $10 |
| 📲 BetMGM IL Sportsbook App | iOS |
| ⌚️ Withdrawal Time | 3-7 Business Days |
| 🌎 BetMGM Legal States | AK, CO, LA, MI, NY, TN, AZ, IN, IL, IA, KS, MD, NJ, PA, VA, WV, WY |
Pros and Cons
Pros
Industry-best new player signup bonus offer
Rich selection of betting markets
Outstanding coverage when it comes to live streaming
Cons
Withdrawal process can be slow and confusing
BetMGM IL Sportsbook: Overview
The BetMGM Illinois online sportsbook is the result of the marriage of a legendary global entertainment company (MGM Resorts) and the world's largest online betting technology company (Entain Holdings). BetMGM Illinois is the exclusive sports betting division of MGM, both online and in MGM casinos nationwide.
BetMGM Illinois is also the headline brand for online casino gaming alongside sister brands Borgata Online (New Jersey), Party Casino and Party Poker. Currently, online casino gambling hasn't been legalized in the state by the Illinois Gaming Board.
BetMGM Illinois marks the launch of an 18th state with a BetMGM presence. The BetMGM website is both sleek and simplistic. While pleasing to the eye, the site is easy to navigate. Illinois bettors can find and place their bet can be done in an instant. When it comes to online sports betting, BetMGM Illinois offers an extensive menu of live betting and live streaming. the BetMGM Illinois Sportsbook features popular promotions such as odds boosts and same game parlays.
Likewise, the BetMGM Illinois Sportsbook app is also easily downloaded and navigated. It offers all the same bets, bells and whistles as the BetMGM Illinois desktop site right in the palm of your hand, meaning you can take the BetMGM Sportsbook Illinois with you anywhere you go during the course of your day.
Opening a BetMGM Illinois account is a relatively painless process. Players can be signed up and placing their first wager at the BetMGM Illinois sportsbook within a matter of minutes, ready to take advantage of that BetMGM Illinois bonus bet of up to $1,000 that's offer to new players on their initial wager.
BetMGM Illinois Sportsbook Bonus and Sign-Up Offers
The BetMGM online sportsbook is offering one of the richest signup offers to new players of any online sportsbook in the USA. It's a 100 percent matching bonus bet that maxes out in value at $1,000.
It's available to all new Illinois bettors, whether they sign up at the BetMGM Illinois online sports betting desktop site, or through the BetMGM Illinois app. And there's no need to enter a bonus code. BetMGM Illinois offers this new player bonus to all newcomers.
To access this offer, all new players need to do is sign up with the BetMGM Sportsbook or BetMGM Illinois Sportsbook app. Next, make a deposit of at least $10 and Illinois bettors are eligible for the sign up offer. If their first bet loses, they'll receive the amount of their wager back in the form of 5 $200 bonus bets (if you bet the max of $1,000).
Staple Features of BetMGM Sportsbook IL
As one of the biggest names in the betting world, players can rest assured that the BetMGM Illinois is one of the safest and most stable sports betting sites in Illinois. The people in charge of the BetMGM brand have been doing this for decades. They offer a quality product and understand what it is that today's sports bettors are seeking from an online sportsbook.
Whether it's the latest in live betting, live streaming to watch the action while getting in on the action, to secure payment methods, BetMGM Illinois delivers the good on all counts.
Live Sports Streaming
BetMGM Illinois provides to its players live streaming from a variety of sports. These include soccer, tennis and basketball, among others. A dedicated tab in the top left-hand corner will instantly take Illinois bettors to the BetMGM live betting site. From there, another link highlights all active and upcoming live streams. While some sites require a live bet on an event to live stream it, all you need is to be a registered bettor with BetMGM Illinois sportsbook to access the action.
Live Sports Wagering
The Live link on the BetMGM Sportsbook web page takes players instantly to the site's active events offering live betting options. The live betting odds are also accessible through each specific BetMGM Illinois sports page. As the live odds change, they flash on the site to alert sports bettors. live betting is offered on major sports such as the NFL and NBA to niche markets like British rugby and Japanese baseball.
Early Bet Cash Outs
BetMGM Illinois is among the betting sites that permit players to cash out of a wager before it settles. This is generally done by a bettor on a bet in which they are currently winning but are not confident that this will be the outcome at the end of the match. By doing so, they are settling for a lesser amount of winnings than if they waited for the conclusion of the competition. The BetMGM Illinois Sportsbook doesn't offer the cash out option on all events. As well, the cash out functionality is only available for straight and parlay bets.
Same Game Parlays
While parlay wagering has been around for some time, same game parlays are relatively new to sports betting. Basically, bettors are assembling a parlay wager from different bets available on one event. At the BetMGM IL Sportsbook, they make the playing of a same-game parlay a piece of cake. Once players choose a game, they will see the one game parlay icon on the page of wagers for that game. Simply click on the icon and begin assembling the same game parlay picks.
Frequency of Odds Boost
Three of four times a day, BetMGM Illinois offers boosted odds on specified sports bets. Often, this is done to highlight significant events such as a golf major, or an event of importance to Illinois bettors, such as a Bears-Packers NFL game. If the Bears are -125 home favorites over the Packers, BetMGM might boost Chicago's odds to +100, creating a higher payout for backers of the Bears. If not otherwise stated, odds boosts are only available to real-money players.
Additional Betting Features
An edit my bet function is available from BetMGM IL on selected events, fixtures and markets both pre-match and live for a variety of sports. When an edit my bet request is made, the current bet is cashed out. Then the new bet, with the edited changes, is placed.
During NFL season, BetMGM Illinois offers the King Of The Weekend contest. Select the six games on that week's NFL schedule which are going to produce the highest scores. Hit all six correctly and you could win a share of $50,000.
Another NFL offer from BetMGM sportsbook Illinois is a bonus bet on first TD scorers in NFL games. Place a prop wager on which player will score the first TD in an NFL game. If your bet loses, BetMGM Illinois will provide you with $25 as a bonus bet.
BetMGM

Get $200 in Bonus Bets when you Bet $10 on March Matchups

Bet Now ➜

19

PLAYERS REDEEMED TODAY!
BetMGM Mobile App for Illinois Sports Bettors
Available for download to both Android and iOS devices, the BetMGM IL app is as easy to install as it is to navigate. The iOS compatible app is available from the App Store. Since the Google Play Store prohibits betting apps, BetMGM provides a download link for Android devices directly from their web page. The user interface of the BetMGM Illinois app offers everything that the desktop site does and yet it is perfectly suited to work with smartphones.
How BetMGM Compares to Illinois Sportsbooks
With its sleek design and ease of use, in terms of operational ability, the BetMGM Illinois online sportsbook measures up favorably when put up against all of the major Illinois online sportsbook sites. Could the BetMGM Sportsbook Illinois use a few more niche sport markets? Sure. However, you'll search long and hard across online sportsbooks when trying to locate a better signup bonus than the $1,000 bonus bet that the BetMGM IL Sportsbook offers.
BetMGM vs. FanDuel Sportsbook
While BetMGM Illinois gets the edge over FanDuel when it comes to signup bonus offers, FanDuel stands above BetMGM in terms of volume of betting markets. FanDuel's ongoing promotions tend to go deeper than BetMGM Illinois and they offer parlay insurance. BetMGM Illinois is slightly quicker at posting odds, especially on smaller market college sports.
BetMGM vs. DraftKings Sportsbook
One issue that BetMGM comes up against with other American sportsbooks, including DraftKings, is their choice of odds. BetMGM Illinois utilizes decimal odds, which are more complicated than the American odds preferred by 99% of online sportsbooks in the USA. DraftKings also has lower deposit and withdrawal limits ($1-$5) compared to BetMGM Illinois ($10).
BetMGM vs. BetRivers Sportsbook
Certainly, BetMGM Illinois has the brand recognition edge, but BetRivers was actually the first legal sportsbook available in Illinois. Plus, its parent company Rush Street Interactive's headquarters are in Chicago, so it has a good read on the market. BetRivers has a competitive sign-up offers ($250 deposit match), but BetMGM IL has the backing of an international entertainment giant, and thus, a fantastic rewards program that offers stays at resorts all over the world. That's hard to compete with.
Sports Betting Markets with BetMGM Illinois
The bench in terms of sports betting markets at BetMGM Illinois might not match up to some of the other American sites. They could use a few more niche areas such as winter sports (skiing) and perhaps eSports. That being said, there's still going to be plenty to keep Illinois sports betting players busy.
Baseball
Basketball
Boxing
Cycling
Entertainment
Football
Formula One
Golf
Hockey
Lacrosse
MMA
Rugby League
Rugby Union
Snooker
Soccer
Tennis
Naturally, the most popular sports are those including teams from the state of Illinois, such as the NFL's Chicago Bears, NBA's Chicago Bulls, MLB's Chicago Cubs and Chicago White Sox and NHL's Chicago Blackhawks. A change in Illinois law also not allows retail sports betting on in-state college sports teams such as the Illinois Illini and Northwestern Wildcats. But online wagering on in-state college teams is still prohibited.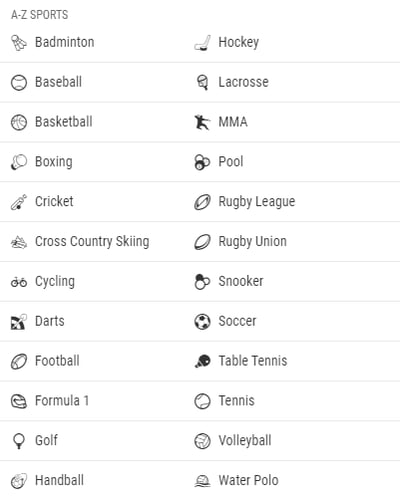 Types of Bets Available with BetMGM Illinois
The most common types of sports bets offered by BetMGM IL fall into the categories of straight, exotic and novelty bets. Straight bets involve direct outcomes of games. Exotic bets offer the chance to make a big score for a small stake but at a high risk. A novelty bet often has nothing at all to do with the outcome of a game.
Moneyline
The moneyline is based on $100 bets. Should the Chicago Cubs be at odds of +265 to beat the Detroit Tigers, that means a bettors will realize a $265 profit should they cash a winning bet on the Bears. This also goes the other way, as a (-210) favorite will force you to pay $210 to win $100. To cash this bet, you can ignore lines and focus on the winner of the game.
Spread Bets
A point spread is designed to balance out the wagering on an event. Suppose the Chicago Bears are +7.5 against the Green Bay Packers. That means the Packers are favored to win by 7.5 points. Bet the Bears and you get 7.5 points. So, if Chicago wins, or loses by a touchdown or less, your bet is a winner. Spread wagers are the most popular way to bet on the majority of sports.
Parlay Bets
Parlay bets are a number of individual bets combined into a solitary wager. It could be the Chicago Bulls to beat the Indiana Pacers at -225, the Chicago White Sox to beat the Minnesota Twins at -295 and the Illinois Illini to defeat the Northwestern Wildcats at -185. All three bets must come in for the parlay to cash.
Total Lines
Each game is assigned a total score. For instance, a Chicago Blackhawks-St. Louis Blues game the total could be 6.5 goals. You bet on whether the two teams will go over or under that total. If you're betting on a Bears game, it could be a 42.5 point total. If the two teams combine for more than 43 points, over bettors will successfully cash. If the two teams combine for 42 or fewer points, under bettors will cash.
Futures Betting
Suppose you think that the Illinois Illini are going to win the Men's NCAA Tournament. At any point during the NCAA basketball season, you can place a future bet on them to do so. Generally, the earlier you place the bet, the longer the odds will be. The bet only cashes if Illinois does win the NCAA title. NFL futures betting is easily the most popular market of any futures.
Prop Bets
The prop bet was created because of Chicago Bears defensive tackle William (The Refrigerator) Perry. Bears coach Mike Ditka deployed The Fridge as a running back in short-yardage situations. Leading up to Super Bowl XX, a sportsbook offered a prop on whether The Fridge would score a TD in the game (he did). Today, Super Bowl prop bets are massive and prop bets in general are extremely popular forms of wagering. Props are now one of the most popular ways to wager in
How to Register for a BetMGM Illinois Account
The registration process at BetMGM IL is simple, straightforward and quick to complete. BetMGM IL provides access to electronic verification software. That means unlike most betting sites, new registrants won't be required to download any personal documents to verify their account.
For Illinois bettors, state law mandates that all new accounts must be opened via in person registration at the BetMGM Illinois casino partner, the Par-A-Dice Hotel Casino in East Peoria.
Here's a step-by-step look at the process for opening at BetMGM IL account:
Click on "info" at the BetMGM IL web page or via the BetMGM Illinois app;
Next, enter the following personal information - first and last name, date of birth, address, phone number, email address and the last four digits of your Social Security number
Set up a set of security questions to help protect access to your account
Make a deposit to your new BetMGM IL account and you're ready to make that first wager
BetMGM Sportsbook Payment Options
BetMGM Illinois provides a number of banking methods that can be used to both deposit to and withdraw from a BetMGM IL account. The process tends to be relatively seamless and there are no fees that Illinois bettors will incur for transactions made.
Making Deposits
Funds can be deposited directly from an Illinois bettors' bank account to their BetMGM IL account via credit card, debit card, e-check or e-wallet. The minimum deposit amount is $10. The entire process is safe and secure and can be achieved via Visa, Mastercard, Discover Card, PayPal, VIP preferred e-check, online banking and the BetMGM Illinois Play+ card.
Making Withdrawals
Withdraws are equally safe and secure at BetMGM Illinois. However, they generally take a minimum of two days to process. Depending upon the banking service utilized, in can take between 3-7 days. As with deposits, the minimum withdrawal id $10. PayPal, VIP preferred e-check, online banking and the BetMGM IL Play+ card are withdrawal options.
BetMGM Sportsbook Rewards
The BetMGM Illinois Sportsbook offers customers eligibility to enroll in the award-winning M life Rewards program. Players earn points, tier bonus credits, slot dollars and express comps as they play. As these points are accumulated, they can be exchanged for valuable perks at MGM casino resorts around the world, including personalized offers, dedicated windows at BetMGM IL sportsbooks, and discounted and comped rooms.
Illinois BetMGM Sports Betting App
The BetMGM Illinois app offers Illinois players a sleek, state of the art betting app. In fact, bettors are be given two options for the mobile experience. They can go with the mobile version of their regular betting platform, or the dedicated app that's compatible with both Android and iOS devices. Since the Google Play Store doesn't permit betting apps on their site, Android users can find a download icon is available directly from the BetMGM Illinois sportsbook.
With the same slick black and gold color scheme, the BetMGM IL app is intuitive. It's easily navigated and switching from one section of the site to another is a seamless process. Best of all, it's uniquely designed to work with a smartphone or other mobile device.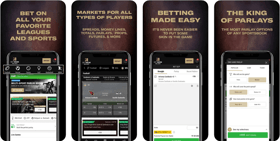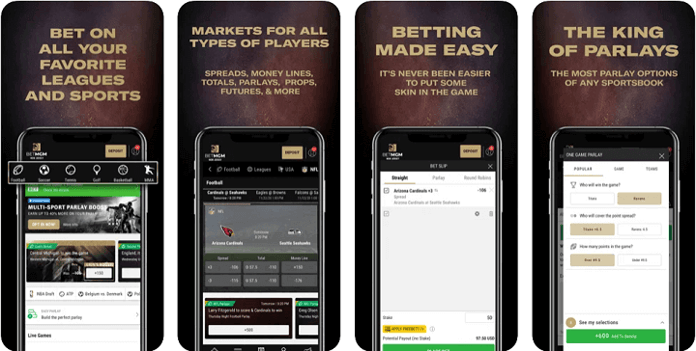 Desktop Interface for BetMGM Illinois
For those bettors who prefer to do their sports wagering on the big screen, the BetMGM Illinois Sportsbook desktop site is just as state of the art as the BetMGM Illinois app. Quick link icons to all of the major sports are laid out across the top of the page. There's also links to go immediately to active live betting options, promotions and access to create a parlay card. Players can also create a list of sports or teams they intend to bet frequently under the favorites icon. The site is laid out in a clean manner, is easily navigate and offers intuitive response.
BetMGM Illinois Customer Support Methods
The BetMGM IL Sportsbook has its own customer service Twitter page that the company monitors 24 hours a day. They also make live chat and email access available to players 24/7. There's also an extensive list of FAQ available through which players may be able to locate answers to their queries.


BetMGM Safety and Security
They've spared no expense when it comes to ensuring that their players are operating within a safe and secure environment while playing at the BetMGM Illinois Sportsbook. This includes applying HyperText Transfer Protocol Secure (HTTPS) to their website and SSL (Secure Sockets Layer) and end-to-end encryption to pages and functions. The BetMGM Illinois Sportsbook partners with with Shift4 Payments to power online gaming and sports betting transactions through its website. Players can also assure their own security by behaving wisely when online. Don't share any personal information with other bettors and create a strong password to protect their account. For example, passwords such as 12345 or ABCDEF are not smart choices.
BetMGM Retail Sports Betting in Illinois
The BetMGM Sportsbook Illinois is teamed with the Par-A-Dice Hotel Casino in East Peoria as their retail sports betting partner. It is necessary under Illinois sports betting law to partner with a brick and mortar casino in order to be eligible for a Management Services Provider license. BetMGM is expected to locate a retail sportsbook in the Par-A-Dice Casino. Approximately a three-hour drive from Chicago.
Responsible Sports Betting in IL
The Illinois Gaming Board offers the ability for players to enroll in their state-run self-exclusion program, along with their problem gambling registry. Both programs are voluntary to enter.
At the BetMGM Illinois Sportsbook, they make a commitment to identifying risks of problem gambling as early as possible and then intervening to prevent these problems before they emerge. They have in place a responsible gaming framework which includes controls to help customers to play within their limits and avoid a situation where gambling causes problems.
BetMGM IL and Responsible Gambling
There is ample information regarding responsible gambling accessible directly from the BetMGM Sportsbook website. There is a table listing the warning signs of problem gambling, as well as direct links to government agencies designed to help problem gamblers. As well, the BetMGM Illinois Sportsbook supplies the ability for players to self-exclude from their account, meaning they won't be able to access the Illinois betting site during the designated period of self-exclusion.
Our Verdict on BetMGM Illinois Sportsbook
As one of the biggest players on the U.S. gambling scene, it was only a matter of time until the big hitter that MGM is stepped up to the plate and began swinging for the fences. MGM was late arriving to the party when sports betting was legalized across the country in 2018. However, they are quickly making up for lost time. No sports betting site is growing faster than the BetMGM Illinois Sportsbook. They now control 16% of the USA market.
The BetMGM Sportsbook might not have the depth of betting lines and markets that some of their rivals feature, but what they do, they do very well. The BetMGM IL Sportsbook bonus code offers a bonus bet up to $1,000 is outstanding. The best part? It doesn't actually require a BetMGM Sportsbook Illinois bonus code. As well, BetMGM Illinois is always quick off the mark when it comes to posting competitive odds. Well-schooled in the ways of the betting world, a player can't go wrong by wagering with the BetMGM Illinois sportsbook.
More BetMGM Bonuses by State
BetMGM Sportsbook Illinois FAQ
When will BetMGM launch in Illinois?
The BetMGM Illinois Sportsbook launched on March 5, the same day the in-person sign up requirement expired. This means that Illinois residents can now sign up for a BetMGM Illinois account from their phones.
Does BetMGM Illinois offer legal sports betting?
Is BetMGM legal? Yes, they are. The BetMGM Sportsbook is fully licensed and regulated by the Illinois Gaming Board.
Does BetMGM offer bonus bets in Illinois?
They most certainly do. The BetMGM Sportsbook signup offer to new players is a bonus bet worth up to $1,000.
Can I bet on college sports with BetMGM Illinois?
Yes and no. The BetMGM Sportsbook will offer retail wagering on in-state college sports teams. However, online wagering on these college sports events is prohibited (you also can't bet college player props).
Does BetMGM Illinois offer live betting?
Yes, the live betting menu at the BetMGM Sportsbook rivals any online sportsbook for both its quality and variety.
Does BetMGM IL offer an online casino?
Currently, the BetMGM online sportsbook doesn't offer an online casino. Online casino gambling is not legalized in the state of Illinois.
How are sportsbook winnings in Illinois taxed?
Illinois has a flat tax of 4.95% in place on all forms of income. That means you'll pay 4.95% tax on any sports betting winnings earned in the state.
About the Author

A veteran journalist based in Windsor, Ontario, Bob Duff has covered the gambling and sports betting industry since 2016. He has written more than two dozen books.