Caesars Illinois Sportsbook Review: Promotions and Risk-Free Bets
Caesars Sportsbook Illinois launched in August 2020, and nearly a year later rebranded after it bought sports betting giant William Hill in April of 2021. Illinois sports betting is a tricky situation, and we have you covered with the ins and outs of legality. Now, the Caesars Sportsbook by William Hill is considered one of the premier operators in the state. With a competitive sign-up bonus code and a user experience among the best in the state, it's a sportsbook that all new users should consider joining.
The Caesars Sportsbook Illinois bonus code gives new users $1,250 on Caesars + 1,000 Tier Credits + 1,000 Reward Credits. Caesars Illinois also gives new bettors other perks and promotions that we'll cover in this review, as well as how bettors can make the most of their sports betting experience at one of the premier sportsbooks in the industry.
Pros and Cons
Pros
Superb $1,250 Welcome Offer
Excellent customer service
Strong mobile app
Competitive odds
Cons
No contests or tournaments
Higher than usual min deposit
Caesars Illinois Sportsbook
Caesars Sportsbook in Illinois launched in August 2020. The operator has continued to expand its presence in the Land of Lincoln thanks to its sign-up bonus offer and heavy marketing and advertising. It also helps that Caesars has such a strong national brand, including its massive presence in Las Vegas. The purchase of William Hill has only strengthened Caesars, which is the official sportsbook of the NFL.
Caesars Illinois Sportsbook Bonus and Sign-Up Offers
Illinois bettors who use the Caesars Sportsbook Illinois bonus code will get $1,250 on Caesars + 1,000 Tier Credits + 1,000 Reward Credits in their first wager.
Caesars Sportsbook Promos
Players can also earn a $300 bet credit if they place exactly $20 in bets. This will be paid out as six $50 bets credits and is valid through May 31, 2022. Make sure to use promo code BOOKIESFULL to get the Illinois welcome offer.
Features of Caesars Sportsbook Illinois
Caesars Sportsbook Illinois offers many of the same features you'd expect from any other premier sportsbook, including the following:
Live Sports Wagering
Betting doesn't end when the game begins. Instead, Caesars Sportsbook Illinois offers a ton of live betting options on most sports betting markets. Given the quick response rate and great user experience on the website and sports betting app, live betting is simple with Caesars Sportsbook.
Early Bet Cash Outs
If you're nervous about losing a game with a backdoor cover or simply want to take some of your funds and bet elsewhere, Caesars Sportsbook Illinois offers an early cash out on your bets. The amount able to be cashed out is dependent on the likelihood of the bet winning, and the amount constantly changes until the game is over.
Same Game Parlays
Caesars Sportsbook IL offers same-game parlays, which is a combination of single and/or prop bets involving the same contest. An example would be creating a parlay on the Bulls' moneyline, Zach LaVine to go over his points total, and Nikola Vucevic over his rebound total. All legs must be successful for the bet to pay out.
Frequency of Odds Boost
Odds boosts are essentially free money, and Caesars Sportsbook Illinois offer them a fair amount. For major sporting events or nationally-televised games, odds boosts will make odds more lucrative for bettors at the same price. For example, an odds boost may turn traditional -110 odds to +180 odds.
Caesars Betting App for Illinois Mobile Bettors
It's important for bettors to be able to take their sportsbooks on the go. That's good news for those who use the Caesars Sportsbook app. It's available for Apple and Android users, has an outstanding response rate time that makes it great for live betting, and it's a mirror image of the well-organized desktop site.
How Caesars Compares to Illinois Sportsbooks
The best sportsbook is subjective. What's great for one bettor may be irrelevant to another. We looked objectively at Caesars Sportsbook Illinois and compared it to other sportsbooks available in Illinois.
Caesars Sportsbook vs. Fanduel Sportsbook
Caesars IL rewards program can be difficult to understand, but it's better than FanDuel Sportsbook non-existent loyalty program. FanDuel has a daily fantasy sports aspect to it and a better sign-up bonus, but players who plan on betting often will want to steer toward a sportsbook that rewards bets with loyalty points.
Caesars Sportsbook vs. DraftKings Sportsbook
Caesars Sportsbook Illinois is comparable to DraftKings in many aspects. It's a small thing, but the DraftKings Sportsbook black and green color scheme can be difficult to get used to and feels a bit overwhelming at times. Compare that to Caesars' cleaner white backgrounds and it's much easier on the eyes. We do like DraftKings' daily fantasy sports and free-to-play contests and tournaments that Caesars Illinois Sportsbook does not provide.
Caesars Sportsbook vs. BetRivers Sportsbook
BetRivers isn't well known nationally, but it does compare well to Caesars Illinois Sportsbook in terms of brand recognition within the state. That's because the BetRivers Sportsbook is run by gaming giant Rush Street Interactive, which has its headquarters in downtown Chicago. BetRivers doesn't offer bet crdits, however, it does offer a first-deposit match up to $250. Still, Caesars Sportsbook edges BetRivers when it comes to user experience, particularly on the Caesars Sportsbook app.
Sports Betting Markets with Caesars Sportsbook Illinois
Caesars Sportsbook Illinois has something for all bettors. The most popular sports include collegiate and professional football and basketball, baseball, hockey and golf. But bettors who are interested in something different will also find odds for sports like cricket, table tennis, and rugby. Here's the full list:
Football
Basketball
Baseball
Soccer
Golf
UFC Boxing
Auto Racing
Australian Rules
Beach Volleyball
Cricket
Cycling
Handball
Lacrosse
Olympics
Rugby League
Rugby Union
Snooker
Table Tennis
Volleyball
Water Polo
Illinois fans are passionate about their teams. Whether you're placing a bet on the White Sox to win the World Series or the Bulls to win the Eastern Conference, or you're shaking it up and placing a bet on a table tennis match or golf tournament, there's something for everyone at Caesars Sportsbook Illinois.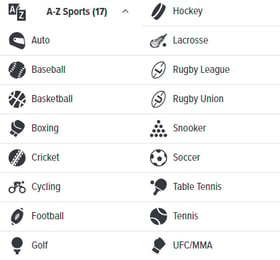 Types of Bets Available with Caesars
Caesars Sportsbook Illinois gives bettors dozens of betting options. While those will always be available, the following are the most common types of bets:
Moneyline
A moneyline bet is only concerned with the winner of the game. The spread and total does not matter. Each game has a favorite and an underdog. For example, if the Bears are -200 favorites, a bettor would need to wager $200 to earn $100 in profit. If the Bulls were a +150 underdog, a $100 bet would yield $150 in profit.
Spread Bets
Oddsmakers create spreads for every game that evens the playing field between favorites and underdogs. A favorite has points subtracted from its final score, and an underdog has points added to its final score. For example, if the Bulls were -6.5 favorites, they would cover if they won by seven or more points. If the Bears were +3.5 underdogs, they could cover if they lost by three or fewer or won the game outright.
Parlay Bets
A parlay bet is a combination of single bets that creates a more lucrative set of odds. However, all legs of the parlay must be successful in order for the parlay to pay out. For example, a parlay on the moneylines of the Packers (-300), Bears (+240), and Vikings (+110) would create +850 odds, but bettors would only win if all three teams were victorious.
Total Lines
Oddsmakers set a total for all matchups, which is the combined score between two teams. Bettors may wager on whether the actual total will be higher (over) or lower (under) the set total. For example, if a Bulls-Lakers total was set at 222.5, a 120-115 final would be a win for over bettors. The over/under wager is one of the most popular ones out there.
Futures Betting
A futures bet is a wager on something happening or not happening by season's end. Popular futures bets include team win totals, Most Valuable Player, league champion, and Rookie of the Year. Futures odds are constantly changing during the course of a season, meaning there's plenty of value to be had if you can get in before a player or team gets hot. NFL futures are the most popular of the bunch, with many betting on who will win the Super Bowl.
Prop Bets
A prop bet is a wager within a game. There are both team props, such as whether the Bears defense will record over or under 3.5 sacks, and player props, such as whether the Bulls' Zach LaVine will record over or under 24.5 points in a single game. There are hundreds of different prop bets for each game in large sports betting markets at Caesars Sportsbook Illinois. Bettors in Illinois have plenty of teams to wager on, both collegiate and professional.
How to Register for a Caesars Illinois Account
Once you've decided to join Caesars Sportsbook Illinois, you'll be just a few short steps away from placing your first bet. The steps to sign up are easy for new bettors. Here's what you'll need to do:
Enter your name, email address, date of birth, and phone number
Choose a password, provide answers to two security questions, and verify your age by entering the last four digits of your Social Security number.
Enter your address, any Caesars Sportsbook promo code, and a Caesars Rewards number if applicable
Make your first deposit, place your first bet on Caesars up to $1,250, and start winning today!
Caesars Sportsbook Payment Options
Legal and licensed sportsbook like Caesars Sportsbook Illinois are great for a number of reasons, the most important of which is banking methods. This is what bettors will have to work with at Caesars sportsbook:
Making Deposits at Caesars IL
You can't play at Caesars Sportsbook Illinois if you don't deposit funds. Luckily, it's a simple process that will have you up and running in no time. Illinois bettors can put money into their accounts via credit/debit cards, PayPal, online bank transfers, Play+ Prepaid cards, eCheck, PayNearMe, Skrill, or at the Grand Victoria Casino in Elgin, Illinois. Most methods make funds available immediately.
Making Withdrawals at Caesars IL
Congratulations on winning your bets at Caesars Sportsbook Illinois! Now it's time to withdraw those funds. All the options bettors had to deposit funds are also available for cashing out, which is a small yet important perk that Caesars Sportsbook Illinois provides. The sports betting app and desktop site say that funds are available within 72 hours of withdrawing, but it has been much shorter in our experience.
Caesars Sportsbook Rewards
You need to go off the sportsbook to read about rewards, which is a bit of an inconvenience, but it's worth it. There is a solid rewards program for bettors that features four different tiers (gold, platinum, diamond and seven stars). Bettors can earn points for real-money bets and the potential profit on those wagers. Each tier unlocks more perks than the previous one such as bet credits, access to Caesars entertainment venues, and more. There is also a cool feature for Illinois bettors that gives them a free online bet credit during their birthday month! That comes automatically with the Gold Tier, and the amount increases as you progress up the tiers.
Illinois Caesars Sports Betting App
It's somewhat tricky to analyze sports betting apps. Some layouts work better for some than they do for others, and the truth is most players will get used to an app the more they use it. But the best sports betting apps do have some constants, and Caesars Sportsbook Illinois has them. The Caesars Sportsbook app recently got a revamp thanks to its merger with William Hill and we like the results. It's a mirror image of the desktop website, with available betting markets rotating across the top of the screen, live markets and in-game betting markets in the middle of the screen, and bet slips populating toward the bottom of the screen small enough to not take up too much room but large enough to read. Specifically, live betting is a breeze with Caesars Sportsbook Illinois, with odds updating quickly with little lag time.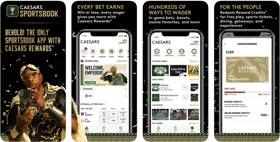 Desktop Interface for Caesars Sportsbook Illinois
We've all been on a website that feels far too cluttered. It's overwhelming, difficult to navigate, and ruins the user experience. That's the opposite of what bettors will get with Caesars Sportsbook Illinois. The desktop version of the sportsbook is spaced out well with a clean color scheme of green and white font and backgrounds that's pleasing to the eye and easy to read. Each available sports betting market populates on the left rail of the home page, live and upcoming events are placed in the middle of the screen, and your betting slip appears on the right rail of the page. The toolbar sprawls across the top of the page and lists promotions, FAQ, and account information. There's also a search bar which comes in handy if you're looking for a particular team or player in a market with a lot of matchups.
Caesars Sportsbook Customer Support Methods
One of the reasons Caesars Sportsbook Illinois is among our favorites is that there aren't many issues on the website and mobile app. But we all use technology and know that nothing is perfect, so you may need to reach out to customer support at times. But Caesars Sportsbook Illinois bettors are in luck with the options they'll have. There's a 24/7 live chat function that bettors should look to first if they're in need of help. For less timely matters, Caesars Sportsbook Illinois has an email address, phone number, and help page listed on the website and mobile app. We've found each option to be quick, responsive, and helpful. Though most major sportsbooks are doing well in this department, Caesars is in the elite category of customer support options.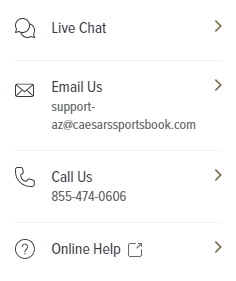 Caesars Sportsbook Safety and Security
Caesars Entertainment is as big of a brand as it gets in the sports betting industry. That means bettors can feel confident that their personal information and bank information is safe and secure. It's important to always create a strong password, use multi-factor authentication where possible, and to never share your password with anyone, but Caesars IL Sportsbook has you covered. Caesars Sportsbook Illinois also adheres to state gaming regulations, so bettors can also feel confident that they're getting fair odds when they place bets.
Caesars Sportsbook Retail Sports Betting in Illinois
All online sportsbooks have an accompanying retail sportsbook and casino. Caesars Sportsbook Illinois is no different. Bettors can take advantage of everything the online sportsbook has to offer at the land-based Grand Victoria Casino in Elgin, Illinois. The Grand Victoria Casino is open daily and, in addition to the Caesars retail sportsbook, includes a casino, restaurant, and additional entertainment. In addition to the Grand Victoria Casino, Caesars Sportsbook Illinois bettors can also use any and all land-based casinos in other states where Caesars Sportsbook is live.
Responsible Sports Betting in IL
There's nothing better than winning a sports bet. It's a thrill. But in case bettors aren't winning, it's important to make sure that they're placing responsible bets, not losing more than they can afford to, and not spending an unhealthy amount of time at the sportsbook. It's why Caesars Sportsbook Illinois provides its players with an accessible Responsible Gaming page that lists resources on how to bet safe, what to do if you're not, and organizations to reach out to get help if necessary.
Caesars Sportsbook and Responsible Gambling
Caesars Sportsbook Illinois takes its role of promoting responsible gaming seriously. It's why they give their players ample resources to ensure that they're having the safest experience possible while still enjoying all the sportsbook has to offer. Clicking on the Responsible Gaming badge on the home page brings players to a website that has everything they'll need to bet responsibly. This includes directions on how to set time and betting limits, self exclusion, what to look for in a potential gambling problem, and direct contact information of state-specific resources to get help if indeed players believe they have a gambling problem.
Our only complaint is that the Responsible Gaming page is a bit clustered. If bettors are coming to this page, it's possible that they're overwhelmed for one reason or another. Having to sift through and navigate a busy page isn't great. That being said, any information that a player in need might be looking for is on this comprehensive page.
Our Verdict on Caesars Sportsbook Illinois Sportsbook
The Caesars Sportsbook Illinois bonus code is pretty competitive in the sports betting industry. Combined with an excellent user experience, solid odds, and a number of sports betting markets for all types of players, it's one of the best sportsbooks in Illinois. We hope to see more contests and tournaments as the online sportsbook expands, but it's a safe bet that it will given how prominent the Caesars brand is in the betting industry. As long as bettors take advantage of the first bet match bonus and earn rewards through their bets, they'll enjoy every moment of their time using Caesars Sportsbook Illinois.
Caesars Sportsbook States
Caesars Sportsbook Illinois FAQ
When will Caesars Sportsbook launch in Illinois?
Caesars Sportsbook Illinois is live, providing bettors in the Land of Lincoln with one of the premier sportsbooks in the state. With an excellent bet match promo code and a great user experience on both the Caesars sportsbook app and desktop website, it should be part of all bettors' online sportsbook rotation.
Does Caesars Sportsbook Illinois offer legal sports betting?
Caesars Sportsbook Illinois launched in August 2021, replacing the William Hill sportsbook. The Caesars sportsbook is one the premier sites and mobile apps in Illinois.
Does Caesars Sportsbook offer bet credits in Illinois?
Yes. Currently the welcome offer is up to $1,250 on Caesars. Caesars constantly improves their welcome offers, so keep this page bookmarked for updates.
Can I bet on college sports with Caesars Sportsbook Illinois?
Bettors may place bets on college sports at Caesars Sportsbook Illinois, including on in-state teams, but the caveat is the wager must be placed in person. That should only account for a small percentage of games, so bettors will still have plenty of collegiate games to choose from and bet on.
Does Caesars Sportsbook Illinois offer live betting?
Yes, one of the main benefits for Caesars Sportsbook Illinois bettors is that they offer live betting. Players will find live-betting options on a significant number of markets. Live betting options update in real time, so you'll be able to watch live odds adjust on the desktop or mobile betting app before placing bets.
Does Caesars Sportsbook IL offer an online casino?
Caesars Sportsbook Illinois does not offer an online casino. Online casinos are only legal in a handful of states, and Illinois in not yet one of them. Bettors will have access to land-based casinos in Illinois if they're interested in playing those games, but it won't be linked online to Caesars Sportsbook by William Hill.
How are sportsbook winnings in Illinois taxed?
There is a 15% tax on sports betting winnings in Illinois if you win $600 or more (over the course of the year). Bettors must report their winnings as taxable income. We advise speaking with your tax adviser to fully understand what and how you'll need to report.
About the Author
Mark is a veteran sports betting journalist who has covered the Bulls and the NBA since 2012. His work has appeared on ESPN.com, FoxSports.com, The Chicago Tribune and Yahoo Sports. He regularly provides NBA betting picks, as well as in-depth sportsbook reviews and the latest promo codes for all the major sports gambling operators, including Caesars Sportsbook, BetMGM, DraftKings, FanDuel and more.