Caesars Michigan Sportsbook Review & Promo Code
Caesars is a major player in the Michigan sports betting market, and that is great news for bettors, who will love everything that this organized, competitive top online sportsbook has to offer.
Our Caesars Michigan sportsbook review and promo code guide will go over what we like most about the brand, what it offers to new and existing users, and how you can maximize your betting experience once you sign up.
Pros and Cons
Pros
User-friendly Caesars Sportsbook MI interface
Large Caesars Sportsbook Michigan welcome bonus
Effective Caesars Sportsbook MI customer support tools
Cons
Lack of contests
Fewer rewards program options
Caesars MI Sportsbook Offers
The main Michigan Caesars sportsbook promo code offer you need to know is the first one you'll use. New bettors will receive a first bet of up to $1,250 by using the code BOOKIESFULL. The Michigan Caesars Sportsbook app used to offer a $1,500 risk-free bet, but this one is a very good offer as well. The $1,100 first bet insurance offer rewarded you win or lose by giving you free bet credit equal to whatever you deposited on site while the new $1,250 first bet offer is rewarding you only if your first wager settles down as a losing one.
Bettors only get one shot at that offer, so they'll need to bet big to take full advantage of the promotion. Other Michigan Caesars promotions in lieu of that welcome offer include on nationally-televised events such as Monday Night Football for new users. One example is new bettors could place $10 on any pregame odds and receive a $100 free bet if either team scores a point.
Where to find the best Caesars Sportsbook Promo Codes for MI?
If you're looking for the best Caesars Sportsbook promo code Michigan, Bookies.com has you covered. Our team of experts is always on the prowl for the latest codes that will maximize your betting experience on the Caesars MI sports betting app or any other online sportsbook you're interested in using.
Additional Promotions by Caesars Sportsbook in Michigan
A first bet on Caesars of up to $1,250 is an outstanding reason to bet Caesars Michigan odds. But it's not the only reason. It offers all kinds of promotions throughout the sports calendar year, typically running during major sporting events such as March Madness or a golf major championship. The main welcome offer also includes 1,000 Reward Credits and an additional 1,000 Tier Credits. Bettors can easily find all live promotions by clicking on the "Promotions" tab of the Caesars Michigan sportsbook app or site.
Available Sports to Bet on at Caesars Michigan
The Michigan Caesars app has it all. Whether you're a more traditional bettor who likes football, baseball, basketball and hockey, or someone who likes to go off the beaten path with sports such as tennis, golf, boxing or even cricket, you'll have that option at the Michigan Caesars Sportsbook app.
Auto racing
Basketball
Cricket
Cycling
Darts
Golf
Rugby Union
Snooker
Tennis
UFC/MMA
Michiganders who can't get enough of their Lions, Pistons and Tigers will love the Caesars Michigan Sportsbook app. But so will the golf and tennis fans too, as will EPL and Formula 1 bettors and those who want to shake it up with some darts betting. Everything you'll need is here.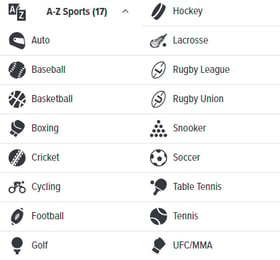 Popular Bets to Make at Caesars Sportsbook MI
You'll have literally hundreds of different bet options every time you log into the Michigan Caesars app or sportsbook. Here are some of the most popular types of bets you can make:
Straight Bets: A straight bet is the most common type of bet you'll make. It's typically a wager on one team to cover the operator-given point spread. An example in NFL betting would be the Lions to cover +10.5 against the Packers. Bettors win the bet if Detroit loses by fewer than 11 points or wins outright.
Total Lines: A total line is also known as the over/under, a number set by betting sites on the expected number of combined points between the two teams. An NBA betting example would be a total of 224.5 in a game between the Pistons and Lakers. Bettors can wager on the over or under of the total line, typically at odds at -110.
Moneylines: Each game has a favorite and an underdog, with a favorite's moneyline indicated with minus odds (-270, for example) and the underdogs having plus odds (+300, for example). Plus odds indicate how much you would win on a $100 bet; minus odds show the amount you must wager to win $100.
Parlay Bets: A parlay bet is a combination of single bets that produce higher odds for bettors with more lucrative potential payouts. However, all legs of a parlay must be successful in order for it to be a winner. For example, a parlay of Lions ML (-200), Packers ML (-350) and Vikings ML (+300) would yield +670 odds, but all three teams would need to win.
Futures Bet: Futures bets are season-long bets such as NFL MVP, NBA scoring champion or MLB World Series winner. Major markets have hundreds of different futures bets that have updated odds over the course of a season. NFL futures markets are among the most popular at all sportsbooks.
Prop Bets: Prop bets are bets on whether something will or won't happen in an individual game. Examples include a player to score more or less than 21.5 points, a team to record more or less than 2.5 sacks or a certain player to score the first touchdown of a game.
Whether you want to bet on something small like the Pistons moneyline over the Bulls, or something much more significant like the Detroit Tigers to win the AL Central, you'll have that option at Caesars Sportsbook Michigan.
Caesars Michigan Sportsbook Features
Every online sportsbook that bettors sign up for will have features that set the apart. Some, of course, are better than others. And we believe that the majority of bettors will love what Caesars MI sportsbook offers its players, including an outstanding user experience, great banking options, clean desktop, a top mobile sports betting app, and a great sign-up bonus.
Elite User Experience
It may sound like a small thing, but simple being on the MI Caesars sportsbook app and desktop is enjoyable. There's a clean color scheme, pages load quickly and everything is spaced out neatly. There are no frills, noisy animations or wild colors meant to distract. All you have at Caesars is all you need. It's one of the best user experiences we've come across.
Fast and Easy Banking
One of the best parts of using legitimate websites is that withdrawals and deposits are made simple. Bettors have multiple options to deposit and withdraw and funds are made available immediately.
Strong Desktop Site and Mobile App
With both the Caesars sportsbook app and the desktop site, everything is spaced out well, making it easy for bettors to locate the markets they're looking for and navigate markets and bets. You will know exactly what you're betting at the Caesars app MI with cleanly populating betslips.
Caesars Sportsbook Rewards
Caesars sportsbook MI has an excellent rewards program that all bettors are eligible to use even after they use the Caesars Michigan bonus code to sign up. What's nice is it extends beyond the online sportsbook and casino. Racking up points puts players into different tiers that can also be cashed in at Caesars Entertainment locations across the country, including in Las Vegas.
Top-Notch Sign-up Bonus
How does $1,250 sound? That's what you've got access to at Caesars Michigan when you sign up and use the Caesars MI bonus code. New users get a first bet on Caesars up to $1,250 plus 1,000 Tier Credits and 1,000 Rewards Credits. Your first real-money bet needs to loses and Caesars will give you the amount wagered back in the form of free bets to use. It's one of the best sign-up bonuses we've come across among the online operators we've reviewed. We highly recommend using the Caesars MI deposit bonus code when signing up.
Create an Online Caesars Betting Account in MI
You won't spend much time signing up for a Caesars Michigan account and use your Caesars Sportsbook MI bonus code. The operator has made the process a simple one that will have bettors signed up, logged in and ready to bet in just a few minutes. Here's the quick steps to follow:
Enter your name, email, date of birth and phone number.
Choose a password and two security questions with specific answers and enter the last four digits of your Social Security number to verify that you're at least 21 years old.
Enter your address and the Caesars Sportsbook Michigan promo code BOOKIESFULL, and a Caesars rewards number if applicable.
Log in and place your first bet! You will get an equal amount to your first wager, up to $1,250, in bet credits.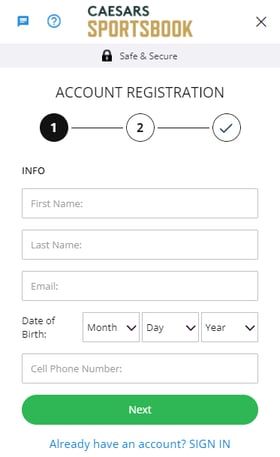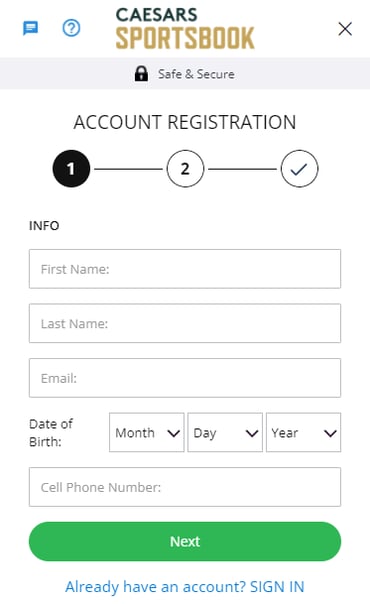 Banking with Caesars Sportsbook MI
Bettors want their transactions, whether depositing or withdrawing, to be quick. That's why using a legitimate, legal and licensed online sports betting site like Caesars is the way to go. The operator has plenty of banking options to put in and take out money, transactions are seamless and immediate, and there are no hoops to jump through like there can be at offshore sportsbooks and casinos.
Making a Deposit
Every top online sportsbooks wants its bettors to spend less time in the banking section and more time betting. It's why operators such as Caesars Michigan make depositing money a simple and easy transaction. Bettors can use the following options to deposit funds: credit or debit cards, e-check, online bank transfers, PayPal, Play+ Prepaid Cards, Skrill, PayNearMe or cash at a land-based casino. It's a comprehensive list that all bettors will find useful.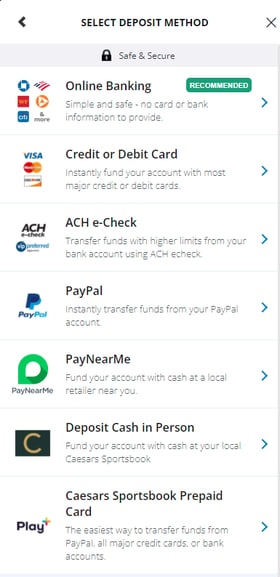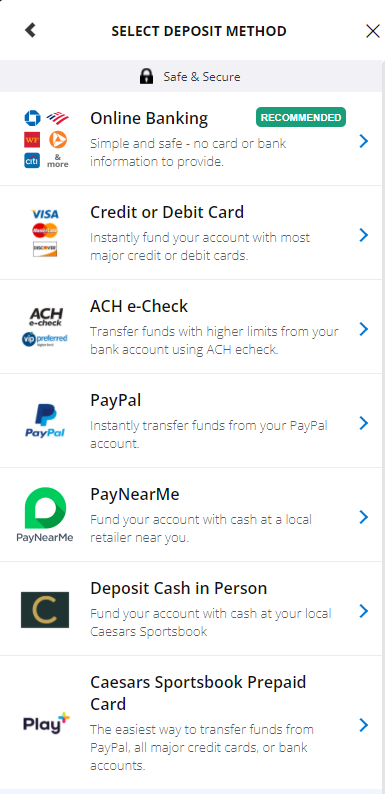 Cashing Out Your Winnings
So, you've won some money at Caesars Michigan sportsbook or casino. Congrats! The even better news it that you'll have no problem withdrawing your money. The same options that are available for depositing are also available for withdrawals. Caesars MI sportsbook tells its players that it could take up to 72 hours for their withdrawn money to show up, but in our experience, it takes far less time than that. As far as withdrawals go, Caesars is as good as any other we've reviewed, and you have the protection of the Michigan Gaming Control Board if you have any issues.
Michigan Ongoing Contests and Tournaments
Though you'll find some decent casino contests at Caesars Sportsbook Michigan, we're still waiting to see more in the way of sportsbook tournaments. Our hope is that it will offer some free-to-play contests or some sort of contest where players can earn entries for chances to win free bets or odds boosts.
Caesars MI Sportsbook Rewards/Loyalty Program
Bettors looking for a solid rewards program will be in luck with Caesars Sportsbook Michigan. The operator has a competitive rewards program that gives points based on the number of dollars bet at the sportsbook and casino. There are four different tiers to the rewards program that unlock different bonuses, promotions and freebies.
User Experience
It might surprise you if you've seen any advertising, but Caesars' sportsbook and casino are no frills, only what you need, and seamless to use. It's different from its loud, in-your-face advertising tactics but is also a breath of fresh air.
Too many operators have loud color schemes, rotating banners and fancy animations to try and lure in bettors. Caesars does just the opposite. It's only what you need. Everything is labeled clearly so navigating the site is easy, customer support is one button click away and withdrawing and depositing is a breeze. Bettors will love spending time at Caesars sportsbook Michigan.
Caesars MI Mobile Betting App
The Caesars sportsbook app has a ton to offer, starting with the terrific Caesars sportsbook bonus code Michigan bettor can use that is even better than the previous Caesars MI free bet offer. What we love most about it is that it's a mirror image of what you'll get on the desktop, which is a small thing but noticeable when operators' apps differ.
All available markets are stretched across the top of the app to allow for easy navigating. Live and upcoming events are placed in the middle of the screen, and betslips populate cleanly and effectively toward the bottom of the screen. Like its desktop counterpart, everything is organized well.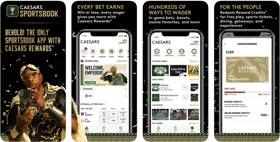 Caesars Michigan Legislation & History
Caesars MI Sportsbook launched in August 2021, but the state has had legal online sports betting for much longer than that. The state passed online sports betting bills in 2020, with online sportsbooks launching in early 2021. Clearly they continue to add sportsbooks given the addition of Caesars, and the state is also one of a handful to allow legal online casinos (New Jersey, Pennsylvania, Connecticut and West Virginia among the others).
Caesars MI Betting Site
Kick your feet up with the Caesars sportsbook MI desktop. You'll have plenty of room thanks to a design that is spread out, neatly organized and easy to navigate. The white background and green font is a no-frills, easy-to-read color scheme that we like as much as any other sportsbook we've reviewed.
All betting markets populate on the left rail of the screen, while live and upcoming games are featured in the middle. Betslips populate on the right in an easy-to-read format. Overall, the features of the desktop aren't all that unique. But combined, they create an excellent user experience among the best you'll find in Michigan.
Security and Safety Offered By Caesars MI
The Michigan Gaming Control Board oversees all online sports betting operations in the state, so bettors don't need to worry about the safety of their information, the legitimacy of banking options, or the fairness of odds at Caesars sportsbook Michigan. Stored banking and personal information is safe and secure, though we always recommend that bettors use strong passwords and don't share them with anyone else. Caesars MI sportsbook will take care of the rest.
Caesars Sportsbook MI Customer Support
Caesars Entertainment is a massive brand, so bettors can rest easy knowing that operations will run smooth just about every time they log onto the online sportsbook. But it's technology, and hiccups are bound to happen from time-to-time. The good news is Caesars Michigan has three different customer support options to choose from: a 24/7 live chat, an email address and a phone number.
If bettors have a general question, there's a comprehensive "Help" section on the website and mobile app that answer the most frequently asked questions that bettors may have. Just about every online sportsbook has great customer service these days, and Caesars Michigan sportsbook is no exception.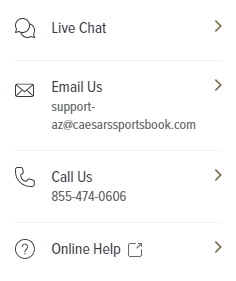 Caesars Sportsbook Detroit Lions NFL Betting
It hasn't been easy betting on the Detroit Lions, who haven't won a playoff game since 1992. But Michigan bettors will still have plenty of options to bet on the Lions every Sunday during the NFL season, including game and team props, traditional spread, total and moneyline bets, and futures bets on them to win the NFC North, the NFC, the Super Bowl or to earn the first overall pick in the NFL Draft.
Caesars Sportsbook Michigan NCAA Betting
Michigan is also one the states that allows for in-state collegiate sports betting. While just about every online sportsbook offers out-of-state collegiate sports betting, bettors in Michigan also will be able to place bets on teams such as Michigan and Michigan State. These bets can come in many different forms, including a bet on Michigan State basketball to win the Big Ten Championship or Michigan football to make the College Football Playoff. It's all available (and much more) at Caesars Sportsbook in Michigan.
Caesars Live Streaming Michigan
Caesars Sportsbook Michigan is the best US sportsbook to offer live streaming of all NFL games. This unique opportunity is presented to the audience in December 2022, and all you have to do is to fund your account and have at least one settled wager in the previous 10 months. You will be able to watch your favorite NFL teams through Watch & Bet feature within Caesars Sportsbook Michigan app.
Caesars Casino MI
If the Caesars Michigan Sportsbook isn't enough for bettors, they can hop over to the Caesars MI casino to place bets. Aligned with the Turtle Creek Casino in Williamsburg, Michigan, the online casino features 26 slot games, five table games and three live-dealer games. It's nothing over the top, but sure to satisfy Michigan casino players.
Caesars Sportsbook Rewards MI
Because Caesars Entertainment is such a large brand, their loyalty program spans farther than just the Caesars online sportsbook. There are four tiers: Gold, Platinum, Diamond (including Diamond Plus and Diamond Elite) and Seven Stars. Bettors earn points based on the amount of real money bets they place, and moving up in tiers gives more access and perks not only to Caesars MI Sportsbook but also physical properties. You can also collect rewards from any Caesars Sportsbook location, like Caesars Sportsbook New York or any other state where you can bet legally.
It's a solid rewards program, but our only qualm is that it's a bit difficult for newcomers to decipher and figure out on the website. We'd like a bit more clarity on what's at stake for bettors, but it's nice that they have these rewards at all.
Our Expert Opinion on Caesars Sportsbook Michigan
Online sports betting has been around in Michigan for quite some time, so we know bettors have options. That being said, Michigan Caesars Sportsbook absolutely needs to be part of their rotation. Though the welcome bonus is smaller than it once was, it's actually better in some ways. Odds are routinely boosted on major markets that most bettors like betting on, and the clean user experience makes the website and Caesars Michigan app an enjoyable place to be.
We really don't have any issues with it, other than us wanting to see a few more free-to-play contests and tournaments. But those are small quibbles that Caesars MI Sportsbook makes up for in a number of other areas. Use the MI Caesars Sportsbook promo code BOOKIESFULL to begin your experience with a first bet of up to $1,250 and take advantage of all this excellent sportsbook has to offer.
Caesars Sportsbook States
Caesars Sportsbook Michigan FAQ
Is Caesars legal in MI?
Yes, the Caesars sportsbook launched in Michigan in August 2021 and is available both as an online sportsbook and a mobile app. Caesars Michigan also features an
online casino in Michigan
that is available to all Caesars customers in the state.
Does Caesars MI have an app?
Yes, Caesars Michigan has launched a mobile app in addition to its online sportsbook. The Caesars Sportsbook app Michigan has outstanding response time, an excellent user experience, and is available for both Apple and Android users.
How old do I have to be to bet on Caesars Sportsbook in MI?
Michigan requires that bettors are at least 21 years of age in order to legally bet on professional and collegiate sports online. Bettors will need to provide the last four digits of their Social Security number to verify their age upon registering for a Caesars sportsbook account.
Is there a Caesars Michigan promo code?
Yes, the Michigan Caesars promo code BOOKIESFULL allows new bettors to unlock a First Bet on Caesars up to $1,250. Caesars MI Sportsbook is constantly updating its promo code, and Bookies.com will always have the most up-to-date ones to maximize your online sportsbook experience with Caesars Michigan.
How can I contact Caesars MI if I have questions?
Caesars Michigan makes it simple for bettors who have questions or concerns with their betting experience. There's a 24/7 live chat function, an email address where questions can be asked, a phone number to speak with customer support in-person and an online help section on the website and mobile app for easily-answered questions.
Does Caesars Michigan offer live betting?
Yes, Michigan Caesars Sportsbook presents bettors with plenty of live-betting options on most major markets. Bettors will have hundreds of different odds to bet on when it comes to in-game wagers.
About the Author
Mark is a veteran sports betting journalist who has covered the Bulls and the NBA since 2012. His work has appeared on ESPN.com, FoxSports.com, The Chicago Tribune and Yahoo Sports. He regularly provides NBA betting picks, as well as in-depth sportsbook reviews and the latest promo codes for all the major sports gambling operators, including Caesars Sportsbook, BetMGM, DraftKings, FanDuel and more.