Michigan Sports Betting Apps
Best Michigan Sportsbook Apps - MI Mobile Sports Betting Bonuses Dec 2022
Michigan sportsbook apps are live and offering special bonuses to gain your business. Let's dive in!
Risk-Free Bet up to $1,000
Bonus Code: BOOKIES

Must be 21+ to participate. T&Cs apply.

Up to $1,250 on Caesars + WATCH & BET on Select NFL Games on the app
Promo Code: BOOKIESFULL

Must be 21+ to participate. T&Cs apply.

$1,000 No Sweat First Bet

Must be 21+ to participate. T&Cs apply.

Bet $20, Get $200 in Free Bets
Promo Code: BOOKIES200

Must be 21+ to participate. T&Cs apply.

4 Second Chance Bets Up To $200 Each

Must be 21+ to participate. T&C apply.

Bet $5 on Any Sport, Get $150 If You Win

Must be 21+ to participate. T&C apply.

Bet $100 Get $50 for Sports and $50 for Casino

Must be 21+ to participate. T&C apply.

Must be 21+ to participate. T&Cs apply.

Must be 21+ to participate. T&C apply.

2nd Chance Free Bet Up To $500
Promo Code: BOOKIES

Must be 21 to participate. T&C apply.
What to Look For in Michigan Sports Betting Apps
Mobile Speed
Speed is everything when it comes to wagering through top Michigan sportsbook apps. There is little point in having great offers, competitive odds, and beautifully designed online sports betting app if the process of finding and placing a bet is slow and cumbersome.
Great Michigan sports betting apps provide an instant response when you navigate to the market you need and when you go to place your bet.
Lucrative Welcome Offers
All leading Michigan sportsbook apps should enable you to access any welcome offer available to new customers. These bonuses - usually in the form of a risk-free bet or a deposit match - can get your mobile betting off to an enjoyable start.
The best Michigan mobile sportsbook apps will make it easy for you to enter any promo code as you move through the registration process. What's more, they'll make it easy to get the most out of your welcome offer by setting low playthrough requirements (BetRivers MI stands out in this regard due to its 1x playthrough).
Exclusive App Only Promotions
For the most part, the best Michigan sportsbook apps will offer the same promotions that are available through an operator's website. Sometimes, however, a mobile betting app will tempt you with bonuses that desktop customers cannot access.
Michigan sports bettingm apps are keen to encourage players to download and use their mobile sportsbook app. They may reinforce their argument by offering a risk-free bet or other promotion that is available only to those who sign up through their mobile device. An example of this is FanDuel Michigan betting app, which ran an app-exlusive offer of $1,000 No Sweat First Bet.
Wide Sports Selection
Every bettor will have their own favorite sports and leagues - and will expect to have the opportunity to wager on them through a Michigan mobile sports betting app. However, tastes vary. The best Michigan sportsbook apps offer the chance to wager not only on leading U.S. sports but on other events and leagues from around the world. BetMGM Michigan separates itself from the competition in this aspect. We were astounded by the amount of markets and bet types offered.
Competitive Betting Odds
Experienced bettors are aware of the importance of value. That is why the best Michigan sportsbook apps should attempt to offer the most competitive odds available.
Dedicated players compare prices at different Michigan sports betting apps - and will squeeze an extra sliver of excitement and satisfaction from knowing they have found the most competitive odds on a particular outcome.
In that regard, BetRivers gets our nod of approval due to its frequent "Reduced Juice" promotions. The difference between a line that's -105 and one that is --115 is enormous. BetRivers MI gets high marks for giving bettors a chance at higher profits.
Incredible Betting App Interface
Well-crafted design can add an extra layer of enjoyment to the experience of betting through a top Michigan sports betting app. This is not necessarily a simple question of visual creativity.
What matters is the clarity of design. You should be able to see quickly and clearly where the markets and features you seek can be found. There is a lot of information to cram onto each screen - the best MI sports betting apps achieve this without losing that all-important clarity.
To that end, DraftKings MI and FanDuel MI have practically perfected the art of betting app user experience. The color schemes are easy on the eyes and all the important bets of the day are easily found. Navigating these Michigan sportsbook apps is a breeze.
Flexible Payment Options
You should sign up to wager on a Michigan mobile app confident that you will be able to deposit and withdraw funds in you preferred method.
The best Michigan sportsbook apps offer that type of variety. You should be accommodated to whatever method you want to use:
Debit cards
Credit cards
Online banking
E-wallets
Other banking methods
Always check what methods are available when you are considering opening an account.
Sportsbook Apps Security and Support
Are Michigan sports betting apps safe? The best ones are because they are licensed with the appropriate authority and have extensive security protocols to protect customers' data. You should feel able to place bets through a sportsbook app with complete peace of mind.
All regulated sportsbooks are heavily vetted by the local gaming authority before they are allowed to launch. They all feature multi-factor authentication, facial recognition technology and data encryption.
It's also essential that you receive a quick resolution from a customer support team with high standards of service and expertise in the subject. Caesars Michigan offers a responsive live chat option and customer service reps available seven days a week.
Michigan Sportsbook Apps Compared To MI Betting Sites
There are many reasons why sports bettors will prefer to use Michigan sportsbook apps rather than online sports betting sites.
The most compelling feature of betting apps is convenience. Offering the ability to place a sports bet wherever you are - at home, at work, while traveling, or even at the game is a significant feather in the cap of any provider of Michigan sportsbook apps.
However, by definition, there is less real estate available on mobile Michigan sportsbook apps. Being able to view more content at one time through a desktop is a major argument in favor of betting websites.
While some bettors will still enjoy the feeling of placing wagers with physical sportsbooks at retail premises, both mobile and online sportsbooks score highly in comparison. You do not need to leave your house - or even your office or armchair - to be able to bet on your favorite sports through a website or mobile app.
Michigan Sportsbook Apps - Beginner's Guide
The best mobile sports betting operators make it as easy as possible for you to download their mobile app and begin wagering. You can find your chosen app through your respective app store: The Apple Store for iPhone owners and the Google Play Store for Android users.
Androids and iPhones are the most common mobile devices. Fewer than 1 percent of mobile owners use a system other than iOS or Android. The latest figures show that there are more than 280 million smartphones in the U.S., which has a population of just under 330 million.
Accessing Michigan betting apps is a different experience than finding a sportsbook's website. Instead of searching the web, you need to go to your app store to seek out the mobile app you want to access.
Betting at iOS Michigan Sportsbook Apps
Betting with iOS mobile devices is simple: Your first step is to go to the Apple store and search for the sportsbook. Once you have found the mobile app in question, you can download it with a single keystroke. Always check that you are downloading the correct version for your location, since some operators have different apps in different states. Always be sure to have your location services on as well, so the geolocation tracking is able to verify your location.
Betting at Android Michigan Sportsbook Apps
Betting with MI sports betting apps is very similar to the process for betting with iOS apps. Head to the Google Play Store. Once you have located, your chosen app via the search bar, you should be able to download it quickly and easily.
The best Android Michigan sports betting apps should have a high app store rating. Even if your chosen app does not, this should not discourage you to give it a try. An app store rating can be skewed by negative reviews left by frustrated bettors angry they lost their bets, without any comment on the quality of the app itself.
Reasons To Use Michigan Sports Betting Apps
Increased Usability
A significant proportion of the bets taken by U.S. sports betting operators are placed through mobile devices. As time goes by, that share will inevitably rise as more people become comfortable with the experience of using Michigan sports betting apps (and as the apps themselves provide better experiences).
Michigan sports betting apps provide increased usability because it takes a few seconds to take out your phone, log in and place a bet. It's a much longer process if you're trying to bet on a desktop site. Once you have enjoyed your first few bets, you may wonder how you ever managed without your new app.
Accessible Sports Wagering
The days when you could place a sports wager only on licensed premises, and in very few states, are long gone. Now you can access Michigan sports betting apps on the train, in your home, at a bar - or even at the game itself.
Being able to wager money on the big game when you are actually sitting in the arena is undeniably a thrill. Also, if you are an experienced sports fan you may spot something as the action unfolds that will not be discernible to the folks back home watching on TV, and that may lead to a betting decision.
More Betting Bonuses Available on MI Sportsbook Apps
You can often find more betting bonuses available on Michigan sportsbook apps, including exclusive app-only offers available when you access your account. New users and existing users may receive bonuses, such as free bets or a risk-free bet, that are not available to customers on the website.
Sports Streaming On The Go
The live betting experience is an enormously important factor to sports bettors. One thing that makes sports streaming on the go even more enjoyable is watching the game you bet on via a sports betting app.
It is a fantastic experience to be able to place a wager, wherever you are, and watch as the game progresses. A long bus ride can pass extremely quickly if you have placed a wager on a game and thus qualify to watch a live stream from the arena.
Account Funding Is Easier With Mobile Wallets
One of the easiest ways to fund top Michigan sportsbook apps, if you have an MI sports betting app, is through an e-wallet. Many such wallets come as a standard feature with modern mobile devices.
If your Michigan sports betting apps are happy to accept payments from an e-wallet, this adds even more convenience to the experience of wagering through your device.
You may already be used to using that mobile wallet - now you can fund your sportsbook account quickly and easily. It may also cut down on the length of time it takes to withdraw your winnings, too.
Live betting on Michigan Sports Betting Apps
It feels like live betting could have been made for Michigan sportsbook apps - and vice versa. These two reasonable recent innovations in sports betting go hand in hand. The essence of live betting is speed, and with a mobile device in your hand, you can rush to the relevant betting market and place your wager quickly and easily.
Live betting odds can change rapidly, and the best Michigan sportsbook apps respond instantly to a click of your finger. Even if you are at home in front of a desktop, it can take longer to access the relevant market than it does with a good sportsbook app.
How to Download a Michigan Sports Betting App
Ease and convenience are the hallmarks of wagering through Michigan mobile sportsbook apps. And that applies to the process of downloading the app in the first place. The steps you need to take should be as follows:
Select the Michigan sports betting app that suits your taste and betting style
Go to the app store associated with your mobile device
Search for the app and make sure it is the correct one
Download the app to your device
Begin the process of signing up for an account
How to Sign up for Michigan Sportsbook Apps
Registering as a customer is even easier through an app than on a desktop. You will have to supply the same information, but the number of screens or pages you need to complete tends to be smaller.
The process of signing up and being able to place your first bet should be as follows:
Click any of the "Bet Now" button on this page to get started
Find the "Sign Up" button, or similar, on the home screen of your app
Fill in the required details, such as your name, address, and date of birth
You should also have to supply an email address and cellphone number
You may have to provide a photo ID to prove your age and location
If you have a promo code to trigger a welcome bonus, enter it in the relevant box
Once your account has been authorized, you can make your first deposit
Choose your banking method and the amount of money you want to deposit
Once those funds are cleared - and it should not take long - you can place your first bet
Get Started Betting At Michigan Sportsbook Apps
Now you can see the advantages of wagering through a sports betting app, you should be ready to begin your wagering adventure. You should be able to choose the best sports betting app for you and download it to your device.
Betting through Michigan sportsbook apps is great fun, not least because it is so easy and convenient to do. The intense competition between mobile betting operators ensures that they will continue to innovate and make their products as tempting as possible to pull in new customers.
You can find out more about sports betting with the other guides we have produced. These will inform you how to bet and give you more details about moneylines, parlays, point spreads and so much more.
Michigan Sportsbook Apps FAQ
What are the advantages of Michigan sportsbook apps?
The main advantage of a mobile app is that it makes the process of placing a sports bet quick, convenient, and fun. You can wager on the best Michigan sports betting app for you wherever you are - at home, at work, on the move, or even at the game.
Does every Michigan online sportsbook app work well?
All leading Michigan online sportsbooks have a betting app. Michigan Betting apps at DraftKings Michigan, FanDuel Michigan, Caesars Michigan, BetMGM Michigan and the other operators like PointsBet MI, BetRivers MI, FOX Bet MI and Barstool MI are available for iOS and Android.
Are Michigan sportsbook apps legal?
Yes, Michigan sports betting apps have been legal since Michigan online sports betting launched in September 2021.
Which are the best Michigan sports betting apps?
The best sports betting app for you will be a purely personal choice. The good news is that there is a wonderful selection of apps available to you in Michigan. You may choose one of the market leaders, such as FanDuel, DraftKings, or BetMGM - or you may find that one of the less well-known operators, like BetRivers MI, is more to your liking.
About the Author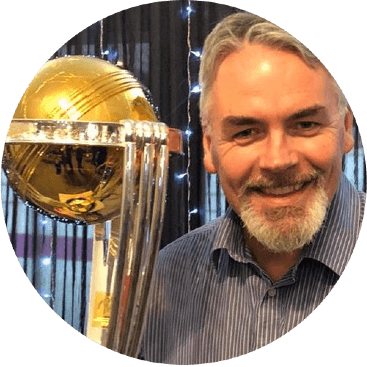 Award-winning contributor covering sports betting and casino gaming around the world for decades, Martin Booth is one of the most trusted voices in online gambling. From legislative updates in New York to breaking down the top betting apps in Ontario, Martin covers a gambit of topics for Bookies.com.