4 NBA Rookie of Year Darkhorses to Back With Williamson Out
By Mark Strotman | 4 mins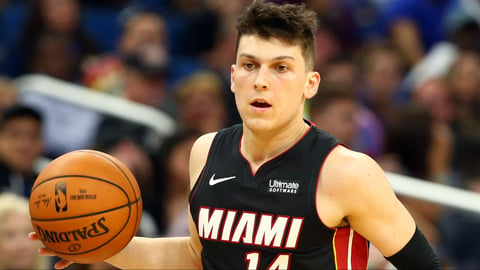 The news of Zion Williamson undergoing surgery for a torn meniscus in his right knee changes everything regarding NBA Rookie of the Year betting. Williamson plummeted from -162 to +125 – though he's still the favorite – while No. 2 pick Ja Morant saw a major bump from +325 to +260 on FanDuel in wake of the Zion news. No. 3 pick R.J. Barrett was once +600, then moved to +500 after the initial Williamson report, and now finds himself at +450 heading into the regular season, which starts Tuesday night.
Pelicans rookie star Zion Williamson underwent arthroscopic surgery for torn meniscus in right knee and will be out 6-to-8 weeks.

— Shams Charania (@ShamsCharania) October 21, 2019
But in a rookie class that was Zion and everybody else, the Rookie of the Year award could be up for grabs if Williamson is plagued by injuries and the Pelicans taking precautions all season. These four rookies jump out as great options for fans of NBA betting to back:
---
CHECK OUT: Our New NBA Daily Picks Page With Up-to-the-Minute Odds
---
Can Tyler Herro Stay Red-Hot With Heat?
No one saw a bigger jump in the preseason than Tyler Herro, who was once +10000 to win Rookie of the Year and now finds himself at +2000 on DraftKings. Why the jump? How about the 13th overall pick averaging 14.2 points on 46% shooting and 52% from deep in five preseason games?
He did his damage in just 26.2 minutes and seems to have carved out a role in a crowded Miami backcourt. Though he'll lose touches to Jimmy Butler, his potential to help push the Heat to a playoff berth will keep his name in the race in spite of gaudy volume numbers. Herro can score at will, and he's going to be a Day 1 contributor.
Coby White Checks All The Boxes
Bulls rookie Coby White had a Summer League to forget, but that's exactly what he seems to have done based on his preseason performances. The seventh overall pick averaged 19.2 points on 46% shooting, and while he's as low as +1100 for Rookie of the Year on some sportsbooks, he still has outstanding +2500 value on FanDuel.
And there's precedent for a non-starter winning the award, too. White will back up Tomas Satoransky at point guard, but he'll play the similar Sixth Man role that Malcolm Brogdon did when he won Rookie of the Year in 2017 with the Milwaukee Bucks. If White becomes a dominant bench scorer, he'll have a shot to competing for the award. He's a point guard who scores for a sub-.500 team. That's critical for Rookie of the Year requirements when betting.
Door Is Open For Rui Hachimura
Rui Hachimura doesn't feel like a prototypical Rookie of the Year candidate, but he has credentials. Already 21 – he'll turn 22 before the All-Star break – he's ready to play right away, and his impressive preseason will give him an immediate spot in the Wizards rotation. He averaged 10.2 points and 6.5 rebounds in just 21.9 minutes per game.
He's also the first Japanese-born first round NBA pick and will have headlines surrounding him all season. Lest we forget, Rookie of the Year is a media-voted award. The fact that Hachimura has a storyline to his name and an open path to significant minutes makes him a darkhorse contender. He's currently +3300 on DraftKings to win Rookie of the Year. It's worth noting that the last two winners – Slovenia's Luka Doncic and Australia's Ben Simmons – were foreigners.
Let's Not Forget About Michael Porter Jr.
Remember him? Porter was the No. 1 prospect in the 2017 high school recruiting class – and expected No. 1 pick – before multiple back surgeries sidelined him his entire freshman season at Missouri. He slid all the way to No. 14 and the Denver Nuggets in the 2018 NBA Draft, and didn't play in his first season. But now the "rookie" is healthy and should be part of Denver's rotation after a promising preseason.
He's +2000 on DraftKings, and there's precedent for a "redshirt" winning the award: Both Ben Simmons (2018) and Blake Griffin (2011) won Rookie of the Year awards after missing their first respective seasons with injury.
Granted, both Simmons and Griffin were No. 1 picks, but Porter likely would have been had it not been for his back injuries as a collegiate freshman. A healthy Porter is as good a player as there is in the rookie class if Williamson winds up missing ample time that takes him out of consideration for the award.
About the Author
Mark is a veteran sports betting journalist who has covered the Bulls and the NBA since 2012. His work has appeared on ESPN.com, FoxSports.com, The Chicago Tribune and Yahoo Sports. He regularly provides NBA betting picks, as well as in-depth sportsbook reviews and the latest promo codes for all the major sports gambling operators, including Caesars Sportsbook, BetMGM, DraftKings, FanDuel and more.
Our trusted sports betting partners bring you safe and fun playing experiences