How Embiid Injury Should Impact NBA Playoff Bets on 76ers
By Mark Strotman | 4 mins
The Philadelphia 76ers might only go as far as Joel Embiid's balky knee will take them. And right now that ailing left knee is becoming a serious issue for the game's best center, who missed Game 3 against the Brooklyn Nets.
Embiid has now missed 15 of a possible 27 games since the All-Star break trying to get the knee back to 100 percent, and one has to wonder if the only remedy to get it there will be offseason rest.
The 76ers didn't need Embiid on Thursday night, taking a 2-1 lead thanks to a 131-115 victory, but the fact that he sat out a playoff game in what was a tied series is alarming going forward.
76ers Still Favorites Against Nets
The 76ers took back home-court advantage from the Nets after Brooklyn stunned them with a Game 1 victory. That's now two straight convincing victories for Philadelphia, and even if Embiid isn't healthy – or continues to sit – the 76ers should have no problem advancing.
Oddsmakers agree, giving Philadelphia -835 odds in NBA betting on 888Sport to move on to the second round and a likely date with Toronto. Brooklyn was never going to be a test for the 50-win 76ers . The first round of the East playoffs was expected to be – and has been – rather uneventful. You can check the latest odds here.
But the three other teams the 76ers would face in Rounds 2 and 3 are all heavyweights. Toronto, then likely either Boston or Milwaukee, is a gauntlet. If Embiid isn't healthy, the 76ers are probably the worst of those four teams – also remember the trouble they've had with Boston the past two seasons.
Until we see how Embiid's injury shakes out and whether he can string together consecutive good games and look healthy doing it, we're staying away from the 76ers' +450 odds in NBA futures betting to win the Eastern Conference. Any chance at a title would mean Embiid getting back to 100 percent while playing through mid-June, so their +1700 odds to win in NBA Finals betting aren't in consideration.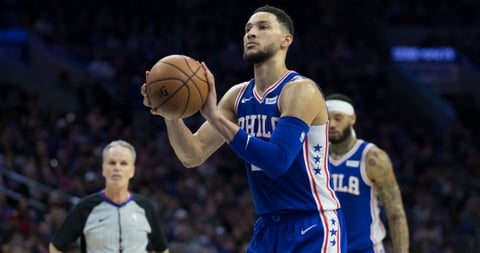 Ben Simmons a Juicy Play Without Embiid
Ben Simmons was magnificent on Thursday, shutting up Jared Dudley and closing the book on their 24-hour feud by scoring 31 points on 11 of 13 shooting in the Game 1 victory.
The 76ers have myriad offensive options even without Embiid, but Simmons in particular will have to do some heavy lifting. Not including a blowout in the final week of the season, Simmons has now played 17 games without Embiid in the lineup this year. His averages? 19.8 points, 10.1 rebounds and 7.5 assists.
Those are some gaudy numbers, and notice that his scoring and rebounding averages go up – Embiid's two most significant contributions – and his assists trend downward. That's something to consider when choosing player prop bets, but either way Simmons is going to be a statistical monster if Embiid needs to sit again at any point in the postseason. He'll be a good play each night.
Also of note was Tobias Harris, who scored 29 points and was perfect from beyond the arc (6-fot-6) in the Game 3 win. Simmons can't pick up the entire scoring load when Embiid is out, and it looks like Harris is willing to be the No. 2 when that happens. Harris averaged 22.5 points on 53 percent shooting in the eight-game stretch Embiid missed out of the All-Star break.
Harris is a good scoring player prop going forward if Embiid isn't healthy.
76ers Defense May Struggle
A healthy Joel Embiid is one of the best defensive players in the NBA. He's going to be a Defensive Player of the Year candidate every year, and the 76ers were 5.0 points per 100 possessions better defensively with him on the floor this season. That's considerable.
Including Thursday, Embiid has missed 19 games this season. The over has hit 10 out of 19 times in those games, including a whopping six of the last seven games. Plus, the 76ers offense is rolling.
The Sixers become first team since Nash/Dirk Mavs in 2003 to have back-to-back 130+ games in playoffs, per @bball_ref. Impressive road win without Joel Embiid tonight.

— Tom Haberstroh (@tomhaberstroh) April 19, 2019
Given all that, the 76ers are a commanding favorite and going to be a nice over play moving forward, whether or not Embiid plays or that knee is at 100 percent.
About the Author
Mark is a veteran sports betting journalist who has covered the Bulls and the NBA since 2012. His work has appeared on ESPN.com, FoxSports.com, The Chicago Tribune and Yahoo Sports. He regularly provides NBA betting picks, as well as in-depth sportsbook reviews and the latest promo codes for all the major sports gambling operators, including Caesars Sportsbook, BetMGM, DraftKings, FanDuel and more.
Our trusted sports betting partners bring you safe and fun playing experiences