By Mark Strotman | | 7 mins
Oklahoma City Thunder Odds, Futures & Betting Predictions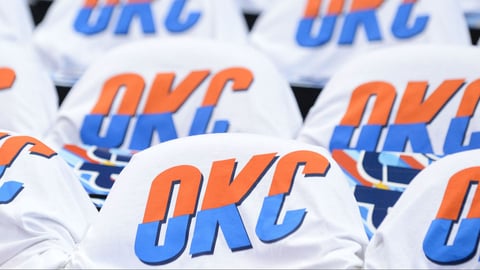 If there were a bet for future first-round draft picks accumulated, we'd be hammering the over with the Thunder. But all those future picks aren't going to matter in 2022, when Oklahoma City will again look for player improvement — notably Shai Gilgeous-Alexander, who just signed a max extension — and a bunch of losses to improve their chances of winning the Lottery next June.
While they're not going to be a great choice for NBA futures, they do have a handful of talented young players who could keep them competitive and a popular choice for NBA betting covers — last season they went a respectable 19-17 ATS on the road.
Thunder Win-Total Betting
The Line: 21.5 (-110) at FanDuel
Oklahoma City did all it could to tank its way to a better draft slot in 2021, and they still managed 22 wins (which would have been 25 wins in an 82-game season). Gilgeous-Alexander should take another step forward, while sixth overall pick Josh Giddey is NBA-ready and will contribute from Day 1.
The Thunder should be better than they were last season given the improvement of their young core. Betting apps have this total much lower than it should be based on how they performed in 2021.
The Bet: OKC tops its win total from last season and hits the Over at FanDuel.
---
Thunder Division Odds
The Line: +10000 with PointsBet
The Thunder last won the Northwest Division in 2016, when they were led by Kevin Durant and Russell Westbrook. In such a top-heavy division that includes the Jazz, Nuggets and Blazers, the Thunder will be battling the Minnesota Timberwolves for fourth in the division —a t the very best. Betting sites have given OKC long odds here, and we understand why.
The Bet: Stay far away from this one at TwinSpires Sportsbook.
---
Thunder Western Conference Odds
The Line: +35000 at DraftKings
The Thunder franchise needed Kevin Durant, Russell Westbrook, James Harden and Serge Ibaka to win the Western Conference. Needless to say, that core isn't taking the floor in 2022. The distant future is bright, but the West is not going through Oklahoma City anytime soon.
The Bet: Sportsbooks have given the Thunder the longest NBA odds in the West for a reason. There's no value here at DraftKings Sportsbook.
---
Thunder NBA Title Odds
The Line: +25000 at WynnBET
KD and Russell Westbrook were never able to bring a championship to Oklahoma City. We very much doubt that Shai Gilgeous-Alexander, Josh Giddey and Tre Mann will do it in 2022. The Thunder's NBA title odds are tied with a handful of others for the longest in the league.
The Bet: This one's simple. Stay away from these odds at WynnBET Sportsbook.
---
Best Thunder Player Prop Bets
The Line: Shai Gilgeous-Alexander Most Improved Player, +1200 at TwinSpires
SGA has improved each year in the NBA since being dealt for Paul George as a rookie, and there's a chance he leads the NBA in minutes per game given the makeup of the Thunder roster. If he can improve on last year's 23.7 points and 5.9 assists while making Oklahoma City somewhat competitive, he'll be in consideration for this award.
The Bet: He's one of our favorite NBA picks here. We like his Most Improved Player odds here at TwinSpires.
About the Author
Mark is a veteran sports betting journalist who has covered the Bulls and the NBA since 2012. His work has appeared on ESPN.com, FoxSports.com, The Chicago Tribune and Yahoo Sports. He regularly provides NBA betting picks, as well as in-depth sportsbook reviews and the latest promo codes for all the major sports gambling operators, including Caesars Sportsbook, BetMGM, DraftKings, FanDuel and more.