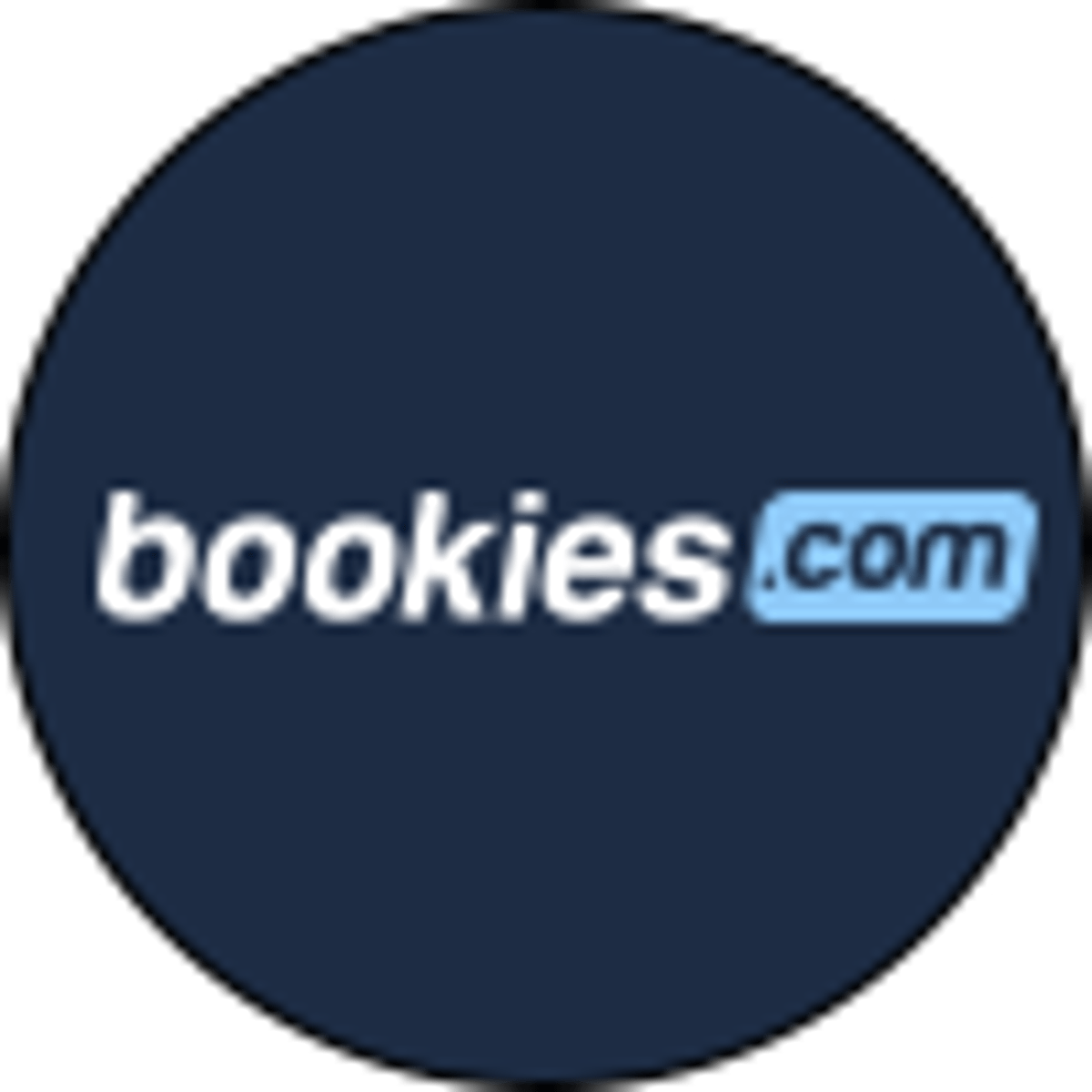 By Bookies.com | | | 5 mins
The NBA Instagram Rich List
54
PLAYERS REDEEMED TODAY!
The NBA is one of the most-loved sports in the United States. It is watched by millions of people, and the league's players are just as famous off the court as they are on.
We analyzed Instagram activity for the top players in the NBA to uncover the sport's biggest earners. By looking at the price per sponsorship post, as well as the cost per engagement and media valuation of each post's worth, read on to discover our definitive NBA Instagram Rich List.
LeBron James
Team: L.A. Lakers
Engagement rate: 1.73
Cost per post: $342,640
Insta handle: @kingjames
LeBron James currently plays for the Los Angeles Lakers. He is the only player in NBA history to win three championships with three different franchises while being named Finals MVP. He's often compared to Michael Jordan and is one of the best NBA players in history.
Stephen Curry
Team: Golden State Warriors
Engagement rate: 2.43
Cost per post: $136,579
Insta handle: @stephencurry30
Hailed as one of the best shooters in the NBA, Stephen Curry helped usher in the current era of basketball with the accuracy and frequency of his 3-point shots. He plays for the Golden State Warriors, where he has won three NBA championships and won league MVP twice.
Russell Westbrook
Team: Washington Wizards
Engagement rate: 1.46
Cost per post: $65,941
Insta handle: @russwest44
Russell Westbrook is a nine-time NBA All-Star and won the MVP award in 2017. Playing in his first year for the Washington Wizards, Westbrook broke the record for most career triple-doubles during the 2021 season.
Kyrie Irving
Team: Brooklyn Nets
Engagement rate: 1.62
Cost per post: $58,554
Insta handle: @kyrieirving
Kyrie Irving has been selected to two All-NBA teams and is a seven-time All-Star. Irving previously won an NBA championship in 2016 with the Cleveland Cavaliers. He now plays for the Brooklyn Nets and was elected Vice President of the NBA Players Association in 2020.
Kevin Durant
Team: Brooklyn Nets
Engagement rate: 4.23
Cost per post: $47,570
Insta handle: @easymoneysniper
Kevin Durant, also known as KD, is in his first year playing for the Brooklyn Nets. He won back-to-back championships in 2017-2018 with the Golden State Warriors. Durant also has won two All-Star Game and Finals MVPs, an NBA Rookie of the Year Award and two Olympic gold medals.
James Harden
Team: Brooklyn Nets
Engagement rate: 3.69
Cost per post: $46,039
Insta handle: @jharden13
James Harden is considered one of the best guards in the NBA and is consistently one of the league's top scorers. He was named league MVP in 2018, is a nine-time All-Star and won an Olympic gold medal. Harden was traded during the 2021 season from the Houston Rockets to the Brooklyn Nets.
Chris Paul
Team: Phoenix Suns
Engagement rate: 1.55
Cost per post: $40,778
Insta handle: @cp3
Chris Paul, also known as CP3, is in his first season with the Phoenix Suns. He has been named to nine All-NBA teams, won a Rookie of the Year Award and is an 11-time All-Star. Paul also has been President of the players' union since 2013.
Lonzo Ball
Team: New Orleans Pelicans
Engagement rate: 2.36
Cost per post: $38,894
Insta handle: @zo
Lonzo Ball, just 23, began his career with the L.A. Lakers, but now plays for the New Orleans Pelicans after being included in the trade for Anthony Davis. Ball was named to the NBA All-Rookie Second Team after being drafted second overall in 2017. He also won multiple national High School Player of the Year honors.
Giannis Antetokounmpo
Team: Milwaukee Bucks
Engagement rate: 2.97
Cost per post: $35,836
Insta handle: @giannis_an34
Affectionately known as the Greek Freak due to his unique combination of speed, size and ball-handling skills at 6 feet 11, Giannis Antetokounmpo plays for the Milwaukee Bucks. In 2016-17, he became the first player in NBA history to finish the regular season in the top 20 in all five major statistical categories (points, rebounds, assists, steals and blocks). Antetokounmpo was named Most Improved Player in 2017 and currently is the reigning two-time NBA MVP.
Damian Lillard
Team: Portland Trail Blazers
Engagement rate: 0.92
Cost per post: $35,650
Insta handle: @damianlillard
A six-time NBA All-Star, Portland Trail Blazers star Damian Lillard sits 10th on the NBA Instagram Rich List. Dominating the court from his point guard spot, Damian is a Blazers icon with many career highlights and awards.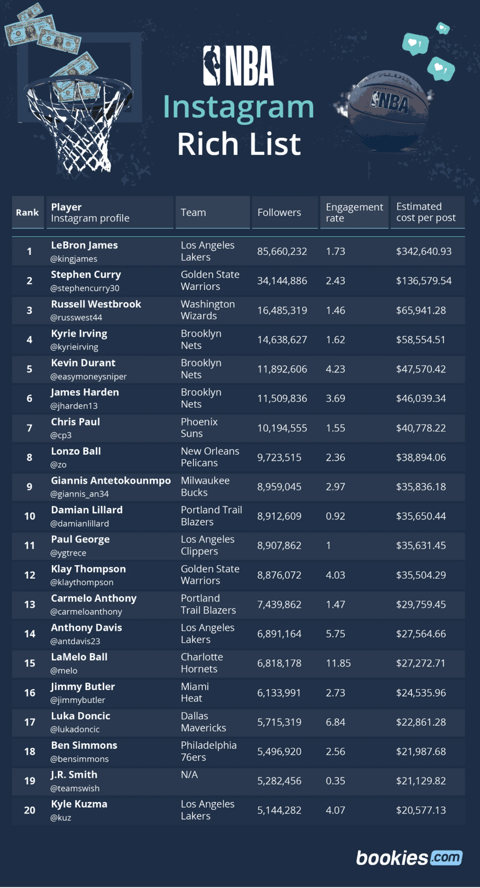 Methodology
To calculate the amount a player could earn per Instagram post we first found the most followed NBA player accounts on Instagram. We then conducted social listening across all accounts which discovered the follower growth, engagement rate and branded content frequency for each account. Engagement rate is calculated as total engagement (likes and shares) divided by total followers.
The social listening data estimates that a user can earn $0.004 per post, per follower. This number is based on the average taken across millions of profiles audited within the social listening tool.
Data as of March 25, 2021
About the Author
Bookies.com is your No. 1 destination for all things sports betting. It brings you the best sportsbook reviews and promo codes from the biggest names in the sports gambling industry, including Caesars Sportsbook, BetMGM, DraftKings, FanDuel and more. Check in with Bookies.com for the latest betting offers and picks across the NBA, NFL, MLB, NHL, golf, UFC and more.