By Adrian Dater | | 5 mins
Early Stanley Cup Predictions, 2021 Odds & Longshots To Back
24
PLAYERS REDEEMED TODAY!
If you thought it was too soon to get your bets down for next season in the NHL, you would be mistaken. Despite the Stanley Cup having been awarded Monday night to the Tampa Bay Lightning, the top online sportsbooks already have odds for next season's Cup winner, not to mention conference winners.
So, let's do some early prognostication here, as the best value is often found early. Let's pick the conference winners, a Stanley Cup winner and maybe two or three longshots that may see their odds get better, based on some potential offseason roster moves.
---
BOOKMARK: Daily NHL Expert Picks Every Day Of The Season
---
Early 2021 Stanley Cup Odds
| Team | Odds |
| --- | --- |
| Avalanche | +800 |
| Golden Knights | +1000 |
| Lightning | +1000 |
| Bruins | +1150 |
| Flyers | +1300 |
| Penguins | +1500 |
| Capitals | +1500 |
| Blues | +1700 |
| Maple Leafs | +1800 |
| Stars | +2000 |
| Oilers | +2100 |
| Hurricanes | +2200 |
NHL futures odds above are current as of publication and via DraftKings
Eastern Conference 2020-21 Prediction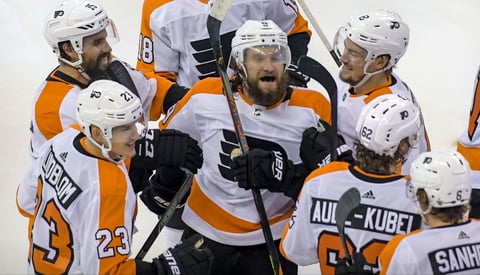 At +400 with Unibet ➜, the Lightning are already the favorite to win the Eastern Conference again, with Boston next at +550.I think it's going to be tough for the Lightning to repeat, though, and here's why: The Bolts could be headed for some cap issues. Right now, Tampa Bay only has $5.3 million in cap space, and some good players will soon be without contracts, guys such at Pat Maroon, Anthony Cirelli, Mikhail Sergachev, Luke Schenn, Kevin Shattenkirk and Erik Cernak.
Yeah, Tampa Bay will still have all its big horses again, but it'll have to part with some guys who played very key roles in the Cup run.
I think the Philadelphia Flyers can take that next step and win the conference next season. They don't have any cap issues, and I think they learned a good deal in the playoffs about getting to the next level. If they can add a nice defenseman and maybe a good third-line center in the off-season, I like their chances at +600. Bet on them at Unibet.
Western Conference 2020-21 Prediction
I don't see the Dallas Stars getting back to the Stanley Cup Finals. A lot of very fortunate things came together for them in the postseason, but it's tough to have that happen twice. At +325, the Colorado Avalanche is the early favorite to win the West, but a couple of things need to happen for me to make them my pick.
I think the Avs need a new No. 1 goalie and another good defenseman. Both could be available in the free-agent market (Braden Holtby, Alex Pietrangelo anyone?), and the Avs have a lot of cap space. Otherwise, they remain young and talented and no doubt they'll be really hungry next year after losing in a Game 7 of the second round for a second straight year.
I'll tentatively go with Colorado to win the West, provided at least one of those two areas are better addressed.
Early Stanley Cup Pick
At +800, Colorado is the early favorite. Again, I need to see a good player addition or two before I feel comfortable, but I also do think the Avs will get that help on personnel. So, yeah, I'll go with the Colorado Avalanche right now as the pick to win it all next year.
Vegas is the other team that will be neck and neck with the Avs all year, and I can easily see those teams meeting in the Western final. Take the Avs at DraftKings.
Best Stanley Cup 2021 Longshots To Consider
The New York Islanders are just +3000 to win the Cup, and I'd definitely get a wager down on them at that price. This was a team that took Tampa Bay to six games in the Eastern Conference finals and has a lot of good young pieces in place. Matthew Barzal's contract is up, though, and the Islanders don't have a lot of cap space, so they may need to move some salary to fit him in.
At +3500 to win the Cup, the Vancouver Canucks are a tempting early bet, too. The Canucks did some good things in the playoffs and they have a lot of young talent. Get them at these odds while you can.
The Carolina Hurricanes at +2200 to win the Cup, is another good early longshot bet. There is a lot of good young talent on that team. They do need better goaltending, but fortunately for them a lot of name goalies will soon be on the open market, and I expect them to get one of them.
About the Author

Adrian Dater writes about the NHL for Bookies.com. The longtime NHL writer spent 25 years at The Denver Post, 20 of which as the beat writer of the Colorado Avalanche.