Tiger Woods Odds In All 4 Upcoming Major Championships
Caesars

Up to $5,000 Risk-Free Bet Plus a FREE NFL Jersey - Promo Code: BOOKIESRF

Bet Now
Editor's Note: These odds were published prior to Tiger Woods' car accident on February 23, 2021. Most sportsbooks have since taken down his odds. These odds will be updated once new odds are posted.
Tiger Woods shocked the world with his 2019 Masters victory to claim a fifth green jacket. It was the 15th major win of his career, first in 11 years, and a sign that Jack Nicklaus' all-time record of 18 majors was once again in Woods' sights.
However, he suffered a recent setback with another back surgery in late January after undergoing a successful spinal fusion in 2017. He'll always have to play through some pain and deal with the ebbs and flows from day-to-day, but overall this was a minor procedure compared to the spinal fusion that allowed him to swing and walk without pain for the first time in years.
Woods' 2020 major campaign was put on hold along with the rest of the sports world as coronavirus shut down organized athletics for three-plus months. The results weren't great when he returned and included a missed cut at the 2020 U.S. Open. But he was clearly dealing with back stiffness and other aches and pains, and is hoping the recent microdiscectomy procedure will help matters in 2021.
All indications are that Woods will be ready to go for the Masters in April and able to continue his pursuit of Nickluas' record in 2021. Let's take a look at Woods' odds for all four of golf's upcoming major championships.
Tiger Woods Odds to Win Golf's Four Major Championships
| Tournament | Odds | Bet It At |
| --- | --- | --- |
| 2021 Masters | +3100 | FanDuel |
| 2021 PGA Championship | +3300 | Unibet |
| 2021 U.S. Open | +2800 | DraftKings |
| 2021 British Open | +2000 | Unibet |
Woods' odds are current as of publication. Check out the latest golf futures here.
2021 Masters
Dates: April 8-11
Course: Augusta National Golf Club, Augusta, Georgia
Tiger Woods odds to win: +3100
The five green jackets in Woods' closet would define his golf legacy more than any other achievement if his career ended today.
Woods still knows the course as well as anyone and was in contention early before a final-round 76 and T-38 finish in November. The Masters has always been a great tournament for Woods because Augusta National is a second-shot golf course. The greens are so contoured and fast that approach shots which land even a yard or two off target can roll off the green entirely.
Woods is the best iron player on the planet and also knows where to miss on every hole at Augusta.
We'll see how Woods recovers from the recent procedure and if he's able to get a few warm-up tournaments in before the 2021 Masters.
---
2021 PGA Championship
Dates: May 20-23
Course: Ocean Course, Kiawah Island, South Carolina
Tiger Woods odds to win: +3300
Woods has four career PGA Championship wins, most recently going back-to-back in 2006-2007. It's also been his worst major championship of late with three missed cuts in his last five appearances, including a rough one at the 2019 PGA Championship at Bethpage. But his 2018 Sunday charge at Bellerive and resulting solo second was a defining moment in his comeback from spinal fusion surgery and helped spark the 2019 Masters win.
Woods also had one of his best 2020 performances at the PGA Championship at Harding Park, finishing strong for a T-37. He finished T-11 at the 2012 PGA Championship at the Ocean Course, his only prior tournament start in Kiawah Island.
The PGA Championship generally has an easier setup than other majors and yields lower scores. While Woods proved in 2018 he can still hang in a birdie-fest, going 14-under for the week, he tends to do better with difficult setups that require a golfer to think their way around the course and hit a variety of shot shapes.
Woods is +3300 to win at the Ocean Course per oddsmakers at the top sports betting sites, behind the likes of Rory McIlory (+1000), Dustin Johnson (+1000), Jon Rahm (+1100), Justin Thomas (+1200) and Bryson DeChambeau (+1400).
---
2021 US Open
Dates: June 17-20
Course: Torrey Pines, La Jolla, California
Tiger Woods odds to win: +2800
Woods has three career US Open titles. He last took home the trophy while playing on a broken leg and torn ACL in the 2008 U.S. Open at Torrey Pines, considered by many to be his best major championship win ever.
Woods has a remarkable eight career wins at Torrey Pines, including four consecutive years from 2005-2008. He finished T-9 his last time there at the 2020 Farmers Insurance Open, but he doesn't have a win since 2013.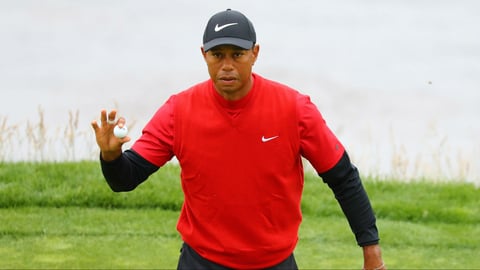 Woods had a rough go in the 2020 U.S. Open, missing the cut at Winged Foot after a second-round 77. He grinded his way to a T-21 at the 2019 U.S. Open at Pebble Beach and hasn't finished in the top 20 since 2010.
His betting odds at DraftKings reflect that, with Woods sitting +2800 behind favorites like Dustin Johnson (+1000), Jon Rahm (+1100), Bryson DeChambeau (+1200), Rory McIlroy (+1200) and Justin Thomas (+1200).
---
2021 British Open
Date: July 15-18, 2021
Course: Royal St. George's, U.K.
Tiger Woods odds to win: +2000
The British Open, or Open Championship as they like to call it across the pond, was the only major to cancel entirely and set its sights on 2021. Woods will be aiming for his fourth Claret Jug and first since he went back-to-back in 2005-2006. He missed the cut while dealing with several then-undisclosed injuries during the 2019 British Open at Royal Portrush but fared great in 2018 at Carnoustie, briefly taking the final-round lead and finishing T-6.
Woods didn't play the 2011 British Open at Royal St. George's, when Darren Clarke won by three shots at age 42. Woods will be 45 when he tees it up in this one and is looking to become the oldest British Open champion since Old Tom Morris did so at age 46 back in 1867.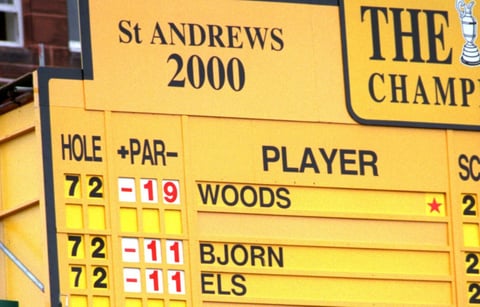 He still has all the creativity and shot shapes required at a British Open. He's clearly passionate about links golf and loves the added strategy element. Slower greens than you'd find stateside have given Woods trouble in recent years, as he prefers faster putting surfaces. But a generally conservative strategy off the tee has served him well at past British Opens and takes the pressure off his driver.
Oddsmakers over at Unibet have given Woods the eighth-best odds to win the 2021 British Open at +2000, trailing Dustin Johnson (+900), Rory McIlroy (+1000), Jon Rahm (+1200), Bryson DeChambeau (+1400), Tyrrell Hatton (+1600), Brooks Koepka (+1600) and Justin Thomas (+1600).
---
Tiger Woods Odds FAQs
When is the 2021 Masters?
The 2021 Masters will be held from April 8-11.
What are Tiger Woods' odds to win the Masters?
Tiger Woods is currently +3100 to become Masters champion this year, adding to the fifth green jacket he claimed in 2019.
When is the 2021 PGA Championship?
The 2021 PGA Championship will be held from May 20-23.
What are Tiger Woods' odds to win the PGA Championship?
Tiger Woods is currently +3300 to win the PGA Championship.
When is the 2021 US Open?
The 2021 US Open will be held from June 17-20.
What are Tiger Woods' odds to win the US Open?
Tiger Woods is currently +2800 to win the US Open.
When is the 2021 British Open?
The 2021 British Open (Open Championship) will be held from July 15-18. The 2020 British Open was cancelled due to the coronavirus pandemic.
What are Tiger Woods' odds to win the British Open?
Tiger Woods is currently +2000 to win the British Open.
Where can I bet on Tiger Woods odds?
You can bet on a whole host of Tiger Woods betting markets at any licensed, regulated sportsbook in a state that has legal sports betting. You just need to be physically located in the state to bet.
About the Author

Handicapper Dan Kilbridge writes about college football, MLB and other sports for Bookies.com after spending three years covering Tiger Woods' comeback and the PGA for Golfweek.