Toyota Owners 400 Odds, Picks & Betting Preview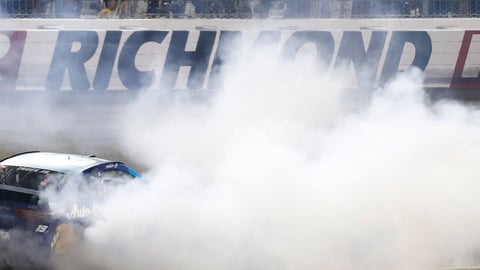 It's the bane of race fans, it's frustrating for race teams and lately it has become an unwelcome wrinkle for NASCAR bettors. Rain has plagued the past two NASCAR Cup Series races, completely altering the fabric of two short-track events and making NASCAR betting more challenging than it already is.
In late March at the inaugural dirt race at Bristol, rain left behind a choppy, inconsistent surface that even the sport's best dirt racers struggled to handle. The result was a rather unforeseen winner in Joey Logano (+3300). And last week at Martinsville, rain pushed a scheduled night race into the following afternoon, throwing off setups that had been calibrated for evening conditions. Odds favorite Martin Truex Jr. (+500) pulled away in the final laps to become the first winner this season who carried the lowest value to bettors.
So yeah, enough. Truex is again the odds favorite this week at Richmond Raceway, where he has won two of the past three Cup events. But there are also legitimate options offering better value. And perhaps most important, the forecast for Sunday in the Virginia capital is mostly cloudy, with less than a 20% chance of rain. A dry race day gives bettors the event they wagered on, as opposed to something where the conditions — and perhaps the winner — become completely different than expected.
Toyota Owners 400 Odds
Driver
Win
Top 3
Top 10
Martin Truex Jr.
+400
+110
-420
Denny Hamlin
+600
+170
-286
Brad Keselowski
+700
+200
-250
Kyle Larson
+800
+225
-225
Joey Logano
+800
+225
-225
Chase Elliott
+850
+240
-210
Kyle Busch
+900
+260
-200
Kevin Harvick
+1100
+450
-175
NASCAR odds current as of publication from DraftKings and subject to change.
---
Toyota Owners 400 Predictions & Betting Tips
Kyle Larson to Win (+800, DraftKings)
It has been a smashing return to NASCAR for Larson, who's in the best car of his career and squeezing everything out of it. Already a winner this season at Las Vegas, the Hendrick Motorsports driver has been on a six-week tear interrupted only by a poor finish on the Bristol dirt, where he entered as the odds favorite and ended up a victim of the awful surface.
Also a past winner at Richmond, Larson finished seventh or better on the 0.75-mile track in five of his past six events when he was running at the finish. Larson returned from his hiatus a more savvy and seasoned driver who's always a threat on short tracks. Among the favorites, he brings a smidge more betting value this week. Bet on Larson at DraftKings .
---
For more great expert NASCAR picks for the Toyota Owners 400 from our team of handicappers, check out bookiesEDGE:
---
Toyota Owners 400 Betting Tips
Toyota sponsors this race for a reason: Drivers representing the carmaker have won four of five at Richmond, as well as seven of 10. But two Toyota drivers who prevailed during that span, Matt Kenseth and Carl Edwards, are retired. Two-time winner Kyle Busch is searching for good form; he has just two single-digit finishes this season. Denny Hamlin, who grew up in Richmond, hasn't won on his home track since 2016, forever ago in NASCAR time, though the points leader carries a nice run of five straight top-four finishes into this weekend.
As his odds would suggest, the Toyota pilot to beat this week is Truex, who has finished third or better in four consecutive starts at Richmond. But the most recent race winner is Ford's Brad Keselowski, who led 192 laps in a dominating performance last September. That came in a night race and Sunday's event is in the afternoon. Still, Keselowski has top-10s in seven of his last eight at Richmond, though he's limping to the commonwealth on the heels of three straight double-digit finishes.
The wild card here is Kevin Harvick, whose average finish of 9.7 at Richmond ranks second among active drivers and whose three wins are tied with Hamlin for second-most. Since 2016, he has just one finish there worse than seventh. So why are his odds +1100? Because last season's best driver still hasn't won this year and his average finish over his past three starts has been 11th. Still, his history and that value might be tough to resist.
Toyota Owners 400 Time, Date & TV
When: Sunday, April 18, 3 p.m.
Where: Richmond Raceway, Richmond, Va.
TV: FOX
About the Author

Veteran sports journalist David Caraviello has covered college football, college basketball, motorsports and golf, covering all three US golf majors, the Daytona 500 and SEC football.