Best & Worst Power 5 NCAA Football Teams To Bet On Late In The Season
Caesars

First Bet Match Up To $1,001 Plus Bet $100 Get an NBA Jersey - Promo Code: BOOKIES

Bet Now
There's always a lot of college football teams looking good in September, when the sun is shining, players are mostly healthy and nonconference mismatches are everywhere.
It takes a different type of mentality to get it done when it really matters in the final months of the season, both for teams in contention and those playing for pride. That's why we set out to discover which Power 5 programs have been the most consistent down the stretch.
Bookies.com looked at archived moneyline college football odds and results for every Power 5 team in their final five games of the season for the last three years to see which programs tend to improve or stay on top in the last month of the season. Our study spanned from 2018-2020 and gives us a better idea of which teams we should be backing on the moneyline in the coming months as the 2021 college football betting season rolls to its conclusion.
Basing our results on a $100 moneyline bet at sports betting sites for every Power 5 team in its final five games, Oregon State proved to be the top team with a total profit of $1,016 for those games. That's something to keep in mind with the Beavers in contention for a Pac-12 title this season, with remaining games against California, Colorado, Stanford, Arizona State and No. 7 Oregon.
Arkansas has been the worst late-season moneyline bet in recent years, with the Razorbacks at $-1161.03 in late-season games. Their final stretch in 2021 includes Mississippi State, LSU, No. 3 Alabama and Missouri.
In terms of conference, Big Ten moneyline bets have been most successful. Eight of the 24 teams that made an overall profit on moneyline bets come from the conference, most notably Minnesota and Michigan State. The Gophers netted a profit of $808.99 on moneyline bets, while the Spartans turned a profit of $774.88. Perhaps former Spartan coach Mark Dantonio was on to something with his late-season motto "November is for Contenders."
That means late-season upsets in the Big Ten aren't all that uncommon, as even the lower-tier programs have pulled off a few moneyline hitters in November.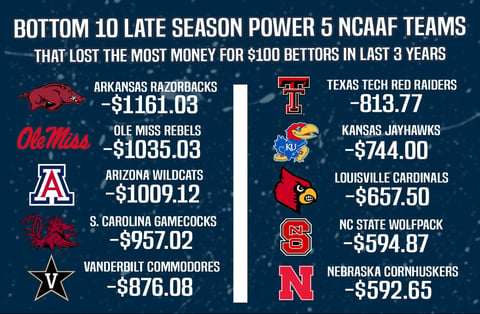 Four of the bottom five in late-season moneyline results hail from the SEC, including Vanderbilt ($-876.08), South Carolina ($-957.01), Ole Miss ($-1,035.03) and Arkansas ($-1161.03). None of the four finished .500 or better in conference play those seasons, so the lesson here is pretty clear – fade the bad SEC teams into oblivion down the stretch, at which point the grind of an SEC schedule has taken a toll and players don't have a lot of fight left.
Methodology
Bookies.com gathered all of the data and moneyline odds for the article from the website OddsPortal.com, which combines the historical moneyline odds from 12 sportsbooks into the average odds for a game. After gathering the odds for each team, Bookies.com determined the amount of money won or lost by a $100 bettor by using the odds.
Fair Use
When using this data and research, please attribute by linking to this study and citing http://www.bookies.com.
About the Author

Handicapper Dan Kilbridge writes about college football, MLB and other sports for Bookies.com after spending three years covering Tiger Woods' comeback and the PGA for Golfweek.