Caesars Maryland Sportsbook Review & Promo Code
Sports betting in Maryland has been live since early December 2021, but mobile betting has lagged behind due to regulatory red tape. Officials are hopeful that mobile betting will launch in Maryland in time for the 2022 NFL season, but in the meantime, Marylanders can visit the Caesars Maryland Sportsbook at Horseshoe Casino in Baltimore to place wagers.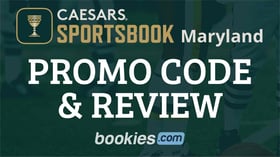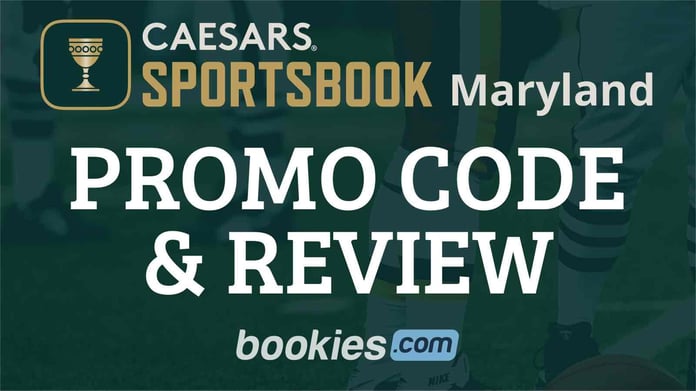 Caesars Maryland sportsbook will be online before you know it however, and you're going to want to sign up for a Caesars account as soon as you can. Why? Great promotions - seriously, Caesars Sportsbook promo codes are practically unbeatable, not to mention, best of all, great welcome offers. When you join Caesars, you aren't just joining a sportsbook, you're joining an entertainment giant. Caesars Entertainment leverages its world-class resorts to give sports bettors some amazing perks and Caesars Maryland Sportsbooks rewards.
What's more, the acquisition of U.K.-based gaming company William Hill has helped Caesars combine its flair for entertainment with a respected sports betting brand. That combination has Caesars sportsbook positioned as arguably the best online sportsbook operator in the nation. So read on and let's get you ready to start betting like a Caesar!
Pros and Cons
Pros
Industry-leading welcome offers
Great user-experience on mobile
Several promotions and rewards programs available for new players
Simple and easy-to-use desktop experience
Cons
Higher minimum deposit than competitors
Not as many odds boosts as other sports betting sites
Caesars Sportsbook MD Sportsbook Offers
We aren't sure what the Caesars Maryland Sportsbook offer will be, but we can make an educated guess based on past precedent.
Caesars Louisiana previous launch offered a $1,500 No sweat first bet. That offer was equivalent to the welcome bonus in New York and other states, so it could be the same when Caesars MD promo code becomes available. Now Caesars offer is up to $1,250 plus 1,000 tier credits and rewards, with the promo code BOOKIESFULL
When Caesars Maryland launches, the offer can be claimed by clicking the link inside of this page or in the bonuses tab at Bookies.com. That is one of the best offers available right now for signing up to a sportsbook. That match is among the best you will find in any of the legal sportsbooks in the country. For comparison, Draftkings offers a 20% match up to $1,000, while BetRivers givers new users a 100% match up to $250. As far as risk-free bets go, this Caesars sportsbook offers can't be beaten.
To get access to the bonus, players need to create an account on the site and make an initial deposit. Players must be in the state of Maryland to get the offer and they must be at least 21 years old. This offer is for new players only and users must deposit at least $20 in order to be eligible for the bonus. The bonus comes as a free bet that will be issued as free bets within 72 hours.
Caesars Sportsbook Promo Codes Maryland
| | |
| --- | --- |
| 🎁 Caesars Sportsbook Promo Code Maryland | BOOKIESFULL (Expected) |
| 🖊️ Caesars Maryland Sign Up Offer | Up to $1,250 on Caesars + 1,000 Tier Credits + 1,000 Reward Credits (Expected) |
| ⭐ Who will be Eligible | 21+ and located in Maryland |
| 💳 Minimum Deposit | $20 |
| ⌚️Withdrawal Time | Instant - 4 business days |
| 💰 Wagering Requirement: | 1x |
| ✅ Verified On | Sep 25 2022 |
Where to find the best Caesars Sportsbook Promo Codes for MD?
The best way to see the current Maryland Caesars promo code is to go to Bookies.com as we review and verify the codes on a weekly basis. That means no more searching for the best offers as Bookies.com will take care of that for you. You can also compare these bonuses against some of the other top sportsbooks in Maryland. Be sure to check in often to find the latest and best Caesars Maryland Sportsbook promos.
Additional Promotions by Caesars Sportsbook in Maryland
You can find daily specials in the promotion tab at the top of the screen. The offers vary by state, but some of the options include the "Bet $50 and get a $250 Uber Eats card" offer, as well as the NHL "Friday Double," which offers double your money when you bet the moneyline on a featured NHL team on that Friday. There are also daily giveaways, happy hour plays and other promotions.
Caesars will also offer an odds boost regularly, including around special events. For Super Bowl 56 there were an enormous amount of cross-sport boosts. For instance, one was Matt Gay over 1.5 field goals and the U.S. Men's Hockey team to beat Canada at the Winter Olympics boosted to +450. Another was the Rams to win the Super Bowl and UFC fighter Israel Adesanya to to defeat Robert Whittaker boosted to +120 (that one cashed, by the way).
There is also a deal called "Cover Cash" that works like this: if bet at least $50 on a given basketball point spread, you'll win $5 for every point your bet covers by. So if you bet using Caesars odds on the University of Maryland to cover a 6-point spread and the Terps win by 10, you'd win a $20 free bet (4 pts $5 each point).
Of course, there is also the "Spread the Word" offer where if you refer a friend and they deposit at least $50, you'll get a $100 free bet.
Be sure to check in daily to see what current promotions Caesars Sportsbook in Maryland is offering.
Available Sports to Bet on at Caesars Sportsbook Maryland
Caesars Sportsbook Maryland offers sports betting on all of the major sports and several other lesser-known sports. Players can wager on the NFL, NBA, MLB and so much more! While they do offer a fairly wide range of sports to bet on, a few others do have more markets than Caesars.
However, they have all the most common bets available (point spread, moneyline, totals, etc.), but they have a massive list of futures bets, prop bets and more available on the website and Caesars Sportsbook app.
Here are all the sports available (both college and professional) that can be bet on at Caesars Sportsbook in Maryland:
Bettors in Maryland can wager on all of their favorite teams, including the Baltimore Ravens, Baltimore Orioles, Washington Capitals, Washington Commanders and so many more!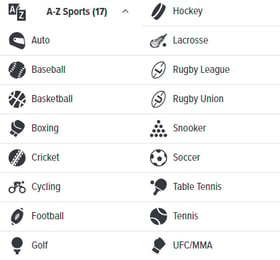 Popular Bets to Make at Caesars Sportsbook MD
There are so many ways to bet on your favorite sports and teams and Caesars Sportsbook offers them all. Here are a few of the most common ways to bet on sports and some examples to help you along the way.
Straight Bets - The most common way to bet on football and basketball is via straight bets, aka the point spread. In order to win a straight bet, the team that a player bets on must cover the point spread. That means that the favorite will win by at least a certain amount of set points, or the underdog will win outright or lose by no more than the pre-set number of points. Here is an example from Super Bowl 56:
Los Angeles Rams (-4) vs. Cincinnati Bengals - In this example, the Rams are four-point favorites and the Bengals are four-point underdogs. The game's final score was Rams 23-20, which means they did not cover the spread. In most cases, the payout for either spread will be -110, which means a player would need to wager $110 to win $100.
Total Lines - If you don't want to wager on the point spread or the moneyline, you can bet on the total instead. Total lines are the number of combined points or runs scored by both teams in a game. Caesars Sportsbook will set a line of total points and a player must wager on the OVER or UNDER. Here is an example from Super Bowl 56:
OVER/UNDER 48.5 points (-110) - In this case, the payout is the same for either side of the bet. In the case of the Super Bowl, 43 total points were scored, meaning that the under hit. If the total number of points scored is equal to the total set by the sportsbook, the wager is considered a "push" and the original bet is returned to the player.
Moneylines -Another common bet to make is a moneyline bet, which is where a player wagers on a team to win a game (or match) outright. The final margin of victory does not matter. Here is an example of a money line bet:
Washington Wizards (-150) over Los Angeles Lakers (+120) - In this example, the Wizards are the favorite (-) and a player would need to wager $150 to win $100. The Lakers are the underdog (+) in this scenario and a bettor would win $120 on a $100 bet.
Parlay Bets - The Caesars Sportsbook in Maryland offers parlay bets, which allows players to merges multiple bets (either point spread, moneyline or totals) into one singular bet for increased odds. All legs of the parlay must win in order for the parlay bet to hit. Here is an example of what a parlay bet may look like:
Cowboys (+150) over Giants
Over 52.5 points in Cowboys vs. Giants (-110)
Steelers -3.5 (-110) over Ravens
PARLAY ODDS: +811
Parlay bets are riskier than the other bets mentioned, but the potential payout is why they are so attractive for bettors.
Futures Bets - This is a long-term bet that usually pays at the end of the season or at end of the year. A common futures bet would be betting the Ravens to win Super Bowl 57. Or you could bet Lamar Jackson to win the 2022-23 NFL MVP. These bets are very common as a bettor gets to root for his favorite team or player all year long and the final outcome of the bet isn't decided by one singular game or match. Here is an example of what a futures bet might look like:
ODDS TO WIN SUPER BOWL 57:
Chiefs +750
Bills +750
Rams +800
Cowboys +1200
Packers +1200
Broncos +1200
Prop Bets - This is a special type of bet where a player can wager on something in the game that doesn't directly correlate to the final outcome. For example, a player can wager on the number of passing yards a quarterback might have in a game or the number of total touchdowns scored by both teams. If you're a Commanders fan, you can bet on how many sacks Chase Young will have in a game, or even in the entire season. Be sure to check in at Caesars Sportsbook as often as possible as they are always offering the latest and most exotic prop bets.
You can place all of these bets above using either the Caesars Sportsbook legal website or Caesars sportsbook app. They are available and free on all platforms including Android and iOS devices (mobile) any type of PC or Mac computer.
Caesars Sportsbook Maryland Sportsbook Features
Most of the online sportsbooks in Maryland will all offer similar features and functions. That is the case here with Caesars Sportsbook in Maryland as they offer a very familiar online sport book feel for sports bettors. However, here are several reasons why Caesars Sportsbook in Maryland is among the top online sportsbooks in the state. Here are four of our favorite features on the site:
Same-Game Parlays
Want to wager on the Ravens to win and for Lamar Jackson to rush for over 50 yards?? Same-Game Parlays are the new and exciting way to bet on your favorite sports. You can build your own parlay from a specific game and see the odds rise.
Live Betting
Want to bet on the Ravens to win as they are going into the fourth quarter? Or what about the Capitols as they enter a shootout? Live betting allows players to make up-to-the-minute bets on their favorite games, teams and leagues. Caesars Sportsbook doesn't offer as many live betting options as other sportsbooks, but they will have all the major sports and local teams available to bet.
Early Cash-Out
Like so many other online sportsbooks, Caesars Sportsbook in Maryland allows players to "cash-out" on their bets before they are settled. That includes live games, futures bets, etc. Players can cash out after a few legs of a parlay hit or before it becomes apparent that bet is going to lose. Be sure to check out the "Open Bets" tab to see which bets are eligible for early cash-out.
Parlay Boost
Under the promotions tab, players can often receive "parlay boosts" that can increase winnings by 10, 25 and even 50%. These are often special promotions that are available only during certain games or events. This is a fun and easy way to get more value on your bets and keep you coming back to the site.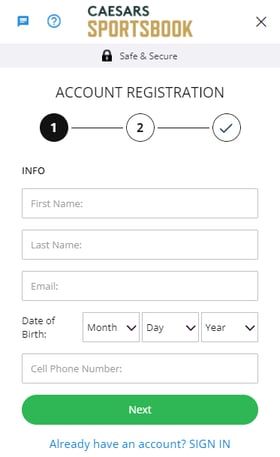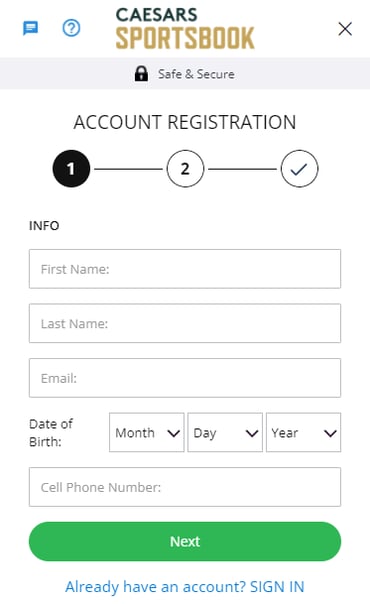 Create a Caesars Sportsbook Betting Account in MD
Creating an online sportsbook account has never been easier. To join, all players have to do is use a valid email and create a password. But here are the step-by-step directions to creating a Caesars sportsbook account:
Click on the link on this page and click "Sign Up."
Give Caesars Sportsbook MD a valid name, email address, date of birth and a working cell phone number.
Create a strong password with at least 10 characters (recommend) with several different letters and numbers. Then create and answer a few security questions for more protection on your sportsbook account.
Add your last four digits of your Social Security Number and enter your current address details to confirm your identity.
Type in the current Caesars promo code: BOOKIESFULL to claim your $1,250 risk-free bet. Make sure to enter that Caesars promo code here to confirm that offer. Otherwise, you will not get to use it.
Agree to the terms and conditions and click submit.
From there, you will need to confirm your ID via the verification process. And then, you are ready to begin betting as you have created a Caesars Sportsbook account!
Banking with Caesars
One of the best parts about Caesars online sportsbook is how simple it is to deposit and withdraw your funds. With several different options to deposit, you can start making bets in just a matter of minutes. Here is how to deposit and withdraw your winnings on Caesars Sportsbook.
Making a Deposit
Making your first deposit has never been easier. Customers of Bank of America, CIT Bank, M&T Bank, PNC Bank, TD Bank, and SunTrust Bank or any other large bank will be able to make way deposits to Caesars Sportsbook. Players can despot funds using one of the following methods:
Credit Card
Google Play
PayNearMe
With more options available than ever, you can quickly get funds into your account and begin wagering on your favorite sports!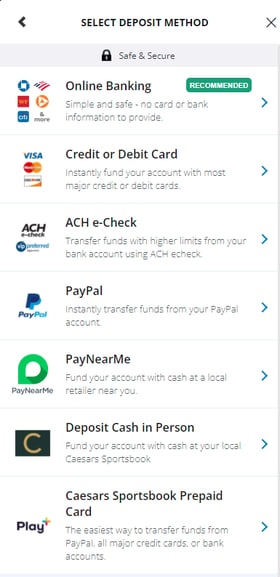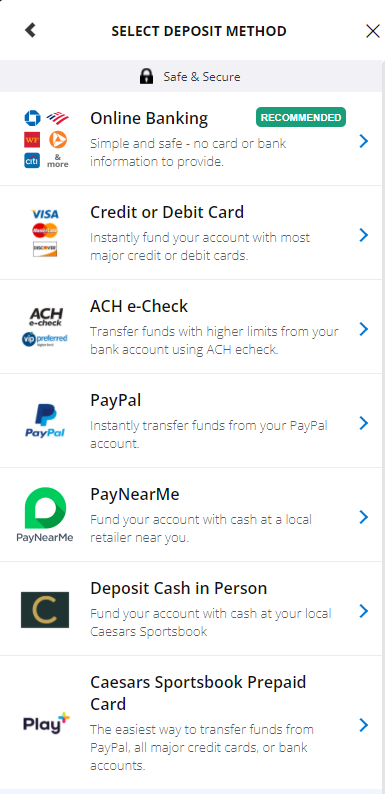 Cashing Out Your Winnings
Just like depositing funds, withdrawing your money and casing out as never been simpler. It's worth mentioning that cashing out your winnings is always free and most payout requests are processed within a day or two.
Caesars allows players to either receive their funds via PayPal or check. Paypal usually takes a day (or two) a the most while a physical check can take anywhere from seven to ten days. Either way, you are assured to get your funds in a quick and reliable way.
It's a very painless process that only takes a handful of seconds to do on the website. It is worth mentioning that the minimum withdrawal at Caesars Sportsbook starts at $20.
The State of Maryland also ensures that players will be paid in a timely matter, making your sports betting experience all the more enjoyable.
Maryland Ongoing Contests and Tournaments
Occasionally, Caesars online sportsbook will offer tournaments and rewards when it comes to the NFL and NBA. However, they do not offer as many contests and tournaments as other online sports betting sites.
It's one area the site needs to improve on to keep up with its competitors. However, they do offer some promotions such as Risk-Free Thursdays (February) or "Happy Hour" where players receive a $1 bonus for every $100 wagered.
Caesars Sportsbook MD Sportsbook Rewards/ Loyalty Program
There is a rewards program called "Caesars Rewards" where players will unlock credits for the more they play and bet. Players will receive 1 Tier Credit for every $10 wagered on a sports bet or $25 wagered in an online casino game.
While this is a nice function to have, the Caesars rewards don't compare as well to other legalized online sportsbooks in Maryland. They are a bit hard to track and they don't add up as quickly as other sites. It would be nice if sports bettors could earn free bets faster. However, you can still enjoy the desktop and mobile site despite a lackluster rewards program.
User Experience
The Caesars Sportsbook in Maryland site is very easy to navigate. All of the leagues/sports are listed on the left-hand side of the screen with the current games and odds being directly in the middle. Once a player picks a side on a bet, it will show up on the right-hand side of the screen to the bet slip. The website version of the site makes it a breeze to create parlays and teasers and it's easy to navigate through all of your settled and unsettled bets.
It's also very easy to find the current prop bets as they are listed under the actual game with easy-to-read font. It's a very responsive site that takes little to no time to load and the odds/lines update without having to refresh the page.
Caesars Sportsbook MD Mobile Betting App
While mobile sports betting has not quite started in Maryland, it is coming. The state has allowed up to 60 mobile betting apps to be rolled out over the next year. That includes Caesars Sportsbook, which already has an app that is up and running in several other states.
So what are the benefits of mobile sports betting? First and foremost, it's the overall convenience. You can place a bet at any time and anywhere in the state. It also makes live betting a breeze as players can pull up the updated lines and odds without leaving the comfort of their chairs.
Mobile apps are also designed to be incredibly quick and easy to use. The Caesars Sportsbook app allows players to quickly find the sport they want to bet on and make a wager. This app has been tested on both Android and iOS devices and works well with both. The biggest takeaway is that it's a very responsive app, which is the most important when it comes to betting via a mobile device. Betting on your favorite sport has never been easier and the Caesars Sportsbook MD mobile app is among the best mobile sportsbook apps available.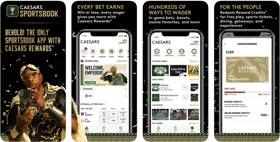 Caesars Sportsbook Maryland Legislation & History
Sports betting was first legalized in Maryland in May 2021. The first legal sports bet was placed on December 9, 2021, as Governor Larry Hogan made a futures bet on the Washington Football Team and the Baltimore Ravens to meet in the playoffs. However, that bet took place in a casino and not on an online sportsbook.
While the date is not official, the expectation is that online sports betting at Caesars will begin sometime in 2022. But in the meantime, local casinos and sportsbooks are taking action on all of your favorite sports.
As for Caesars Sportsbook, they purchased William Hill Sportsbook in 2021 and are now one of the biggest online sportsbook available. They now have functional sportsbooks in 11 stats and that list could be growing in the near future.
Caesars Sportsbook MD Betting Site
The best way to use the Caesars Sportsbook is on a desktop or laptop computer. A larger screen (compared to a phone or tablet) makes navigating the website a piece of cake. It also allows players to see more bets that are available, quickly toggle through different sports and it makes live betting simple. To get the best overall experience at Caesars Sportsbook, consider using the desktop version of the site. However, the betting app is certainly more convenient as players can make bets through their phone wherever they are in the state.
Security and Safety Offered By Caesars Sportsbook MD
You will not find a safer and more trustworthy online sportsbook than Caesars. They have the latest technology and encryption software to keep all of your information safe. The last thing you should be worried about when using an online sports betting website or app is their safety. Luckily, Caesars Sportsbook will give players peace of mind with their security services.
One way to ensure that all of your information is kept safe is to use a strong password. Try to come up with a password that is at least 10 characters long and avoids consecutive numbers (like 1234). The more creative and unique the password, the safer all of your information will be at Caesars Sportsbook. If you ever encounter a problem, be sure to check out their customer support team to take care of any issues that might arise.
Caesars Sportsbook Customer Support
There are several different ways to contact the customer support team at Caesars Sportsbook. They have a live chat team that is available from 8 AM to 12 AM ET daily. Another way to contact them is via their toll-free number at 1-800-830-8269.
Their phone hours are the same as the chat (8 AM to 12 AM ET). You can also reach them at any time by email at [email protected] With three different ways to contact Caesars, it's likely to be one of the most user-friendly sportsbooks available to Maryland bettors.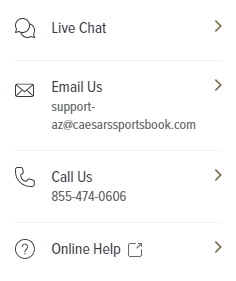 Caesars Sportsbook Baltimore Ravens NFL Betting
The NFL is the most wagered on sport in America and the Baltimore Ravens have been one of the league's best teams over the last decade. Let by quarterback Lamar Jackson, the Ravens should be competitive for the next several years. They have fantastic player props and promotions that include players like Jackson, Mark Andrews and Marquise "Hollywood" Brown. Make sure to check out the Caesars Sportsbook frequently to see all of the latest promotions and odds boosts for your Baltimore Ravens.
Caesars Sportsbook Baltimore Orioles MLB Betting
The Baltimore Orioles are the biggest market team in Maryland and of course, you can bet on them using the Caesars Sportsbook. They have great MLB promotions and player props available for their top players including Rougned Odor, Jacob Nottingham and Anthony Bemboom. With the Orioles being located in Maryland, be sure to check in to the website and the Caesars Sportsbook App to see all of the latest odds boosts!
Caesars Sportsbook Live Streaming Maryland
With sports betting now being legalized in Maryland, bettors can bet and watch their favorite sports live in a casino. What better way to bet and watch sports than with a few of your buddies and some food/drinks? However, it does not have as much live action as other sportsbook, such as FanDuel and DraftKings, but they should in time.
Caesars Sportsbook Casino MD
An Online casino is not yet available on Caesars Sportsbook in Maryland, but they could soon be coming. Now that lawmakers have officially approved sports betting, it seems like only a matter of time before players can play blackjack, online poker, etc. We will continue to update this page as Maryland inches closer and closer to legalizing online table games and slots.
Our Expert Opinion on Caesars Sportsbook Maryland
Caesars Sportsbook is one of the most popular and easy-to-use online sportsbooks available right now in Maryland. The Caesars Sports Betting app is clean, sleek and functions well. They also offer a huge first-bet (up to $1,250) which is among the highest for any major sportsbook. They also have a great customer service team with multiple ways to reach them if there is a problem.
The only real complaint about Caesars Sportsbook is it doesn't offer quite as many odds boosts or promotions as other sites after the initial deposit. However, that's a small complaint. Overall, Caesars sportsbook offers a tremendous sports betting experience, backed by the experts at William Hill. What's more, Caesars offers a website and app that are functional and easy to understand for newer players. You really can't go wrong with Caesars!
Caesars Sportsbook States
Caesars Sportsbook Maryland FAQ
Is Caesars Sportsbook legal in MD?
Yes. Online sports betting is legal in Maryland, but it hasn't launched yet. Mobile sports betting is expected to go live at some point this fall. Retail betting has been live since December 9, 2021 and Caesars operates a retail sportsbook at Horseshoe Casino in Baltimore.
Does Caesars Sportsbook MD have an app?
Not yet, because online betting has not launched in Maryland. But when Maryland online sports betting launches there will be a Caesars Sportsbook App. It will be free to download on both Apple and Android devices.
How old do I have to be to bet on Caesars' Sportsbook in MD?
Players must be at least 21 to deposit and place a bet on Caesars Sportsbook in Maryland. Players will need to verify their age with an official photo ID during the account creation process. This will ensure that a player is of legal age.
Is there a Caesars Sportsbook Maryland promo code?
The latest Caesars Sportsbook promo code in Maryland is BOOKIESFULL, which gives players a $1,250 risk-free first bet. So if you bet $1,250, you will qualify for a $1,250 free bet. You can register for an account at Caesars Sportsbook and then make a deposit (you must deposit within three business days). You will receive a free bet up to $1,250 depending if your initial wager lost. You'll also get 1,000 Tier Credits and 1,000 Reward Credits. Caesars' site credit and can be used immediately. The Caesars Sportsbook bonus and free bets are among the best bet match you will find.
How can I contact Caesars Sportsbook MD if I have questions?
Caesars Maryland isn't live yet, but in other states, you can call toll-free anytime at 1-800-830-8269, which is rare for an online sportsbook. You can also email Caesars Sportsbook at [email protected] 24/7. There is also a free chat that is available from 8 am to 12 at EST daily on the Caesars website. No matter the problem or issue you have, there is someone always available to help at Caesars Sportsbook.
Does Caesars Sportsbook Maryland offer live betting?
Yes, it will when it launches! In other states, Caesars Sportsbook offers live betting on just about every sport that you could imagine. Not only does it offer live betting on traditional bets such as the moneyline, point spread and point totals, but Caesars online sportsbook also offers a big selection of other bets. Examples include drive results (football), passing yard totals (football), etc.
About the Author

Marcus Mosher covers the NFL for Bookies.com. The managing editor of The Raiders Wire is also a contributor to The Athletic DFW, Pro Football Weekly and FanSided.