BetMGM Maryland is Live! Bonus Code BOOKIES = $1,000 in Free Bets
The BetMGM Maryland bonus code is now live. You can get up to $1,000 in free bets via the BetMGM Maryland bonus code BOOKIES.
BetMGM Maryland Bonus Code Details
We'll analyze what we like most about BetMGM Maryland sportsbook, where we think it could improve, and how bettors can take full advantage of everything it offers to sports betting fans. Let's dive into the review and the BetMGM Maryland bonus code BOOKIES.
More BetMGM Maryland Sportsbook Promos
Looking for the best BetMGM Maryland bonus code? You've come to the right place. Use the BetMGM Maryland promo code BOOKIES when signing up for a new account to get a deal that offers first-bet insurance up to $1,000.
Simply use the BetMGM Maryland bonus code BOOKIES now that BetMGM is live in Maryland and you'll get back up to $1,000 in free bets if your first wager loses.
Here's how the $1,000 free bet offer works: Place your first wager for up to $1,000. If that first bet loses, the BetMGM Maryland bonus will refund you the original amount wagered in the form of free bets. If your first bet is a winner, you'll earn a profit on your bet but nothing from the BetMGM MD bonus code.
It's as good an offer as you'll find at any online or retail sportsbook in the state of Maryland. The fun doesn't stop after you use the BetMGM Maryland bonus code for your first bet, but this is the only time BetMGM Maryland will give you a free bet worth up to $1,000, so we recommend taking full advantage of it while you can.
Where To Find The Best BetMGM Maryland Bonus Code?
Bookies.com is committed to always giving bettors the most current, up-to-date information on the BetMGM Maryland bonus code that will give them the best offers. Always check in with us before registering for new accounts because our team is always on top of offers, and we'll have the right BetMGM Maryland bonus to give you the biggest advantage to begin your sports betting experience.
Available Sports To Bet On At BetMGM Maryland Sportsbook
BetMGM Maryland bettors have no shortage of sports to choose from. That's because it offers 25 different sports betting markets. It's as exhaustive a list as we've come across in all our reviews. If you want to bet it, BetMGM Maryland has it. Here's a full list of everything it offers:
Alpine skiing
Basketball
Cricket
Cross-country skiing
Cycling
Football
Formula 1
Gaelic sports
Handball
Hockey
Lacrosse
Rugby League
Rugby Union
Ski jumping
Snooker
Soccer
Table tennis
Volleyball
Water polo
Whether Maryland bettors are interested in betting the Ravens on Sundays in the fall or are feeling confident in the future of the Orioles, there's a market for that at BetMGM Maryland. And if you're interested in doing something different, there's something for you, too. With 25 betting markets and thousands of different bets to be made each day, it's a bettor's paradise.
BetMGM Maryland Sportsbook Features
Many of the top online betting sites are coming out with excellent features to entice bettors to sign up and use them. BetMGM in Maryland is no different. In addition to the free bet BetMGM Maryland bonus code, this is what else players can expect to find when they join.
Money Monday Club
We're putting this at the top because there's nothing quite like it at any other online sportsbook. Bettors are eligible to earn a $10 free bet each Monday if they've wagered $50 in qualifying bets the previous week. The minimum odds requirement for qualifying bets is -300, making it an incredibly easy free bet to reach. No BetMGM Maryland bonus code required.
Live sports streaming
This isn't available everywhere, so don't take it for granted. BetMGM online sportsbook will have a bunch of live streaming options on games that can also be bet on in real time. Currently that doesn't include the most popular markets, but a number of different international markets feature live streams that add to the excitement of live betting on BetMGM. BetMGM Maryland plans to offer sportsbook live streaming when they do launch later this year.
Live betting at BetMGM Maryland
Just about all online sportsbooks have live betting, but we're listing it as a feature because of how well BetMGM Maryland's will function, based on MGM's track record in other states. Whether you're on the desktop site or mobile app, live betting is a breeze to use. It's one of our favorite features.
"Edit My Bet" and Early Cash Outs Feature
We've all had a bet that we know is going to lose and we wish we could save face by taking some of our original bet back. Well, it's an option at MGM Maryland, which features an early cash out system where bettors can settle their bet for a certain percentage of the bet and profit depending on how likely the bet is to win or lose. Edit My Bet allows players to remove a leg of a parlay once it's already begun.
Pay attention to the screen, because this option is only available when "Cash Out" is listed as an option. You are essentially cashing out your old bet and placing a new one with revised odds. These are both features that add to the personalization and versatility that all bettors can and should use.
Popular Bets To Make At BetMGM Maryland
Different bettors have different wants and needs. At BetMGM Maryland, there's something for everyone. And while there are literally dozens of different types of bets, we've narrowed down the most popular ones that most players will use on a daily basis.
Straight Bets: A straight bet is the most common type of bet. It involves a point spread in which the favorite of a matchup has points reduced from the final score, and an underdog which has points added to their final score. For example, if the Ravens are -4.5 against the Steelers, they would cover the spread if they won by five or more points.
Total Lines: The total is concerned with the final score of the game, not which team wins or loses. Oddsmakers set a total for every game, and players can bet on whether the combined points of both teams will be higher or lower than the set total. For example, if a Ravens-Steelers game had a total of 48.5, the under would hit in a 27-20 (47) game, while the over would hit in a 35-20 (55) outcome. over/under betting is one of the most popular ways to bet on games across the country.
Moneylines: Moneyline bets only care about the winner of a matchup. Each game has a favorite with minus odds (Ravens -220, for example) and an underdog (Raiders +300, for example). It costs more to bet the favorite because they're expected to win, while underdogs pay out more but are less likely to hit.
Parlay Bets: A parlay is a combination of individual bets that produce a higher set of odds. The caveat is that all legs of the parlay must be winners in order for the parlay to be successful. For example, a three-game parlay consisting of three -110 bets would create +600 odds, but bettors would need to go 3-0 to win the parlay. Parlay bets are a great way to win big money, but have inherent risk.
Futures Bets: Futures bets are season-long bets on something happening or not happening by season's end. Examples include Rookie of the Year, MVP, team win total overs and unders, and league champion. These bets are available over the course of the season, with odds changing based on how the season is going. NFL futures are the most common type of future bet to make.
Prop Bets: Prop bets are bets within a game. There are two types: player and team. Examples of player props include over/under point totals, first touchdown scorer, and whether a player will hit a home run. Team props include total team sacks, single team points, and the first team to 10 points.
Create A BetMGM Maryland Sportsbook Account
So you've decided a BetMGM Maryland online sportsbook account is for you. Excellent choice. Now it's time to sign up using the BetMGM Maryland bonus code BOOKIES. Here are the short steps you'll need to follow to get up and running:
Enter your email address and unique password
Enter your name and date of birth
Create a unique username and re-enter your password
Verify your age and that you are located in Maryland
Place your first wager and start winning!
Banking Options
The BetMGM brand is known for having an extremely safe banking system. The best reason (among many) to use a legal sportsbook with a sports betting license? The ease of banking at sportsbooks.
BetMGM Maryland will be no different, with a number of different methods for players to deposit and withdraw funds. Here's what you'll need to do and what options you'll have. Simply click deposit and choose your banking method: PayNearMe, PayPal, and Play+, credit and debit cards, e-checks, online banking and instant bank transfers. There's a minimum deposit of at least $10, which shouldn't be an issue for bettors at BetMGM Maryland Sportsbook.
Making a Deposit
You've got to make a deposit in order to redeem your $1,000 free bet BetMGM Maryland bonus. That's no problem at BetMGM Maryland online sportsbook, which will offer bettors myriad options to put money into their accounts. Options that bettors will have include VISA, MasterCard, PayPal, and Play+, e-checks, instant bank transfers, online banking, and PayNearMe. These are great options, and all bettors should be able to find one that works for them.
Cashing Out Your Winnings
If you've won some bets and are ready to cash out your winnings, the process couldn't be simpler. Click on your account, click on the cashier button, and you'll see the withdrawable funds in your bankroll. Bettors can use the following methods to pull out money: e-check, PayPal, Play+, online banking, or instant bank transfers. We've found that funds are available to bettors much quicker than the 3-5 days they list on their website and mobile app.
That's great news and another reason why we recommend playing with legal online sports betting operators like BetMGM Maryland. What's more, the Maryland Authority for Consumer Protection is there for bettors with any disputes, but we don't see that coming into play because of the ease of withdrawing.
BetMGM Maryland Payout Options
BetMGM Online Sportsbook Loyalty Program
There's good news and bad news about the rewards program BetMGM in Maryland will offer. The good news? There is one, and bettors will earn iRewards on all qualifying bets they place. Different tiers of rewards unlock certain bonuses that can be used at BetMGM Resorts International. Our only issue is that the rewards can be difficult to understand and even more difficult to redeem.
Other online sportsbooks spell out clearly what can be redeemed, and that's not as clear with BetMGM Maryland. Still, the FAQ page on the BetMGM Maryland app and website spells out what's at stake for all players and their rewards. Top Maryland betting sites will offer some of the best reward programs in the country.
BetMGM MD Ongoing Contests And Tournaments
We don't believe that ample contests and tournaments make or break an online sportsbook, and that's good news for our review of BetMGM MD, along with the BetMGM Maryland bonus code . Though they do offer a few tournaments each sports year around March Madness or the start of the NFL season, it's pretty rare to see a live contest that players can jump into. We don't mind it all that much since most sports bettors are looking for traditional betting, but there are some online sportsbooks that offer players a different kind of setup in terms of the contests and tournaments they offer. You won't really find any at BetMGM online sportsbook Maryland.
User Experience
As one of the premier sportsbooks in the online sports betting industry, BetMGM provides bettors with a great user experience. All markets are listed on the home page, but for bettors who simply want the popular ones, those are listed on a banner.
Bettors don't need to search for odds boosts like they do at other sportsbooks, and there's a search bar on the right side of the home page. Each bet slip populates quickly, players can see stats between two teams before placing a bet, and the color scheme is easy on the eyes with a white backdrop and black text. There's nothing fancy about it, and we love it. Plus, the BetMGM MD mobile app is just as good and has all the same traits.
Download The BetMGM Maryland Sports Betting App
Our barometer for what makes a good mobile app is simple: Does it mirror the experience users receive on the desktop website? From that perspective, the BetMGM Maryland mobile app is excellent. The layout is simplistic, each bet slip populates effectively, and all features like BetMGM Maryland bonus code and free bet that can be redeemed on the website can also be redeemed on the BetMGM Maryland sportsbook app.
What's more, the BetMGM Maryland app is one of our favorites for live betting. Odds switch quickly in real time during events and are available immediately on the BetMGM Maryland app. You won't realize how important that is in a mobile app until you miss out on a bet because the odds took too long to change and the betslip didn't appear as soon as it needed to. The BetMGM MD app gets a near-perfect rating in our eyes.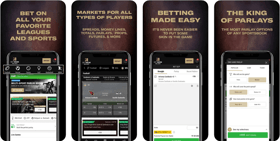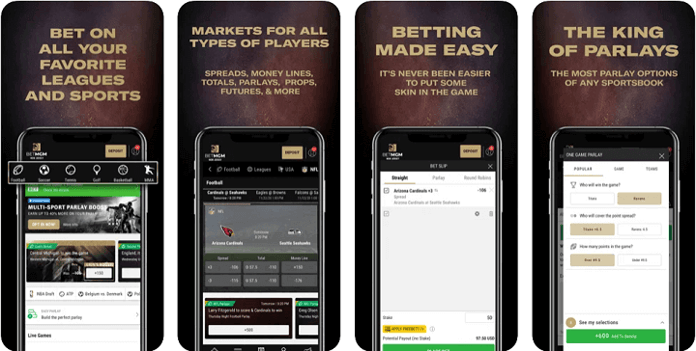 Security And Safety Offered By BetMGM Maryland
It's natural for sports bettors to be somewhat hesitant giving sports betting operators their personal information, banking information, and even Social Security number. But that's the beauty of using legal and licensed operators: All your personal information is fully protected and secure with data encryption and multi-factor authentication. Any and all information within your BetMGM Maryland sportsbook account is fully protected, and we've never had any issues with it in our experience.
BetMGM Maryland Legislation & History
The BetMGMM Maryland retail sportsbook began taking bets in December 2021. After a long delay, BetMGM Maryland online sportsbook launched at 9 am. ET on November 23.
BetMGM Maryland Customer Support
On the one hand, the BetMGM Maryland bonus code BOOKIES will provide players with a handful of different customer support options. Their main lines of support are via a phone number and email address that players can use 24/7. The online sportsbook also features one of the better FAQ pages in the sports betting industry, which may not feel important but winds up being critical if you need it.
So what's the problem? No live chat function. More often than not, the issue you're reaching out about can be solved with a quick back and forth. That's not available at BetMGM Maryland online sportsbook, and the phone is more of a hassle than simply being on your computer (and the BetMGM Sportsbook) would be. So while we like the options BetMGM Maryland gives bettors, it's not as could as it could be. It wouldn't surprise us if that changes before long because of how many competitors offer it.


BetMGM Maryland Sportsbook Live Streaming
BetMGM MD will be one of the few online sportsbooks that actually offers live streaming. For now, you won't be able to stream major markets like the NFL and NBA. But it is offered on some smaller market games such as international basketball, tennis, and more. Bettors can find live-streamed events under the "Live" section of the website and mobile app and then by clicking on "Event View." While these won't be the most popular bets at BetMGM Maryland, it's a nice perk to be able to watch your bets and while making live bets.
Our Expert Opinion on BetMGM Maryland Bonus & Sportsbook Review
It's a matter of when, not if, BetMGM Maryland launches. It's great news for bettors in the state who will be able to full advantage of the $1,000 first-bet insurance and other free bets and bonuses they offer once legal sports betting has arrived. There are some outstanding unique features such as the Money Monday Club that is as close to free money as a bettor will find in Maryland. The consistent odds boosts, the excellent BetMGM Maryland app, the competitive odds, and friendly user experience make the BetMGM Maryland online sportsbook one of our favorites.
It has its faults like the lack of a live chat customer service function and no notable free-to-play contests and tournaments. But we can look past those shortcomings because of all they do offer for Maryland bettors. Using the BetMGM Maryland bonus code will allow you some insurance on your first wager as you begin, and then the free bets and odds boosts will follow shortly after. Don't forget about the perks you'll enjoy at MGM resorts once you've joined, too. The perks are endless at BetMGM in Maryland.
About the Author
Mark is a veteran sports betting journalist who has covered the Bulls and the NBA since 2012. His work has appeared on ESPN.com, FoxSports.com, The Chicago Tribune and Yahoo Sports. He regularly provides NBA betting picks, as well as in-depth sportsbook reviews and the latest promo codes for all the major sports gambling operators, including Caesars Sportsbook, BetMGM, DraftKings, FanDuel and more.