By Mark Strotman | | 22 mins
Complete NBA 2021-2022 Season Betting Guide, Storylines & Tips
For better or worse, the NBA made the decision to begin the 2021 NBA season just 72 days after the Los Angeles Lakers were crowned 2020 champions inside the NBA's Orlando Bubble.
What we saw was a compact, controversial, yet certainly enjoyable 2021 NBA betting season capped off by a passing of the torch as Giannis Antetokounmpo staked his claim as the NBA's best with a championship for his Milwaukee Bucks.
We've had three repeat winners since 2009 (Lakers in 2009 and 2010; Heat in 2011 and 2012; Warriors in 2017 and 2018), but the path to another title in Milwaukee won't be so easy. The season tips off on Tuesday night with a doubleheader.
Let's take a look at the current odds available on teams to win the 2021-2022 NBA title:
Odds via DraftKings and accurate as of publication. Check out our DraftKings Sportsbook review for more information.
---
NBA 2021-2022 Season Betting Tips
Offense Has Never Been Better
Whether you like it or not, this version of the NBA is the most efficient in the history of the sport. In 2021, NBA teams averaged 112.3 points per 100 possessions - the highest in league history since…2020, when teams averaged 110.6 in the same category. In fact, the league has set offensive efficiency records in each of the last three seasons. We'd bet on it becoming four straight by the time we reach April 2022.
What does that mean? Well, for starters, scoring is up. The 112.1 points that teams averaged last season was the most since 1971 (112.4) when frantic play caused turnovers and created sloppy, high-scoring contests. The basketball is much cleaner this time around, and it means teams are just one 3-point barrage away from getting back into games.
Oddsmakers at sportsbooks and betting sites certainly are taking this efficiency into account - we saw game totals set as high as 251.5 last season - but overs are going to be a popular play until defenses find a way to stop 3-point success and high-percentage shots at the rim. It's also worth noting for all you back-door bettors that 77.8% of shots from the free throw line were made last season, the highest in league history (also breaking 2020's previous all-time high mark of 77.3%).
COVID Tests Loom Large Again
Though the COVID-19 vaccine should help prevent the same number of positive tests the league saw last year - resulting in player absences, postponed games, and at times utter chaos - the reality is that the pandemic still exists as far as NBA players' statuses are concerned.
Just a week before the regular season begins, Celtics All-Star Jaylen Brown is out due to a positive test, putting into question his status for Opening Night. Unfortunately, we have to expect to see players miss games due to positive tests, regardless of their vaccination status. It's something bettors, of course, will want to keep an eye on before placing their bets.
Speaking of vaccines, Nets superstar Kyrie Irving is still not vaccinated and will be unable to play in any Nets home games due to state laws. We expect more states will put into place vaccine mandates, which could affect certain players who have yet to receive the vaccine. Irving is the most high-profile subject, but there are others who are not yet vaccinated that could face consequences. It's a touchy subject, but bettors need to be aware of it.
Fans Are Back - So Is Home-Court Advantage
Though COVID is still very real, fans will be back in NBA arenas in 2021-22. That's great news for everyone involved, especially home teams. Unsurprisingly, with no fans in the stands, home teams won just 55% of their games - 7% lower than the all-time league average of 62%. That obviously impacted bettors, too, as road teams went 590-495-15 ATS (54.3%).
While road teams may be a bit more relaxed with fewer travel restrictions, there's really no replacing what fans can bring as a home-court advantage - we saw some of that late in the postseason when some fans were allowed into stadiums.
Most arenas will be at full capacity in 2022, but it will be worth monitoring which stadiums are allowing fans on gameday and how many. It sounds silly, but last season proved that it matters.
---
CHECK OUT & BOOKMARK: NBA Expert Picks Throughout The Season
---
NBA 2021-2022 Season Betting Storylines
The Cream Has Risen
Of course the 2020 season created plenty of drama surrounding who would be crowned champion inside The Bubble - before the favorite Lakers beat the Heat in six games. And though there were clear favorites in 2021, a condensed schedule, short rest period, and lack of fans created intrigue with the potential for upsets - before the Bucks were crowned champs.
With the league back to "normal" in 2021 - 82 games, fans in the stands, everyone well rested, etc. - we are focused on the four clear favorites to win the NBA title.
The Nets (+200), Lakers (+400), Bucks (+900), and Warriors (+1100) are without question the NBA's best and will have the inside track to the Larry O'Brien trophy. All four teams tout previous NBA champions, Hall of Famers, Finals MVPs, and ownership that will win at all costs - meaning they'll be buyers at the deadline. With all due respect to the Jazz, Suns, and Sixers, this year's title race is realistically a four-team race.
Trade Candidates Could Flip Odds Instantly
It's the NBA, so there are always going to be trade rumors. But this year's crop of potential moving parts is star-studded even for this league. It starts with Ben Simmons, who has reported to Philadelphia with intentions to play but whose future still remains largely unsolved. He has his flaws, but he's still an incredibly talented All-Star whose best basketball is in front of him.
Bradley Beal nearly led the league in scoring and is just entering his prime, and it feels like a when - not an if - the Wizards will enter a full-scale rebuild. It feels wrong to think Damian Lillard would ever play anywhere but Portland, but it also feels like he's exhausted every avenue toward trying to win with the Blazers. He could be on the move, too, and potentially for Simmons. Heck, even Kyrie Irving could be on the move if things go sour in Brooklyn.
Though oddsmakers will likely close any NBA odds involving players and teams that are dealt, it'd be smart for bettors to pay attention to rumors if and when they happen. There's value to be had on betting apps in many cases.
Potentially Historic Draft Makes ROY Odds Interesting
The 1996, 2003, and 2018 draft classes all have a spot in NBA history. And while we don't want to speak too soon for players that have yet to play a regular season game, it wouldn't be surprising to see 2021 join that list.
Cade Cunningham - +250 to win Rookie of the Year - is an elite talent and prospect in the same conversation as Zion Williamson and Anthony Davis. He should have the Pistons contending for a playoff spot sooner rather than later. The Rockets' Jalen Green (+275) has future scoring champion written all over him, while the Cavs' Evan Mobley (+350) is as good a two-way center prospect as we've seen, potentially since Davis. We haven't even gotten to wing Scottie Barnes or Magic point guard Jalen Suggs, and a number of other rookies are already showing out in the preseason.
All this is to say A) the Rookie of the Year race will be a fun one and B) there are some young teams out there that could surprise when it comes to win totals and covering individual games. Keep an eye on this new talent across the league - some of these teams will be better against the spread than they are in the standings.
---
NBA 2021-2022 Season Futures Bets to Back
Rookie Of The Year: Cade Cunningham
The Bet: +250 at BetMGM
We just mentioned how good this rookie class is, so it says something about Cunningham that he's still a pretty heavy favorite in this NBA futures market. He checks all the boxes we look for in a winner for this award: Great scorer, point guard, and will play heavy minutes on a Lottery-bound team. He'll have competition, but this is the top pick's award to lose.
---
Coach Of The Year: Billy Donovan
The Bet: +1000 at DraftKings
The Bulls' rebuild has been a bit of a nightmare since they traded Jimmy Butler, but new VP of basketball operations Arturas Karnisovas has had a monster last six months, trading for All-Star Nikola Vucevic and then signing Lonzo Ball and DeMar DeRozan this summer. The Bulls could compete for a top-five seed in the East, a kind of jump that would vault Donovan to the top of this list. While the front office should get the credit, Donovan could take home the hardware.
---
Most Improved Player: Kevin Porter Jr.
The Bet: +1200 at FanDuel
A talented lefty scorer who can also distribute? He's not James Harden, but Kevin Porter Jr. is going to make the Rockets' rebuild a relatively quick one. In just 26 games last season, he averaged 16.6 points and 6.3 assists. He's going to play a ton of minutes once again and will have a full offseason under his belt to improve. It wouldn't surprise us if he's in the conversation for an All-Star bid, though the West is admittedly stacked. Most Improved Player would be a nice consolation prize.
---
Lakers To Win NBA Title
The Bet: +400 at Caesars Sportsbook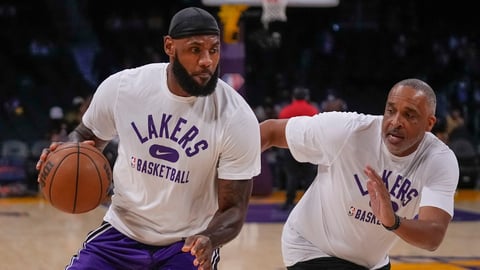 Last year's Lakers team just didn't feel right. Injuries to LeBron James and Anthony Davis aside, the role players didn't fit. So GM Rob Pelinka overhauled the roster this summer, bringing in 10 new players - including a ton of shooters that, in a reversal from last season, are a perfect complement to James and newcomer Russell Westbrook. If James and Davis stay healthy, the Lakers should be the favorite to win it all.
---
Pistons To Win Over 24.5 Games
The Bet: -120 at PointsBet
Detroit went 20-52 last season, a pace of about 23 wins over an 82-game season in a year when they were actively (and successfully) tanking. The additions of elite prospect Cade Cunningham and veterans Kelly Olynyk and Cory Joseph, plus continued improvement from talented youngsters Saddiq Bey and Isaiah Stewart make a simple two-game increase in the win column likely. This is our favorite season-long win total bet.
---
CHECK OUT & COMPARE: The latest NBA Championship Odds From Top Online Sportsbooks
---
NBA 2021-2022 Season FAQ
When does the NBA season start?
The NBA season is scheduled to start on Oct. 19, 2021.
Who is the favorite to win the 2022 NBA championship?
The Brooklyn Nets are favored to win the 2022 NBA championship, with the Los Angeles Lakers, Golden State Warriors and Milwaukee Bucks also considered contenders.
How many games will teams play in the NBA this season?
Each team is scheduled to play 82 games this NBA season.
Will fans be allowed back in the arenas?
Most arenas will be at full capacity for the start of the NBA season. Some teams will require vaccination or a negative COVID test to attend games.
About the Author
Mark is a veteran sports betting journalist who has covered the Bulls and the NBA since 2012. His work has appeared on ESPN.com, FoxSports.com, The Chicago Tribune and Yahoo Sports. He regularly provides NBA betting picks, as well as in-depth sportsbook reviews and the latest promo codes for all the major sports gambling operators, including Caesars Sportsbook, BetMGM, DraftKings, FanDuel and more.