Hot Houston Bookmakers' Clear No. 2 Choice in NBA West Odds
Caesars

Up to $5,000 Risk-Free Bet Plus a FREE NFL Jersey - Promo Code: BOOKIESRF

Bet Now
In all likelihood the Houston Rockets would have defeated the Golden State Warriors in last year's Western Conference Finals had Chris Paul not injured his hamstring in the closing seconds of a Game 5 win. Houston was cruising, the Warriors looked off and all the momentum had shifted to the underdog Rockets, who needed just one win in Games 6 or 7 to advance.
But with Paul out, the Warriors won both games and the Rockets were left thinking about what could have been had Paul played in either of those games.
They might get a second chance, and oddsmakers believe they've got the best fighting chance at an upset in NBA betting.
Houston's roster is different this time around but the names at the top are still the same: Paul, James Harden, Clint Capela and Eric Gordon form a core that has them looking like a legitimate contender as the NBA's regular season winds down.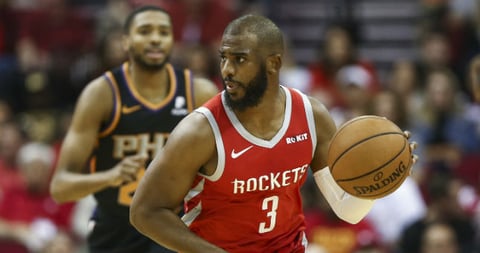 Rockets Have Won Six Straight
Including their 36-point blowout of the Suns on Sunday, the Rockets have won six straight games. But it's not just that they've won; they've won all six by double digits and five of those by at least 24 points. They've outscored their opponents by 155 in those games, an average margin of victory of 25.8 points.
And their opponents in this stretch haven't been pushovers, either. Houston has topped the Nuggets, Kings (twice) and Clippers, who could be a potential first-round matchup.
Houston's 27-point win over Denver on March 28 was certainly a statement. The 112-85 thumping gave the Rockets the tiebreaker – Houston trails Denver for the West's No. 2 seed by just half a game – and was the latest example of a new-and-improved defense under Mike D'Antoni.
The talk surrounding the Rockets and any D'Antoni-led team has been their Harden-led offense, but the defense is catching up. Since March 1, a stretch in which the Rockets are 16-3, they have the NBA's second-best defensive rating (103.2) and the league's best offense (116.3).
Oddsmakers are giving Houston the only real shot to knock off the Warriors in the West. Golden State is the obvious NBA Finals betting favorite at -210, but the Rockets have respectable +1000 odds. Houston is still a longshot, but consider that the next best odds in the West are on Oklahoma City at +2500 to win the NBA title.
Houston beat Golden State twice this regular season –once without Harden.
Rockets Set Another 3-Point Record
In Sunday's blowout victory over the Suns, the Rockets connected on an NBA-record 27 3-pointers. They had 26 on two different occasions during the regular season.
Houston also has set the NBA record for most made 3-pointers in a season, breaking its own record set last season. In fact, Houston has the three highest single-season marks in NBA history in each of the last three years. Making their triples at this rate only increases their chances of playing in June.
? The Beard talks about wins, staying healthy, being locked in as a team and the playoffs.

?⤵️ pic.twitter.com/6Hrf5eO09Q

— Houston Rockets (@HoustonRockets) April 8, 2019
Harden Could Be MVP Runnerup
It doesn't look like James Harden will catch Giannis Antetokounmpo as Most Valuable Player. With just one game remaining in the regular season, Harden's odds in NBA MVP betting stand at +200, with the Greek Freak at -265.
Antetokounmpo and the Bucks reached 60 wins on Sunday and last week clinched the NBA's best record for the first time since 1974.
Harden knows something about being the best player on the NBA's best team. He did it a season ago when he was MVP and the Rockets won a whopping 65 games. Harden has better numbers than a year ago but it appears to be Antetokounmpo's turn.
About the Author
Mark Strotman is a veteran sports journalist who has covered the Chicago Bulls and the NBA for NBC Sports Chicago since 2012. His work has also appeared on ESPN.com, FoxSports.com, The Chicago Tribune, Yahoo Sports and NBC Sports. He covered the NBA Playoffs in 2013, 2014, 2015 and 2017 as well as Team USA Basketball in 2014 and 2016. He has also covered high school football and was nominated for a Midwest Emmy in 2016 for his work on a documentary featuring local Chicago product and NFL prospect Miles Boykin. Strotman graduated from Marquette University in 2012 and during his time there reported on the men's basketball team, covering both the Big East Tournament and NCAA Tournament in 2011 and 2012.