Massachusetts Promo Codes
Massachusetts Sportsbook Promo Codes: MA Sports Betting Bonuses Dec 2022
NOTE: Massachusetts sports betting is illegal at this time, but a bill is being discussed. This Massachusetts sportsbooks promos page is in anticipation of Massachusetts sports betting being legal in the near future.
There is reason to be optimistic about the prospect of legalized Massachusetts sports betting in the near future.
If and when legal sportsbooks get the green light, licensed operators will go to great lengths to attract new sports bettors - and one of the most potent devices at their disposal will be best Massachusetts sportsbook promo codes.
Massachusetts sports betting promos work well for operators because they showcase the company's presence in the market. They are also good news for sports bettors because they can deliver excellent value and an enhanced betting experience. Boston is the birthplace and headquarters of DraftKings, so keep a close look out for special Massachusetts sportsbook bonus codes when the time comes.
Massachusetts Sportsbook Promo Code Types
Sports bettors will find themselves presented with a variety of bonuses and promotions when Massachusetts sports betting apps launches. Massachusetts sportsbook promo codes tend to relate specifically to a welcome bonus, but it can come in several forms. There are numerous other types of promotions to keep customers entertained once they have signed up for a Massachusetts sportsbook account.
Risk-Free Bets At Massachusetts Sportsbooks
Several online Massachusetts sportsbooks will most likely offer a welcome bonus in the form of a risk-free bet. This is an excellent style of bonus. For one thing, it is simple to understand, and it is really easy to see the benefit you are getting from this form of first-bet insurance.
You place your first wager - it can be up to $1,000 at FanDuel MA and BetMGM MA, and $1,500 at the Caesars Sportsbook MA - and if your pick is correct, you get your winnings. But if it loses, you receive your stake back as a free bet. This is a great bonus because you enjoy the rare sensation of invincibility - and whatever happens, you have plenty of funds to carry on betting. Most operators' risk-free bet offer is nonwithdrawable and will expire after seven days.
There is typically a 1x playthrough requirement attached. What that means is, if your free bet is worth $100, you need to bet $100 before you can withdraw any funds associated with the offer.
Deposit Bonuses For Using Massachusetts Sportsbook Promo Codes
Many Massachusetts sportsbooks offer will most likely offer a deposit bonuses as a way of attracting new customers. A deposit bonus is when a sportsbook matches your first deposit up to a certain percentage.
BetRivers MA, for example, will likely offer a 100% deposit match up to $250, as it does in other legal states. DraftKings MA, meanwhile, offers a match lower than 100% (it's 20%), but if you deposit enough you can still build up serious bonus funds. Customers like a deposit match because it adds significantly to their bankroll without having to make a wager.
No-Deposit Bonus At Massachusetts Sportsbooks
Few sports betting sites offer a no-deposit bonus. After all, it means giving money away with no certainty that the customer in question will deposit any of their own funds.
However, you will occasionally find an online sportsbook that places a bonus - sometimes up to $100 - in your account as soon as you register for their sportsbook. No-deposit bonuses are excellent for new customers because it is the ultimate first-bet insurance; you can start wagering without the chance that you will lose any of your own money.
Reload Bonuses At MA Sportsbooks
Massachusetts sportsbook promo codes are usually only for new users. However, you may occasionally find bonus codes that trigger a benefit for those who have been clients of an online sportsbook for some time.
A reload bonus is similar to a deposit match. When you deposit the sports book will match it, up to a certain percentage. FanDuel MA could offer a 100% deposit match up to $75 for loyal customers who have taken a break from betting.
This is a great bonus if you are planning a busy spell of sports betting on a series of games such as the NFL post-season or the NBA playoffs and could do with a boost to your betting balance before you get underway.
Odds Boosts At Massachusetts Sportsbooks
This is the most common type of sportsbook bonus for existing online sports betting customers. Odds boosts are applied by some online sportsbooks on a daily basis - leading sites such as FanDuel MA and Caesars Sportsbook MA have whole sections of their website dedicated to boosts.
The sportsbook selects certain sports betting markets and enhances the odds. For instance, Caesars Sportsbook MA might boost the odds for the New England Patriots to win their next game from +150 to +200.
That means for every $100 you stake, you win $50 more than you would have without the boost. This is a great bonus if you love to get the best value odds when you place a wager.
Referrals At MA Sportsbooks
Every online Massachusetts sportsbook is going to be eager to add to its customer base. Most sportsbook operators offer an incentive to enlist your help in that endeavor. If you refer a friend and they sign up and make a first deposit, you will be rewarded by the sportsbook. This reward is usually in the form of a free bet.
How To Use Massachusetts Sportsbook Promo Codes
The process of using a Massachusetts sportsbook promo codes will extremely straightforward. When you register there will be a box where you can insert an MA sportboook promo code (usually a simple sequence of letters and numbers).
Your MA sign-up bonus is automatically activated once you've entered the Massachusetts sportsbook promo code. It's important to research any welcome bonus carefully to ensure that you understand the Massachusetts sportsbook promo code terms and conditions.
Why Do MA Sportsbooks Offer Promo Codes?
There are two main reasons why an online sportsbook will offer a Massachusetts sportsbook promo code. The first is that it acts as a marketing device to raise awareness of that sportsbook and the odds, features, and bonuses it offers.
The second is to make it as easy as possible for you to qualify for an initial bonus. A risk-free bet up to $1,000, or a deposit bonus like BetRivers' 100% match up to $250 offers real value. These offers should make your first betting experience fun - and maybe even profitable.
Massachusetts Sportsbook Bonuses Explained
We cannot emphasize strongly enough how important it is that you understand the terms and conditions that apply to any Massachusetts sportsbook bonus code. If you don't, you risk missing out on the full benefit of the promotion. Some of the terminologies can be challenging for new sports bettors, so let's look at some of the terms that may be used and explain what they mean.
Wagering Requirements
Be aware that you may have to play the amount of your initial stake or deposit several times before you can withdraw any funds arising from successful bets. This is also known as a "playthrough."
Some operators, such as FanDuel, do not have any such restrictions, while at BetRivers you need to play your bonus funds generated by your deposit match only once to qualify. Others, such as DraftKings, insist you play through several more times.
Minimum Deposit
You have to deposit a minimum amount to qualify for a welcome bonus. For instance, you need to place at least $20 in your Caesars Sportsbook MA account to qualify for a risk-free bet. Minimum deposits vary between sportsbooks, so it is extremely important that you check to see if there is a lower limit.
Minimum Odds
Some sportsbooks insist that an initial wager must be staked at odds longer than a particular price, which may be -300 or even -200. Caesars Sportsbook MA will likely set minimum odds on its welcome offers and other promotions. The rationale is that the operator does not want you wagering on a virtual certainty. However, other operators - including FanDuel MA - do not impose minimum odds.
Expiration
This is another consideration that should have you checking the small print carefully. You may have to place your first bet, or any free bets arising from your risk-free bet, within a time limit - or risk losing the funds altogether.
It is fairly standard for operators to give you seven days to use free bets, but the best operators give you at least two weeks. For instance, you have 14 days to use the free bet you receive via the Caesars Sportsbook MA app or website (if your first bet loses).
Cash Out
The opportunity to cash out is one of the best innovations to arrive in the online sports betting market in recent years.
If you want to lock in a profit or limit a loss, you can close down a wager early on certain betting markets. However, most operators stipulate that you will not be offered the opportunity to cash out on free bets generated by a welcome offer.
Get Started With Massachusetts Sportsbook Promo Codes
By now you should be armed with sufficient information to know what MA sportsbook promo codes are - and how to use them when you get the opportunity once Massachusetts sports betting is legalized.
There will undoubtedly be a compelling selection of Massachusetts sportsbooks, all of which should offer tempting welcome bonuses in an attempt to attract new clients.
The best online sportsbooks are well-respected betting operations. They encourage responsible gambling and offer assistance to anyone who fears they are developing a gambling problem. They will also have excellent customer support teams in place to answer any queries relating to Massachusetts sportsbook promo codes, or any other form of a gambling problem.
To help you get the best out of your wagering experience, we have several other articles that will inform and enhance your betting knowledge. These include guides to moneylines, parlays, and point spread betting that will ensure you wager smarter - and always meet those all-important wagering requirements.
MA Sportsbook Promo Codes FAQ 
How does a Massachusetts sportsbook promo code work?
A Massachusetts sportsbook promo code should be used during the process of signing up for an Massachusetts sportsbook account. You will be asked to enter a Massachusetts sportsbook promo code while registering for a new account (if one is required). Some operators, like DraftKings MA and FanDuel MA, don't require promo codes.
Can I use a Massachusetts sportsbook promo code on a mobile sportsbook?
Yes, mobile betting customers will be able to use Massachusetts sportsbook promo codes on Massachusetts mobile sportsbook apps.
Are Massachusetts sportsbook promo codes available for existing customers?
Massachusetts sportsbook promo codes are almost always used to trigger new user bonuses. However, there have been occasions when codes have been used to activate bonuses for existing customers, so it would be incorrect to say this never happens.
What sports bets can I use Massachusetts sportsbook promo codes on?
Yes, you can usually use a Massachusetts sportsbook promo code on any sport. That said, a welcome offer may apply to a particular sport depending on the time of the year.
How often are Massachusetts sportsbook promo codes updated?
Some sports betting operators like to change their Massachusetts sportsbook promo code every month. This practice enables them to track the success of each promo code, which informs future marketing campaigns. Others, however, like to stick with the same promo code so that potential customers feel increasingly familiar with it – and thus more likely to use it.
When should you use Massachusetts sportsbook promo codes?
The most common time to use a Massachusetts sportsbook promo code is when you are signing up for the opportunity to enjoy online sports betting. Codes are not generally used to open retail sports betting accounts. You should be prompted during your sign-up process to enter any code you have been given into a prominent box in your registration form.
How many times can you redeem Massachusetts sportsbook promo codes?
Massachusetts sportsbook promo codes are only able to be redeemed once, since they are geared at getting new users to sign up.
About the Author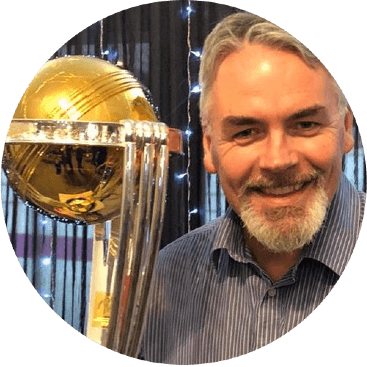 Award-winning contributor covering sports betting and casino gaming around the world for decades, Martin Booth is one of the most trusted voices in online gambling. From legislative updates in New York to breaking down the top betting apps in Ontario, Martin covers a gambit of topics for Bookies.com.