NBA Conference Finals Odds, Betting Preview & Teams to Back
After a couple of suspense-filled Game 7's, we're down to the final four in the NBA's conference finals. Who's left are the No. 1 and No. 2 seeds in the Eastern Conference, and the No. 1 and No. 3 seeds in the West.
Even though the top seeds remain, the favorites in these series are heavily favored to advance. Let's take a closer look at both showdowns and make some picks, and NBA betting fans can check out our NBA Odds page for updated game odds, and our NBA Futures Odds page for current series and NBA title offs.
---
2019 NBA Western Finals Betting: Trail Blazers vs Warriors
Series Odds: Warriors -560, Trail Blazers +410 at 888Sport
It feels like the Western Conference Finals happened last round, because if the Warriors are worth their salt, they shouldn't have any problems with Portland in this round and be on to the NBA Finals.
The Trail Blazers are a decent team in the Western Conference, but they're not really a championship-caliber type of squad. Yes, they have finally got the playoff monkey off their back and advanced past the first round, but they beat two similar teams to them: the Nuggets and Thunder.
It's not as if they beat some playoff stalwart that was expected to win the title.
Of course, the back-court battle is what's going to be worth the price of admission here. Steph Curry and Klay Thompson versus Damian Lillard and C.J. McCollum is going to produce fireworks. However, the Warriors probably win that matchup, and have significant edges elsewhere.
As three-time champs, they have a huge edge in experience and pedigree; as mentioned, this is really the Trail Blazers first time venturing out of the first round in a long time. Beyond that, the Warriors have better coaching, defense and Draymond Green, who is playing well.
The Warriors had the third-best defense in the regular season (opponent field goal percentage) whereas the Trail Blazers were 13th. That's a big difference. Then you factor what happens if Kevin Durant can return for this series. Or if DeMarcus Cousins, who is also rumored to be close, gets back. This won't be much of a series if that happens.
The Bet: Warriors at -560 with 888Sport
Spread – Series Outcome
If you don't want to lay the juice with the Warriors, another option is the series spread. I like Golden State here -1.5. The Warriors tend to be bothered by teams who can either hurt them inside or match/beat them at the 3-point line.
Portland is neither of those as they're without Jusuf Nurkic inside and Enes Kanter is banged up. From 3-point range, they ranked just 17th in the NBA in 3s made per game in the regular season.
The Bet: Warriors -1.5 at -190 with 888Sport
---
2019 NBA Eastern Finals Betting: Raptors vs Bucks
Series Odds: Bucks -250, Raptors +205 at 888Sport
The Raptors survived the Philadelphia 76ers in an epic seven-game series. Kawhi Leonard hit the first game-winning buzzer-beater in a Game 7 in NBA playoff history, propelling the franchise to their second-ever Eastern Conference Final.
Although the spotlight is on the Leonard-versus-Giannis Antetokounmpo matchup, the real story of this series will be the defense of both sides. These are the top two teams in terms of defensive efficiency in the playoffs and they were both in the Top 5 in the regular season team (Milwaukee is No. 1 in both categories).
The question for the Raptors is can they curtail the Bucks 3-point shooting? Milwaukee led the NBA in 3s per game in the regular season (13.1) but are just ninth (11.0) among the 16 playoff teams.
A whopping 34.5% of the Bucks' points come from 3, which is the second-most in the playoffs, so if Toronto can force them off the arc, this could be a close series. The Raptors were eighth in opponent three-point field goal percentage in the regular season and are third in the playoffs.
Still, it's hard to bet against the Bucks. They have home-court advantage and should be fresh. They've only played nine playoff games whereas the Raptors are coming off a seven-game series. Milwaukee won 45 games in the regular season by double digits. Only seven other teams have done that and every one has gone on to win the title.
The Bet: Bucks at -250 with 888Sport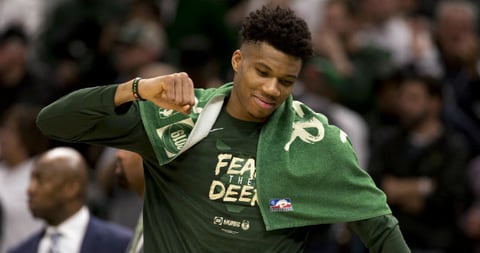 Series Correct Score
Of course, there is a chance the Bucks run away with this series. This is a team who has won seven of their eight playoff games by at least 10 points with their smallest margin of victory being seven points.
However, the Raptors are really in sync defensively right now and the Bucks don't have a really long history of success in the playoffs. For this roster and coaching staff, this is all new territory. And it's not as if Khris Middleton, Eric Bledsoe and Brook Lopez are reliable stars. They're mostly overachieving in a good system with great team chemistry, but a good defensive team like the Raptors is likely to make this a series.
The other key here is that while the Raptors might be fatigued after a grueling series, they'll get two days off – an extra day – before this series starts. That's a much-needed boost for them.
That being the case, I'm going to take a flier on either team winning this series in seven games. You get plus-money both ways, and I expect this series to be 2-2 after four games, setting up nicely for a shot for one of the teams to win in seven.
The Bet: Bucks win 4-3 at +430 & Raptors win 4-3 at +800 with 888Sport
---
Check out: Unibet For Free Bets and Welcome Bonus
---
About the Author

Dave Golokhov, a veteran journalist and writer for AskMen and FOX Sports, covers the NFL, AAF, NBA, NHL, MLS and Major League Baseball for Bookies.com.