Why Nikola Jokic MVP Odds Offer Excellent Value Right Now
By Mark Strotman | 8 mins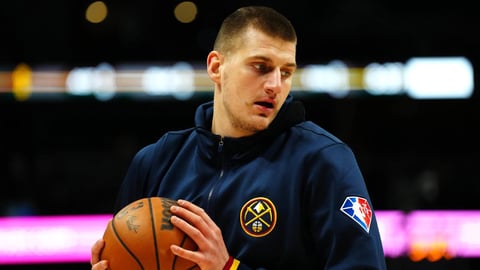 Joel Embiid has had a comfortable lead in the MVP race ever since his ridiculous six-week stretch from Christmas to the end of January. The Sixers center averaged 34.2 points and 10.7 rebounds while leading Philadelphia to a 14-3 record, vaulting the Sixers toward the top of the East and Embiid to the top of the NBA betting list for MVP.
Embiid (-160 to win MVP via DraftKings) has remained at the top of that list, ahead of Denver's Nikola Jokic (+130) and Giannis Antetokounmpo (+1000) — but maybe he shouldn't be.
ESPN's Tim Bontemps ran a straw poll on the MVP race and published the results on Tuesday and it showed a clear favorite: Jokic. Per Bontemps' article, Jokic earned 62 of 100 first-place votes and earned 860 points. Embiid, by contrast, earned just 29 first-place votes and 719 total points. Antetokounmpo, a two-time winner himself, earned nine first-place votes and 593 points.
What does it all mean? There's value in Jokic on NBA futures markets. Remember, this straw poll included not just NBA writers and experts, but the actual people who will be voting for MVP. With less than two weeks remaining in the regular season, it's hard to see a lot changing. Here's a look at where Jokic and Embiid stand heading down the home stretch.
NBA MVP Odds For 2021-22 Season
Odds via DraftKings and accurate as of publication.
DraftKings

Bet $5, Win $150 in Bonus Bets If Your Bet Wins

Bet Now ➜

49

PLAYERS REDEEMED TODAY!
Making The MVP Case For Nikola Jokic
There was a misconstrued belief that Nikola Jokic didn't receive enough love last season when he won league MVP. But in reality, he earned 91 of 101 first-place votes, the highest percentage (90.1%) since Steph Curry was the unanimous MVP in 2016. So the fact that Jokic in 2022 is actually averaging almost the exact same numbers as his MVP campaign means people are once again taking notice:
2021 (MVP): 26.4 points, 10.8 rebounds, 8.3 assists, 1.3 steals, 0.7 blocks, 34.6 minutes
2022: 26.3 points, 13.6 rebounds, 8.0 assists, 1.4 steals, 0.9 blocks, 33.2 minutes
He's also doing this all without Jamal Murray (ACL) and Michael Porter Jr. (back) - the Nuggets' second and third leading scorers. Denver is 45-31 as of this writing and has a comfortable cushion in the top six of the West, an almost unthinkable position considering how much it is missing. But that's how good Jokic has been.
Making The MVP Case For Joel Embiid
That's not to say the MVP race is over. The straw poll is very much unofficial, and the season has a little bit to go. And it's not like Jokic is running away with it, either. Embiid is incredibly deserving on raw numbers alone: 29.9 points, 11.4 rebounds, 4.2 assists, 1.2 steals, 1.5 blocks in 33.4 minutes. Embiid also has the Sixers in the hunt for the top spot in the Eastern Conference—all after they started the season 11-11 (with Embiid missing 10 of those games and Philly going 3-7).
Beyond the numbers, it's a credit to Embiid that he's been able to focus, put up numbers, and help the Sixers win amid all the Ben Simmons drama that took place in the offseason and through the trade deadline. Yes, the drama netted him James Harden and a legitimate title shot, but the fact that he was the team's on-court leader while trade rumors swirled and both Simmons' and Philly's camps threw shots at each other isn't quantifiable—but was certainly impressive. League MVP is often a narrative-driven award.
---
RELATED: NBA Draft Odds For 1st Overall Pick In 2022
---
Is Giannis A Good Long-Shot MVP Bet?
The straw poll confirmed what the NBA odds list also said: Giannis is a distant third. No one will cry for the defending champion and potential scoring champion, but there appears to be some voter fatigue here after Giannis' MVP wins in 2019 and 2020. Giannis has arguably gotten better as the year has gone on despite seeing his odds plummet on betting sites:
Giannis before Jan. 1: 27.6 points, 11.4 rebounds, 5.8 assists, 1.6 blocks
Giannis after Jan. 1: 31.7 points, 11.8 rebounds, 5.8 assists, 1.3 blocks
But save your long-shot odds here. It's a two-man race on sports betting apps between the Joker and Embiid.
NBA MVP Best Bet: Nikola Jokic
Those numbers from Botemps don't lie. Whether Embiid is being penalized for getting Harden as a teammate at the deadline or voters are in amazement that Jokic and a bunch of average players are hanging around in the West, it's clear which way they're leaning.
Odds have already begun to move at sportsbooks after that article went live, so jump on Jokic as fast as possible.
About the Author
Mark is a veteran sports betting journalist who has covered the Bulls and the NBA since 2012. His work has appeared on ESPN.com, FoxSports.com, The Chicago Tribune and Yahoo Sports. He regularly provides NBA betting picks, as well as in-depth sportsbook reviews and the latest promo codes for all the major sports gambling operators, including Caesars Sportsbook, BetMGM, DraftKings, FanDuel and more.
Our trusted sports betting partners bring you safe and fun playing experiences