$250K Doritos: Exclusive Q&A With Bettor Behind Viral Parlay
By Mark Strotman | 5 mins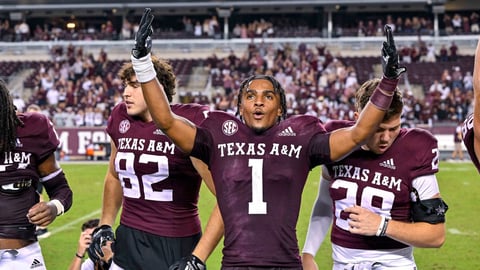 What's the biggest parlay you've ever cashed? It's less than @doritos_cv, a Twitter user who put together a 25-leg parlay during Week 3 of the college football season and cashed out more than $250,000!
The 25-leg parlay hit on its first 23 legs before @doritos_cv cashed out with two legs remaining. Wins on those final two legs would have netted him more than $1 million off a $7.16 bet (those two legs were also successful: Texas A&M -6.5 over Miami, and Over 56.5 in Michigan State/Washington), but we can't blame him for cashing out with a 3,599,900% increase in payout.
Bookies.com's Jasmine McCoy chatted with "Doritos" to go over how this parlay came about and what he's got in store for future parlays!
---
RELATED: What is a Parlay Bet + How Do They Work?
---
Bookies.com: I really want to talk about the ticket that went viral. Potentially a $1 million payout. I know that might not have been how you planned for things to go, but can you talk about that a little bit?
Doritos: It's really insane because I don't go for these massive parlays. This isn't a regular thing for me. I bet parlays only, basically, but I don't go for 25 legs. That's just nuts. Me and my friend literally that week, we were talking about it, like, "Eventually, it has to hit." Literally that exact week.
And then going to bed on Friday, I realized I didn't have any plays put in for college Saturday. I just put together something massive and just put it out there, basically.
Bookies.com: I know some people were in the comments like, 'How much did he end up cashing out for?' So could you tell us?
Doritos: Yeah, I have the settled right here at $252,130!
Bookies.com: All from 7 bucks, right?
Doritos: $7.16!
Bookies.com: That's crazy. Yesterday when we spoke, you were on a golf course. Was that something you treated yourself to something nice?
Doritos: Yeah, me and my friends like to go golfing every day off. We're off on the same time together. We used to do it every Sunday, but we definitely scheduled something for that.
Bookies.com: It seems like you're very involved with your friends and they're people that you talk to for bets. What introduced you to sports betting?
Doritos: Actually, it was my friend. I'm big into sports. I love the game of football - played it my entire life. Love the game of basketball, played it for a good bit. I kind of got tired of just doing fantasy and watching. I wanted something to really hook me into it.
When my money's on the line, it makes me get more into it. That's pretty much what got me into it. My friend showed me, once it became legal in Tennessee [in November 2020], and that's pretty much where it started.
Bookies.com: I've been looking at your Twitter and I see a couple more tickets. Is that something that you're now going to do? Your following has increased so much.
Doritos: Yeah, my following has skyrocketed from nothing. I think I had 130 followers, now pushing 8,000 [Editor's note: It's now 10.4k as of this publishing]. It is nuts. It's definitely something I'm going to keep pushing forward. I would love to make Twitch a full thing. Of course we're going to do another 25 (leg parlay), doubtful that hits again. But we're going to get some 3- and 5-leggers out there just to see what we can get done.
Bookies.com: And let's talk about some futures. Who are you looking at it in the NFL? Is there some team that you're like, "Hey, this might be it. This might be their season."
Doritos: Definitely the Bills. The Bills are, until further notice, every weekend I'm putting whatever I feel comfortable on their moneyline. [I'm a] big Titans fan and seeing what they did to us (41-7 Week 2 win) was awful, it was not fun at all. But they're an amazing team. It's them until further notice.
Bookies.com: Well it sounds like this will not be the end of you. I feel like we'll see a lot more crazy tickets coming your way on Twitter.
Doritos: Yeah, I definitely plan on putting a lot of things together, especially on Mondays. I did a something called Longshot Mondays. Going to try and find some game props, some Same Game Parlays and put them on there.
My favorite thing to do it just let's pay rent. Something that you can put 1 unit on—which is about $100—to get your rent money. So that's my whole goal.
About the Author
Mark is a veteran sports betting journalist who has covered the Bulls and the NBA since 2012. His work has appeared on ESPN.com, FoxSports.com, The Chicago Tribune and Yahoo Sports. He regularly provides NBA betting picks, as well as in-depth sportsbook reviews and the latest promo codes for all the major sports gambling operators, including Caesars Sportsbook, BetMGM, DraftKings, FanDuel and more.
Our trusted sports betting partners bring you safe and fun playing experiences