It's been a more consequential week than most this early in the year.
The latest round of trade and immigration negotiations with Mexico yielded uncertain results, House Democrats look like they're beginning a baby-step march toward impeachment, and the DNC announced new debate rules that threaten to squeeze out longer-odds counterparts.
All that being said, it stands to reason that the Presidential odds have changed significantly, with nearly every Democrat seeing lengthening odds but a few changing places on the leaderboard.
And while Joe Biden still looks unassailable as the Democratic frontrunner, the Washington Post's blasts from the past remind political bettors that the winners of recent primaries often weren't the frontrunners at this point in the race.
524 DAYS TO GO:
2008 Dem: Clinton led by 11 points.
2008 GOP: Giuliani led by 7.8 points.
2012 GOP: Romney led by 9.3 points.
2016 Dem: Clinton led by 48 points.
2016 GOP: Bush led by 0.7 points.https://t.co/OLynKLRaJh

— Who led? (@LedPast) May 29, 2019
Oh, and keep checking back each week as we track where the top candidates stand and point out trends in order to give you the best view of the 2020 Presidential betting market so far, and where it might be headed next.
2020 Presidential Election Odds
Candidate
This Week
Last Week
Trend
Donald
Trump
Evens
2/1
↑
Joe
Biden
5/1
5/1
-
Bernie
Sanders
10/1
8/1
↓
Pete
Buttigieg
10/1
14/1
↑
Elizabeth
Warren
12/1
25/1
↑
Kamala
Harris
14/1
14/1
-
Andrew
Yang
30/1
33/1
↑
Beto
O'Rouke
40/1
40/1
-
Tulsi
Gabbard
50/1
66/1
↑
Amy
Klobuchar
100/1
80/1
↓
Bill
de Blasio
100/1
N/A
N/A
Corey
Booker
100/1
80/1
↓
Michael
Bennett
100/1
80/1
↓
Mike
Pence
100/1
100/1
-
Nikki
Haley
100/1
100/1
-
Odds courtesy of 888Sport and subject to change. Betting on politics is not legalized in the US but heavily bet on in Europe.
What are the Odds Trump Wins Re-Election?
Although expected to change as the Democratic field dwindles, President Trump at +100 is the current favorite to win the 2020 Presidential Election according to oddsmakers.
And as has not been the case since we've started tracking Trump's reelection odds, the President's odds actually shortened this week to evens from 2/1.
---
Related Article: What Crazy Trump Bets Can You Make?
---
Approval ratings are all over the place, from the usually rosy Rasmussen's +4 to -15 from Politico, and while Quinnipiac has Trump losing the national vote to every contender polled, when it comes to matching his 2016 share and with it an almost certain Electoral College victory, he's within the margin of error against all but Biden.
Additionally, Quinnipiac found that a full 77% of voters are optimistic about the economy, good news for any incumbent even if he's getting less credit than he'd like.
Joe Biden's 2020 Odds
Odds remained the same for Biden this week. He is, though, facing some heat for inconsistent remarks about the Hyde Amendment, which prohibits the use of federal funds for abortion, and for some comments about post-Trump bipartisanship perceived as out of touch.
Still, there's been no major challenge to his frontrunner position either nationally or in key states. The movement on his odds may be a reaction to the shakeup down the line; uncertainty is never good when the status quo works for you, but the long-range damage may well be minimal.
Bernie Sanders 2020 Odds
Sanders slipped two points this week, marking the second straight week the Senator from Vermont has seen his odds lengthen.
A new Quinnipiac poll shows him in fourth place in the seemingly friendly confines of Massachusetts, behind a surging Buttigieg and holding off Harris by a point.
While that's also Warren's constituent state, it bodes ill for neighboring New Hampshire, where he'll need to establish a strong showing before the primary moves in order to maintain momentum through the less friendly early states and into Super Tuesday.
Pete Buttigieg 2020 Odds
South Bend Mayor Pete Buttigieg has seen plenty of momentum in the past few weeks, and it's now elevated him to third-place odds in the Democratic primary at 14/1.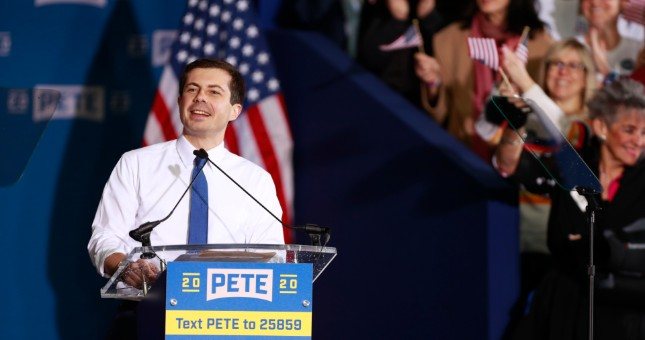 The Massachusetts Quinnipiac poll shows that his strength is not just a diffuse national phenomenon but could actually grab him delegates in specific states.
Meanwhile, the first "controversy" of his campaign, poorly received remarks about Al Franken's resignation, seems to be in the rearview.
Elizabeth Warren 2020 Odds
Though it's not enough to recapture third place given Buttigieg's movement, Elizabeth Warren sees a change in betting from 25/1 to 12/1.
Two separate national polls have her in second place ahead of Sanders, a spot that suggests she may be viable as more than a Bernie alternative, and the Massachusetts poll shows that she's establishing enough support to threaten Sanders in New England.
Still, it's a major concern that she's not winning her home state, and the only Iowa polling from the month shows her just above the threshold to maintain delegates, with Buttigieg just below and more likely to have made a big jump.
With zero Iowa delegates and a less-than-dominant New Hampshire showing, it's tough to see a pathway to victory for her.
Kamala Harris 2020 Election Odds
Though Harris saw no odds lengthening, the surge from the two previous candidates leaves Harris in fifth.
Though she's been on an aggressive policy push on immigration and impeachment, two ideas popular within the Democratic primary, she's seen the other candidates successfully chip away at her California firewall and hasn't made much ground in South Carolina, an assumed stronghold for her before Biden's entry into the race.
Andrew Yang 2020 Odds
Yang, who sees a three-point lengthening this week despite new disadvantages in the third and fourth debate qualifications, likely will have the same floor and ceiling at least until the first debate.
He'll have a chance there to increase his name recognition, after which his poll numbers will almost assuredly rise; to what extent is yet to be seen.
Beto O'Rouke 2020 Odds
Though betting odds aren't as zero-sum as the pollsters are (and the ballot will be), there's usually an equal and opposite reaction to any gains by another candidate.
Beto shares a lot of Buttigieg's appeal, and the South Bend mayor's upswing leaves little room for candidates with the same narrative, leading to a six-point lengthening of O'Rourke's odds last week and those odds sticking this week.
He can take some comfort in the fact that, were the third and fourth debate fields decided today, he's still polling well enough for more time in the spotlight.
Best of the Rest
Tulsi Gabbard's odds shortened to 50/1 this week separating her from the massive field of candidates at 100/1. Like Yang, who saw similar action, we're likely looking at her floor and ceiling in this range until something major happens.
Corey Booker, Amy Klobuchar and Michael Bennett fell to triple-digit odds this week, at 100/1 for all three. The odds for the current VP, who seems perfectly content to remain in that position, feel like a good "realistic chance" cutoff.
---
Next Winning Party Odds
| Political Party | Odds to Win Presidency |
| --- | --- |
| Democrats | 4/5 |
| Republicans | 19/20 |
| Independent | 50/1 |
Odds tightened a little bit this week for Republicans. There's been good news on the trade and immigration fronts, if you believe the President (which, if you're among a record amount of members of his own party, you tend to), and the postponement of tariffs on Mexico might calm an economy with signs of disquiet in the past week.
Oddsmakers may also be reacting to the shakeup in Democratic odds this week, which might be an early indication that Biden, the candidate polling strongest against Trump, won't be the candidate.
---
NOTE: For more info on political betting in general as well as coverage of the latest news affecting the odds, be sure to check out our guide to betting on politics.