US Presidential Election Odds 2020: Weekly Rundown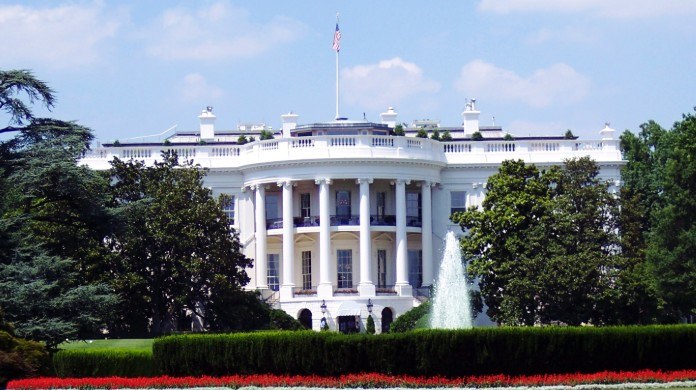 An insane week in national politics provides a similar impact on the 2020 U.S. Presidential odds, with the Ukraine scandal moving Democrats solidly in front in the winning party odds and sending Donald Trump in the wrong direction, all the way down to 13/10 (+130). Meanwhile, Elizabeth Warren's momentum continues.
The impeachment inquiry is full steam ahead, and there is some impact on the odds. Trump's odds dipped slightly again but what is noteworthy on the Republican side is the movement for three non-candidates – Mitt Romney, Nikki Haley and Mike Pence – to replace Trump atop the 2020 ticket. All have jumped, both in odds to win the Republican nomination and the general election, despite not being declared candidates.
This comes as support grows for the impeachment inquiry into allegations he delayed aid to Ukraine pending promises of an investigation into Joe Biden and Biden's son, Hunter. Democratic odds, meanwhile, continue to be dominated by Warren's steady rise, although a familiar face is high and rising in the wake of Trump corruption allegations.
2020 Presidential Election Odds
Candidate
This Week
Last Week
Trend
Donald
Trump
5/4
13/10
↓
Elizabeth
Warren
5/2
11/4
↑
Joe
Biden
8/1
8/1
-
Hillary
Clinton
20/1
50/1
↑
Bernie
Sanders
20/1
12/1
↓
Pete
Buttigieg
25/1
25/1
-
Andrew
Yang
25/1
17/1
↓
Kamala
Harris
50/1
33/1
↓
Nikki
Haley
50/1
66/1
↑
Mike
Pence
50/1
66/1
↑
Mitt
Romney
50/1
N/A
↑
Tulsi
Gabbard
100/1
100/1
-
Beto
O'Rouke
100/1
100/1
-
Joe
Walsh
100/1
100/1
-
Cory
Booker
150/1
100/1
↓
Julián
Castro
150/1
150/1
-
Amy
Klobuchar
150/1
150/1
-
John
Delaney
150/1
150/1
-
Michael
Bennet
200/1
200/1
-
Bill
Weld
200/1
200/1
-
Tim
Ryan
250/1
250/1
-
Marianne
Williamson
250/1
250/1
-
Steve
Bullock
Unlisted
Unlisted
-
Wayne
Messam
Unlisted
Unlisted
-
Joe
Sestak
Unlisted
Unlisted
-
Tom
Steyer
Unlisted
Unlisted
-
Odds courtesy of 888Sport's UK-facing betting site and subject to change.
Remember to keep checking back each week as we track where the top candidates stand and point out trends in order to give you the best view of the 2020 U.S. Presidential betting market so far, and where it might be headed next.
What are the Odds Donald Trump Wins Re-Election?
Donald Trump's odds ticked down to 5/4 (+125) this week, a soft favorite to win re-election just by virtue of a still-crowded Democratic field. The impeachment inquiry is gaining steam and popular support, with a strong majority favoring impeachment and plurality-to-majority support for the president's removal from office.
---
RELATED: What Crazy Trump Bets Can You Make?
---
Those numbers are not (yet), however, strong enough to compel Republican senators to support his ouster, and while he still polls weakly against the Democratic top three, those leads are not much different from the one he eroded over a year's time against Hillary Clinton in the 2016 cycle.
Elizabeth Warren 2020 Odds
Elizabeth Warren continues a month-long shortening to 5/2 (+250). For the first time, she leads a majority of the most recent national Democratic primary polling, although Biden still leads the composite polling on the strength of one particularly good poll.
Warren's odds remained steady at 11/4 (+275) as her momentum continues unabated. She also clearly benefiting from a scandal that implicates the candidates directly above and beneath her in the odds (however weakly in the case of Biden.)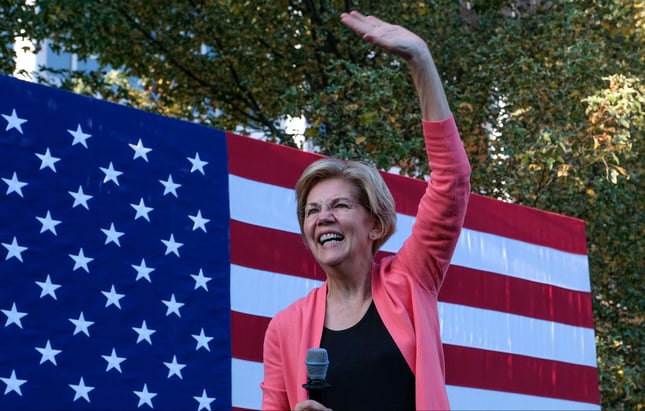 New polls also show her winning the battleground states of Wisconsin, Ohio and North Carolina should she be the Democratic choice to take on Trump. She also tied Biden for the best margin against Trump nationally. A recent choice to avoid big-dollar fundraisers has caused some advisors concern.
Joe Biden 2020 Odds
Joe Biden's odds remained steady at +800 (8/1) for a third straight week. While the Burisma "scandal" has backfired on Trump, Warren's momentum is taking a toll on Biden. He continues to poll strong nationally but is seeing Warren gain ground against him on that front.
While polls back up the former vice president's contention that he'd beat Trump "like a drum" in the general election, he's no longer the runaway strongest candidate against him. He has, however, only strengthened his "firewall" among South Carolina voters, which could provide a strong burst of momentum even if the first two states don't go his way.
Hillary Clinton 2020 Odds
Surprisingly, the odds are getting shorter and shorter for the 2016 Presidential popular vote winner, who's tied with Sanders at 20/1 (+2000), the send straight week with a major jump. She continues to tease entering this cycle's race, and her name recognition and popularity among Democrats (combined with a lukewarm reception for any particular 2020 candidate) suggest she'd enter as a strong contender.
However, she'd enter with no fundraising and against a much-better-positioned progressive challenger than when she tangled with Sanders in 2016. It's tough to call her a good bet until, at the very least, she actually jumps into the race.
Bernie Sanders 2020 Odds
Bernie Sanders odds sank significantly this week to 20/1 (+2000), down from 12/1 (+1200) last week, After acknowledging that his "cardiac procedure" was indeed treatment for a heart attack, Sanders has been inconsistent on whether he'll slow down campaigning in the wake of the event.
He has not finished as the national polling runner-up in any polling since late September, and while state polls this week come from areas not traditionally Sanders-friendly, he's in a not-too-close third in all of them. The odds, at least, are starting to look like a two-person race in which he's finishing third.
Pete Buttigieg 2020 Odds
Pete Buttigieg holds steady at 25/1 (+2500) this week. The South Bend mayor continues to be popular but nobody's first pick, a tough spot to win elections from. He continues an aggressive Iowa approach, but there's no new polling to tell how effective it's been.
Andrew Yang 2020 Odds
Andrew Yang drifts even further back this week to 25/1 (+2500). Yang continued his quirky campaign style with a hip-hop concert appearance, and took advantage of being possibly the best-positioned Democrat to weigh in on the NBA-China controversy (his parents hailed from the Republic of China), all of which haven't had time to filter into the odds yet.
As it stands, he's still polling well below the stronger contenders, and while he'll be at next week's debate, exposure hasn't really increased his polling standing.
Nikki Haley 2020 Odds
Nikki Haley, Trump's former UN Ambassador, sees her odds to replace him move up to 50/1 (+5000). While Haley, whose odds to be the Republican nominee are now 17/1 (+1700), hasn't commented on impeachment, she called the decision to pull troops from the Syrian-Kurdish border a "sickening betrayal," a position popular with establishment Republicans. Like Romney and Pence, however, Haley has not stated any plans to enter the race.
Kamala Harris 2020 Odds
After a one-week respite, onetime favorite Kamala Harris continues her hard fall, drifting to 50/1 (+5000) this week. California's junior senator lost the endorsement of her senior colleague Dianne Feinstein to Biden, another in a continuing series of signs that her strength in the Golden State, a bulwark against falling polling numbers elsewhere, is fading.
She'll be in next week's debate, but there's increasingly little chance of the first-debate star turn that catapulted her to the top of the Democratic odds.
Mitt Romney 2020 Odds
A new Republican challenger has emerged ...in the odds anyway, with the 2012 U.S. Presidential nominee joining the upper-tier of odds at 50/1 (+5000). While Romney has not yet formally backed impeachment, he's claimed that "everybody understands" Trump's actions in Ukraine were improper and termed our Syria withdrawal a "betrayal."
Barring a reversal of this decision, the Administration must come before Congress and explain how betraying an ally and ceding influence to terrorists and adversaries is not disastrous for our national security interests. My statement with @ChrisMurphyCT→ https://t.co/LF4TkowJZC

— Senator Mitt Romney (@SenatorRomney) October 7, 2019
Unlike the other non-candidate candidates with double-digit odds, Romney has said he will not challenge Trump's 2020 nomination, which makes it hard to take his "candidacy" or betting on his odds seriously.
Mike Pence 2020 Odds
Mike Pence's odds tick up from 66/1 (+6600) to 50/1 (+5000). His odds to be the Republican nominee are now 14/1 (+1400). Pence, whose original selection was seen as an olive branch to the Republican establishment, makes some sense as an alternative to Trump. However, should the President be removed over Ukraine, it seems counterintuitive that a similarly embroiled Pence would be the choice to replace him.
As it stands, Pence continues to back the president, and the Republican nomination is not yet in question.
Candidates with Odds 100/1 or Longer
Tulsi Gabbard (100/1) threatened to boycott the Democratic debate next week, in protest of what she called "rigging the primary" against early-state voters. Gabbard, who'd been as short as 54/1 (+5400), fell hard after missing the last debate.
Among Trump's official challengers in the Republican Party, former Illinois Congressman Joe Walsh (150/1) leads former Massachusetts Governor and 2016 Libertarian Party VP nominee Bill Weld (200/1). Former South Carolina Governor Mark Sanford is unlisted.
---
Next Winning Party Odds
| Political Party | Odds to Win Presidency |
| --- | --- |
| Democrats | 4/5 |
| Republicans | 21/20 |
| Independent | 50/1 |
One week after the Democrats moved into the lead for the first time, they drift a little to 4/5 (-120), while the Republicans drift from Evens to 21/20 (+105).
---
NOTE: Betting on politics is not legalized in the U.S. but heavily bet on in Europe. For more info on political betting in general as well as coverage of the latest news affecting the odds, be sure to check out our guide to betting on politics.