Best Place To Eat In Every NFL City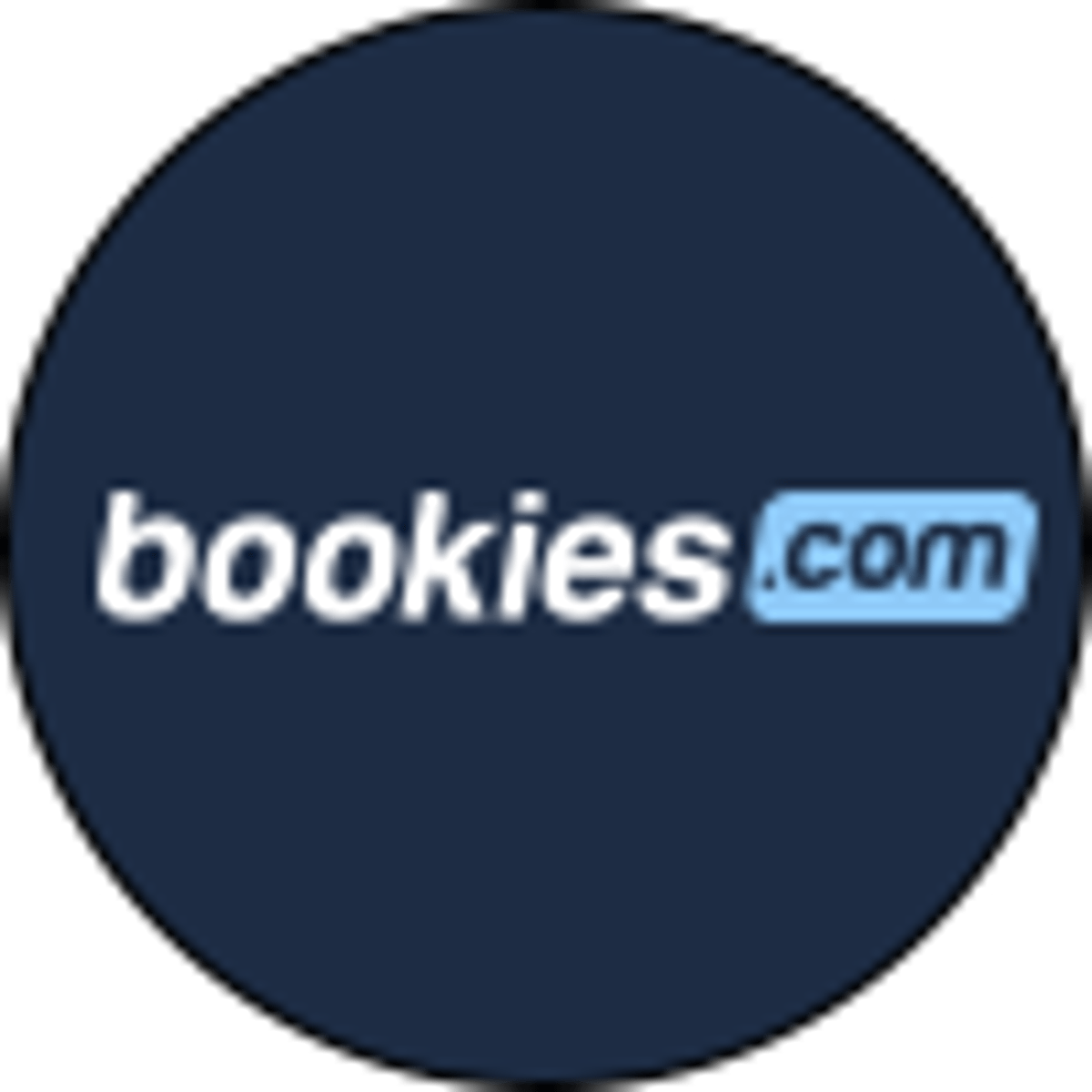 By Bookies.com | | 8 mins
When it comes to watching football, the only thing as important as the game itself might be the food you eat while you're watching. Regardless of which team you root for, most football fans can at least agree on the cuisine basics: Wings, sliders, and some combination of chips and dip.
Of course, there's no rule book that says you have to stick with the classics when you're settling in for the game. A quick look at some of the most popular game day recipes will show you just how far some fans are willing to go to feed their football appetites, including appetizers, main entrees, and football-shaped desserts.
But while food might be the great unifier of football, fans may have different preferences and palates based on where they live (or who they root for). To find out just how varied these cravings can get, we set out to determine the best place to eat in every NFL city. And just because you can't go sit down to eat doesn't mean you won't be able to get it for takeout! Using Yelp Fusion API, we explored every restaurant within each of the 32 NFL team's cities based on ratings, reviews, and food type. Want to know which teams' hometowns have the best food, which cuisines are the most popular based on conference, and what the best restaurant is in each NFL city? Read on to feed your curiosity.
Best NFL Food Cities
It's worth noting that some NFL cities are more synonymous with highly rated restaurants than others. Want to know where you can get the best meals for Football Sunday (or otherwise)? According to our Yelp data, the best restaurants can be found in Los Angeles (4.13 stars out of 5, on average), New York City (4.11), San Francisco (4.09), and Chicago (4.08).
Football fans in Los Angeles went from having no official NFL team to having two (the relocated Rams and Chargers) between 2016 and 2017 and have spent the last decade cultivating one of the most exciting food scenes anywhere in the U.S. More than famous chefs or high-end dining, restaurants in LA have found their niche in fusion cuisine, proving that food doesn't have to be expensive or pretentious to be delicious.
Curious how restaurants rank by NFL conference? The NFC East might not be super deep on the field, but fans of the New York Giants, Dallas Cowboys, Philadelphia Eagles, and Washington Football Team can take solace in the fact that their areas have the highest rated restaurants in the NFL. Averaging 4.01 out of 5 stars, the NFC East earned the top slot for food by conference, followed by the AFC West (3.96), NFC West (3.95), and AFC East (3.87).
Expanding Your Football Food Palate
If you're preparing a football spread, you might be debating between classic offerings ranging from pizza and burgers to nachos and hot dogs. But what about something more adventurous? Korean food at kickoff or a halftime Cajun buffet? Deciding to put together a more unique football platter might be a matter of where you live – or which team you cheer on.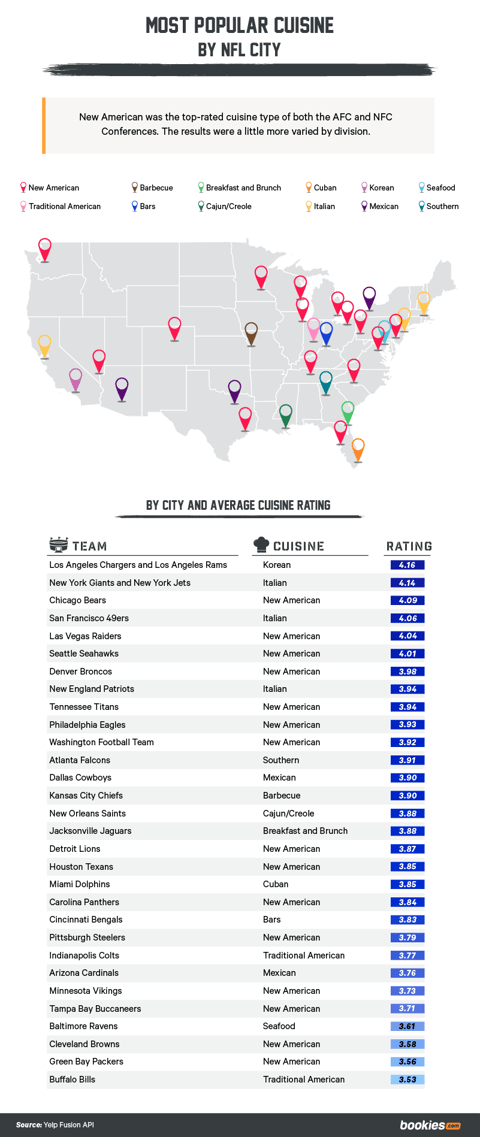 If you're looking at the conferences, New American cuisine certainly looks like the most popular option among the top-rated restaurants in those cities. Not to be confused with American classics, New American embraces the melting pot nature of the food scene in America, melding cuisine types and styles, with occasional references to farm-to-table cuisine, to reinvent traditional American fare. Though some critics find the cuisine type "bland" we think the invention of the sushi burrito and other fusion treats are brilliant, and apparently so does much of the United States.
In the NFC South, you might not need to worry about what constitutes fusion food, though. Home to the New Orleans Saints, Tampa Bay Buccaneers, Atlanta Falcons, and Carolina Panthers, the highest rated restaurants in these NFL cities were Cajun and creole fare. So what do you bring to a NOLA football game? Don't be surprised if you find chargrilled oysters, game day jambalaya, or seafood po'boys on the menu.
Whether you're dining in, having it delivered or picking it up yourself, who can honestly say no to a hearty slice of pizza or a crispy bowl of nachos? Looking at each of the team cities individually, we found Italian restaurants had the highest ratings in San Francisco, New York City, and New England, while Cuban restaurants took the top spot in Miami, Mexican reigned in Arizona and Dallas, and seafood ranked highest in Baltimore.
Super Bowl Food Showdown
The matchup between the Kansas City Chiefs and the Tampa Bay Buccaneers in Super Bowl LV won't just be about watching Patrick Mahomes play against Tom Brady under his new team banner. It's also about what the fans will be eating while watching the two teams face off. To stoke the rivalry even more, we analyzed the most popular cuisines in each city and their average rating to see which city has the best food in each category.
With limited attendance at the Super Bowl this year, more people than ever will be watching the games from their homes and ordering takeout from the most popular restaurants in town. For Chiefs fans, barbecue will most definitely be on the Super Bowl menu. For Buccaneers fans, Mexican food.
Deciding Where to Eat
Looking for a specific restaurant recommendation to order-in for the next game? We've got you covered. Even if you have to take it to-go this year, these are the highest rated restaurants in each of the 32 NFL teams' cities. Please note that we provided 2 restaurant choices for Los Angeles and New York, in case you run into too many fans of "that other team" on game day.
If you want the timeless table of pizza for your football roundup, try Pizzeria Bianco in Arizona or Lou Malnati's Pizzeria in Chicago, Slows Bar BQ in Detroit or Fox Bros. Bar-B-Q in Atlanta might be the place to go if you're in the mood for award-winning ribs or brisket. Feeling like seafood for game day? Neptune Oyster in Boston is the perfect place to grab one of Boston's best-known lobster rolls or a half-dozen raw oysters on ice before kickoff, and now you can skip the long lines to get in by ordering takeout instead. If you're headed to a Saints game, Acme Oyster House in New Orleans has been serving up cajun and creole classics since 1910. Don't forget to order the gumbo and chargrilled oysters, of course.
Wherever you live, or whichever team you support, find the highest rated restaurant in your NFL city on the map above!
Food (and Bets) You Can Rely On
While there's no one definitive type of food Americans eat on game day, there are strong regional traditions in which NFL fans take certain pride and joy in, leading to a colorful and diverse appreciation of food across the country (in the name of football). That diversity can be seen in the mass popularity of New American cuisine, a melting pot of American classics and multicultural influences. And whether you try the most popular regional cuisine, or opt for ordering in from a restaurant on our list of top establishments, you'll be eating the best each team has to offer. We're willing to bet on that.
That's entirely the approach Bookies takes when it comes to our platform, which is made up of a team of veteran gamblers and sports betting experts offering the best advice on how, where, and what to bet on in the world of sports. With odds exclusively from fully licensed and legal bookies, our recommendations are trusted and reliable. If you're looking to be as informed about the bets you place as you are about the restaurants you choose on game day, Bookies.com has you covered.
Methodology
We used data from Yelp Fusion API to explore restaurant and food venue ratings for each city containing an NFL team. We pulled data for 28,464 restaurants across all 30 cities containing each NFL team (the Los Angeles Chargers and Rams share a city as well as the New York Giants and Jets). The pulled restaurant data are within a perimeter of 8 kilometers, or around 5 miles, from the city center in order to keep our analysis within each city's limits.
Sample sizes of restaurants differed by city. Here is a list of cities with 1,000 or more restaurants on Yelp, 5 miles from the city center: Atlanta, Baltimore, Boston, Charlotte, Chicago, Dallas, Denver, Houston, Las Vegas, Miami, Minneapolis, Nashville, New Orleans, Philadelphia, Phoenix, Pittsburgh, San Francisco, Seattle, Washington D.C., Los Angeles, and New York City.
The cities with less than 1,000 restaurants within our Yelp data were as follows: Tampa Bay, Green Bay, Jacksonville, Indianapolis, Kansas City, Cleveland, Cincinnati, Buffalo, and Detroit.
To account for differences in sample sizes, we used the average rating of all restaurants within that city to determine the cities with the highest rated food. To determine the most popular restaurants and cuisine types, we found the data to be more accurate when we multiplied the number of reviews with the average rating. This considered restaurant popularity as well as rating. For cuisines, once we determined the most popular cuisine type using this metric, we looked at their average ratings by city in order to determine who had the best New American food or the best Mexican food.
Fair Use Statement
Want to help your readers figure out the best places to eat in their city? Share the results of this study for any noncommercial use with the inclusion of a link back to this page as credit to our team of contributors for their work on the story and graphics found here.
About the Author
Bookies.com is your No. 1 destination for all things sports betting. It brings you the best sportsbook reviews and promo codes from the biggest names in the sports gambling industry, including Caesars Sportsbook, BetMGM, DraftKings, FanDuel and more. Check in with Bookies.com for the latest betting offers and picks across the NBA, NFL, MLB, NHL, golf, UFC and more.
Our trusted sports betting partners bring you safe and fun playing experiences