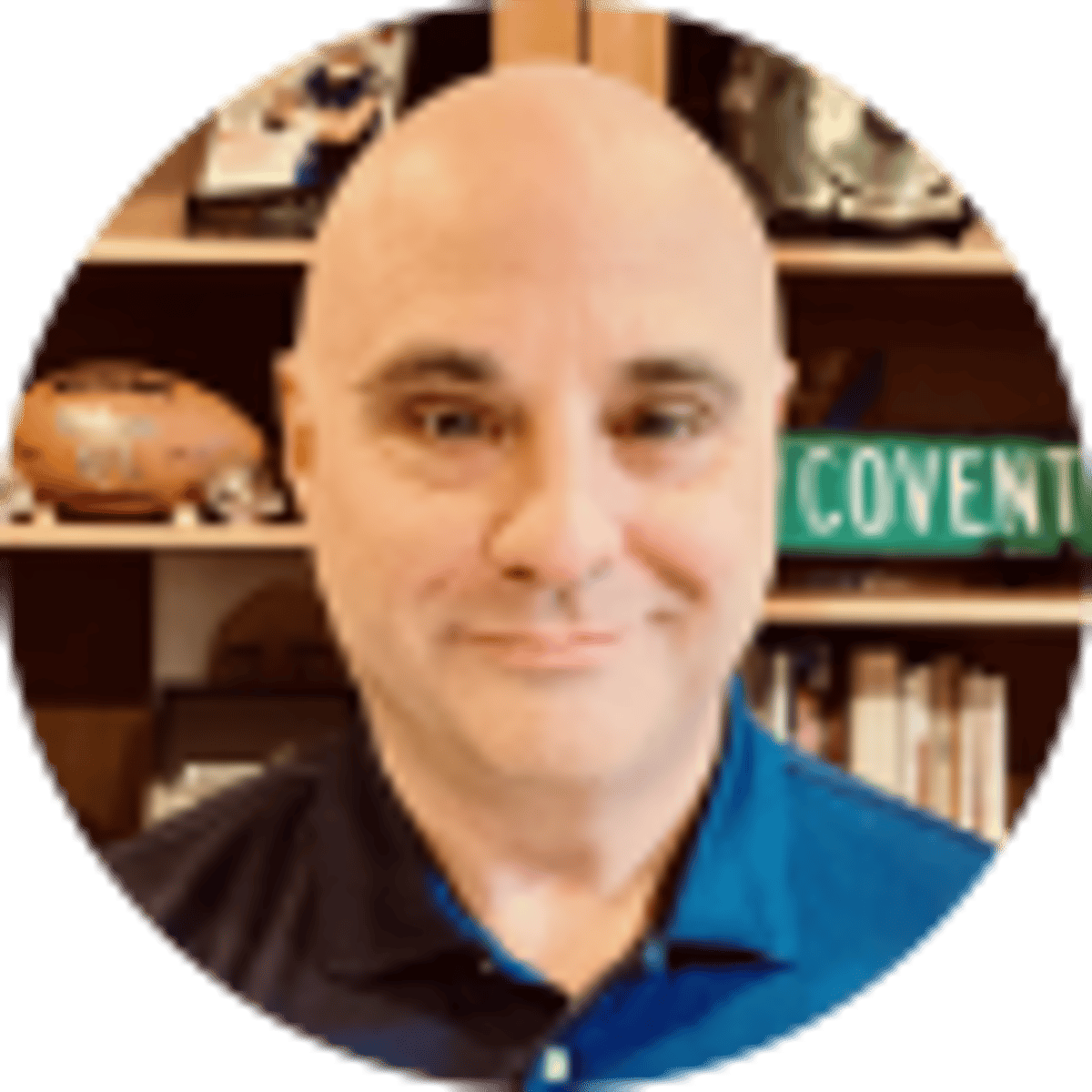 By Jim Coventry | | 9 mins
NFL DFS Week 11 Value Plays & Best Picks
5
PLAYERS REDEEMED TODAY!
After weeks of low-scoring games, we have finally started to see a few more high-scoring matchups as we approach Week 11 of the NFL season. Hopefully, this is the beginning of a trend. If it is, it'll certainly increase our daily fantasy sports options.
This week, we'll focus on some of the higher-projected game totals to gain our DFS advantage.
NFL DFS Week 11 Main Slate, Ranked by Over/Under
Chiefs vs Chargers - 51
Bears vs Falcons - 49
Cowboys vs Vikings - 47.5
Lions vs Giants - 45
Eagles vs Colts - 44
Browns vs Bills - 42
Panthers vs Ravens - 41.5
Raiders vs Broncos - 41
Commanders vs Texans - 41
Bengals vs Steelers - 41
Rams vs Saints - 39
Jets vs Patriots - 38
Highest Implied Team Totals
Chiefs - 29
Ravens - 28
Falcons - 27
Bills, Eagles - 26
Giants - 25
Bears, Cowboys - 24
Vikings, Bengals - 23
Saints, Lions, Commanders, Chargers, Broncos - 22
Patriots - 21
Raiders - 20
Colts, Texans - 19
Browns, Rams, Jets, Steelers - 18
Panthers - 16
NFL DFS Week 11 Quarterbacks for FanDuel & DraftKings
Justin Fields - Bears at Falcons - DK $7,600 FD $8,700
We love matchups between teams with terrible defenses. That's exactly what we have here. This game should have plenty of scoring. And since the Bears are still a run-first offense, Atlanta will likely shift defenders closer to the line to force the Bears to pass.
When he throws, Fields will take aim at a secondary that is one of the weaker units in the league. Even if throwing 20 passes, Fields could come up with a few big plays, especially when defenders freeze when they think the QB may run.
This leads us to the main point- his running. Fields has rushed for at least 80 yards in four of his last five games. He's being used on designed runs and defenses haven't had answers for him. Atlanta won't either!
Dak Prescott - Cowboys at Vikings - DK $6,600 FD $7,500
After being eased back into the lineup in Week 7 after missing five games with an injury, Prescott quickly returned to being a strong fantasy producer. In his last two games, he's averaging 257 yards and 2.5 touchdown passes.
He's even chipped in 40 yards and a score on the ground. This week he'll face the Vikings, which may be his best matchup of the season. Minnesota has been dominant against the run but weak against the pass.
This defense gives up the fifth-most fantasy points to QBs. They also will be without Cameron Dantzler, who was playing very well for them at cornerback. I expect Dallas to attack Minnesota where they're weak, which is through the air. And in a game with excellent shootout potential, Prescott could have his best performance of the year.
Jalen Hurts - Eagles at Colts - DK $8,200 FD $8,800
The Eagles have shown that their offense is highly adaptable. Because of the talent they have at every position on offense, including the offensive line, they can game plan to attack an opponent's weakness without sacrificing quality on offense.
They'll face the Colts, who have an excellent run defense that's anchored by a pair of amazing defensive tackles. On the other hand, the Indianapolis pass defense has been a middling unit. This is the type of matchup where the opponent may not have an answer for WR A.J. Brown.
That could allow Hurts to have a big passing day as he leans on his best playmaker. Also, when the Colts' defensive line brings pressure, Hurts is likely to have success in the running game. And of course, he's always a threat to score on the ground near the goal line. He's expensive in DraftKings Fantasy, but his floor and ceiling give him a strong blend of low risk, high reward.
Also Consider - Josh Allen, Daniel Jones
NFL DFS Week 11 Running Backs for FanDuel & DraftKings
Nick Chubb - Browns at Bills - DK $8,200 FD $8,400
There is potential volatility when considering Chubb. And that makes him an excellent DFS tournament option. It's possible the Bills get a big lead and Chubb gets 'game-scripted' out. There's also a chance that this game stays close throughout. In either scenario, Chubb could be in line for a big game.
Running behind one of the best offensive lines in the league, he'll have a big advantage against the Bills. Buffalo is primarily designed to slow down passing attacks. Against the run, they're giving up 4.4 yards per carry. They also give up a TD per game to RBs. Overall, Buffalo is in the middle of the pack in terms of fantasy points allowed to RBs.
If the Browns are able to lean on Chubb, this is a favorable matchup. On the season, he's posted over 100 scrimmage yards in all but two games. He's also had just two games without a TD while scoring multiple times in three contests. There is downside if the Browns fall behind, but Chubb is a great contrarian play.
Cordarrelle Paterson - Falcons vs. Bears - DK $6,200 FD $6,700
It's easy to be down on Patterson going into this game. He hasn't played more than 23 snaps in either of his two games back after missing four weeks with a knee injury. And after scoring two TDs in his first game back in Week 9, he had just five carries last week.
That 20-yard performance was disappointing, to say the least. However, that game was on a Thursday, and it makes sense to think that Atlanta wouldn't want to overwork a RB over 30 years old and coming off an injury on a short week.
There will be no such excuse this week. With extra rest time, he should resume his typical role. And he'll face a Chicago defense that gives up the fourth-most fantasy points to opposing RBs, and they are definitely a weaker unit since trading away Roquan Smith two weeks ago. On the season, the Bears give up 4.6 yards per carry and 1.4 TDs per game to RBs.
Also Consider - Dalvin Cook, Gus Edwards, Kyren Williams
NFL DFS Week 11 Wide Receivers for FanDuel & DraftKings
A.J. Brown - Eagles at Colts - DK $8,200 FD $8,800
Brown hasn't been the weekly fantasy force that many had hoped for after he joined the Eagles. The main problem is that Philadelphia is so versatile on offense that they can attack opponents in a variety of ways.
With the team facing a Colts defense that's been excellent against the run but average against the pass, this is looking like a game that the Eagles will throw more. But specifically, they'll likely face a lot of zone defense. Against that look, using in-breaking routes with an explosive receiver is a smart way to attack.
And after barely seeing the ball last week, Brown will also be heavily involved in the game plan. He'll face a secondary that had done a nice job of limiting receivers earlier in the year. But in the last three weeks, they've allowed both Terry McLaurin and Davante Adams to post at least 113 yards. Brown should be another name on that list!
Darnell Mooney - Bears at Falcons - DK $5,400 FD 6,000
As matchups go, Mooney has a great one. He'll face an Atlanta defense that's already given up at least 106 yards to six different WRs this year. And it hasn't just been the stars who have done well. Jarvis Landry, Josh Palmer, and Tyler Boyd are players who have crushed this defense.
On the season, the Falcons give up the second-most fantasy points to WRs including almost 1.5 TDs per game. They also allow over 200 yards per game to WRs, easily the most in the league. Although Mooney has just one TD all year while not surpassing 94 yards, he is the lead WR on the Bears.
In the last five games, he's had eight and 12 targets on separate occasions, so the chance for a high-volume game is present. And then we add in the opponent, this is a big-upside spot.
Parris Campbell - Colts vs. Eagles - DK $4,300 FD $5,800
Did I really just recommend a player who's averaging 37 yards per game? Hear me out. In the last three games with Matt Ryan at QB, Campbell has been very productive. He's been targeted between nine and 12 times in those games while posting between 57 and 76 yards. Campbell has also scored in the last two games.
With the Colts having issues with pass protection, Ryan has to get the ball out quickly, and usually to the middle of the field. Campbell has been playing over 80% of the snaps this year. But his big advantage is that he plays mostly in the slot, which is exactly where Ryan has been throwing the ball.
Although many will see that he's facing the Eagles and immediately cross off the WRs facing them, that may be a mistake. James Bradberry and Darius Slay line up mostly on the outside, and slot CB Avonte Maddox is on the IR. That gives Campbell the best matchup between the Colts WRs.
Also Consider - CeeDee Lamb, Courtland Sutton, Nico Collins
NFL DFS Week 11 Tight Ends for FanDuel & DraftKings
Tyler Conklin - Jets at Patriots - DK $3,400 FD $5,000
When a limited offense with a questionable QB faces the Patriots, it often means doom for that offense. However, Bill Belichick usually identifies the opponent's most dangerous weapon and seeks to eliminate him from the game. In this case, Garrett Wilson has to be the player they target.
When these teams met in Week 8, Conklin caught six of 10 targets for 79 yards and two TDs. Despite his performance, I don't expect the Patriots to pay special attention to Conklin. But I do expect the defense will get pressure on Zach Wilson. That will result in him needing to get the ball out quickly.
And it's not like the Patriots have done well against TEs this year, they give up the fifth-most fantasy points per game to the position. Altogether, that should result in another productive game for Conklin.
T.J. Hockenson - Vikings vs Cowboys - DK $5,300 FD $6,500
After averaging six targets when he was with the Lions, Hockenson has been a featured part of the Vikings' passing attack. In two games, he has 16 catches and 115 yards on 19 targets. Kirk Cousins has always had strong success when throwing to the middle of the field. And his chemistry with Hockenson was immediately present.
Although he'll face a Dallas defense that allows about 35 yards per game and the second-fewest fantasy points to opposing TEs, this might not be as bad of a spot as it might appear. Dallas was missing LB Anthony Barr last week, and even if he returns, he may be at less than 100%, Barr is an important part of how Dallas defends TEs.
And also, with Hockenson often running out of the slot, the Cowboys are without their excellent slot CB Jourdan Lewis. In a game with great shootout potential, Hockenson is a cheap way to get a piece of the Vikings' offense.
Also Consider - Dalton Schultz, Cole Kmet
About the Author
Coventry nabbed a No. 1 finish and placed in the top 50 in five large-field DFS contests while entering just a single entry in each. He also was a triple crown winner (total points, best record, and playoff champion) in the 2022 King's Classic auction league. He began playing fantasy football in 1994 and has been an analyst since 2007. He's a deputy NFL editor with RotoWire and hosts SiriusXM shows on the weekends, as well as writing on DFS for Bookies.