NFL DFS Week 18 Value Plays & Best Picks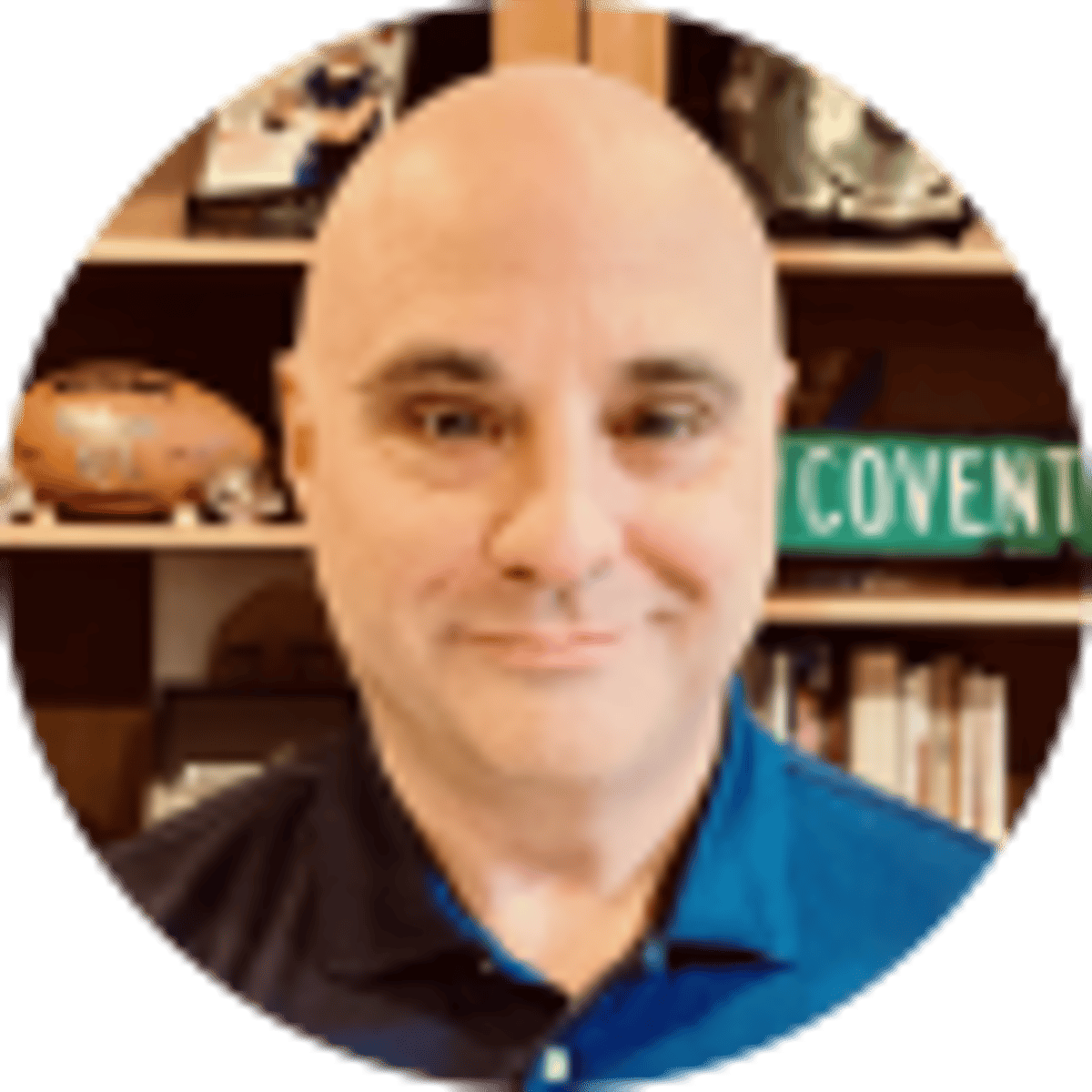 By Jim Coventry | 12 mins
Week 18 is always tricky. 13 teams have been eliminated from playoff contention and technically have nothing to play for. But of those 13 teams, the Jets, Browns, Raiders, Rams, and Cardinals play divisional opponents that have playoff spots or seeding on the line. Those teams may take pride in knocking down their divisional rival.
On the other hand, any of the 13 eliminated teams that choose to play reserve players could greatly boost the daily fantasy sports value of the players on the opposing teams. Finally, there are three teams who are locked into their playoff spots.
That group is composed of the Giants, Buccaneers, and Vikings. These teams can either pull starters out early, not play them at all or decide to play them as if it's a regular game. So the point is that we need to be careful to understand the added volatility that this week brings.
NFL DFS Week 18 Main Slate, Ranked by Over/Under
Lions vs Packers - 49
Vikings vs Bears- 43.5
Giants vs Eagles - 43
Panthers vs Saints - 41.5
Rams vs Seahawks - 41.5
Cardinals vs 49ers - 41.5
Cowboys vs Commanders - 41
Browns vs Steelers - 40.5
Buccaneers vs Falcons - 40.5
Chargers vs Broncos- 40
Jets vs Dolphins - 38.5
Texans vs Colts - 38
Highest Implied Team Totals
Eagles - 28
Packers, 49ers - 27
Vikings - 25
Seahawks - 24
Cowboys, Saints - 23
Lions, Falcons, Steelers, Chargers - 22
Bears, Colts - 21
Dolphins - 20
Jets, Browns, Panthers - 19
Texans, Commanders, Broncos, Buccaneers - 18
Rams - 17
Giants - 14
Cardinals - 13
NFL DFS Week 18 Quarterbacks for FanDuel & DraftKings
Kirk Cousins - Vikings at Bears - DK $6,500 FD $7,700
Cousins is coming off of one of three games this season in which he was atrocious. With the Vikings having one game left until the playoffs begin, it'll be very important for them to go into the postseason on a high note.
They couldn't have a better opponent to get right against than the Bears. Chicago has been one of the worst coverage teams in the league, and two of their top three cornerbacks are on injured reserve. They also have very little ability to pressure opposing quarterbacks. Before his meltdown last week, Cousins was on fire.
In his prior three games, he was averaging 395 passing yards and three touchdowns. Last week was an unfortunate blip on the radar. But this week, there's no reason to expect anything other than Cousins reverting to the high level of play we were getting used to seeing.
Andy Dalton - Saints vs. Panthers - DK $4,800 FD $6,500
Dalton should only be considered in tournaments, as he always has the potential for a very low floor. Although he's only thrown multiple touchdown passes in four games this season, he's been much better at home than on the road. Over his last four home games, he's thrown multiple touchdowns in three of them.
On the season, he's had one of the tougher schedules for quarterbacks during the second half of the season. That goes a long way in explaining why he's had a number of terrible games. And of course, his production over the last few years reminds us that he's never been a consistent fantasy producer. However, he couldn't ask for a better matchup this week.
Even though both teams have been eliminated from playoff contention, Carolina took a very tough loss last week, which likely demoralized them. But more importantly, they are without their two top cornerbacks. Donte Jackson and Jaycee Horn are both on injured reserve. The Carolina secondary goes from being average to terrible without these two players.
However, they've been excellent against the run, so opponents are already motivated to attack through the air. If this game produces a lot of points, Dalton could surprisingly have a big fantasy day.
Jalen Hurts - Eagles vs. Giants - DK $8,200 FD $9,000
Obviously, Hurts has not played in a number of weeks since suffering a shoulder injury. Although it's not a guarantee that he plays this week, the Eagles are in desperate need of a win. Should they lose this game, they not only could lose the top seed in the conference, but they could fall behind the Cowboys.
That would force them to play their first playoff game on the road. Hurts is a tournament-only play because there are significantly more variables than usual. If he's not fully healthy, he could be taken out of the game early or suffer a setback. Also, if the Eagles get out to a big lead early, they could also choose to remove him from the game. But if he's allowed to play his normal style of game, this is an eruption spot.
Not only have the Giants had major problems in their secondary, but injuries should force them to play reserves. In addition, New York has locked up their playoff seeding, so they would be wise to rest any players who are less than one hundred percent healthy. For those willing to bet that Hurts will play a full game, he brings a ridiculous upside to our FanDuel Fantasy lineups.
Also Consider - Tom Brady
NFL DFS Week 18 Running Backs for FanDuel & DraftKings
Christian McCaffrey - 49ers vs. Cardinals - DK $9,300 FD $10,000
Down the stretch, the 49ers have leaned heavily upon McCaffrey. As a result, he's posted at least 25 PPR points four times over his last five games. He's also averaging 25 touches over the last three weeks. And now he'll have his easiest matchup of the season. He'll be up against a Cardinals defense that has been in freefall.
They have placed three of their starting defenders on injured reserve. They also have other players who have missed time recently and could be held out in a meaningless season finale. Meanwhile, the 49ers still have a chance to earn the top seed in the conference.
In a game that they should control easily, they should be expected to lean heavily upon McCaffrey yet again. Despite his extreme price tag, he easily could have his best game of the season in a perfect situation.
Miles Sanders - Eagles vs. Giants - DK $5,900 FD $6,700
Sanders has only had three big games this season. But each of those games was somewhat predictable. In an early-season monsoon, he was heavily used against Jacksonville. Then in Weeks 12 and 14 against the Packers and Giants, he faced a pair of defenses that focused on the Eagles' passing attack while lacking the resources to stop the run.
Sanders didn't need excessive volume in either of those games to pile up at least 28 PPR points. In a game that Philadelphia must win in order to secure the top seed in the conference, they'll have a rematch against the Giants. New York is locked into their playoff position, and it has no reason to play its starters.
But even if they do, they have a number of injured players who are unlikely to play. And even at full health, this has been one of the weaker defenses against the run all season. This could be a game where both the Eagles' rushing and passing attacks have big games. There's an excellent chance that this is his fourth huge game of the season.
Cam Akers - Rams at Seahawks - DK $6,200 FD $7,300
There's nothing wrong with riding the hot hand. Akers has over 100 scrimmage yards in each of his last three games. And he has at least 118 rushing yards in each of his last two contests. Even though his production in recent games came against defenses that are terrible against the run, his string of schedule fortune will continue.
He'll be facing a Seattle defense that he scored two touchdowns against back in week 13. The Seahawks have allowed the 6th-most rushing yards and the third-most DraftKings Fantasy points to opposing running backs this season. It's clear that coach Sean McVay does not want to force Baker Mayfield to drop back and pass the ball 40 times, and that running the ball is their best path.
Despite the Rams having been eliminated from playoff contention long ago, they still are playing each game to win. Just as it's been the last few weeks, that means that Akers will be the engine to the offense. He has both a high floor and ceiling in this game.
Also Consider - Dalvin Cook, Zack Moss, Kenneth Walker
NFL DFS Week 18 Wide Receivers for FanDuel & DraftKings
Justin Jefferson - Vikings at Bears - DK $9,100 FD $9,000
Jefferson is coming off of his worst game of the season. In a contest that the Vikings needed to win to have a chance to compete for the top seed in the conference, the entire offense fell flat. Most of the blame falls on Kirk Cousins. But Green Bay also did a solid job defensively of making it difficult for Jefferson to get as open as he usually does.
Even though Minnesota has nothing to play for in this game, it seems improbable that they will want to go into the playoffs without being at the top of their game. Jefferson will be facing a Chicago defense that has been one of the worst coverage units in the league this year. He torched them for 12 catches and 154 yards back in Week 5.
And that was when they had their full complement of cornerbacks and safeties. In this game, Chicago will be without three of their top five players in the secondary. They also have little ability to pressure the quarterback. There's an excellent chance that Jefferson scores at least 30 fantasy points this week.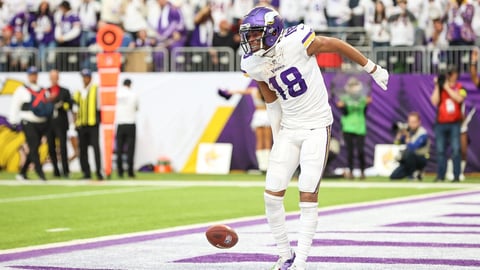 Rashid Shaheed - Saints vs. Panthers - DK $4,200 FD 5,800
Shaheed has emerged as a regular part of the Saints' passing attack over the last five weeks. During that time he's posted between 41 and 95 yards in each game. And over the last 5 weeks, he's averaging five targets per game.
Although the target total is low, he has been extremely efficient with his opportunities. He's also been a consistent big-play threat. Over the last four games, Shaheed has recorded a 40-yard reception in three of those contests. This week, New Orleans will face a Carolina defense that's been excellent against the run but weak against the pass. They also have had significant injuries to their secondary.
With most of the defensive attention being placed on Chris Olave, that should allow Shaheed to see favorable coverage. Even if he continues to see lower target volume, his inexpensive DFS salary accounts for that. Not only should he have a stable floor, but should he turn a long play into a touchdown, he could turn that floor into an instant upside.
A.J. Brown - Eagles vs. Giants - DK $8,000 FD 8,300
Brown has been an excellent floor play for most of the season. And although he hasn't had the ceiling games that we would have liked, he's shown the potential to post 30-point fantasy performances when the situation is right.
He's had two such games since Philadelphia's Week 7 bye. Although his targets haven't been through the roof, his lack of targets has allowed teammate DeVonta Smith to have a number of ceiling games. The emergence of Smith as a game-breaker will force defenses to not overplay their hand by selling out to stop Brown.
He'll be facing a Giants defense that has been terrible in pass coverage, and they also have significant injuries in their secondary. In addition, New York has locked up their playoff spot and has nothing to play for.
As a result, it's unlikely that they'll play their injured defenders in a meaningless game. Although Smith has been the bigger producer over the last five weeks, Brown now makes for a contrarian play with a slate-breaking upside.
Also Consider - Brandon Aiyuk, Jahan Dotson, Garrett Wilson
NFL DFS Week 18 Tight Ends for FanDuel & DraftKings
Gerald Everett - Chargers at Broncos - DK $4,100 FD $5,500
Everett will only be a tournament play this week. He's had inconsistent usage in the Chargers' passing attack. Although he was averaging six targets per game in Weeks 12 through 15, he's only been targeted three times over his last two games. And in those last two games, Donald Parham has seen the same number of targets.
So why would we consider looking at Everett this week? It's all about the matchup. The Chargers will be facing a Denver defense that has been amazing in its ability to slow down opposing wide receivers. However, they have been horrible in their defense against opposing tight ends. In the last five weeks alone, seven different tight ends have posted at least 43 yards against them.
Yes, that's more than one tight end per game with meaningful production. Tyler Higbee recently had 94 yards and two touchdowns against this unit. When teams game plan to face Denver, they've realized that the middle of the field is the best place to attack.
Assuming the Chargers do the same, Everett could easily have a big game. Those who want to take a similar risk but save more DFS salary could certainly pivot to Parham as well.
Dalton Schultz - Cowboys at Commanders - DK $4,500 FD $6,500
On paper, this is not a great matchup. Over the course of the season, the Commanders have allowed the fourth-fewest fantasy points to opposing tight ends. But in terms of the way this matchup is constructed, Schultz should find himself in a more favorable spot than anticipated.
Over the course of the season, the Washington pass rush has continued to get better over time, and they have been very difficult on opposing offenses down the stretch. They also have been very solid in their coverage against wide receivers. The advantage that Schultz has is his chemistry with Dak Prescott. When Prescott is under pressure, he's very good at getting the ball out quickly.
When that happens, Schultz has been very reliable at finding the vacated spot in the defense, allowing his quarterback to find him for easy completions. He's also a big part of the offense in the red zone, so he always has a chance to score a TD. Again, the matchup is difficult, so Schultz is best used as a tournament-only option.
Also Consider - Tyler Conklin, Tyler Higbee
About the Author
Coventry nabbed a No. 1 finish and placed in the top 50 in five large-field DFS contests while entering just a single entry in each. He also was a triple crown winner (total points, best record, and playoff champion) in the 2022 King's Classic auction league. He began playing fantasy football in 1994 and has been an analyst since 2007. He's a deputy NFL editor with RotoWire and hosts SiriusXM shows on the weekends, as well as writing on DFS for Bookies.
Our trusted sports betting partners bring you safe and fun playing experiences