By Josh Katzenstein | | 7 mins
SLIPS: Vikings Upset Means NFL Wild-Card Bounty For Books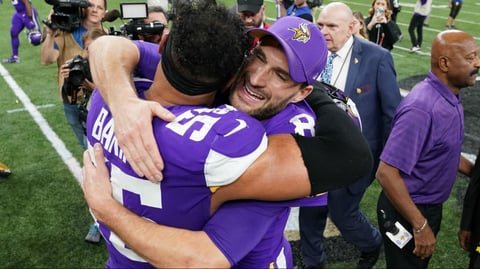 15
PLAYERS REDEEMED TODAY!
Veteran sports reporter Josh Katzenstein, who has covered both the Detroit Lions and New Orleans Saints, takes a deep dive into the weekend's NFL betting slips, including where the money went, the bad beats, amazing covers, stunning parlays and more.
---
Defense wins championships, and that old mantra helped bookmakers cash in during the opening round of the NFL postseason betting.
The under hit in all four games during the wild-card round Saturday and Sunday to start the NFL playoffs. Though bettors favored the under in two games, the incredibly popular over in the game between the Minnesota Vikings and New Orleans Saints helped the books cash in.
Plus, the underdog Vikings and Titans won outright so books avoided paying out costly parlays. Had the Saints and New England Patriots won, bettors had a chance at big payouts.
The Vikings game Sunday afternoon was a dream for most books. William Hill had 73% of tickets and 78% of money on Saints at -7.5, and the book also had 83% of tickets and 82% of money on over 50. Minnesota won outright 26-20 and, even with overtime, the total was just 46.
Bogdanovich said the Vikings game was the best for the William Hill "by a mile."
"It carried the whole weekend, for sure," he said. "That was a monster game."
---
RELATED: NFL Wild-Card Playoff Betting Takeaways: Under Strikes Again
---
Bettors at DraftKings loved the Saints -7.5, too, with 77% of tickets and 81% of the handle on New Orleans, and Sugar House had 77% of tickets on the Saints as well as 76% of tickets on the over.
PointsBet actually saw late action on the Vikings, which resulted in 59% of spread tickets on New Orleans and 58% of the handle on Minnesota, but for the most part, books wanted the Vikings to cover, which they did with ease as they never trailed by more than 7 and at one point led by 10 before winning on the first drive of overtime.
"There was plenty of Viking money and Viking moneyline money, but all the teasers and all the moneyline parlays to the Saints just made the entire week," Bogdanovich said. "It was as big a game as you can win."
The Seahawks, in a pick'em at William Hill, was a a bad game for William Hill. Bettors placed 81% of tickets and 83% of the handle on Seattle, which beat the Eagles 17-9. William Hill also took 68% of the handle on under 45.
Bettors were more indecisive on Saturday's AFC games. William Hill saw 56% of spread tickets on Texans at -2.5, but 52% of the handle was on the Bills. Under 43 was also good for bettors with 62% of tickets and 66% of the handle. The Texans won in overtime, 22-19.
When you cover by a half a point ? pic.twitter.com/1Kc2tB8gYg

— FanDuel Sportsbook (@FDSportsbook) January 5, 2020
In the late Saturday game, William Hill had 56% of tickets and 55% of the handle on the Patriots at -4.5. Bettors slightly preferred over 45 with 52% of the tickets and 60% of the handle. Tennessee won, 20-13, as New England's season ended before the divisional round for the first time since the 2009 postseason.
---
COMPARE: Super Bowl odds from the top US sportsbooks
Bettors Wagering in Droves
Bogdanovich said William Hill has been seeing a ton of action during the past month with the NFL and bowl games.
"Insane amount of business," he said. "It just keeps growing and growing and growing, but it was a good week for (us). The handle on these games were so strong I really don't know what to say anymore, other than the economy is good and people love betting sports."
Bogdanovich said he didn't see any bets for over $100,000 during the wild-card round, but there were a lot around that number as bettors keep trying to beat the house.
"It's been a 20-day rush because every day there was a bowl game and it just rolled and rolled and rolled," he said. "Yesterday seemed like the exclamation point on a 20-day run of nonstop football action. It was so busy. The weekend was just so busy."
Bogdanovich expects the betting craze to continue next weekend with the NFL divisional matchups.
Check out the latest AFC title odds and NFC title odds before the field narrows further.
NBA Good For Books, Too
William Hill had a big day in the NBA on Sunday, too, thanks to the New York Knicks and Miami Heat. The Los Angeles Clippers were favored by 8 to 10 points at home against the Knicks, but the Clippers won by just 3, resulting in a "dynamite" decision for William Hill, according to Bogdanovich.
The Portland Trail Blazers were 5-point underdogs in Miami and bettors backed the road team. The Heat won by 11 to cover.
Pelicans Heating Up
With fewer NFL games, bettors will now turn more attention to NBA betting, and one of the hottest NBA teams now is the New Orleans Pelicans.
After a terrible start the Pelicans have covered in five of their past six games and six of their past eight. A loss to the Warriors on Dec. 20 dropped New Orleans to 7-23 and seemed like a low point, but the Pelicans are heating up.
Their lines will shift a bit when No. 1 pick Zion Williamson returns. Williamson began practicing last week, and it appears his debut could come later this month if he continues progressing.
Notable Bets
A bettor at DraftKings turned a $25 free bet into nearly $16,000 with an 11-leg parlay that included NBA and NFL action.

$25 Free Bet ➡ $15,986.25 ?

Jokic Double-Double
Sabonis Double-Double
Garland over 3.5 assists
Celtics -2.5
Pistons -3.5
Pelicans/Kings over 214.5
Raptors/Nets over 206.5
Ingles over 2.5 threes made
Doncic over 31.5 points
Titans +14.5
Vikings -2.5#MakeItReign pic.twitter.com/HwmWESpvXL

— DraftKings Sportsbook (@DKSportsbook) January 6, 2020

Another DraftKings bettor hit a 12-team moneyline parlay to turn $1,700 into more than $11,000, betting on 11 college basketball games as well as the Texans.

12-Team Moneyline Parlay ➡ $11K+ ?

- South Dakota State
- Western Kentucky
- Louisiana Tech
- Belmont
- Tennessee State
- Radford
- Austin Peay
- Charleston
- Wichita State
- Hofstra
- Kansas
- Texans#MakeItReign pic.twitter.com/eTOQX2izVr

— DraftKings Sportsbook (@DKSportsbook) January 5, 2020

A William Hill bettor made nearly $5,000 after hitting a $10 parlay with 10 NBA legs.

Congratulations to the @WilliamHillNV bettor who cashed in for $4,972.25 when they went a perfect 10-for-10 on their $10 10-leg ? parlay yesterday. #WHWinners pic.twitter.com/rWzlOwDQdR

— William Hill US (@WilliamHillUS) January 5, 2020

Titans tight end Anthony Firkser was 66-to-1 at DraftKings to score the first touchdown on Saturday, and one bettor's $15 wager paid off $1,005.

The biggest bet for Anthony Firkser to score first: $15

That bettor won $1,005 ?#TENvsNE | #MakeItReign pic.twitter.com/lsItKUeBVN

— DraftKings Sportsbook (@DKSportsbook) January 5, 2020

PointsBet took a $9 parlay and a $5 parlay from the same bettor on the Bills-Texans, Vikings-Saints & Seahawks-Eagles games all going into overtime. The bettor would have won $50,000 had the Eagles sent the game to overtime, but Seattle's victory in regulation prevented the big betting win.
About the Author
Josh Katzenstein is a former NFL beat writer. He spent the past three years covering the New Orleans Saints for NOLA.com | The Times-Picayune. His work can also be found at Bleacher Report.