NASCAR Season Finale 500 Odds, Best Bets & Championship Tips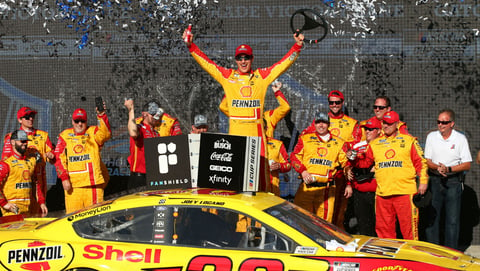 Over the course of one Virginia afternoon, everything about the NASCAR championship race went topsy-turvy. And the most dominant driver this season – with +160 odds of winning it all as of last week – was shockingly ousted from the Cup Series title hunt.
And with Kevin Harvick out, now it's anybody's ballgame and a great NASCAR betting opportunity. Three of the four drivers who qualified for the Championship 4 at Phoenix — Chase Elliott, Denny Hamlin and Brad Keselowski — hold identical +250 title odds, while Joey Logano is a tick behind at +270. The top finisher from that group Sunday wins it all, so expect as much high drama in the desert at Phoenix Raceway in the apt-named Season Finale 500 as we witnessed in Martinsville last week.
NASCAR Season Finale 500 Odds & Best Bets
NASCAR Odds current as of publication and subject to change
Joey Logano to Win (+500)
Three days before the coronavirus shut down the sports world, Logano won at Phoenix and looked every bit the sport's top driver. It was his second career victory in the desert and third straight top-10, a run of consistency on the one-mile oval that none of his championship rivals can match.
While Harvick is the odds favorite to win the race at +400, finales under this system have been dominated by title contenders. And of those, Logano, stands out. Ride with Logano at BetMGM.
Logano to Win Championship (+270)
Logano's Phoenix victory in March was his second in the season's first four weeks. He didn't win again until October, looking every bit a driver who was missing practice. But that win at Kansas ignited a string of top-10s that have rocketed Logano back into the championship hunt, which concludes at one of his best tracks.
It may have been hard to believe five months ago, but Logano now feels like the driver to beat —despite the odds. Double up on Logano at BetMGM.
---
Chase Elliott Top 3 (+120)
Elliott has gotten to the Championship 4 the hard way, by winning two straight elimination races. The kid has been clutch, but also somewhat erratic, with two finishes in the playoff of 20th or worse. At Phoenix, he's finished top-10 just once in his last four starts.
Elliott is gritty enough to keep himself in contention, but bettors taking him to win the race (and the title) are asking for a degree of consistency he hasn't shown. But you should still back him to finish top-3 with Unibet.
---
Brad Keselowski Top 3 (+120)
Meanwhile there's Keselowski, who's been under the radar for the entire playoffs and has quietly been churning out enough top-10s to get him into the Championship 4. Yet Keselowski hasn't won in nearly two months, and he's never won in Phoenix, where he has top 10s in just two of his last six starts. The same pattern we've seen over the postseason would seem worth following here—Keselowski up near the front, but not in Victory Lane. Wager on it with DraftKings.
---
Denny Hamlin Top Toyota (-125)
What the hell has happened to Hamlin? Since winning at Talladega he's finished in the top 10 just once, and nearly joined Harvick in getting bounced out of the playoffs at Martinsville. With two wins, Hamlin's Phoenix resume is very good. But it's hard to envision him battling for the victory and the title given what we've seen over the past month. Taking him to pace the Toyota camp is a sensible hedge, even if it presents negative value. Make the bet at Unibet.
---
Aric Almirola Top 10 (+105)
While other elite drivers such as Harvick and Kyle Busch promise to be in the mix Sunday, they don't present any value to bettors for finishing in the top 10. Meanwhile there's Almirola, who's been excellent at Phoenix ever since joining Stewart-Haas Racing, with top-10s in five of six starts for the organization.
Very capable of capping one of his best Cup Series seasons with another top-10, Almirola brings value that better-known drivers don't. Wager on it with FOX Bet.
---
Kurt Busch Top 10 (+105)
And then there's the elder Busch brother, who's been undervalued all season, and is more than capable of contending on a track where he has one career victory and has finished in the top 10 in eight of his last 12 starts. The resurgent Busch has been on a real nice finishing kick this season, posting top-10 finishes in four of six starts since his victory in Las Vegas, and shouldn't go overlooked by bettors this week. Wager on Busch with DraftKings.
NASCAR Season Finale 500 Race Information
Race Name: Season Finale 500
When: 3 p.m. ET Sunday
Where: Phoenix Raceway, Avondale, Arizona
TV: NBC
About the Author

Veteran sports journalist David Caraviello has covered college football, college basketball, motorsports and golf, covering all three US golf majors, the Daytona 500 and SEC football.