Biggest College Football Point Spreads and How to Bet Them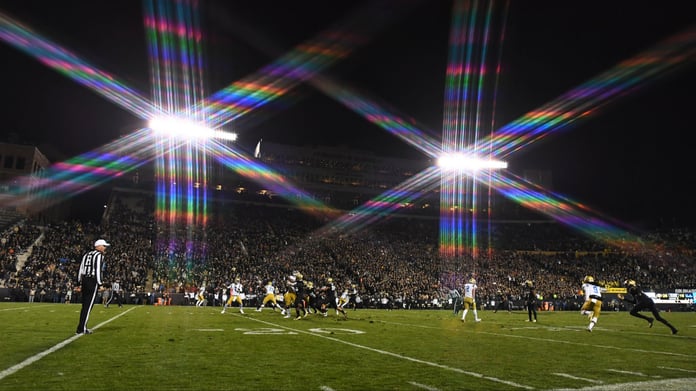 At first glance, it looks like a mistake: 51 points?
But indeed, it's real. On the heels of debuting its new, spread offense to dazzling effect in a victory over Texas, LSU is a whopping 51-point favorite on Saturday against poor Northwestern State, an FCS program from (you guessed it) northwestern Louisiana. On a weekend that features plenty of big point spreads, it's the biggest.
But should you bet it? That's the question that vexes bettors when it comes to these massive point spreads, which remain in abundance in Week 3 given that most power conference squads haven't yet entered the thick of league play. This weekend brings 21 spreads of 27 points or more, and 14 of 31 points or greater.
Some are real doozies, like Texas A&M being favored by 43.5 over Lamar, and Miami by 41 over Bethune-Cookman. But that 51-point spread in the LSU-Northwestern State game stands alone. And here's the rub: It's actually rather tempting, given the opponent and the rate at which the Tigers are scoring points.
---
CHECK OUT: Our 5 Best Bets for College Football Week 3 and Complete Picks for Every Top-25 Team. If you are looking for the latest odds go here and compare the top sportsbooks.
---
Largest Week 3 College Football Point Spreads
| Game | Underdog Moneyline |
| --- | --- |
| LSU (-51) vs. Northwestern State | N/A |
| La.-Lafayette (-47) vs. Texas Southern | N/A |
| Texas A&M (-43.5) vs. Lamar | N/A |
| Miami (-41) vs. Bethune-Cookman | N/A |
| Toledo (-38.5) vs. Murray State | N/A |
| Oregon (-36.5) vs. Montana | N/A |
| Utah (-36.5) vs. Idaho State | N/A |
| Auburn (-35) vs. Kent State | N/A |
| Missouri (-34) vs. SE Missouri State | N/A |
| Georgia (-33.5) vs. Arkansas State | N/A |
| Texas (-32) @ Rice | N/A |
| Boise State (-31.5) vs. Portland State | N/A |
| Ole Miss (-31) vs. Southeastern La. | N/A |
| Tulane (-29) vs. Missouri State | +1900 |
| Tennessee (-28) vs. Chattanooga | +1900 |
| Clemson (-28) @ Syracuse | N/A |
| Georgia Tech (-27.5) vs. The Citadel | +1500 |
| Coastal Carolina (-27) vs. Norfolk State | +1800 |
| Alabama (-26) @ South Carolina | +1400 |
| Wyoming (-25) vs. Idaho | +1700 |
All odds via 888Sport. Go to the top of this article to bet these games and go here to check the latest NCAA football odds.
---
Remember Alabama
First, a cautionary tale. Alabama was an even bigger favorite last weekend against New Mexico State, an FBS opponent at that, and won 62-10 but failed to cover the 55-point spread. Quarterback Tua Tagovialoa played one series in the second half, and turned the rest of the game over to his backup. The big question with these massive spreads often isn't whether the favored teams can cover, it's whether they'll leave their best players in long enough to have a chance.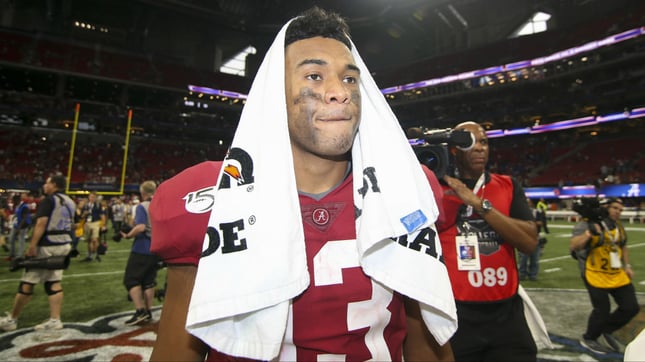 LSU will certainly face a similar situation Saturday at Death Valley, and it's hard to see quarterback Joe Burrow and company playing much after the game gets out of hand. Once the backups get in, a 50-point spread might as well be 100. Plus, coaching is a tight-knit fraternity, and coaches will often get real conservative in their play-calling with a huge lead to try and not embarrass their counterpart on the opposite sideline.
LSU certainly doesn't have a track record of beating the unmerciful hell out of outmanned opponents. The Tigers defeated their FCS foe last year, Southeastern Louisiana, 31-0. The year before, they beat Chattanooga 45-10. In 2016 they downed Jacksonville State 34-13. LSU hasn't beaten an opponent by 50 or more since 2014, when they hammered Sam Houston State 56-0.
Of course, they haven't had an offense like this one, either. And Northwestern State hardly shapes up as much of a quarry: The Demons lost their opener 42-20 to Tennessee-Martin, and were beaten last weekend 33-7 by Midwestern State—a Division II program. So yeah, if you're going to touch this game at all, it makes sense to take the Tigers covering 51.
---
RELATED: LSU QB Joe Burrow Surges in Heisman Odds to Third in Many Sportsbooks
---
Underdogs to Back: Citadel and Chattanooga
Of the 15 most lopsided spreads in Week 2, nine covered, the biggest being Florida beating Tennessee-Martin 45-0 to cover 42.5. Texas Tech and Virginia each covered 34.5-point spreads by a half a point. And 36-point favorite Arizona State instead got an unexpected battle from Sacramento State, laboring through a 19-7 victory.
What games look intriguing this week? Alabama -26 at South Carolina is the lone conference matchup among the big point spreads, and will undoubtedly be tempting to some given how the Gamecocks can give opponents fits at home.
The Citadel is a 27.5-point underdog at Georgia Tech, but will pit its option offense against what could be the worst team in the ACC. And 28 points against Chattanooga seems an awfully big line for a Tennessee team with zero self-confidence and no room for error.
But the heavy favorites should rule Saturday, with Miami, Oregon, Utah, Notre Dame, Georgia and Texas all in strong positon to cover spreads that range from 32 to 41 points. And then there's LSU, and whether coach Ed Orgeron will keep his starters in long enough to go up by 51 on Northwestern State.
• • •