FIBA World Cup Betting: 3 Teams That Could Upset Team USA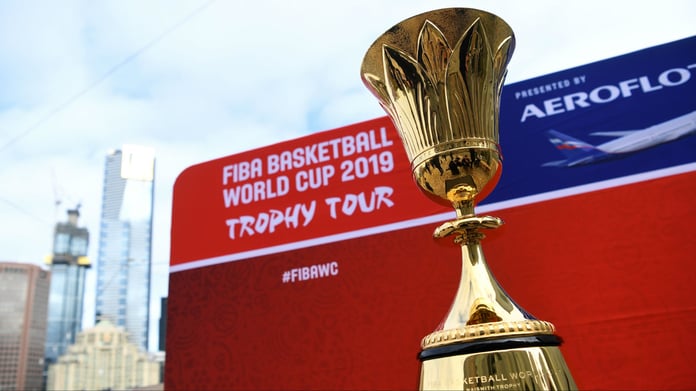 Team USA is still the prohibitive favorites to win their third consecutive FIBA World Cup, but the recent string of star players opting out of next month's tournament in China has resulted in a drastic shift in multiple teams' gold medal odds.
In the last week, Anthony Davis, James Harden, Bradley Beal, Damian Lillard, Kevin Love, DeMar DeRozan, Zion Williamson, Tobias Harris, Eric Gordon, Paul Millsap and C.J. McCollum have all withdrawn from training camp, which will take place next week in Las Vegas. For those counting at home, that's 24 combined All-Star appearances, an MVP, an NBA champion, three All-Pros and four of the league's top-11 scorers from a year ago opting out of the tournament.
Despite those departures, USA still has the most talented roster – why they're still favorites – led by All-Stars Kemba Walker, Khris Middleton, Kyle Lowry and Andre Drummond. But their odds have taken a huge dip. Prior to the exodus of talent, Team USA had -800 odds to three-peat the FIBA World Cup. In the wake of Love's decision, those odds have plummeted to just -305 on 888Sport.
Hey, USA 🇺🇸! The #FIBAWC Trophy Tour presented by @Aeroflot took in the sights of LA! 🏆✈️🌎 #USAGotGamepic.twitter.com/6CgaGRcP8X

— Basketball World Cup (@FIBAWC) July 9, 2019
Other contenders have subsequently seen their odds slashed. Here are three teams with attractive odds that could upset the Americans and win the gold medal in China next month.
---
RELATED CONTENT: Why you should bet on Team USA despite players opting out
---
1. Serbia (+500)
Serbia has the second-most NBA talent behind Team USA in the competition, and outside of Greece's Giannis Antetokounmpo, there isn't a more talented international player in the World Cup than Nikola Jokic.
The 7-footer was an NBA All-Star in 2019 who averaged 20.1 points, 10.8 rebounds and 7.3 assists per game, the first center to ever reach those figures. He finished fourth in the MVP voting and has plenty of international basketball experience.
He's one reason the Serbians have the second-best odds of winning gold, with their odds being cut from +600 to +500 in the last few days. But Jokic will have NBA company surrounding him for Team Serbia.
Both Bogdan Bogdanovic and Nemanja Bjelica turned in solid seasons for the NBA's Sacramento Kings, with the former averaging 14.1 points and the latter shooting 40% from beyond the arc. Then there's 7-foot-7 center Boban Marjanovic, who averaged 7.3 points on 62% shooting for the Clippers and Sixers last season. Those four, plus NBA free agent Milos Teodosic, are the best five-man group outside of Team USA. But they're more than just those NBA players, too. The Serbians will also have two solid contributors from EuroLeague. Olympiacos' Nikola Milutinov averaged 11.9 points and 7.9 rebounds, the latter of which ranked second in the league. Bayern Munich's Vladimir Lucic was his team's second leading scorer (10.0 points). Center Miroslav Raduljica was Serbia's leading scorer in last year's qualifying round (13.3 points).
The Serbians lost to Team USA in the gold-medal game in 2014, but they also didn't have Jokic. They're even better than they were five years ago, while the Americans won't have as close to as talented a team as they did the last time around.
2. Spain (+1700)
They're not what they once were when the Gasol brothers were in their prime, but Spain is still the No. 2 team in the FIBA World Rankings and will put a solid group on the floor this summer.
How high can #FIBAWC 2006 Champions Baloncesto España 🇪🇸 go? #EspañaGotGamepic.twitter.com/2ZdsoKUk2q

— Basketball World Cup (@FIBAWC) July 9, 2019
Marc Gasol won his first NBA title in June with the Toronto Raptors and should keep the momentum going as Spain's go-to scorer. He was part of the 2006 Spain team that won gold at the World Cup, the last time the Americans didn't win it all. He'll be joined by Ricky Rubio, who has more international experience than any other NBA player in this competition.
Euroleague stars Sergio Llull, Rudy Fernandez and Victor Claver give the Spaniards a dynamic starting five who have played together for quite some time. Chemistry matters, and they have plenty of it. They moved from +2000 to +1700 in the wake of the Team USA decommits.
3. Greece (+2000)
Giannis Antetokounmpo will become the first reigning MVP to play in the World Cup, and as long as he's in the lineup, Greece has a chance to compete. He's the best player in the tournament and should dominate the competition. But the Greeks also have talent past the Greek Freak.
They went 11-1 in the qualifying last year, led by three-time Greek League MVP Nick Calethes' 19.0 points and 7.0 assists. Ioannis Bourousis (15.1 points, 7.1 rebounds, 4.3 assists) and Giannoulis Larentzakis (9.6 points, 43.3% 3FG), combined with Antetokounmpo and Calethes, could carry Greece with a balanced inside-out attack. Their +2000 odds make for an intriguing play.
• • •