By Mark Strotman | | 3 mins
Why Ja Morant NBA Rookie of the Year Odds Still Great Value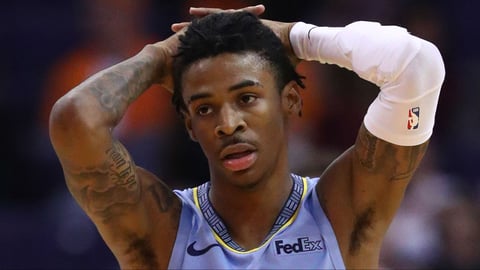 The 2019 NBA rookie class has been a massive disappointment. Just three players have a Player Impact Estimate in double figures – that number the last two classes has been 8 and 11 – and top pick Zion Williamson has yet to play a game; once the Rookie of the Year frontrunner, he's now +1000 to win the award, and the player with the third best odds – Kendrick Nunn – is 24 years old and went undrafted 2018.
It has been an odd year for rookies, but Grizzlies point guard Ja Morant has been the exception. The No. 2 overall pick has been outstanding through 26 games and is beginning to separate himself from the rest of his class. He's posting excellent numbers and is becoming a viral sensation with some of his moves – even his missed ones.
Ja Morant literally almost JUMPED OVER Kevin Love ? pic.twitter.com/7HUqWa1p6O

— ClutchPoints (@ClutchPointsApp) December 21, 2019
At this point, the Rookie of the Year award is his to lose, but he still presents excellent value at -200 at such sportsbooks as Unibet, which you can grab by hitting the blue CLAIM button above. Here's why:
Morant reaching NBA Rookie of the Year thresholds
There have been 14 instances of a rookie averaging 18 points and 5 assists. Of those 14 players, 12 wound up winning Rookie of the Year. The two exceptions? Trae Young, who lost to Luka Doncic (who also met those thresholds) and Magic Johnson, who lost to Larry Bird.
Morant is averaging 17.9 points and 6.4 assists through 26 games, and there's no Luka or Larry in this class. He leads rookies in points – and 12 of the last 18 Rookie of the Year winners did that – and assists per game; since 2000, the five rookies to accomplish that feat all won Rookie of the Year (Michael Carter-Williams, 2014; Damian Lillard, 2013; Kevin Durant, 2008; Brandon Roy, 2007; Chris Paul, 2006).
Morant is in no real danger of losing either of those titles, either. He's 1.7 points and 2.8 assists clear of Kendrick Nunn (16.2 points, 3.6 assists). From a numbers perspective, Morant is meeting every qualification that in the last 20 years has meant a Rookie of the Year crown. When it comes to NBA rookie of the year betting indicators, there are few better.
Zion Williamson isn't coming back soon
Zion Williamson was the prohibitive favorite for Rookie of the Year entering the season, with odds as short as -286 before he had ever played a professional game. But his offseason knee surgery has sidelined him through the first 30 games of the season, and apparently he isn't close to a return and is re-learning how to walk and run as part of his rehab process.
The Pelicans are 9-23 and have no shot at making the postseason, so there's no reason for New Orleans to rush back their franchise player. He was the only real threat to Morant, but it appears for now that his first season as a professional will be lost to this knee injury. Williamson is +1000 to win Rookie of the Year, but no rookie has ever won the award playing fewer than 70 games in a non-lockout season. Zion won't be the first.
---
CHECK OUT: Our Daily NBA Expert Picks
---
Morant's competition isn't all that great
Other Rookie of the Year contenders – as far as oddsmakers are concerned – include New York's RJ Barrett (+750), Miami's Kendrick Nunn (+1000) and Williamson (+1000). Neither Barrett nor Nunn are the focal points of their teams like Morant is, and their numbers don't compare.
Morant's odds began to rise after the NBA Draft, and now all he has to do is keep his current pace and he'll run away with it. At -200, he's still excellent value for an award that he could lock up in the next month or so.
About the Author
Mark is a veteran sports betting journalist who has covered the Bulls and the NBA since 2012. His work has appeared on ESPN.com, FoxSports.com, The Chicago Tribune and Yahoo Sports. He regularly provides NBA betting picks, as well as in-depth sportsbook reviews and the latest promo codes for all the major sports gambling operators, including Caesars Sportsbook, BetMGM, DraftKings, FanDuel and more.