College Football Coaching Hot Seat & Betting Tracker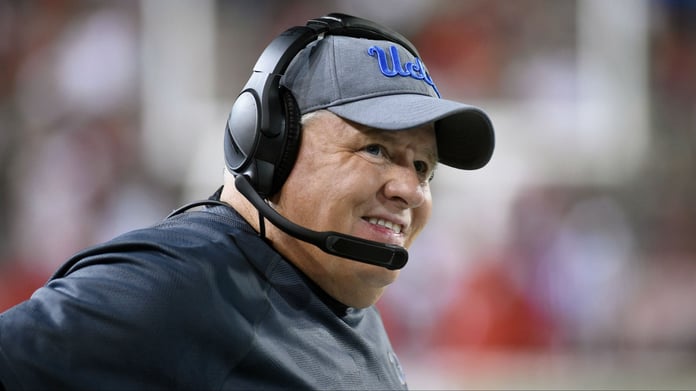 It's always more fun to bet the over. When you have an interest in rooting for something rather than against it, the action on the field only ramps up the energy for the action on the game.
And yet, all college football bettors who toy with over have experienced that moment when they assess the situation and realize that it will not be happening. For many bettors who laid action on season over/under totals, that moment is now. Because entering Week 8, there's just no way some of these programs can hit the over given their records and the number of games remaining.
Failing to meet those expectations means some coaches are likely on their way out. For others, seats are getting uncomfortably warm. Here are the coaches on the hottest seats entering Week 8, and how their next games could impact their fortunes—and yours.
College Football Coaches on the Hot Seat
Coach
O/U wins
Trend
Week 8
Chip Kelly
UCLA
5.5
Warmer
@ Stanford
Derek Mason
Vanderbilt
5
Warmer
Missouri
Chad Morris
Arkansas
6
Warmer
Auburn
Willie Taggart
Florida State
7.5
Warmer
@ Wake Forest
Jeremy Pruitt
Tennessee
6.5
Cooler
@ Alabama
Joe Moorhead
Mississippi State
8.5
Warmer
LSU
O/U win totals set preseason by 888sport
Chip Kelly, UCLA
Why it's warm: Bruins are 1-5 after a loss to Pac-12 doormat Oregon State.
Season win total: 5.5
Next game: at Stanford
Betting impact: It's officially a disaster in Westwood after an inexcusable home loss to the Beavers dropped UCLA to 4-14 in two seasons under Kelly. With six games remaining on the schedule, there's still time for the Bruins to turn things around, get to six wins, and reward bettors who took the over — but who are we kidding.
Underperforming Stanford is the most winnable game UCLA has remaining, and a loss in Palo Alto would require the Bruins to win out to get to six wins. More likely, it would portend the kind of season-ending spiral that makes Kelly's exit academic.
Derek Mason, Vanderbilt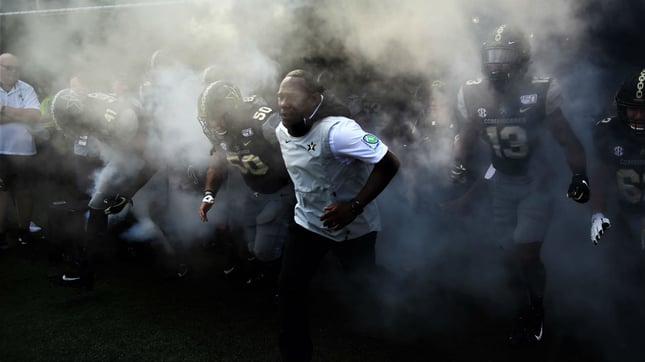 Why it's warm: Commodores fell to 1-5 after a home loss to UNLV.
Season win total: 5
Next game: vs. Missouri
Betting impact: A team from outside the Power 5 coming to Nashville and hammering Vandy 34-10 marks the low point of Mason's six-year tenure, and almost certainly starts the clock ticking on his ouster. Bettors who took the Commodores to exceed a meager five wins—not outlandish, given that they've won six in two of the past three seasons — need a big turnaround in the second half. Getting to six victories would require upsetting one of the ranked teams left on Vandy's schedule, such as Missouri this weekend. Lose that, and there's zero margin for error.
Chad Morris, Arkansas
Why it's warm: Dropped to 0-11 in SEC games with a loss at Kentucky.
Season win total: 6
Next game: vs. No 11 Auburn
---
HEISMAN WATCH: Check out who is up and who is down in the Heisman Trophy race
---
Betting impact: For a head coach who's never won a conference game in two seasons, it's about to get even worse. Arkansas has four ranked opponents remaining in its final six games, beginning this weekend against Auburn. After losing at Kentucky — so depleted at quarterback, it used a wide receiver under center and still won — the Hogs need to win five of their final six to go over the season total. That means beating two of Auburn, Alabama and LSU, which borders on the ridiculous. A more realistic finish is four wins, and Arkansas once again looking for a head coach.
Willie Taggart, Florida State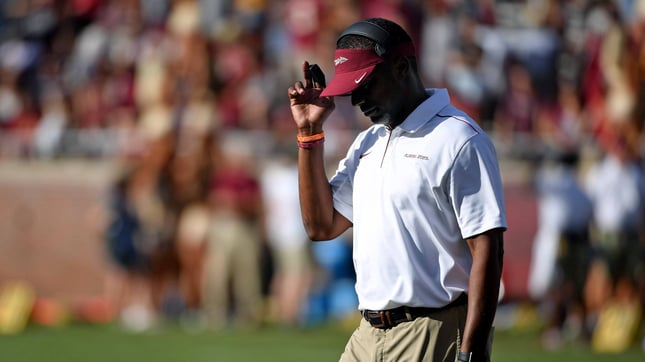 Why it's warm: Botched quarterback management in a loss to Clemson that dropped the Seminoles to 3-3.
Season win total: 7.5
Next game: at Wake Forest
Betting impact: The Seminoles earn their best win of the Taggart era with Alex Hornibrook under center, so of course Taggart starts James Blackman at quarterback at Clemson, and the results are predicable.
As far as getting to eight wins and going over the season total, this weekend against Wake Forest is critical—a victory gives FSU a chance of winning the games it has remaining prior to the showdown against Florida, which would send the 'Noles to Gainesville at 8-3. But lose to the Deacons, and over bettors need a miracle in the Swamp.
Jeremy Pruitt, Tennessee
Thank you to all the fans that pulled up! LET'S GO! #PoweredByTheTpic.twitter.com/wsTWBc3pGA

— Tennessee Football (@Vol_Football) October 12, 2019
Why it's warm: Vols stand at 2-4 in Pruitt's second season.
Season win total: 6.5
Next game: at No. 1 Alabama
Betting impact: A win over Mississippi State takes some of the pressure off in Knoxville, and this weekend at Alabama seems a no-chance game. Barring a shocker in Tuscaloosa, over bettors will need the Vols to win their final five games to get to seven victories and go over the season total.
That would be a small miracle given how things started, but there are several winnable games in that home stretch—like UAB, Kentucky and Vanderbilt. Contests against the likes of South Carolina and Missouri will most likely determine the Vols' (and over bettors') fate.
Joe Moorhead, Mississippi State
Why it's warm: Loss at Tennessee emblematic for a program that's struggling to meet expectations.
Season win total: 8.5
Next game: vs. No. 2 LSU
Betting impact: The Bulldogs have flat-lined under Moorhead, struggling to get production out of the quarterback position and suffering a hard-to-explain loss to Tennessee. This was a program that punched above its weight class under Dan Mullen, and now may labor to finish just with a winning record.
The Bullies need nine wins to reward over bettors, which means sweeping their final six games—a stretch that includes Alabama and LSU. That's not going to happen, and Moorhead's heading toward a make-or-break Year 3 that's reminding everyone in Starkville of just how good a coach Mullen really is.