By Adam Martin | | 3 mins
DraftKings March Madness Promo Code: Bet $5 on A CBB Moneyline & Win $200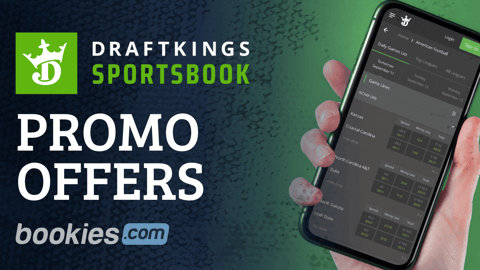 One of the best sporting events of the year is here with the beginning of March Madness this afternoon! And with the DraftKings promo code, new customers can bet $5 and win $200 if any college basketball team wins during the March Madness tournament!
Excited to get signed up with one of the best sports betting sites around and bet on March Madness? Then keep reading on and learn how to sign up for DraftKings Sportsbook today!
How To Get The DraftKings Promo Code
DraftKings Sportsbook has an amazing deal right now for March Madness. All you have to do is bet $5 and win $200 if any college basketball team wins!
Here's how to get the DraftKings promo code for March Madness betting:
Sign up for DraftKings Sportsbook via the sports betting app or website
Make your first deposit of at $5 or more
Bet $5 on any college basketball moneyline and win $200 if the bet cashes!
That's right, you don't have to worry about the point spread. All you have to do is bet $5 on any college basketball moneyline during March Madness, and if they win the game, you'll earn $200 in site credits in the form of eight $25 free bets. What an incredible deal to get started betting at DraftKings Sportsbook!
DraftKings Promo Codes for CBB Betting
DraftKings Sportsbook also offers a 20% first deposit match bonus of up to $1,000. To claim this offer, just make your first deposit with DraftKings Sportsbook, and you'll get a 20% bonus. To get the full $1,000 in bonus credits, you would need to make your first deposit of $5,000.
But even a smaller first deposit such as $100 would still earn you $20 in site credits. Keep in mind there is a 25x rollover attached to this, which means you must bet the bonus 25 times before your bonus credits are paid out.
DraftKings March Madness Betting Promo Codes
The March Madness first round kick off this afternoon, with college basketball betting games such as:
11 Michigan vs. 6 Colorado State 12:15 p.m. (CBS)
13 South Dakota State vs. 4 Providence 12:40 p.m. (TruTV)
9 Memphis vs. 8 Boise State 1:45 p.m. (TNT)
16 Norfolk State vs. 1 Baylor 2 p.m. (TBS)
14 Longwood vs. 3 Tennessee 2:45 p.m. (CBS)
12 Richmond vs. 5 Iowa 3:10 p.m. (TruTV)
16 Georgia State vs. 1 Gonzaga 4:15 p.m. (TNT)
9 Marquette vs. 8 South Carolina 4:30 p.m. (TBS)
12 New Mexico State vs. 5 Uconn 6:50 p.m. (TNT)
15 Saint Peter's vs. 2 Kentucky 7:10 p.m. (CBS)
12 Indiana vs. 5 Saint Mary's 7:20 p.m. (TBS)
9 Creighton vs. 8 San Diego State 7:27 p.m. (TruTV)
13 Vermont vs. 4 Arkansas 9:20 p.m. (TNT)
10 San Francisco vs. 7 Murray State 9:40 p.m. (CBS)
13 Akron vs. 4 UCLA 9:50 p.m. (TBS)
16 Texas Southern vs. 1 Kansas 9:57 p.m. (TruTV)
DraftKings Sportsbook is a premier sportsbook, so get signed up today and start betting on March Madness and all of your other favorite sports at one of the best sportsbooks around.
About the Author

A writer based out of Toronto, Adam Martin has covered professional sports, with an emphasis on sports gambling, for more than a decade, writing for such outlets as The Toronto Star and Sportsnet.