Arizona Department of Gaming Sets Stage for Sports Betting
By Christopher Boan | 4 mins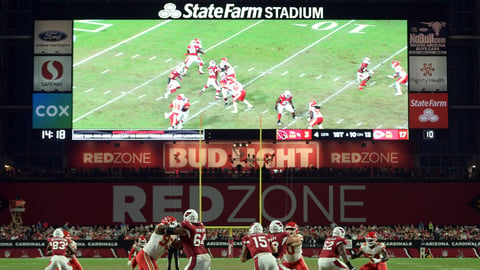 The rollout of sports betting in Arizona appears to be proceeding as planned, with the start date eight days away.
Operators of retail and online sportsbooks can start accepting bets at 12:01 a.m. Arizona time on Sept. 9, with Arizona Department of Gaming Event Wagering & Fantasy Sports Contest Administrator Harold "Hal" Wafer laying out the steps remaining for operators before launch date on a call Wednesday morning.
The ADG approved 18 licenses on Aug. 27, a key step to launching in time NFL betting. The first regular-season game will be the night of Sept. 9 between the Dallas Cowboys and Tampa Bay Buccaneers, defending Super Bowl champions.
Operators are offering early registration bonuses at sports betting sites.
Checking His List
Wafer told the virtual crowd of operators that his team will spend the next several weeks going through the department's checklist of items that are needed to grant sportsbooks a final checkmark.
That checklist includes items, such as various certifications of gaming systems, in addition to documentation of the spaces that'll be used as sportsbooks and a walkthrough by the department of any sportsbook locations to ensure compliance with department rules, Wafer said.
"This will be a several week process, continuing beyond (Sept. 9), as we go through the list to verify that everything's good to go," Wafer said. "And then at that point in time, you'll end up with a final, final approval, so to speak.
"So that's why we need a couple of extra weeks beyond the starting point (of legal sports betting). And once again, all of this is to everyone's benefit, because it makes your process more efficient, faster and easier for everyone."
Event wagering operators, both retail and mobile, must receive approvals for their house rules and various certifications, in addition to certifications for systems and platforms to ensure compliance with the department's settings.
Wafer reminded operators that they must ensure all suppliers have completed applications and made payments, to launch event wagering on Sept. 9.
Getting Down to Business
Wafer expressed his excitement that the rollout process should go off without a hitch in Arizona during the call, reminding operators that they're in the home stretch.
"I'm excited to kick off and I'm sure everyone here is as well," Wafer said. "We go live for event wagering on Thursday, Sept. 9 at 12:01 a.m. Pacific time. And I just can't wait.
"And like I said, going through those key points and making sure that you go over the checklist and making sure everything's done is key, because we're ready to go and give you and approval letter."
Self-Exclusion List Update
Wafer briefly touched on the department's updated self-exclusion list policies for the rollout of sports betting in Arizona.
He said that the department's plan as of now is to have an updated list of users that have placed themselves on the lists, which bar them from entering gaming facilities or earning winnings from facilities, sent to operators in time for Sept. 9's rollout of sports betting.
Wafer and those on Wednesday's call did not bring up the lawsuits filed in Maricopa County Superior Court by Turf Paradise Racing and the Yavapai-Prescott Indian Tribe. A hearing for the Yavapai-Prescott Indian Tribe will be Thursday. The Turf Paradise hearing, scheduled for Friday, was canceled on Wednesday.
The separate suits seek differing results. The tribal suit seeks to have the entire 2021 gaming compact thrown out as unconstitutional, due to language used to get it passed as an emergency measure. The TP Racing suit asks the court to force the department to award the Phoenix horse racing firm with an operator's license.
Looking Forward
Wednesday's call with operators was the final one scheduled before Sept. 9, meaning we've likely heard from Wafer for the final time.
We'll know more about which operators did and did not meet the guidelines that Wafer discussed on Wednesday in the coming weeks.
For now, it appears that the department is moving forward with its rollout checklist without trepidation.
About the Author
Christopher Boan has covered sports and sports betting in Arizona for more than seven years, with stops at ArizonaSports.com, Tucson Weekly and Green Valley News.
Our trusted sports betting partners bring you safe and fun playing experiences