By Lou Monaco | | 4 mins
Free Election Contests Are Being Offered in New Jersey, US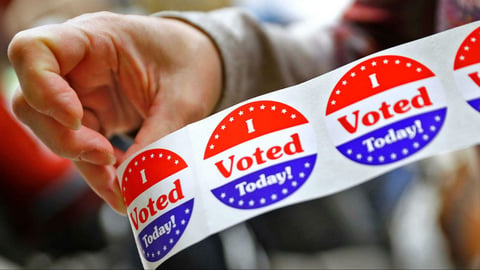 73
PLAYERS REDEEMED TODAY!
With no legal ways to bet on the outcome of Tuesday's Presidential Election in the U.S., many online sportsbooks in New Jersey are giving you an opportunity, even on Election Day eve, to make your predictions and try to win some money in free contests.
Despite 18 states having commercial casinos, and 30 states offering legalized gambling of some kind, political betting is not offered at any legal US sportsbooks. The free national contests are being promoted — and played — heavily at New Jersey sportsbooks .
---
CHECK OUT: Daily Presidential Odds Tracker
---
DraftKings is offering a free $100,000 Presidential Election pool, where a user answers 12 questions by 5 p.m. ET on Tuesday for a chance to win money prizes, from $5,000 for first place down to $1 for 11,526 thru 29,775th places. As of 10 a.m. Monday, 368,870 entries had been submitted.
FanDuel's "Bet The Ballot" is offering its users a $50,000 prize pool. You are given a 1,000 token starting balance and must spread your tokens across at least five wagers to enter. Each selection for the 17 questions offered is given an odds amount, just like a real wager, with your winnings based off of how many tokens you selected on the answer. All picks must be entered by Tuesday at 5:59 p.m. ET.
---
CHECK OUT: Betting Odds For Every Swing State in the 2020 Election
FOX Bet Super 6, a free-to-play app in which users make six predictions about what they think will happen in live games or events, also has a $50,000 prize pool prediction contest for Election Day.
Along the same fashion as its Presidential and Vice-Presidential Debate contests last month, the contest's top prize will be split across its top performers of the contest. Deadline to submit an entry is at 11:59 a.m. ET Tuesday.
Two sample questions with multiple-choice selections in the contest include: What percentage of the popular vote will Kanye West receive in Colorado by the end of Election Day as reported by Associated Press? And what will @RealDonaldTrump mention first in a tweet on Election Day excluding retweets?
As part of its Pick8 $1,000 weekly contest, 888sport is offering eight questions to answer for its users on Election Day where the $1,000 prize will be split evenly between all players who get eight correct picks. From 2-3 correct answers to 7 correct, users can still win $1 to $10 free bets, which will then be added to their accounts.
About the Author

Lou Monaco had been East Coast Scene columnist for Gaming Today in Las Vegas since June 2019, covering the East Coast sportsbook scene with emphasis on NJ and PA.