FanDuel Arkansas Sportsbook Review & Promo Code
Arkansas mobile sports betting is now legal, and will launch in time for March Madness, but it's unclear if FanDuel will enter the market due to a controversial revenue-sharing rule that requires operators to give state casinos (3) 51% of profits. Both FanDuel and DraftKings are opposed to this rule, but it's still worth reviewing what a FanDuel AR Sportsbook app would look like and what you can expect if the sports betting giant does enter the state.
FanDuel Sportsbook is consistently viewed as one of the best legal sports betting operators in the U.S., with a ton of sports to bet on and promotions to enjoy. The expected welcome offer at FanDuel Arkansas is a No Sweat First Bet Up To $1,000 for first-time customers.
Pros and Cons
Pros
Racebook and daily fantasy integration in Arkansas
Great user experience on app
Low minimum deposit
Fun, creative promotions & same-game parlays
Extensive list of sports to bet on
Cons
Limited withdrawal options
No loyalty rewards program
FanDuel AR Sportsbook Overview
After first establishing itself as one of the foremost daily fantasy sports entities in North America, FanDuel Sportsbook turned its focus to sports betting in 2018 after the Supreme Court overturned the Professional and Amateur Sports Protection Act of 1992 (PASPA), which effectively made sports betting legal outside of Nevada (and a handful of other states). Today, FanDuel calls itself "America's #1 Sportsbook," with over 12 million registered users.
Flutter Entertainment an Irish sports betting company formerly known as Paddy Power Betfair has owned and operated FanDuel since 2018. FanDuel Sportsbook is currently licensed and regulated to operate as an online sports betting sites in New Jersey, New York, Pennsylvania, Indiana, West Virginia, Colorado, Illinois, Indiana, Iowa, Tennessee, Virginia, Michigan, Arizona, and Connecticut.
FanDuel Arkansas Sportsbook Bonus and Sign-Up Offers
The promotions at FanDuel Sportsbook are one of the elements we enjoy the most. In addition to some timely offers that change in accordance with the sports seasons, customers can enjoy a few staples that have been in place for a while. For folks in Arkansas, there may also be a special offer for early registrants at the sportsbook in the form of a $100 sign-up bonus. We've seen this offered at other states anticipating FanDuel Arkansas Sportsbook's launch, including New York and Louisiana.
FanDuel Sportsbook Promo Codes Arkansas
| | |
| --- | --- |
| 🎁 FanDuel Sportsbook Promo Code Arkansas | No Sweat First Bet Up To $1,000 (Expected) |
| 🖊️ FanDuel Arkansas Sign Up Offer | No Sweat First Bet Up To $1,000 (Expected) |
| ⭐ Who will be Eligible | 21+ and located in Arkansas |
| 💳 Minimum Deposit | $5 |
| ⌚️Withdrawal Time | Instant - 5 business days |
| 💰 Wagering Requirement: | 1x |
| ✅ Verified On | Mar 30 2023 |
$100 Sign-Up Bonus
We cannot guarantee that the $100 sign-up bonus will exist in Arkansas when the time comes, but we know residents of Louisiana have received that offer in advance of the FanDuel AR Sportsbook launch in that state. All you have to do is register for a FanDuel Sportsbook account prior to the launch date, and you'll earn $100 worth of site credit in return. If you already have a FanDuel Arkansas account through its daily fantasy platform (which is legal in Arkansas), you may simply log in using your DFS credentials to upgrade to a sportsbook account and earn your site credit bonus.
No Sweat First Bet Up To $1,000
The offer we know will be available for new FanDuel Arkansas customers is the No Sweat First Bet Up To $1,000. When you place your first real-money sports wager, you'll receive insurance on it courtesy of FanDuel Arkansas.
Staple Features of FanDuel Sportsbook AR
Welcome offers are important, but you'll need reasons to stick around at a sportsbook after your initial wager. Here are some staple features of the online sports betting experience at FanDuel Sportsbook.
Live Sports Streaming
Arkansas can already watch races through the FanDuel Racing app. Live sports streaming is not offered right now, but that can certainly change. During the 2020-21 NHL season, FanDuel partnered with IMG Arena to enable U.S. hockey fans to stream select out-of-market games.
Live Sports Wagering
Live sports betting can be one of the most fun and rewarding ways to play. FanDuel AR Sportsbook presents all of its live odds in the top left-hand corner of its sports menu, allowing fans to have the quickest possible access to the options. Based on the score of a game and how much time is left, bettors may have the option of wagering on the
moneyline
, point spread, point total and more.
Early Bet Cash Outs
Select sports betting markets at FanDuel Arkansas have early cash-out options, which allow customers to settle their wagers for a certain value before the event is finished. Cash outs are irreversible, but fully within the control of the user. Open the "Active Bets" tab on your app or webpage to see which bets are eligible to be cashed out, and what value those bets can be settled at.
Same Game Parlays
Pair multiple items from a single event together in a same-game parlay, enhancing your payout potential in the process. Some of FanDuel's legal
online sports betting
sports betting options in Arkansas
are better than nothing, but the mobile options will undoubtedly provide more variety for the consumer. Whether you're a casual fan or a sports gambling enthusiast, it never hurts to have a refresher on the basics. In this section, we'll go through the three most basic and common sports betting types, followed by a few that are a bit more complex (but just as fun, if not more so).
Moneyline
Make a prediction for which team will win. It doesn't matter which team is the favorite and which team is the underdog. On the moneyline, it only matters who ends up with a win. For example, in NBA betting the Memphis Grizzlies could be -170 favorites against the New Orleans Pelicans. Whichever team has a higher score at the final buzzer will be the outright winner, and therefore also the winner on the moneyline.
Total Lines
Make a prediction about the total combined score for a game based on a predetermined sum. FanDuel will provide you with a point total, which is considered the line, and you must decide whether you think a game's total scoring will combine to go over or under that line. For example, the total line for the Titans/Saints game referenced above might have been 51.5. Given that the teams combined to score 57 points, sports bettors who backed the over would be successful.
Parlay Bets
Combine multiple predictions about one or more games in a single wager. Parlays can be constructed using moneylines, point spreads, total lines or other types of wagers, and together those wagers must be successful in order for the parlay to be a winner. Each event in a parlay is known as a "leg," and one failed leg can topple the whole thing. With that said, the added risk in parlay betting is offset by the added reward when a parlay works out. At FanDuel Sportsbook, you could theoretically combine a Grizzlies moneyline bet with the Titans/Saints over 51.5 points and the Saints +4.5 points for a parlay.
Futures Betting
Make a prediction for an event that will play out down the road, such as a division title or an MVP award. As the name suggests, futures are bets that aren't settled in the short term. Some futures sports betting wagers won't be settled for weeks or months. For example, you could bet on the Tennessee Titans to win the AFC South.
Prop Bets
Make a prediction that relates to an element of a game but may not relate to the game's outcome. This is where sports bettors can become particularly creative, with all sorts of over/unders and special offers for players (especially in the NFL). Some examples include an over/under line for rushing yards for a particular player, or selecting an anytime touchdown scorer for a game.
How to Register for a FanDuel Arkansas Account
Registering for a FanDuel Arkansas account will be as seamless as it is in other states.The entire process can be completed in fewer than five minutes. When FanDuel Arkansas launches, this the process:
Click on "Join Now" on the FanDuel website or app
Type in your email address and select a username and password.
Provide FanDuel Sportsbook AR with your: name, date of birth, address, the last four digits of your SSN and your phone number.
Enter the details for your initial deposit, such as credit card or e-wallet details.
Click "Create Account."
Provide proof of address and identity, such as a utility bill and driver's license.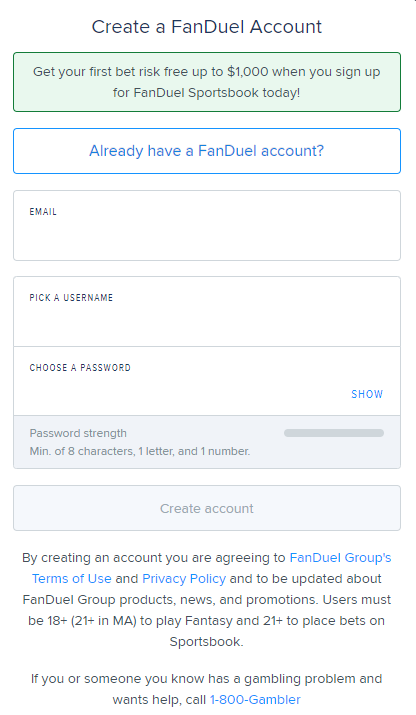 FanDuel Arkansas Sportsbook Payment Options
Whether you're interested in legal mobile sports betting as merely a hobby, or as somewhat of an investment, the banking aspect is important. Nobody wants to be left in the dark, wondering whether their money went or how difficult it might be to get it back. Understanding your payment options is a key part of any sportsbook review.
Making Deposits
To make a deposit with FanDuel Sportsbook, active users have the following options:
VISA and MasterCard (Chase and Wells Fargo are best for debit)
Play+ Card
Check by mail
Cash at retail sports betting locations
Making Withdrawals
You probably expect the deposit process to be easy, right? It's the withdrawal process that really matters, when you've got winnings to retrieve. Here are your withdrawal options at FanDuel:
Online banking transfer
Venmo
Play+ Card
Check by mail
Cash at retail sports betting locations
Some states may not have all of the deposit/withdrawal options cited here, but most of these options are available across the board. Of course, processing times will vary based on the method you choose (Venmo transfers are far quicker than checks in the mail, for example).
FanDuel Arkansas Payout Options
| | |
| --- | --- |
| 💳 FanDuel PayPal & Venmo Withdrawal Time | Up to 2 Business Days |
| 💳 FanDuel Online Banking Withdrawal Time | 3-5 Business Days |
| 💳 FanDuel Play+ Card Withdrawal Time | Up to 2 Business Days |
FanDuel Sportsbook Rewards
FanDuel Sportsbook doesn't have a loyalty rewards program, which is disappointing, but far from a deal breaker. Many of the top sportsbooks in the US don't either. Arkansas sports bettors who play daily fantasy might be familiar with the FanDuel Players' Club, in which you earn points for entering DFS contests (and those points can subsequently be put toward entry fees in future contests).
Arkansas FanDuel Sports Betting App
We know that mobile sports betting is increasingly popular, with an increased demand to place a bet from anywhere, and the FanDuel Arkansas sports betting app is one of the best ones available. With a 4.8-star rating on the App Store and a 4.7-star rating at Google Play, thousands of customers have weighed in to share in their appreciation for the platform. The same design, promotions and sports offerings that you find on the desktop are also on the app.
Desktop Interface for FanDuel Arkansas
FanDuel Sportsbook's desktop interface is very clean and easy to navigate. We enjoy the use of league and team logos that appear for teams in some of the top leagues (e.g., NFL and NBA betting), as well as the fact that FanDuel's promotions are readily available at the top of the homepage.
FanDuel Customer Support Methods
To contact customer support at FanDuel, try emailing [email protected] or using their 24/7 live-chat option. On FanDuel's Support page, you'll see the estimated wait time for an email response (e.g. 12 hours). With the live chat option, you can communicate with a chat bot instantly and, if necessary, be transferred to a live agent.
For the most common online sports betting issues, check out FanDuel's FAQ page. There are nine FAQ subjects to peruse - including Account, Contests and Eligibility as well as a search bar for specific searching. FanDuel's customer support methods are only supported in the English language.
FanDuel Sportsbook Safety and Security
FanDuel supports millions of customers across several states (plus out-of-country DFS customers) in a safe and secure way. The online sports betting operator strives to "work non-stop to make our code as secure as possible," according to their website. Through its "Vulnerable Disclosure Policy," FanDuel encourages customers to come forward when they find vulnerabilities in the product. On a simpler level, customers can do their part to practice safety by setting strong passwords and keeping those passwords to themselves.
FanDuel Sportsbook Retail Sports Betting in Arkansas
Three retail sports betting options currently exist in Arkansas: Saracen Casino Resort (Pine Bluff), Oaklawn Racing Casino Resort (Hot Springs), and Southland Casino Racing (West Memphis). Based on proposed legislation, two online sports betting partnerships apiece will be available to the three active, in-person sports betting sites. The same goes for a fourth in-person sports betting site in Pope County.
Responsible Sports Betting in AR
Both retail sports betting and online sports betting are fun, but only when enjoyed responsibly. Under the "Responsible Gaming" tab at the bottom of FanDuel's homepage, customers can access the 1-800-GAMBLER hotline, or set limits on deposits, wagers, contest entries, etc.
Sometimes it's helpful to just take a break, too. With FanDuel Arkansas, you can schedule a timeout, or participate in voluntary self-exclusion for a 12-month period. FanDuel AR sportsbook takes responsible gaming seriously, which is why these options exist.
The Verdict on FanDuel Sportsbook Arkansas Sportsbook
Fanduel Arkansas will definitely be a betting operator well worth a try for prospective customers in Arkansas. It would certainly be nice to see FanDuel Arkansas add a loyalty program, but the wide variety of sports betting offerings and the same-game parlay feature still creates a positive online betting experience. And for Arkansas sports bettingfans who already use FanDuel as a DFS platform, switching over to the sportsbook will be smooth and simple.
FanDuel Sportsbook Arkansas FAQ
When will FanDuel launch in Arkansas?
It's unclear when FanDuel Arkansas will launch, but the good news is that mobile betting is now legal in Arkansas. Theoretically, it could launch in time for
March Madness
, but there hasn't been an official word yet. We will have updates, so keep this page bookmarked.
Does FanDuel Arkansas offer legal sports betting?
Yes, it will when it enters the Arkansas market, which is now open for business after mobile betting was legalized in February 2022. Operators will likely launch in time for
March Madness
, but FanDuel hasn't given an indication on when it will go live. Bookmark this page for updates.
Does FanDuel offer a bonus bet promotion for new customers in Arkansas?
We expect FanDuel Arkansas' welcome offer for new customers to mirror it's exiting one, which is No Sweat First Bet Up To $1,000.
Can I bet on college sports with FanDuel Arkansas
Live betting, which allows sports bettors to place wagers during an event, will be offered.
Does FanDuel AR offer an online casino?
No, online casinos are not offered in Arkansas at this time.
How are sportsbook winnings in Arkansas taxed?
According to HB1703, a bill that passed in April 2021, sportsbook winnings in Arkansas shall be subject to income tax withholdings of either 5.9% "or the highest income tax rate imposed on individual taxpayers ... whichever is less."
About the Author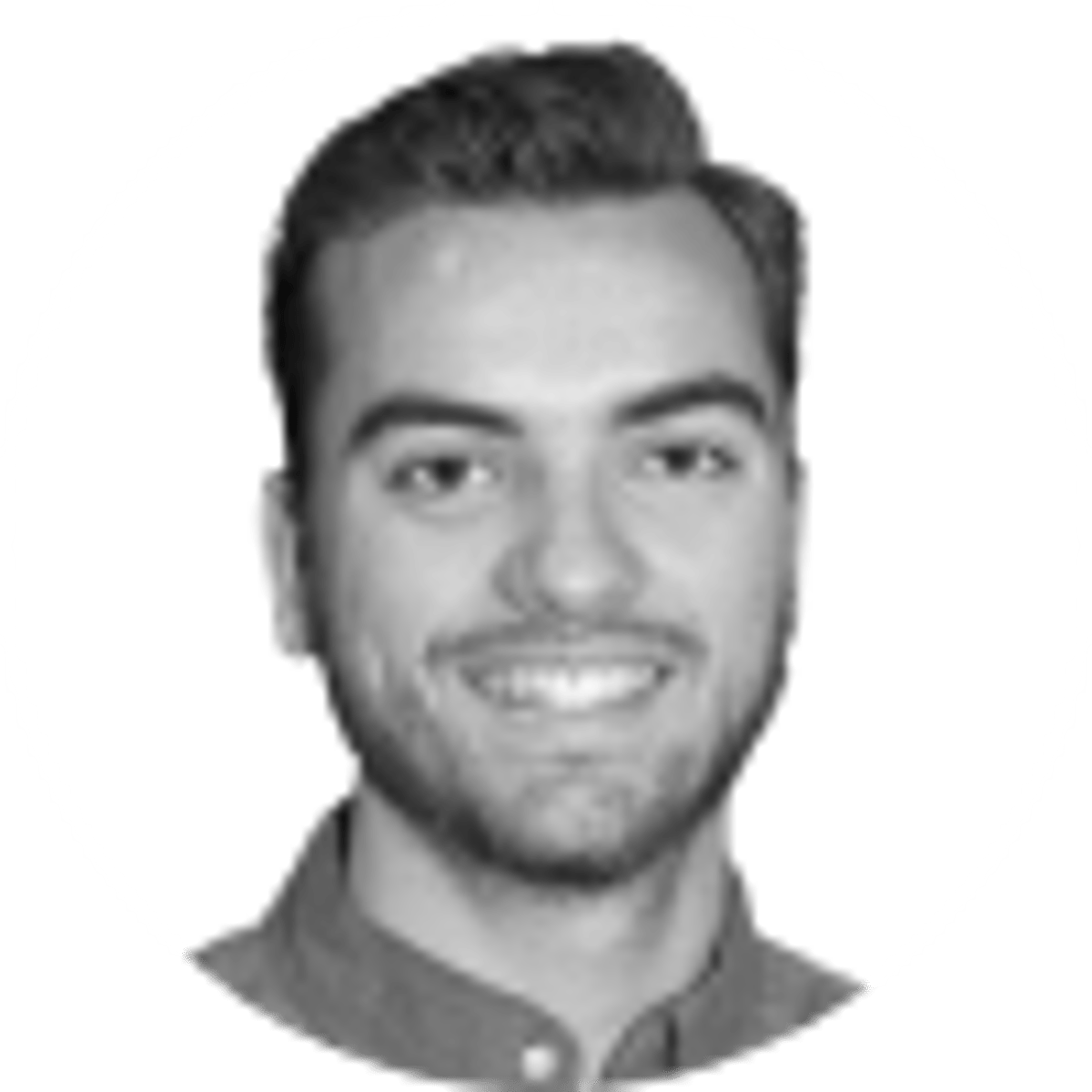 Jordan Horrobin has created sports betting content since 2019, covering everything from the NFL to KBO. Based in Toronto, he has written for MLB.com, The Athletic and Sportsnet.