LaMelo Ball Strengthens As 2021 NBA Rookie of Year Favorite
| | | |
| --- | --- | --- |
| | Deposit $250, Get $250 in Free Bets. Promo Code: BOOKIESNJ | Bet Now |
LaMelo Ball has arrived.
The polarizing Charlotte Hornets point guard who entered the season as the favorite to win Rookie of the Year with +350 odds is showing exactly why, and oddsmakers have taken notice. After a lull to begin the season, Ball has exploded in the past two weeks and has seen his Rookie of the Year odds fall to as short as -133 at most sports betting sites.
| Rookie | Odds |
| --- | --- |
| LaMelo Ball | -133 |
| Tyrese Haliburton | +350 |
| Anthony Edwards | +400 |
| James Wiseman | +600 |
| Obi Toppin | +1400 |
| Cole Anthony | +1400 |
Odds via DraftKings are current as of publication; find and compare the latest NBA Rookie of the Year odds here
| | | |
| --- | --- | --- |
| | 20% Deposit Bonus up to $1000 | Bet Now |
LaMelo Ball Makes History
Ball's NBA debut was one to forget: 16 scoreless minutes, 3 assists, 2 steals and 3 turnovers in a loss to the Cavaliers. His minutes shrunk to 15 minutes in a loss to the Thunder three days later, and he battled foul trouble the following night in a win over the Nets.
During that ugly three-game stretch – admittedly a small sample size – Ball watched his Rookie of the Year odds lengthen to +700 and drop below Warriors center James Wiseman (+250) and top pick Anthony Edwards (+350).
But something clicked for Ball in a 19-point win over the Mavericks. He recorded career-highs in points (22), rebounds (8), assists (5), field-goal percentage (7 of 10) and 3-pointers (4) while playing 30 minutes. Since that game – in which Ball outplayed MVP frontrunner Luka Doncic – Ball has been on an absolute roll.
Over the last eight games, Ball is averaging 14.6 points, 8.3 rebounds and 7.1 assists in better than 28 minutes per game. Though he continues to come off the bench – that won't last much longer – he is routinely closing games for a Hornets team that, not coincidentally, have gone 5-3 in that span. That stretch of play also included a triple-double of 22 points, 12 rebounds and 11 assists in a win over the Hawks, making him the youngest player in NBA history to accomplish that feat.
LaMelo Ball comes off the bench to tally his first career triple-double! #AllFly @MELOD1P: 22 PTS, 12 REB, 11 AST pic.twitter.com/IHwfedr9G4

— NBA (@NBA) January 10, 2021
He's rolling right now and has found a great rhythm with teammates Gordon Hayward and Miles Bridges. He's affecting the game in multiple ways while logging significant counting numbers along the way that prove important in the Rookie of the Year race.
Taking Advantage of a Quiet Rookie Class
Ball isn't the only rookie making noise, but he's taking advantage of a class that hasn't seen any single player break through. Edwards leads the class in points per game, but he's also contributing just 2.9 rebounds and 2.0 assists, and is shooting below 39%.
Wiseman has all the talent in the world but has dealt with foul trouble early in his career, and Draymond Green's return has hurt Wiseman's stats: 12.5 points and 5.8 rebounds in 23.4 minutes without Green; 9.6 points and 6.7 rebounds in 19.1 minutes with Green.
Ball's top competition in terms of Rookie of the Year odds is coming from Kings combo guard Ty Haliburton. The 12th overall pick has seen his odds drop from +1600 at the start of the year all the way down to +350. He's a different player than Ball, thriving on efficiency (52% from the field, 50% from deep, 81% from the free throw line). Ball's game is flashier and a bit more versatile given his length, which could give him the edge on what ultimately is a media vote.
---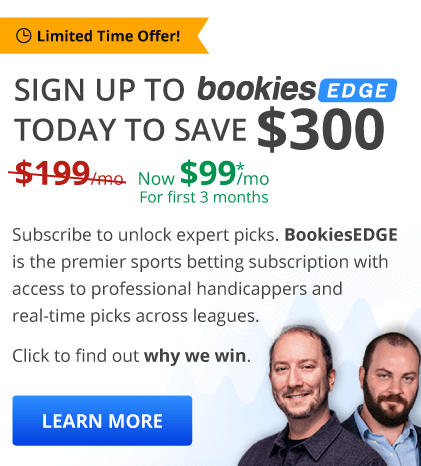 ---
Ball Checks The Boxes
What are the key elements to winning Rookie of the Year? Pretty much everything Ball is made of.
Eleven of the past 15 Rookie of the Year winners have been point guards, and despite Ball's 6-foot-7 frame, 61% of his minutes have come as the point guard and the one initiating Charlotte's offense.
Twenty of the last 30 Rookie of the Year winners led their class in points per game, and six others were second in scoring. Ball trails Edwards because of the slow start but is almost a lock to finish in the top-2 given the minutes he'll log for the Hornets the rest of the way.
Of the last 30 Rookie of the Year winners, 23 were selected in the top-3. Ball was the third overall pick.
| Market | Pick | Best Odds |
| --- | --- | --- |
| NBA - Awards - Rookie Of The Year (reg. season) | | |