Golf's Greatest Ever Movie Characters & Their Masters Counterparts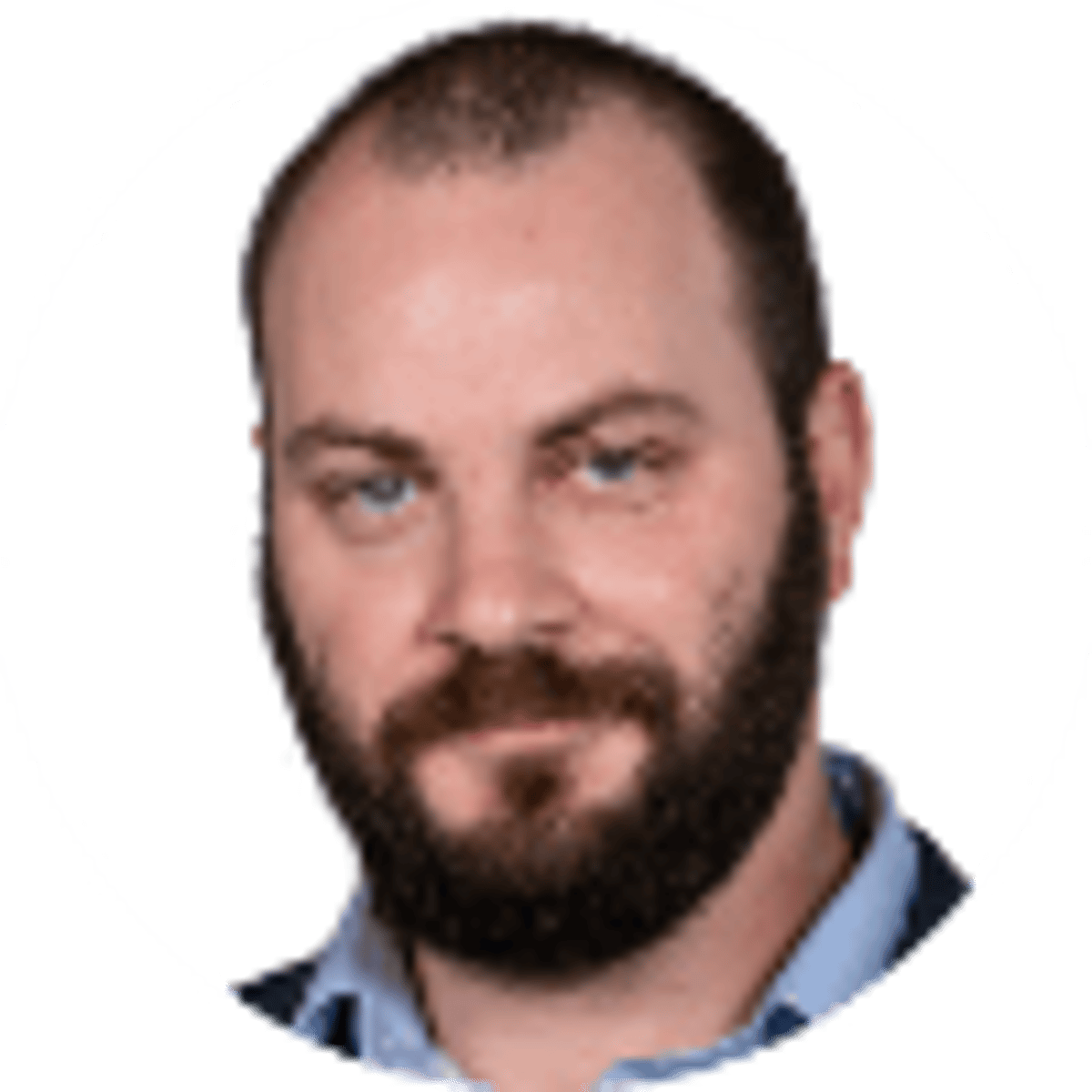 By Dan Kilbridge | 8 mins
Bet Now ➜

Used 55 Times Today

•

Popular in Virginia
The 2022 Masters is on the horizon and everyone has golf betting fever. The weather is starting to cooperate around the Midwest and the iconic Masters theme song piano notes are filling living rooms everywhere.
As always, a diverse cast of characters will assemble in Augusta, Georgia to compete for the green jacket. This is also the time of year we find ourselves enjoying some of golf's greatest fictional characters by rewatching the two best golf movies of all time – "Caddyshack" and "Happy Gilmore".
There weren't a whole lot of colorful personalities on Tour when these films were released in 1980 and 1996. They portrayed a cartoonish version of the game and its participants. These days, they're a lot closer to reality in some cases.
With that in mind, let's take a look at some of golf's greatest movie characters along with their modern-day equivalent entering the Masters.
---
RELATED: What Are Your Odds Of Winning The Masters Ticket Lottery?
---
"Happy Gilmore"
Happy Gilmore – Tiger Woods
People forget what a jolt to the system Woods' emergence brought to the PGA Tour. Golf was never cool for the masses until Woods came out hitting it longer than anyone with a swag and style all his own. Much like Happy Gilmore whipped crowds into a frenzy at the Michelob Invitational and Pepsi Pro-Am, Woods brought the casuals out of the woodwork and inadvertently helped the Tour begin to shed its impossibly stuffy reputation. Tournament operators were suddenly deluged with calls from people who wanted to see Tiger.
Woods never punched any pro-am partners (that we know of), nor did he wound any boaters by throwing flagsticks like a javelin. But he definitely ran hot and kept the dump button operator on his toes at all times.
With generational talent, the craziest fans and a heavy resistance from the old guard, Woods proved golf can be cool, fun and inclusive. He's also one of the toughest athletes around, bringing a hockey mentality to the course. Gilmore only had a few holes left in the final round when he was struck by a Volkswagen during his comeback win at the 1996 Tour Championship. Woods also ignored the advice of doctors and played an entire tournament plus 19 playoff holes on a broken leg when he won the 2008 U.S. Open at Torrey Pines.
Shooter McGavin – Phil Mickelson
We understand Mickelson isn't playing the Masters this year. But the three-time green jacket winner is the only possible choice here. Just read the following quotes in Mickelson's voice. It's surprising he's not the actual source.
"Listen, this is Phil's Tour."
"I tell you, the real winner today is the city of Portland."
"You know, I saw Doug playing yesterday and I've got to tell you, this guy spends more time in the sand than David Hasselhoff."
Not to mention that Phil would absolutely pull off the ninth green at nine trick on unsuspecting rookies. He's always the smartest guy in the room and he needs everyone to know it. Long considered the Tour's golden boy while enjoying a cushy relationship alongside higher-ups, he eventually scarred his reputation with ego-fueled behavior and desperate antics. Eventually it all caught up to him and he was chased off by an angry mob.
Chubbs Peterson – Fred Couples
The coolest guy on the course, Chubbs and Couples both love to mentor promising young players and impose their wisdom. Couples has taken numerous players under his wing and can always be found sharing tips or inside tricks with guys like Justin Thomas in pre-Masters practice rounds at Augusta National.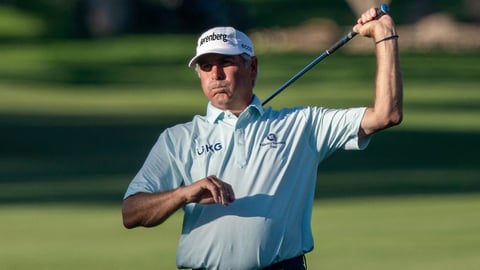 Couples and Woods have that Chubbs-Gilmore dynamic whenever they tee it up together – they come from different generations but speak the same language. And much like how Chubbs' promising career was cut short when an alligator bit his hand off, we'll never know what Couples could have accomplished without the chronic back pain issues that held him back at times.
"Caddyshack"
Ty Webb – Dustin Johnson
"Danny, I'm going to give you a little advice," Webb says at the beginning of the greatest golf movie of all time. "There's a force in the universe that makes things happen. All you have to do is get in touch with it. Stop thinking. Let things happen. And be the ball."
Stop thinking, let things happen and be the ball is 100% in line with DJ's on-course philosophy. The man simply appears to be operating on a different dimensional plane, completely in touch with his surroundings yet totally focused on the moment at hand.
Webb and Johnson are cool because they don't try to be cool. They just are. They also share an affinity for off-course extracurriculars and a taste for the finer things in life. They don't suffer fools and they don't define themselves by the number they shot that day.
In contrast to the many high-strung characters on Tour, Johnson floats above it all with a combo of talent and care-free attitude that the Judge Smails of the world will never understand.
---
RELATED: Charlie Woods Futures Odds To Win Masters & More
---
Danny Noonan – Will Zalatoris
Zalatoris is the floppy-haired new kid in town looking to make a name for himself. Like Noonan winning the caddie tournament, Zalatoris has already shown plenty of promise and physical skills. The loopy swing is on point and there's a certain awe-shucks demeanor on the surface.
Noonan was eventually thrust into the spotlight and handled himself well when Webb chose him as a partner in place of the "injured" Al Czervik for the big showdown with Smails and Dr. Beeper. Zalatoris also kept his poise on the big stage when he unexpectedly contended for a green jacket at the 2021 Masters, finishing solo second and just one shot behind winner Hideki Matsuyama.
Clutch putting is still an issue for both players. Zalatoris' putting stroke can get pretty sketchy under the gun, and people forget that Noonan actually left it short on the decisive putt against Smails and Beeper before it dropped with the help of some nearby plastic explosives.
Al Czervik – Bryson DeChambeau
These guys are impossible to miss when they roll up to the course. Like Czervik, DeChambeau is loud and unlike any of his peers. They both put on big performances with flashy stunts and own the latest and greatest in golf technology. They're not afraid of the cameras and tend to be overly-enthusiastic. They've made a few enemies around the club with their boisterous behavior.
Love him or hate him, everyone has an opinion on DeChambeau. He's an extremely colorful character who loves the big-money matches and all the attention that comes with it. He says inappropriate things at inappropriate times and tends to rub others the wrong way, but he's an essential character even if his presence isn't always welcome.
Judge Smails – Patrick Reed
Smails is your classic curmudgeon, the type of guy you can find at any private course who never laughs and refuses to concede two-foot putts. He's extremely self-serious, expects those around him to bend at his will and has been known to get a little loose with the definition of winter rules.
Reed checks all those boxes and won't wind up on any top-10 friendliest faces in golf lists. As much as some would like to get rid of Smails and Reed, they're here to stay whether you like it or not. The 2018 Masters winner has paid his dues and can walk freely around the Augusta National clubhouse, just as Smails has every right to access all the facilities at Bushwood as a long-standing member and competitive player. Reed is no slouch himself on the golf course and never slices, favoring a draw off the tee.
Tony D'Annunzio – Brooks Koepka
D'Annunzio and Brooks are not your typical country club kids. They're a little rough around the edges and look like they go around beating up dweebs for hot dog money at the turn.
Like D'Annunzio's iconic black gloves, Koepka has gone with some against-the-grain choices himself and schooled reporters on the art of "fashion, bro." Koepka isn't always the main character and often plays second-fiddle in terms of headlines and hype, despite his play warranting better. He enjoys a little tobacco on the course and probably spent much of his youth chasing girls at the pool instead of practicing. He's brash and never shies away from a confrontation, though to our knowledge he has not violated the "No Fighting" signage.
Both guys do things their own way with a personal flare. They can rise to the biggest of occasions and compete with the best, and they always leave you wanting more when they're not in the picture.
Carl Spackler – Harry Higgs
Carl Spackler was supposed to be a minor player in Caddyshack. Then Bill Murray rolled into town on a limited schedule and brought it so strong with his iconic improv scenes that entire parts of the script were rewritten to get Spackler more screen time.
Higgs is a relatively minor player in the grand scheme of things. He's never finished in the top 50 of the FedEx Cup standings and probably didn't factor into the Tour's big-picture digital/social media strategy. But Higgs isn't afraid to go off-script and has grabbed the attention of golf fans everywhere with his outlandish interviews and affinity for Tito's vodka. He went viral and took over the Waste Management Phoenix Open when he removed his shirt in dramatic fashion after draining a 10-foot par putt. Yeah, a pond would probably be good for him.
Higgs also has potential as a Cinderella story outta nowhere at the Masters, with some of the longest golf odds in the field at 300-1.
Dr. Beeper – Jeff Knox
As Smails proudly tells Webb when he's trying to lure him into a game, Dr. Beeper is the Bushwood club champion three years running. But Dr. Beeper is just a background character, a prolific talent who lets everyone else have the spotlight and keeps the proceedings rolling along. A silent but deadly stick.
Jeff Knox is the long-running Augusta National club champion who pops up every few years at the Masters. If an odd number of players make the cut, Knox serves as a marker in the first group for Rounds 3 and 4 and plays alongside whoever's in last place. He's an exceptional talent who holds his own, plays at a fast pace and mostly tries to stay out of the way, ensuring there's never a routine emergency when someone is needed to fill out a twosome.
About the Author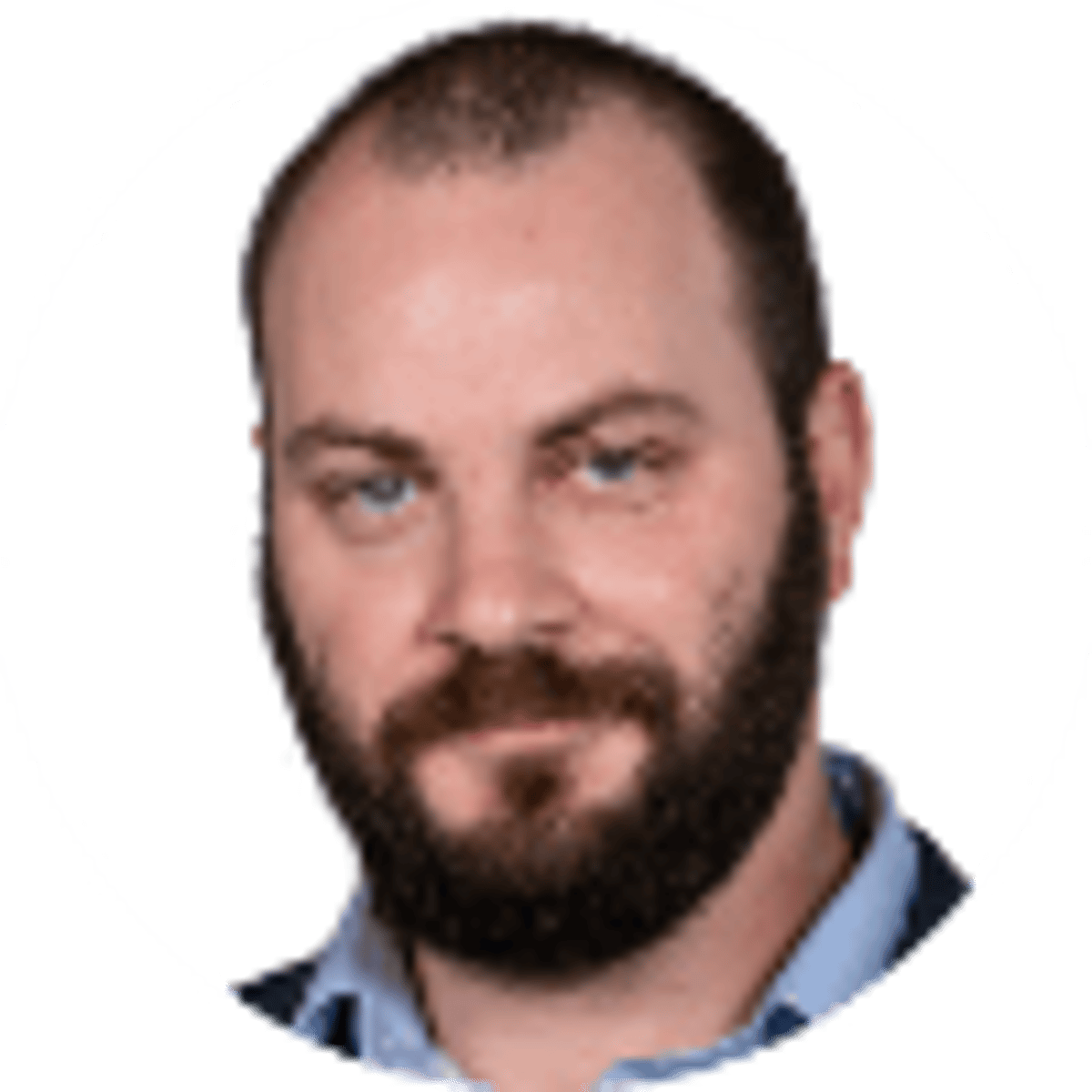 Handicapper Dan Kilbridge writes about college football, MLB and other sports for Bookies.com after spending three years covering Tiger Woods' comeback and the PGA for Golfweek.
Our trusted sports betting partners bring you safe and fun playing experiences