BetMGM Arkansas Sportsbook Review: Promotions and Risk-Free Bets
It's official: online sports betting in Arkansas is now live. However, BetMGM Arkansas isn't among the online betting sites available yet. It's unclear when that will happen, however, it could enter the market at some point in 2022. With so many potential options to choose from, knowing which sportsbook is best for the kind of sports betting you want to do can be difficult. That's why we're here.
It's not easy knowing what the best kinds of promotions and sign-up bonuses are for the kind of sports betting you want to do. But that isn't the case with Arkansas sports betting. A $1,000 risk-free bet is as good as it gets. Either you get your original bet back in the form of a free bet, or you've won your first bet and have a sizable profit to begin your sports betting experience. Arkansas online sports betting will be launching soon. Our online sportsbook review will go over what we like about BetMGM Arkansas, where its lacking, and how to take best advantage of it once you sign up.
Pros and Cons
Pros
Excellent sign-up bonus with a risk-free bet of up to $1,000
Great daily promotions and odds boosts
Live streaming sports
More than two dozen sports betting markets
Cons
Clunky desktop website can be overwhelming
No live chat customer support
BetMGM AR Sportsbook: Overview
You've almost certainly heard of MGM Resorts International. Along with Entain, they created BetMGM in 2018 before launching their first online sportsbook in September 2019. It now is live in more than a dozen states and we expect that number to continue to grow as more states legalize online sports betting, beginning with Arkansas.
BetMGM Arkansas Sportsbook Bonus and Sign-Up Offers
It doesn't get much better as far as sign-up bonuses go than what you'll find at BetMGM Arkansas. All new users in the state will receive a risk-free bet of up to $1,000. Bettors will receive the original amount of their first bet back in the form of a free bet if that first bet is a loser. If it wins, bettors will not receive anything, but this gives them some insurance in case their first bet loses. It's one of the best sports betting bonuses in the industry and one that all bettors will want to take full advantage of, since it's only eligible on their first bet.
BetMGM Sportsbook Bonus Codes Arkansas
| | |
| --- | --- |
| 🎁 BetMGM Sportsbook Bonus Code Arkansas | Up to $1,000 welcome bonus (Expected) |
| 🖊️ BetMGM Arkansas Sign Up Offer | Risk-Free Bet up to $1,000 (Expected) |
| ⭐ Who will be Eligible | 21+ and located in Arkansas |
| 💳 Minimum Deposit | $20 |
| ⌚️Withdrawal Time | Instant - 5 business days |
| 💰 Wagering Requirement: | 1x |
| ✅ Verified On | Nov 30 2022 |
$200 Early Sign-Up Bonus
It's possible that BetMGM Arkansas will provide a $200 early sign up promo, like it has for Louisiana sports betting users, when it launches. With so many different sportsbooks to choose from, they'll all be trying to get players in the front door. Make sure you're checking Bookies for the latest updates on what kind of sign-up bonus is available in addition to the $1,000 risk-free bet.
Staple Features of BetMGM Sportsbook AR
Arkansas sports betting will feature a number of different online sports betting sites. And while many will feel the same at a high level, there are specific features to each like BetMGM Arkansas that bettors will want to take advantage of if they choose to register. Here are some of our favorites:
Live Sports Streaming
BetMGM Arkansas is one of the few best online sportsbooks that has live streaming. It's arguably BetMGM's best feature. Players can watch a gamecast or an actual live stream of the game they're betting on. We assume that Arkansas sports betting will also feature live streaming at BetMGM, and it's something bettors will want to take advantage of it when games have it.
Live Sports Wagering
BetMGM Arkansas has myriad live sports betting options on most major markets. It's one of our favorite parts about the online sportsbook, and what's even better is that players can bet during games while watching them on a live stream at BetMGM Arkansas. There's nothing better than watching a game that you're live betting on, and it's available here.
Early Bet Cash Outs & "Edit My Bet" Feature
Nervous about losing a game on a backdoor cover? Ready to admit your loss and salvage at least some money? You can take advantage at BetMGM Arkansas with early cash outs that give bettors a portion of their potential winnings before the outcome has been decided. These are constantly changing so bettors will need to be quick or the cash out will change before they've settled. You can also use the "Edit My Bet" feature, which lets you remove a bet from a parlay if you think it could sink the whole ship. "Edit My Bet" is only available if "Cash out" is an option for your bet. That's because you're essentially cashing out your old parlay and placing a revised one, which comes with revised odds and thus, a revised payout.
Same Game Parlays
BetMGM Arkansas is one of the many top online sportsbooks that allow same-game parlays. It's a newer concept, but players will be able to put together a parlay using team and player props from the same game.
Frequency of Odds Boost
BetMGM Arkansas sports betting will feature a number of different odds boosts over the course of the sports calendar year. Even better, BetMGM Arkansas does the best job of any online sportsbook promoting those boosts and promotions so bettors don't need to dig around for them.
BetMGM Mobile App for Arkansas Sports Bettors
BetMGM Arkansas will feature a mobile sports betting app that players will find attractive. It's not surprising given how long the brand has been around, and they've worked out many of the kinks to produce what is one of the best mobile apps to use for sports betting in Arkansas. We like the layout, the response time, and that everything bettors can get on the desktop website is also available on the mobile sports betting app.
How BetMGM Compares to Arkansas Sportsbooks
BetMGM Arkansas is going to become one of the best online sports betting sites in Arkansas the day it launches. But Arkansas bettors will have multiple options to choose from when it comes time to sign up. When Arkansas online sports betting goes live, here's what bettors should consider when debating BetMGM against the competition.
BetMGM vs. Fanduel Sportsbook
Where BetMGM's website and mobile app can sometimes feel a bit too picked, FanDuel has one of the cleanest layouts in the sports betting industry. If that't not a concern for you, no worries. But if you're someone who wants easy access to your sports betting markets and doesn't want to be overwhelmed every time you log on, FanDuel has BetMGM Arkansas beat here, and they also have daily fantasy sports.
BetMGM vs. DraftKings Sportsbook
BetMGM Arkansas is great, but DraftKings has so much to offer. We like DraftKings' layout better, and the fact that it has daily fantasy sports also gives it an edge on BetMGM. We do, however, like BetMGM's sign-up bonus better, and their live streaming on certain markets is something DraftKings does not have.
BetMGM vs. Caesars Sportsbook
BetMGM Arkansas is one of the most established brands in the sports betting industry, as is Caesars Sportsbook, so this is pretty close. Both offer solid rewards programs that leverage their vast array of resorts and hotels. Caesars has more years of sports betting experience on its side after having purchased U.K-based gaming giant William Hill, so that might tip the scales for some. But honestly, this is quite the toss up. One area that BetMGM has an edge is its wide variety of contests and betting options, like the "Edit My Bet Feature" we mentioned above.
Sports Betting Markets with BetMGM Arkansas
One of the main reasons we recommend betting with legal sports betting operators is the variety of markets they offer. BetMGM Arkansas is no different, with a whopping 25 different sports betting markets to choose from. All sports won't be in play all 12 months of the year, but it proves that there will be something for everyone each time they log into the BetMGM Arkansas website or mobile app. Here's a full list of Arkansas bettors can expect to see:
Alpine skiing
Basketball
Cricket
Cross-country skiing
Cycling
Football
Formula 1
Gaelic sports
Handball
Hockey
Lacrosse
Rugby League
Rugby Union
Ski jumping
Snooker
Soccer
Table tennis
Volleyball
Water polo
Bettors at BetMGM Arkansas will get to wager on their Arkansas Razorbacks and the rest of the SEC while college sports are live in the fall and winter. They'll also have their pick of NFL, MLB, and NBA sports to choose from all year long. If they want to try something different, BetMGM Arkansas will have them covered. There really is something for everyone here.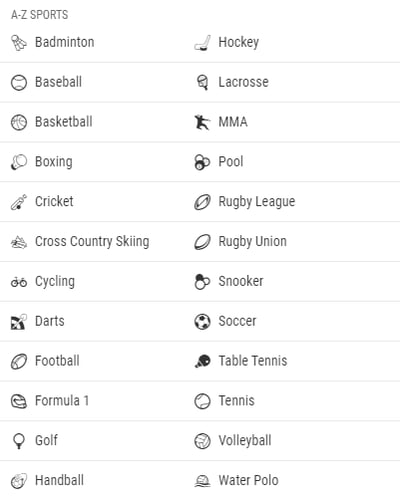 Types of Bets Available with BetMGM
There are dozens of different bets that players can make at BetMGM Arkansas. They offer sports betting markets on hundreds of different games daily, and bettors have limitless options on how to play those games. Here are some of the most common types of bets that the majority of players will make:
Moneyline
A moneyline bet is a wager on which team will win a specific game. Each game has a favorite and an underdog. It's more expensive to bet a favorite, which has negative odds attached to it. For example, a -220 favorite would require a bet of $220 to earn $100 profit. An underdog is cheaper because it's not expected to win. For example, a team with +200 odds would earn $200 profit on a $100 bet.
Spread Bets
Every game has a point spread that balances the playing field between the favorite and the underdog. A favorite has points subtracted from its final score, while the underdog gets points added to its final. For example, if Arkansas football is -7.5 against the LSU Tigers, they would cover if they won by 8 or more points. If LSU (+7.5) lost by seven or fewer, or won the game outright, they would cover the spread.
Parlay Bets
A parlay bet combines two or more individual bets to create one set of more lucrative odds for bettors. However, all individual bets must be successful in order for the parlay to pay out. So while the potential reward is much higher in terms of potential profit, the risk is also much higher because bettors must be perfect.
Total Lines
Oddsmakers set a total for every game. Bettors then choose whether the actual combined points between the two teams will be higher (betting the over) or lower (betting the under) than what the total was set at. There are many trends that legal sports betting websites will analyze to determine which side bettors should play in given games.
Futures Betting
Futures bets are wagers on season-long occurrences or non-occurrences. There are futures for both players and teams. Player futures include MVP, Heisman Trophy winner, Defensive Player of the Year, or league leader in touchdowns. Team props include league champion, win totals, and whether or not a team will make the playoffs.
Prop Bets
There are two types of prop bets, which are essentially individual bets within a game. Player props such as a certain player to score over or under a certain amount of points, are more common. Less common are team props, with an example being the total number of sacks a team will register or which of the two teams will score first in a game.
How to Register for a BetMGM Arkansas Account
Signing up for an online sports betting account with BetMGM Arkansas could not be simpler. You'll need to provide the standard amount of personal information to verify yourself, your age, and your location that all Arkansas sports betting sites will require. That should only take a few minutes, meaning you'll be enjoying all the legal sports betting that BetMGM Arkansas offers. Here are the simple steps:
Provide your email address and create a unique password
Provide your first and last name and date of birth
Create a unique username and re-enter your newly formed password
Verify your age by providing your Social Security number and verify your location with a Geolocator app
Begin your sports betting experience at BetMGM Arkansas
BetMGM Sportsbook Payment Options
No one likes to jump through hoops when it comes to banking and online sports betting. That's why we never recommend using offshore sports betting websites and instead review only licensed and legalized mobile sports betting apps and websites. Here's what you'll need to do to deposit or withdraw funds at BetMGM Arkansas:
Making Deposits
You need to deposit funds to play at BetMGM Arkansas, but luckily it's easy and should have you sports betting in no time. Simply click "deposit" on the BetMGM Arkansas home page and select your method of banking. Those options include: credit and debit cards, e-checks, online banking, instant bank transfers, PayNearMe, PayPal, and Play+. It's a pretty exhaustive list of options that we expect all bettors will find accessible. There's a $10 minimum deposit that shouldn't be a problem for bettors, and funds are almost always able to be used immediately.
Making Withdrawals
Withdrawing funds from BetMGM Arkansas is a simple process. Bettors can locate the withdrawal page by selecting their account and clicking on cashier. From there, they'll be able to see the total amount of their withdrawable funds. Bettors can withdraw their funds a number of different ways, including e-check, PayPal, Play+, online banking, or instant bank transfers. BetMGM's website and mobile betting app say that there's a 3- to 5-day window for withdrawals to be reviewed, but the time between withdrawing and getting your money is almost always shorter than that in our experience.
BetMGM Arkansas Payout Options
| | |
| --- | --- |
| 💳 BetMGM PayPal Withdrawal Time | Same Day |
| 💳 BetMGM Online Banking Withdrawal Time | 1-5 Business Days |
| 💳 BetMGM Play+ Card Withdrawal Time | Instant |
BetMGM Sportsbook Rewards
BetMGM Arkansas has an iRewards program that accumulate based on the odds selection, amount wagered, and type of bet. There are different tiers that unlock certain rewards, and these perks can be used both at BetMGM Arkansas' online sportsbook and at BetMGM International locations around the country. Because they're a bit difficult to understand, BetMGM Arkansas has an exhaustive FAQ page on their website and mobile app explaining the rewards.
Arkansas BetMGM Sports Betting App
In our opinion, the most important aspect of any mobile sports betting app is that it mirrors its desktop counterpart. In that aspect, BetMGM Arkansas does an excellent job. With a similar color scheme and relatively same layout, sports betting is made simple for bettors on the go. Response rate time is excellent, which makes live betting simple, and players' live bets and current promotions are shown on the bottom of the app. That makes everything easily accessible, another key staple of any good mobile sports betting app. The BetMGM Arkansas mobile app is one of our favorites of all that we've reviewed, and the sports betting app is available for both Apple and Android users.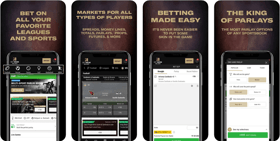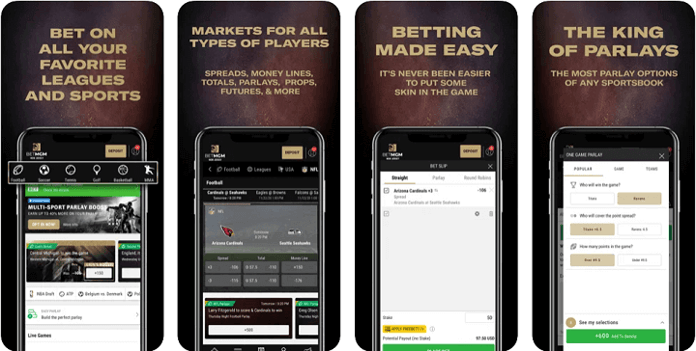 Desktop Interface for BetMGM Arkansas
We're torn on the BetMGM Arkansas desktop website, which we expect will look the same for BetMGM Arkansas. On one hand, it has everything sports bettors will need for online wagering. All available markets are listed across the toolbar of the home page, top sports are listed at the top of the left rail, and all odds boosts are listed on a scrolling banner. Live, upcoming, and user-selected markets are in the middle of the screen, which give bettors easy access to the most popular events. But the online sportsbook is incredibly busy, with so much going on that it can be difficult to know where to look.
There's a parlay generator on the right rail, all markets are listed atop the scrolling odds boosts in addition to the left rail, and there's a second promotions banner in the middle of the screen. It's a lot to take in and takes quite a while to get used to. It's not necessarily bad, but it's not nearly as good as some of its competitors which have much better laid-out home pages. Given that sports bettors are on that page more than any other, this is an important feature for online sports betting sites that BetMGM Arkansas is lacking in.
BetMGM Customer Support Methods
BetMGM is about as established a brand as you'll find in the online sports betting industry. That means they've worked out most of the kinks and issues that some start-ups face. But technology can't always be perfect, and it's inevitable that bettors will have some small issues arise during the course of their betting experience. So it's good that BetMGM Arkansas provides bettors with multiple customer support options to help out. These options include a telephone number and email address that are available 24/7. There's also an FAQ section on the website and mobile app that can answer most questions that aren't pressing. We like the options BetMGM Arkansas has, but it's unfortunate they don't have a live chat function that many other top online sportsbooks have.


BetMGM Safety and Security
It's natural for players to wonder just how secure their personal information is with online sportsbooks. After all, bettors must provide personal information such as their name, last four digits of their Social Security number, and banking just to play. But bettors don't need to worry. One of the main perks of online sports wagering at a licensed sportsbook is that it uses data encryption to make sure your information is safe. We recommend using a strong password and multi-factor authentication, but BetMGM Arkansas will have you covered no matter what.
BetMGM Retail Sports Betting in Arkansas
We're not sure which retail casino will be paired up with BetMGM. Once that land-based casino is is established, players will be able to bet at that physical location, as well as withdraw and deposit funds. We'll let players know as soon as BetMGM Arkansas has been paired up with a casino such as Saracen Casino Resort, Oaklawn Racing Casino Resort, or Southland Casino Racing.
Responsible Sports Betting in AR
There's nothing quite like the rush of online sports betting, but it can go wrong in a hurry if bettors aren't responsible about it. It's why online sportsbooks such as BetMGM Arkansas provide all players with the resources they need to bet safely.
BetMGM and Responsible Gambling
BetMGM Arkansas wants its bettors to enjoy their online sports betting experience. That means doing so safely and responsibly. It's why the BetMGM Arkansas team has dedicated a full page on the desktop website and mobile betting app to responsible gaming. That page has resources and tools for all bettors to use to help with any issues they may have. Examples include information on how to set time and deposit limits, how to freeze accounts, and state-specific links and phone numbers to help curb problematic gambling. BetMGM Arkansas displays its Responsible Gaming badge in the top right corner of the home page.
Our Verdict on BetMGM Arkansas Sportsbook
Arkansas sports betting is on the horizon. When it eventually launches, BetMGM Arkansas should be one of the first sportsbooks to get up and running. And when that happens, bettors will want to make sure it's part of their online sportsbook Rolodex. We love the boosts and promotions that it offers, plus the "Edit My Bet" feature is one-of-a-kind in the market. What's more, all major markets are covered, and the odds are competitive. We can look past the busy website and the lack of tournaments and contests. It has everything that sports bettors want. The sign-up bonus will give you some insurance as you start your sports betting experience, and the rest of the perks will flow your way the deeper you go and the longer you play.
More BetMGM Bonuses by State
BetMGM Sportsbook Arkansas FAQ
When will BetMGM launch in Arkansas?
BetMGM Arkansas could enter the state in 2022, but it's unclear when due to a controversial revenue sharing rule that would see it give 51% of revenue to in-state casinos.
Does BetMGM Arkansas offer legal sports betting?
BetMGM Arkansas is now legal and is likely to launch sometime in 2022 and is set to become of the top online sportsbooks in the state.
Does BetMGM offer risk-free bets in Arkansas?
Yes, BetMGM Arkansas will offer all new bettors with a risk-free bet of up to $1,000. Bettors who lose their first bet will receive the original amount back in the form of a free bet. It's one of the better sign-up bonuses in the online sports betting industry and open to all new bettors.
Can I bet on college sports with BetMGM Arkansas?
Yes, BetMGM Arkansas bettors will be able to place wagers on collegiate sports, including games played in Arkansas and games involving Arkansas-based schools. BetMGM Arkansas will also provide bettors with odds boosts and profit boosts on a number of collegiate games.
Does BetMGM Arkansas offer live betting?
Yes, one of the best features that BetMGM Arkansas will offer its bettors is live betting on most major sports betting markets. Live betting is offered on both the mobile sports betting app and desktop website.
Does BetMGM AR offer an online casino?
There are no current plans for BetMGM Arkansas to include an online casino in addition to its online sports betting mobile app and website. But players will be able to bet at the land-based casino that BetMGM Arkansas attaches its brand to.
How are sportsbook winnings in Arkansas taxed?
Any winnings that bettors earn at BetMGM Arkansas are considered taxable income. In Arkansas, your sports betting winnings are included on individual tax returns under "Income and Witholding." You can itemize your losses as miscellaneous, which would not be subject to the usual 2% deduction. We advise players to consult with tax experts to most accurately report their earnings won in online sports betting.
About the Author
Mark is a veteran sports betting journalist who has covered the Bulls and the NBA since 2012. His work has appeared on ESPN.com, FoxSports.com, The Chicago Tribune and Yahoo Sports. He regularly provides NBA betting picks, as well as in-depth sportsbook reviews and the latest promo codes for all the major sports gambling operators, including Caesars Sportsbook, BetMGM, DraftKings, FanDuel and more.