By Mark Strotman | | 4 mins
NBA Over/Under Betting: Best Tips to Consider When Wagering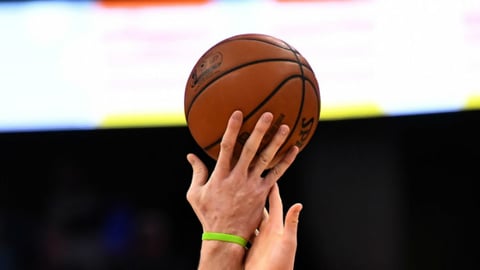 Welcome to the world of analytics. Over/under bets no longer consist of just checking out a team's points per game, checking out their opponent's, considering the two defenses and then comparing it with the total number. Advanced numbers have brought new factors into the equation to consider before placing any form of bet, be it over/under, point spread, or moneyline bets.
Offense has never been more efficient in the NBA, but does that automatically mean overs are the new wave of NBA betting, or have oddsmakers taken note and adjusted accordingly? We'll get into some of that with the trends below.
NBA Over/Under Betting Tips
Pace and Efficiency are Important
Every game – barring overtime – is 48 minutes, and in the end all that matters for your over-under bet is how many points were scored. But analyzing whether or not that number will hit is a bit more complicated but now easier to understand with some analytical evidence.
During the 2017-18 season the Brooklyn Nets played at a pace of 103.58 possessions per game. That same season, the Utah Jazz played at a pace of 93.62 possessions per game. That was a discrepancy of nearly 10 possessions per game, the largest difference between fastest and slowest teams in the NBA since 2010. Pace matters. This doesn't mean faster teams necessarily cover (that year Utah went over in more games than Brooklyn did) but it's important to consider how fast or slow a team is playing, not just looking at points for and against.
Oddsmakers certainly consider this when setting over-under totals, but the effect it has can be pronounced. A slower-paced team is more likely to speed things up against a faster-paced team than the other way around. Looking at how fast each team plays can either add a few possessions (and points) or subtract a few from your expected game total.
Consider a Team's Rest
We've talked about this previously, but teams play the majority of their games on one day of test: In 2018, teams played 1,463 of a possible 2,460 games (just under 60 percent) with one day in between. So it shouldn't be surprising that teams on one day of rest averaged more points per game (106.5) than they did on zero days (104.3) or two-plus days rest (106.2). No, the difference isn't staggering at all. But too little rest or too much breaks a routine that NBA players love.
In 2018, half the teams in the league had their lowest scoring output in games where they were playing on zero days rest. And if you take out the massive outlier in the Warriors, who averaged 117.3 points on zero days rest, the league average fell to just 103.8 points per game.
Those same struggles exist on the other side of the ball, too. Teams playing on zero days rest allowed an average of 106.9 points, compared to 106.0 on one day of rest and 106.2 on two days' rest. Back-to-back settings are difficult, and while it's not as pronounced it's something to take into consideration.
High-Scoring Teams
We mentioned pace, but this is a much more simple point this time. From 2011 to 2018, of the 15 teams each season whose games went over the point total most (120 total teams), 78 of them finished in the top half of the NBA in points per game. That's 65 percent of the highest-scoring teams each season also hitting in the top half of the league going over.
Oddsmakers take this into account when setting point totals, but the best scoring teams in the league catch fire more than others, meaning their totals can soar (and the pace picks up, meaning more possessions for them and the opponent).
Points per game in the NBA have gone up each of the last seven seasons and efficiency is reaching unprecedented levels. That can be tough for oddsmakers to keep up with.
Referee Statistics Exist
No other sports' officials have as big an impact on the outcome of a game as basketball. And because of that, they can have a significant – and obviously indirect – impact on the point total.
In 2017-18, 35 NBA officials refereed 50 or more games. The amount of personal fouls called by those referees – which can lead to more free throws – ranged from 37.9 to 42.5. The total points per game in those officials' respective games called ranked from 206.9 to 222.1, a considerable margin.
Oddsmakers, yet again, haven't overlooked this. They'll take into account which officials call more fouls, which leads to more free throws and higher point totals. But it's safe for bettors to add (or subtract) a few points depending on the three-man crew officiating the game. Look for referee trends because they're real. It can seriously make or break an over-under bet, especially in the final minutes of a game if teams get into the bonus quicker because of a quick whistle earlier in the quarter.
About the Author
Mark is a veteran sports betting journalist who has covered the Bulls and the NBA since 2012. His work has appeared on ESPN.com, FoxSports.com, The Chicago Tribune and Yahoo Sports. He regularly provides NBA betting picks, as well as in-depth sportsbook reviews and the latest promo codes for all the major sports gambling operators, including Caesars Sportsbook, BetMGM, DraftKings, FanDuel and more.