DraftKings Sportsbook Louisiana Review and Promo Code
DraftKings Louisiana is officially live and you can sign up and begin placing bets today. DraftKings LA, along with five other top sports betting sites entered the Louisiana market on January 28. Known for their phenomenal live betting and top of the line sign-up offers, DraftKings Louisiana is a Louisiana online sportsbook worth checking out.
DraftKings Sportsbook LA is the latest in the company's expansive collection of state sites across the country. When creating a DraftKings LA login, expect to be working with one of the most respected sports betting sites in North America. Read on as we explain why in this DraftKings sportsbook Louisiana review and let you know how to access the best DraftKings bonus code LA available.
DraftKings Louisiana Sportsbook: Key Features at a Glance
| | |
| --- | --- |
| 🎁 Promo Code | Get DraftKings LA Promo Code |
| 🖊️ Sign Up Offer | Bet $5, Get $200 in Free Bets Instantly |
| ⌚ Withdrawal Time | Instant - 5 business days |
| 🥇 Best For | Best for Odds Boosts |
| ✔ App Available | Yes - iOS and Android |
| 📅 Online Since | January 2022 |
| 🤑 Cashout | Yes |
| 📺 Live Sports Streaming | Yes |
| ⚽ Live Sports Betting | Yes |
| ⚡ BetBuilder | Yes |
Pros and Cons
Pros
Wide range of DraftKings Louisiana bonuses and rewards
Sleek DraftKings Louisiana app and website experience
Swift processing of deposits and payouts
Cons
High play-through rate for welcome bonus
Customer support lacks 24/7 live chat option
DraftKings Louisiana Sportsbook Offers
From now until its launch date, the DraftKings sign-up bonus Louisiana offer can be paired with DraftKings' deposit bonus code LA for an added bonus. As an early registrant prior to the launch of DraftKings Louisiana sports betting site, new customers can Bet $5, Get $200 in Free Bets Instantly. All they have to do is sign up, and when the site is active, you'll have $200 of free bets in your account to use within seven days. The $200 in free bets is a de factor DraftKings' no deposit bonus LA offer – it's free to claim.
Follow our link to the DraftKings LA sports betting sites in order to sign up and take part in the pre-launch deal. You must be 21 or older and be physically present in Louisiana to be eligible.
In addition to the DraftKings LA NFL offer, users can take advantage of the standard welcome promotion available for new users in any state, which is a 20% first-deposit bonus worth up to $1,000. While the DraftKings bonus code Louisiana isn't the most attractive welcome offer out there because of its 25x playthrough, the operator more than makes up for it with ongoing boosts and offers.
Where to find the best DraftKings Promo Codes for LA?
The current offer Bet $5, Get $200 in Free Bets Instantly doesn't required a promo code. Be sure that the best place to find a DraftKings Louisiana bonus code is right here at Bookies.com. We're constantly seeking to verify promo codes for all the Louisiana sports betting sites we review in order to provide bettors with the most updated information. The DraftKings promo code Louisiana is available through a link on our site.
Additional Promotions by DraftKings Sportsbook in Louisiana
To find more DraftKings promotions, head over to the "Promos" tab on their website. Some promos change based on which sports are in season, while others are more evergreen. Right now, users who refer a friend can receive a free bet worth up to $100 by using a personal referral link. There are also odds boosts every week.
Available Sports to Bet on at DraftKings Louisiana
One of the greatest features of DraftKings Louisiana is the variety of available sports to bet on. Among the most popular sports/leagues are the NFL, NBA, MLB and soccer (there are over 80 league options for soccer alone, with everything from the English Premier League to the Superleague in Kosovo). Special events such as the Olympics and the World Cup are also available to bet on when they're taking place, and of course the DraftKings LA sports betting site is be overflowing with markets during the Super Bowl.
Here's a full list of available sports to bet on with DraftKings Louisiana:
Rugby league
Rugby union
Aussie rules
Cricket
Snooker and Pool
Table Tennis
Volleyball
DraftKings' LSU Tigers football odds are sure to be a popular feature within the state. The NFL's New Orleans Saints and NBA's New Orleans Pelicans also figure to teams that bettors are backing frequently.
Popular Bets to Make at DraftKings LA
It is etremely easy to place a bet at DraftKings Louisiana sports betting site; the difficult part might be choosing which type of bet you want to place! There are several options, which we'll detail below. The first three, particularly straight bets and moneylines, might cater more toward a casual bettor. Other options, such as parlays and futures wagers, are particularly suitable for bettors with a bit more experience.
The options are meant to be fun, not overwhelming. If you want to stick to some of the simpler betting styles to begin with, that makes sense. But parlays, futures and props typically have the juiciest potential payouts attached to them.
DraftKings Louisiana Sportsbook Features
There are certain features that are must-haves at the best online sportsbooks, and a few of the main ones are outlined here.
Live Betting
As you watch a game, are you good at spotting trends of where the action is headed? Maybe the Saints are trailing late in the first half, but the other team's quarterback just left the game with an injury. DraftKings' "Live In-Game" section gives you up-to-the-minute odds based on score and situation. Where live streaming options aren't available, the site typically has score updates and infographics to help you follow along.
Cash Out
Maybe you've seen enough, and you don't like where things are headed in a game you've bet on. The Pelicans are still winning early in the fourth quarter, but they've gone cold on 3-pt. shooting and some key players are in foul trouble. The cash-out option allows you to recoup some money, and potentially still turn a profit, before the clock runs out. Or, if your bet is losing, limit your losses.
Promotions
DraftKings Louisiana promotions are sure to be plentiful, and they can entice bettors to try a new sport to bet on (or style of bet) if the offer is good enough. In addition to new-customer bonuses, DraftKings cycles in fresh promotions – often odds boosts or free bet offers – based on what's happening in the sports calendar. During the fall, college football fans might be able to include an LSU Tigers wager in a parlay boost, for example.
Create a DraftKings Betting Account in LA
Registering for a DraftKings account in Louisiana is fairly easy and requires only four simple steps.
Click on the gray "Sign Up" box on the DraftKings website. Then select a username and password and enter your email address.
This is when the DraftKings LA bonus code comes in, if the offer requires it . You can opt out of the welcome bonus if you'd prefer not to deal with the playthrough requirements it comes with, but this is your chance to Bet $5, Get $200 in Free Bets instantly.
Up next are the terms and conditions, which you'll have to agree to in order to proceed. Then fill in your name, address and the final four digits of your Social Security number. Sometimes, a scan of a photo ID or a utility bill is required to help prove identity and/or location.
Finally, secure your account and confirm that you're located in Louisiana. Your phone or laptop will prompt you to share your location with DraftKings, which is critical to the process. Once you've done that, you're good to make a deposit and start wagering.
Banking with DraftKings Louisiana
An often overlooked element of sports betting is the banking process. But being able to deposit and withdraw money with ease is important – and fortunately, DraftKings makes it easy. Banking with some of the national companies, such as Chase or Bank of America, are options for users. Additionally, some of Louisiana's most popular regional banks include Red River Bank, IBERIABANK and GBT.
Making a Deposit
For payment, the operator accepts all major credit/debit cards, as well as ACH transfers, electronic checks PayPal and gift cards from VISA, MasterCard and American Express. You can also create a DraftKings' Play+ prepaid card to load money. In most cases, deposits are available instantly. Accounts have a daily deposit maximum of $2,000, but customer service might be able to assist if you want to exceed that.
Cashing Out Your Winnings
To pull out funds, you must request a withdrawal from DraftKings. It's easy and simple, with a handful of commonplace options: e-check via ACH, a mailed check, Play+ or PayPal. It's important to note that PayPal is only a withdrawal option if you used PayPal to deposit funds.
While there isn't a maximum payout amount with DraftKings, it's advisable to contact customer service in the event of a large withdrawal. If your withdrawal comes via PayPal, it may take between two to eight business days to process (though once processed, the funds are available right away). ACH transfers are typically around five days. By mail, the process may take two or three weeks.
If issues arise at any point in the withdrawal process, it's advisable to reach the Louisiana Office of the Attorney General for inquiries and/or complaints.
Louisiana Ongoing Contests and Tournaments
A hidden gem of the DraftKings Sportsbook is its page of pools contests. Most are free to enter and very easy to win, given that users must simply complete a series of predictions.
Pools contests have unlimited entries, so you never know exactly how many competitors there will be. What you do know is that real cash is on the line. Some pool examples include college football pick 'ems ($5,000 in total prizes), NBA game predictions ($5,000) and even a series of weather predictions ($500).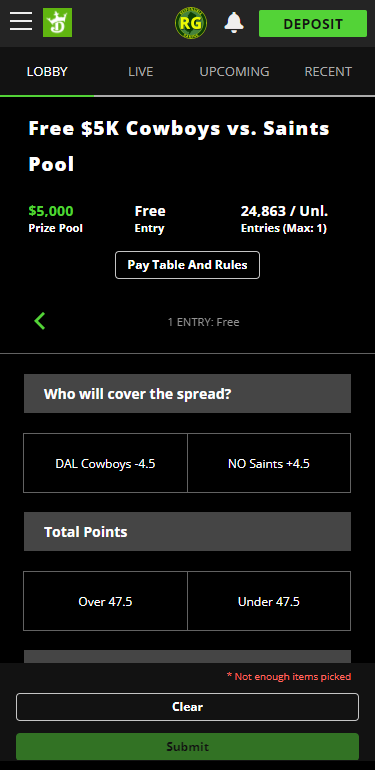 DraftKings LA Sportsbook Rewards/Loyalty Program
One thing to know about DraftKings: The more you play, the more rewarding it is. The operator automatically enrolls its users in its rewards program upon registration, and from there it's up to each individual bettor to determine what they'll receive in return.
When you place wagers with the site, you'll earn "crowns" (its form of loyalty points). The higher the value is of your wager, the more crowns you'll receive, and eventually you can use your accumulated crowns for rewards such as free bets. DraftKings also has missions for you to complete, which are accompanied by a crown bonus.
Overall, accumulating as many crowns as possible can help you move up within DraftKings' tiers. Every user starts at bronze, with an opportunity to climb to silver, then gold, platinum, diamond and black. Each new tier unlocks more lucrative bonuses to claim. Your DraftKings account includes a progress bar to indicate how close you are to reaching the next tier.
User Experience
Overall, the user experience is clean and easy on DraftKings Louisiana's desktop site. Every available sport appears on the left side, while some of the most popular sports (and specific matchups) appear down the middle. Some of their promotions and odds boosts appear in colorful panels high on the screen to ensure users are aware of DraftKings' best deals.
We also enjoy the "Stats Hub" tab, which provides insight about certain teams/players along with an accompanying bet opportunity. For example, there is a graphic that indicates Alvin Kamara has scored a touchdown in four of his past five games, which is next to +130 player prop odds for Kamara to be an anytime touchdown scorer in his next game.
One thing we'd like to see that doesn't exist here: An opportunity to customize your layout by selecting your favorite teams. If you want to check the odds of the LSU Tigers, Pelicans and Saints regularly, there is a more accessible way to do that.
DraftKings Louisiana Mobile Betting App
The DraftKings Louisiana app is just coming onto the scene, but overall DraftKings' mobile platform has existed since 2018 and considered among the best mobile sports betting apps. A strength of the app is the effective geolocation technology. Some competitors might lock you out of their platform if they cannot confirm your location, but DraftKings doesn't typically run into that issue.
Downloading the DraftKings LA Sportsbook app is possible through either the App Store or Google Play. On the App Store, the app has a 4.8-star rating (out of 5) based on more than 250,000 ratings.
DraftKings Louisiana Legislation & History
DraftKings was created in 2012 and initially operated out of Boston (its main offices now also include London, England, and Hoboken, N.J.). Its original place in the market came as a daily fantasy sports site, but that changed in 2018 when legalized sports wagering gained steam.
Alongside chief competitors such as Fanduel Louisiana and BetMGM Louisiana, DraftKings has risen to prominence in the sportsbook space. In 2020, DraftKings went public on the NASDAQ, and its brand awareness continues to surge thanks to partnerships with major casinos, sports teams and leagues.
Legalized sports betting in Louisiana is promises to be a robust market, and DraftKings' partnership with Casino Queen, owner of riverboat casinos Hollywood Baton Rouge and Belle of Baton Rouge, positions it as a prominent player in the state.
DraftKings Louisiana Betting Site
The desktop platform at DraftKings might be a bit less convenient than the handheld version on your phone, but it offers its own benefits. For one thing, a larger screen can help bettors pan their wagering options more effectively. Desktops may also make it easier to do outside research on a player or matchup. And unlike the mobile app, the desktop site allows you to see several promotions and game odds/props at the same time.
Security and Safety Offered By DraftKings LA
Security and safety are important, especially when your money and personal information are involved. That's why it should be comforting to know that DraftKings has a very strong reputation as a safe, secure operator. Private customer information is encrypted using the latest SSL encryption software. And despite being the target of a cyber-attack in 2018, DraftKings emerged without issue. Just be sure to use a strong password, preferably one with special characters, numbers and both lower and uppercase letters.
DraftKings Louisiana Customer Support
DraftKings' customer support options include live chat from noon to midnight ET every day of the week. Given that some other operators offer around-the-clock service, this falls short of what we'd like to see. There is, however, 24/7 email support available. Response times vary for email support based on the volume of inquiries (for instance, NFL Sundays are typically a busier time).
Additionally, DraftKings has a chat bot that attempts to answer simple customer inquiries with explainer articles that exist on its site. Sometimes, this information is pulled directly from DraftKings' FAQ page and into the chat.
English is currently the only language that exists in the DraftKings lobby and on other gameplay pages. However, the site is working to develop a German-language version.
DraftKings New Orleans Saints NFL Betting
The DraftKings' Saints lines and props might be the most popular for the Louisiana market. Every week, the moneyline, spread and point total (as well as alternate spreads and totals) are up for grabs.
Player props, such as anytime touchdown scorers and over/unders on passing yards, are also available. Alvin Kamara is typically the wisest anytime touchdown play, while the Saints' uncertain passing game might make the latter prop a tricky choice.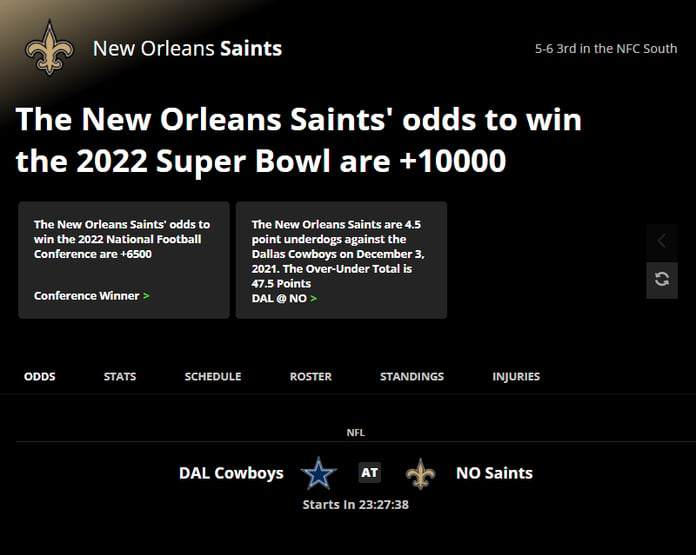 DraftKings LSU Tigers NCAA Betting
For DraftKings' NCAA Louisiana fans, we know the LSU Tigers will always be of the utmost importance. The same types of bets available to Saints fans apply here, although not always with alternate spreads and point totals.
Max Johnson and the Tigers haven't been easy to watch at every turn this season, but DraftKings keeps things interesting with offers such as parlay insurance and odds boosts. Right now, college football bettors who were new to the sportsbook are able to earn $100 in free bets just by wagering $1. When that offer expires, undoubtedly there will be more DraftKings LSU Tigers football promotions.
DraftKings Live Streaming Louisiana
Per a May 2020 announcement by the operator, DraftKings live streaming Lousiana is possible directly via users' mobile apps. Customers who have wallet balances above $0.00 have the ability to stream live sporting events from more than 100 leagues, including the Korea Baseball Organization and Bundesliga Soccer (Division 1).
DraftKings Casino LA
Online casino gaming is not legal in Louisiana. DraftKings does offer a fantastic online casino in states with legal online casino gaming, such as New Jersey Casino, Michigan and Pennsylvania.
Other Louisiana Sportsbook Promo Codes
Our Expert Opinion on DraftKings Sportsbook Louisiana
As it has proven elsewhere, DraftKings Sportsbook has earned its place as one of Louisiana's top sports betting operators. The welcome promos are accessible and plentiful; additional offers and odds boosts pop up all the time across the site's wide variety of sports offerings, in order to appeal to all kinds of fans; and both the desktop site and the mobile app are easy to navigate. Toss in the live-game betting options and same-game parlay features, and you're left with an operator that can pretty much do it all.
The inability to have a live chat with customer support on a 24/7 basis is our biggest sticking point, but even then, most questions are answerable via live chat bot or email. More importantly, DraftKings Sportsbook Louisiana is safe, secure and credible. We expect it to be among the very best sportsbooks operating in the state.
DraftKings Sportsbook Louisiana FAQ
Is DraftKings Sportsbook legal in Louisiana?
Sports betting is live in Louisiana and you can sign up for DraftKings Sportsbook Louisiana today. As of January 28, there are six total live operators in the state of Louisiana with the potential for a few more to move in before long. The DraftKings Louisiana Sportsbook will be one of the top online betting sites in the state, offering features other sportsbook can't offer.
Does DraftKings LA have an app?
DraftKings runs separate apps for its DFS and sportsbook platforms, and both apps are currently available on the App Store as well as Google Play.
How old do I have to be to bet on DraftKings Sportsbook in LA?
You must be 21 years of age or older to bet online at DraftKings Louisiana.
Is there a DraftKings Louisiana promo code?
$1,050 DraftKings LA promo code: "VANCE" - Through Bookies.com, you can access a link to DraftKings that directs you to promotional offers on their site. The DraftKings Louisiana promo code unlocks a deposit match as well as a series of ongoing promotions.
How can I contact DraftKings LA if I have questions?
Click to the DraftKings Help Center on the company's main site. From there you can click on articles that address several common questions, engage with a chat bot, speak with a live agent (depending on time of day), request a callback or submit an email inquiry.
Does DraftKings Louisiana offer live betting?
Yes, DraftKings Louisiana offers customers live betting options ranging from moneylines to spreads and in-game prop bets.
About the Author
Jordan Horrobin has created sports betting content since 2019, covering everything from the NFL to KBO. Based in Toronto, he has written for MLB.com, The Athletic and Sportsnet.