NHL All-Star Game 2020 Betting Guide & Top Wagers to Back
The NHL has taken its share of past public ridicule for some weird ideas (glowing puck, anyone?), but one thing it really got right was adopting a new format for the All-Star Game a few years ago.
Three 3-on-3 20-minute games between the four divisions, with one emerging as the winner in round-robin fashion, is a much more compelling product than the 60-minute snooze-fests of the past. Players are faster, fresher and it feels more like a real tournament, with something to play for, instead of the overly long contests of the past in which players mostly played glorified shinny.
It's certainly a better NHL betting event, too. Instead of one game to bet on, there are three. This Saturday's event in St. Louis figures to be a fun time. As usual, there is a skills competition the night before, too. Here are my best betting recommendations.
NHL All-Star Game Picks
Odds are current as of publication but subject to change. Check out NHL futures odds here .
Pick 1: Central over Pacific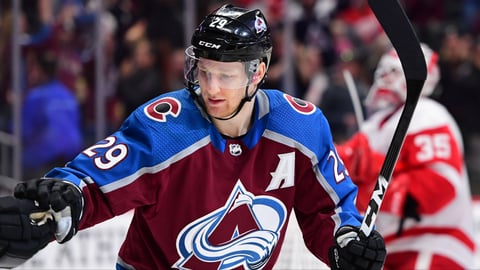 The Central Division broke a three-game losing streak to the Pacific last year with a 10-4 win, in San Jose, but they snap that this year.
The Pacific was hurt by the recent injuries of some players who would have otherwise played, including Logan Couture of the Sharks. Goalie Marc-Andre Fleury was selected but has opted to stay home. The Central, as of yet, has suffered no injures/defections from their original roster. Their goaltending tandem of Jordan Binnington and Connor Hellebuyck is better than the Pacific's Jacob Markstrom and David Rittich.
Plus, Binnington, along with fellow Blues/Central teammates Ryan O'Reilly and David Perron, will have a loud home-ice advantage, playing in the Enterprise Center. Connor McDavid figures to be a terror in a 20-minute 3-on-3 game, but the Central's talent up front isn't too shabby either, led by Colorado's Nathan MacKinnon.
Pick 2: Atlantic over Metropolitan
The Metropolitan's current roster bears little resemblance to the one fans and coaches originally selected. Five players originally selected won't play because of injuries, and Alexander Ovechkin has again chosen not to play.
There is still some strong talent on the Metropolitan side, but the Atlantic has the edge even though it was hurt by the loss of Auston Matthews to a wrist injury. Scorers such as David Pastrnak, Jack Eichel and Jonathan Huberdeau should be enough to overcome the injury-depleted Metropolitan.
Pick 3: Central to Win 2020 NHL All-Star Title Game
The Metropolitan and Pacific Divisions have split the first four title games, but I think that changes this year. I'm predicting will be a title game between the Central and the Atlantic, with the Central getting its first trophy. They are +250 favorites at most sports betting sites.
The Central has better balance than any other team, with elite, high-end offensive talent (MacKinnon, Patrick Kane, Tyler Seguin, Mark Scheifele), some excellent defensive forwards (Ryan O'Reilly) and strong, two-way defenders in Alex Pietrangelo and Roman Josi.
The loss of Matthews will hurt the Atlantic in a 3-on-3 game, and the Atlantic also had to include players from a couple of bad teams (Tyler Bertuzzi, Detroit and Brady Tkachuk, Ottawa) because, well, those are the rules.
---
RELATED: Daily NHL Expert Picks All Season Long
---
2020 NHL All-Star Game Player Props
Sportsbooks as of Friday had not posted MVP odds, but when they do, I think Colorado's MacKinnon is your choice this year. He enters the break with 30 goals and 72 points in 49 games, just four points back of McDavid in the league scoring race. MacKinnon's speed at 5-on-5 is something to behold. In a 3-on-3 game, it's that much more exciting.
Pastrnak will be tough to beat, with the kind of year he's having. But I think MacKinnon grabs what would be his first MVP award. If those odds aren't offered, you can take MacKinnon to outscore Pastrnak in the competition at -118 with 888sport. Another MacKinnon prop bet to back: top scorer in his semifinal at +850 with DraftKings.
What is the NHL All-Star Game Format?
All four league divisions are represented in the NHL All-Star Game. The two divisions from each conference play each other in one 20-minute game at three-on-three. The winners of those two games play for the championship in another 20-minute game.
If any of the games are tied after regulation, a best-of-three-round shootout commences with additional rounds necessary until there's a winner.
About the Author

Adrian Dater writes about the NHL for Bookies.com. The longtime NHL writer spent 25 years at The Denver Post, 20 of which as the beat writer of the Colorado Avalanche.